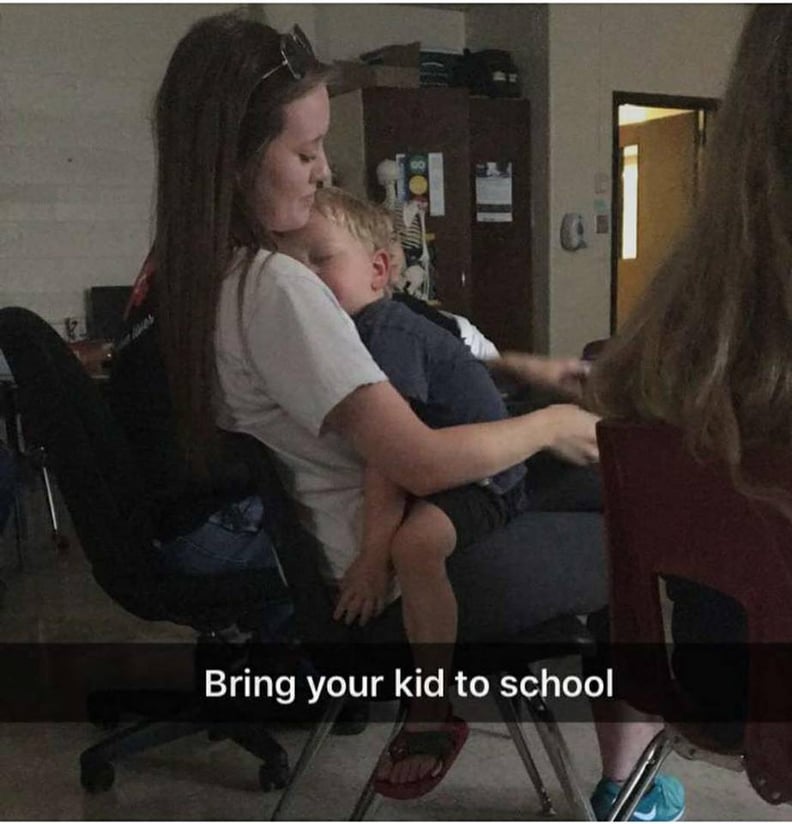 Candice Curry
Candice Curry
When Candice Curry called her teenage daughter, Stiles, to pick up her 3-year-old brother at his day care, she was dealing with a family emergency and hoped her 17-year-old would bring her brother home as a favor. However, upon looking at Stiles's Snapchat, Candice was surprised to see a photo of James sitting on his sister's lap in the middle of a high school classroom.
"Instead of missing class she actually took her 3-year-old brother back to high school with her and let him sleep on her while she finished her last class of the day," Candice wrote in a post to Facebook featuring a screen grab of the Snapchat photo. "I'm not sure on the legalities here or what kind of rules were broken but I also just don't care. My sweet teenager helped her family out and returned to her other responsibility while snuggling her baby brother."
Candice says she can't believe how much love the photo has gotten in a few short days. "My daughter, Stiles, is a great teenager and I'm lucky to be her mama," she told POPSUGAR.
The mom noted in her caption that she's either the "worst mom in the world or totally nailing it," but we'd argue strongly for nothing but the latter. We also couldn't agree more with the sentiment she ended her heartfelt post with: "Life is short. These are the moments that make it so incredibly sweet."