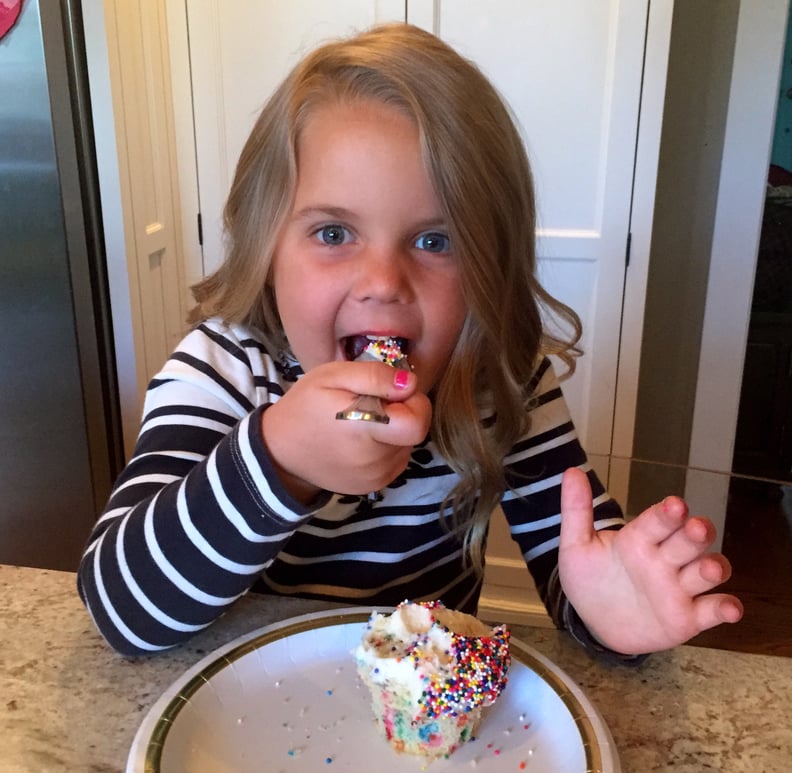 Kate Stahl
Kate Stahl
Sure, it's a cliche, but I truly can't believe that my firstborn is turning 5 this week. Her first birthday feels close enough that I should be able to reach out and touch her chubby, cake-covered cheeks and straighten the ruffled yellow dress I still have stored at the top of her closet, too precious to ever give away. But here we are, celebrating the first of many birthdays where she picked the guest list (10 of her closest friends), the theme (princess, duh), even her own birthday dress, purchased in the big-kid section. My baby is definitely growing up, and now that we're here, there are a few things I'd like to say to her as she starts the next stage of her childhood.
Dear daughter,
You're turning 5 this week, and it's hard for me to believe that the tall, independent, funny little girl before me is the same child I was begging to sleep through the night just a few short years ago. Now you sleep like a rock, and just last week, you decided it was time you started making your own bed. Nice work, lady! Since the day you were born, you have been one of my favorite people to be around, but I so treasure the relationship we have now that you're older, full of jokes and laughter, real conversations, and sweetness. I watch you grow, learn, and develop new skills every day, and I have so many dreams for you, my girl.
Last week one of your preschool teachers pulled me aside to praise your enthusiasm for life in general and learning specifically, and I hope that you'll always continue to feel and openly express that joy. Nothing makes me prouder than watching you walk into preschool every day, excited to learn new things. It's almost as if I can see your mind expanding, and I see what happiness learning gives you. Both school and the world as a whole will continue to teach you things every single day (even your old mom continues to learn new things all the time, believe it or not), and I pray that you will always enjoy that fact, even when the lessons are difficult.
Your sense of self-esteem is wonderful, little lady. Your dad, your grandparents, and I try to always remind you how smart and capable you are and how lovely you are from the inside out. In the future, I can promise that people will try to knock you down, tell you you're not as great as you think you are, but I hope you won't ever believe them. Your sense of worth will take you far, and I know you'll put in the hard work and perseverance to back it up.
You got your competitive spirit from both your dad and me, but I hope you will learn that winning isn't everything and that playing should be fun, no matter what the outcome is. No one can be the best at everything, but just trying to excel makes you a winner. And please, consider letting your little brother win a game every once in awhile and maybe stop cheating at tic-tac-toe, OK?
You have developed quite the group of girlfriends in your short life, and I hope that you'll continue to establish close friendships, while always making room for new people, too. I've seen you try to include little girls you don't know into your group of friends, and that effort and your open heart make me so proud of you. Your teachers tell me that you always rise above the girl drama at school. Part of me can't believe that it's starting so early, but I can promise that you'll continue to have conflicts with girls throughout your life (especially since you seem to have inherited your mama's big mouth; sorry about that). Try to be the one who apologizes first and who acts with kindness always.
Your life is just starting, sweetheart, but I already see so much in you that tells me that it's going to be a good one. Above all, no matter where life takes you, I hope you know that I will always be your biggest supporter and you will always be my favorite girl in the whole world.
I love you.
Mom