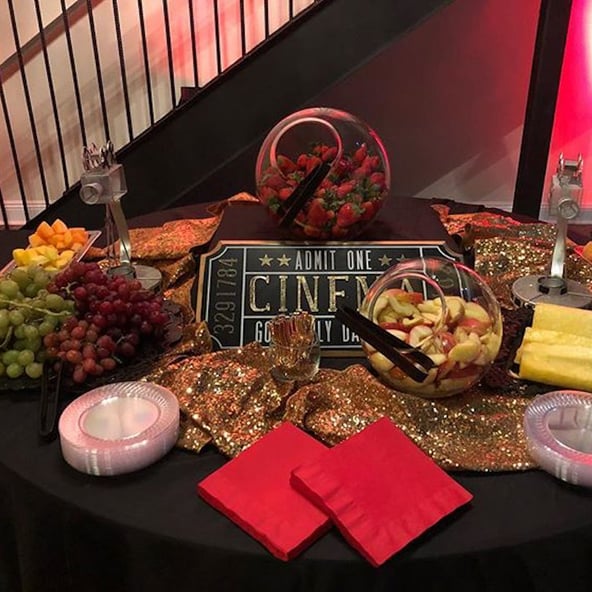 01
Cookie Decorating Party
This is a simple but totally fun idea for an indoor party! You can make sugar cookies or other plain cookies ahead of time, then make sure each partygoer has their own little station to decorate. They can then take their treats home at the end of the party.
02
Slumber Party
Slumber parties are the ultimate indoor activity, and you can make them really special. Make sure each child has their own place to sleep, whether you set up little tents or inflatable mattresses. Cover them with lots of pillows, blankets, and other cozy items to really set the tone for the party.
03
Gingerbread Decorating
For kids that have birthdays before the Christmas holidays, consider a gingerbread decorating party. You can make your own or buy small gingerbread-making kits for each guest. You could even have a competition and a prize for the best gingerbread house!
04
Building Block Party
These over-sized building blocks can be used to create forts and towers, not to mention they're a great way to keep kids occupied while parents mingle.
05
Movie Party
If you want to keep the kids at the party quiet and out of trouble, the best way to do that is with a movie night. Let the birthday boy or girl pick the movie, then provide lots of snacks and movie-themed decorations to really set the atmosphere.
06
Pamper Party
For slightly older kids (say, around 10), consider a pamper party. They can do face masks, give each other manis and pedis, and even experiment with makeup like eye shadow and lip gloss.
07
Tote Bag Decorating
Encourage the children's creative side by having them decorate their own tote bags. You can buy plain tote bags for fairly cheap at craft stores or online, and they can decorate them with paint, markers, glitter, and other craft supplies. You can also do a similar thing with t-shirts.
08
Photo Booth
Kids and adults alike can have hours of fun with a DIY photo booth. Just hang a backdrop and some decorations and make sure you have plenty of props for them to use. Get a Polaroid camera to send the kids home with their photos or print them off and distribute them at a later date!
09
Cupcake Making
Lots of kids love to bake, so why not have them make their own cupcakes? They can help with baking the cupcakes themselves, and then each child can have their own cupcakes to decorate. It's a great way to get them involved in a productive activity, and you don't have to bake a cake.
10
Painting Party
You don't need to be an artist to have a great painting party for your kids. To keep things more under control, give the kids a template to work from so they have a finished product to focus on. Also provide them with a canvas, plastic aprons, and paint supplies, and make sure they don't show up in their best clothes.