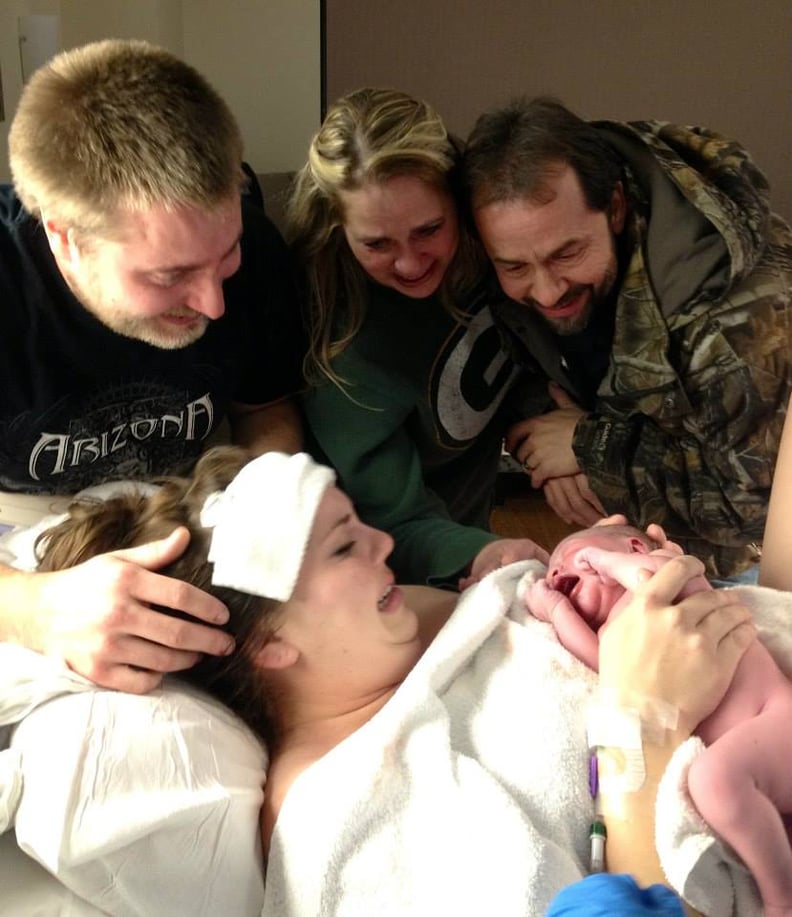 Lacey Ashwell
Lacey Ashwell
When Lacey Ashwell and her husband, Zach, tied the knot in October 2011, they agreed they wanted to have a family one day. But as soon as the couple found out that Zach's mom, Penny, was in the thick of a battle with endometrial cancer, their desire to have children ASAP seemingly grew overnight. Unfortunately for the newlyweds, bringing a child into the world wasn't as easy as they'd hoped.
"Once we got married, we right away starting planning our family. We wanted as many babies as God would bless us with, naively assuming it would come easy," Lacey told POPSUGAR. "It didn't. I immediately had my IUD removed after getting married, but with unpredictable cycles, we had no clue when to expect a pregnancy, so we just had fun. We just knew we wanted children to love whenever God brought them to us. We spent lots of time with family since we knew the moments were fleeting."
At that time, Lacey began to join infertility support groups online. "I was wishing so many others 'baby dust' while praying for my own miracle," she said. "It was happening to EVERYONE around me. When I say everyone, I mean everyone. 'Stop trying so hard,' 'You can borrow my kids,' 'Relax, it will happen when it's meant to be' [are things] I heard so often, but it's so hard to wait for something you want so bad, especially knowing what we knew about cancer waiting for no one's timeline."
In April 2012, Lacey and Zach finally got the result they'd been actively hoping for: a faint positive line on a pregnancy test. Overjoyed, they rushed to announce the news to their loved ones when Lacey was five weeks along — a bit early, she admits, but they just couldn't contain their emotions.
"We told our parents the amazing news first, and the excitement began," she explained. "I had one relative ask me 'Isn't it too early to tell?' My heart broke. How is five weeks pregnant any less worthy of celebration than 12 weeks? If I had a miscarriage, I would want the support of my loved ones, so I had to tell. I always believed a miscarriage is not something to hide or go through alone."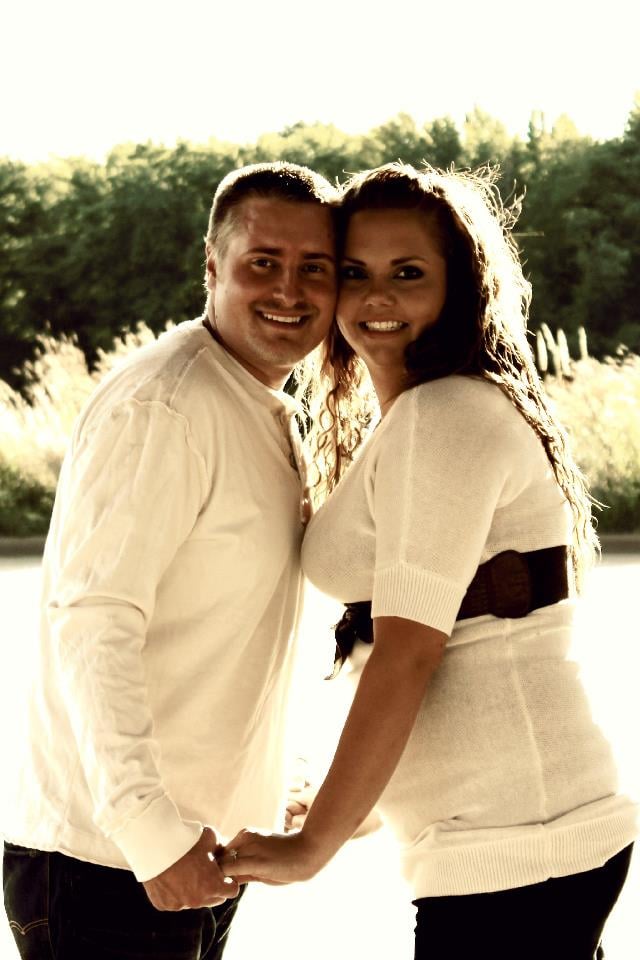 "The amount of heartache and pain endured does not compare to the joy these babies have brought our lives."
Unfortunately, the pregnancy didn't last. "I learned why so many people wait," Lacey said. "The first trimester is unpredictable. I started spotting at six weeks. I convinced myself, 'It's just spotting, it's just implantation,' but deep down I knew something was wrong. I never prepared myself to be sitting in the ER and have the doctor break the words 'spontaneous abortion' to us at six weeks. I started bawling into my husband's arms. We wanted, prayed, and wished for this baby."
In need of support, Lacey leaned on her family and the women she met online in infertility groups. Then in 2013, Zach and Lacey went through another painful miscarriage at eight weeks. And to add insult to injury, Lacey's aunt May-May passed away from stage four breast cancer a few months later. It seemed like the couple truly couldn't catch a break.
Rather than trying and failing again, Lacey and Zach opted to make an appointment at the Mayo Clinic. "I learned I had Leiden Factor V, a blood-clotting disorder that was inherited from my maternal grandfather," she said. "This very well could have contributed to my early miscarriages. I felt a sense of relief that I wasn't broken. I could do this with medical help."
Shortly after agreeing to two rounds of a combination of Clomid, ultrasounds, and a trigger shot to pinpoint ovulation, the pair were ready to try again. At the same time, Penny was losing her battle to cancer and was placed on hospice care. Finally, after years of trying, Lacey and Zach found they were expecting again. The news, however, was bittersweet. Penny passed away the week before the couple found out they were having a boy.
"The last thing she said to me after a long embrace was: 'You kids will be OK, everything will work out for you. I will be watching over you always.' The pain was numbing to not have her spirit here anymore. Five years later still feels just as fresh," Lacey said. "Never, ever take for granted the loved ones in your life."
In November 2014, Lacey's miracle baby boy, Brody, was born via natural childbirth. After having to undergo emergency treatment for a painful liver issue, Lacey was able to snuggle up to her little one. Then a year later, the couple got even more good news: Lacey was pregnant again.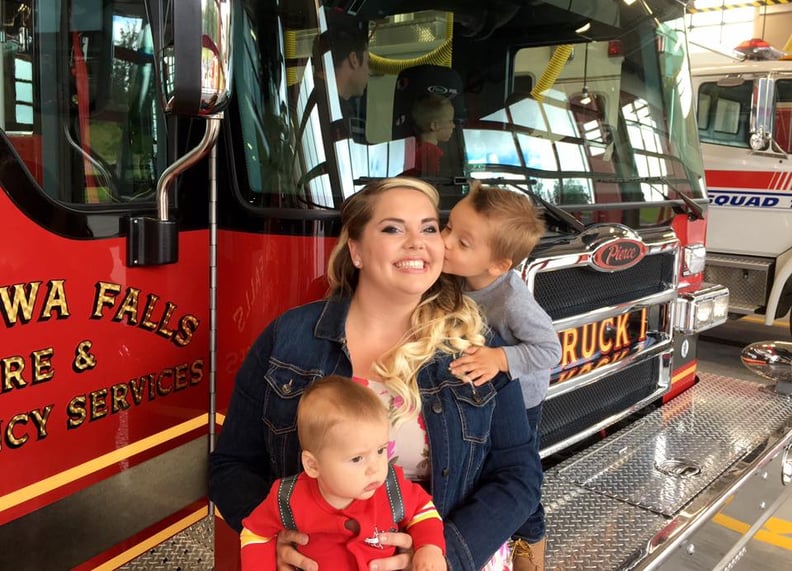 "Once I was back home raising my baby, life was great. An entire year went by, and we planned a date night out for New Year's Eve. I took a pregnancy test before going out to drink, and surprise! We were pregnant again!" she said. "We were excited it happened naturally and welcomed our second beautiful son, Brock, in September 2016, just 22 months after Brody's birth!"
Now, the couple have a third baby on the way, and they couldn't be more overjoyed and grateful. "We are blessed beyond belief to look back on where we were just five short years ago. The amount of heartache and pain endured does not compare to the joy these babies have brought into our lives. I would go through it all again to get the precious blessings that call me 'Mom,'" she said. Speaking to other couples experiencing infertility, Lacey said: "Never give up on your dreams. The wounds on your heart will scar, but you will be so proud you persevered through the storm to get your rainbow!"