10 Things To Know About Sarah Burton of Alexander McQueen 2010-09-28 10:08:07
10 Things to Know About Alexander McQueen's Successor
Back in May, three months after Alexander McQueen's death, it was announced that the designer's right-hand woman, Sarah Burton, would take over as creative director. Now, she is speaking for the first time about her new role at the house of McQueen. "I don't think it has to have as much angst in it. I think it will become softer. There will always be this McQueen spirit and essence. But, of course, I'm a woman so maybe more from a woman's point of view," she said. She will do her best to live up to McQueen's genius, but will also lend her unique sense: "That was very much Lee's territory — the spectacular show. In that way, I can't try and pretend to be Lee." Now that Sarah Burton is here to stay, let's get to know her a bit better . . .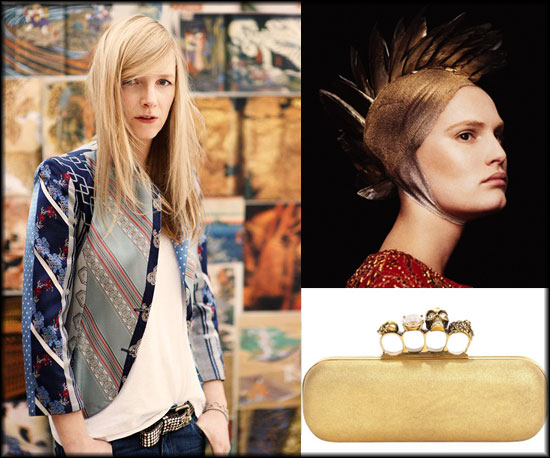 She was born in Cheshire, England, and is one of five children.
Burton loved clothes early on: "I always drew dresses. I remember loving Richard Avedon's early Versace campaigns. I used to plaster my whole walls with them when I was a kid."
She attended Central Saint Martins in London and studied print design.
To find out more about Burton, read more.
McQueen hired Burton straight out of school in 1997, and she began working on everything from menswear to accessories to footwear.
Though she worked under McQueen, she's much less dark: "I've had a training in darkness, but I don't feel that it's necessarily a personal thing to me. I'm a bit lighter."
Burton considers herself a workaholic, but in her spare time, loves to attend art exhibitions.
Most recently, Burton has started doing needlepoint while watching TV.
She's married to photographer David Burton.
She has rooms full of Alexander McQueen pieces but dresses more casually in the office.
She plans on proving that a McQueen piece, though theatrical, can also be wearable: "What saddens me in a way is that Lee had these incredible shows, but always under that there were amazing pieces you could wear, but somehow nobody ever believed it was wearable."