2010 Spring Couture: Jean Paul Gaultier
Sometimes fashion is serendipitous. I just saw Avatar last weekend, and lo and behold, it's the inspiration behind Jean Paul Gaultier's Spring couture collection. "I saw 'Avatar' and, like everyone, found it extraordinary. And from there, I began thinking of nature and ecology, and the Latin American tropics and from there it was not very far to Mexico," explained Gaultier. Just when I was envisioning my Avatar-inspired Burning Man outfit, JPG churns out the most phenomenal couture collection yet.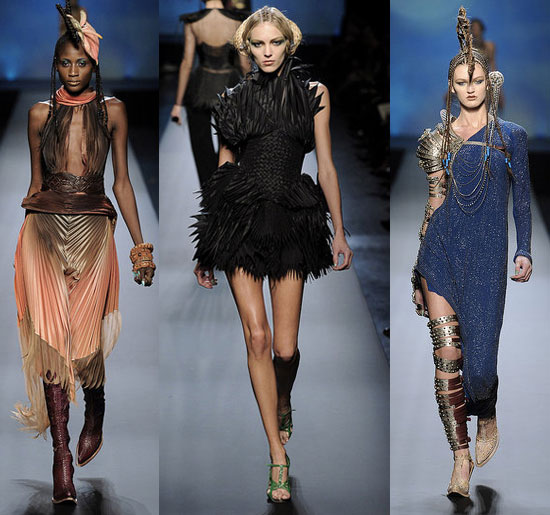 Spanish influences were explained via embroidery, white ruffled blouses (and pant skirts), shawls, and refined black separates. A black and white Aztec motif stands out, while some creations perfectly blend sci-fi with the primitive. The most awe inspiring were beaded, feathered, sculpted, and adorned with exotic accessories. Karlie could upstage Neytiri in her decadent feather fan hoop skirt, tailored jacket, and headdress. Get ready to go back to Pandora . . .
To see loads more,
.