2013 Victoria's Secret Fashion Show Details
Taylor Swift to Headline Victoria's Secret Fashion Show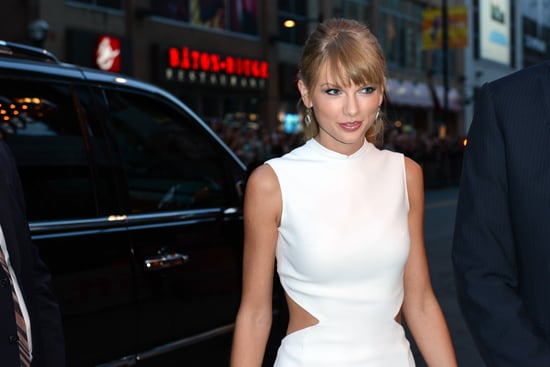 The 2013 Victoria's Secret Fashion Show will be filmed on Wednesday, and we just found out who's going to headline the event: Taylor Swift! As the runway extravaganza draws nearer and nearer, more information about the show is emerging, so we've rounded up everything we know so far about this year's big event.
The Performers

Victoria's Secret confirmed on Tuesday that Taylor Swift will perform at this year's show, alongside Fall Out Boy, A Great Big World, and Neon Jungle. This comes after rumors spread back in August that One Direction would join the Angels on stage this year, but Victoria's Secret flatly denied the speculation.
The Supermodels

Karlie Kloss will make her second appearance in the show, joining veteran Angels Alessandra Ambrosio, Doutzen Kroes, and Adriana Lima, who's pictured above. Lily Aldridge, Behati Prinsloo, and Lindsay Ellingson will also walk in the show, and Candice Swanepoel will wear this year's $10 million Royal Fantasy Bra.
Get more information about the Victoria's Secret Fashion Show here.
The Location

Like last year, this year's show will be staged and filmed at New York's Lexington Avenue Armory. It's the same space that hosts Marc Jacobs's legendary runway events and this year's epic J.W.Anderson for Versus Versace launch party.
The Ensembles

"It will be the most elaborate show with the most elaborate costumes we've ever done," said Victoria's Secret communications executive Monica Mitro. The show will open with a British Invasion-themed selection of clothing, and the show will also have segments dedicated to the Jazz Age and collegiate-inspired pieces.
How were the ensembles made? Swarovski created 3D printed fabric that, according to WWD, is covered in multicolored crystals that will mimic the effect of the Aurora Borealis. This will be especially important for the show's closing section, Snow Angels, which will feature Lindsey Ellingson (pictured above in last year's show) as the Snow Queen. And just like last year, Nicholas Kirkwood created the shoes for this edition of the show.
The Fantasy Bra

The piece includes over 4,200 precious gems, and among them is a 52-carat ruby that hangs just over Swanepoel's abdomen.
The bra, created by the jeweler Mouwad, was molded specifically to the supermodel's body and travels with two bodyguards — or at least it did when Swanepoel brought the bra to our office for an interview earlier this month.