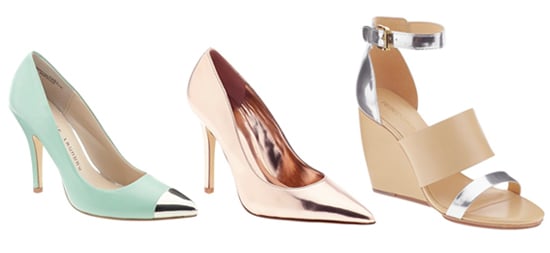 Aimee Song, author of the popular blog Song of Style, is the newest Piperlime guest editor in partnership with POPSUGAR. She will be sharing her favorite trends, style tips, Piperlime picks, and how-tos right here on POPSUGAR Fashion.
Shoes have been lit up by gold, silver, and even rose gold! Metallic shoes come in so many different variations this season, making them versatile for different occasions, while adding just the right amount of daringness to any outfit!
For a day at the office, I go for a classic pump. Cap-toe heels like these from Chinese Laundry are the safest way to incorporate the metallic trend into your work outfits. If you are a little more daring, try these rose gold heels from Truth or Dare, which would work perfectly with a well-tailored suit or even darker skinny jeans for an unexpected pop. Cap toes are also versatile enough to wear on a night out in your favorite dress! Keep the accessories minimal and let these Anne Klein heels do all the work.
For a weekend look, try metallic wedges such as these from Rebecca Minkoff or these from Sam Edelman. The nude color and wedge heels make these very wearable, but the hint of metallic on the straps makes them stand out from any other wedges. They'd be perfect paired with a casual lace dress and utility jacket!
Shop my favorite pieces below, and see all my Spring picks at Piperlime.com.