Alber Elbaz Talks About Emma Stone (Interview)
Alber Elbaz Talks Emma Stone, Award Season, and New Year's Resolutions
We joined the style crowd at NYC's Waldorf Astoria last night to celebrate the YMA FSF Geoffrey Beene National Scholarship Awards Dinner. There, fashion world veterans gathered to toast the industry's rising talent — and raise money for a worthy cause. Among the guest list's heavy hitters, Alber Elbaz was presented with the prestigious 50th Anniversary Geoffrey Beene Fashion Impact Award. We were fortunate enough to snag some time with the night's big honoree: the man behind Lanvin, Emma Stone's gorgeous award season dresses, and that signature bow tie (which, he confessed, he doesn't know how to tie — he wore an elastic one!). As if we couldn't adore the ever-dapper Alber any more, he charmed with details about award season, his dear friend Emma, and upcoming projects.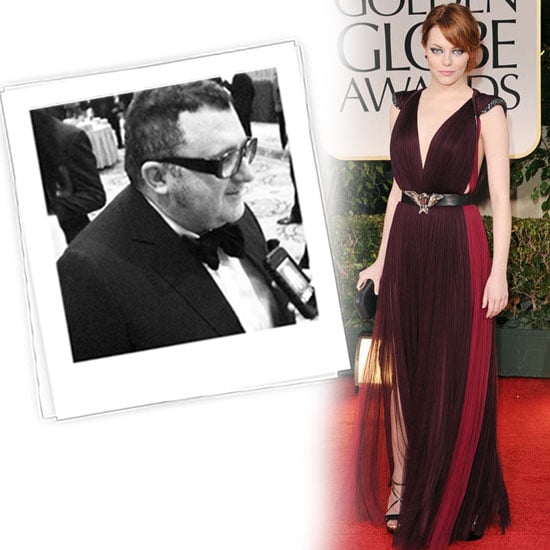 FabSugar: Award season is just around the corner. Are there any plans to maybe help out Emma Stone or design for any of the other leading ladies on the carpet?
Alber Elbaz: Maybe! You know, we are trying. We met few people, I mean, we'll see. Till they don't come out of the limousine with a dress we never know if it's going to happen, so I'm so superstitious and never talk about it, and I think I give them the privacy and the choice also to try different designers, to try different dresses, and to end up deciding [on] what they really feel like having.
FS: Well, we loved Emma Stone's moment at the Golden Globes last year; can you tell me a little bit about your relationship?
AE: And she actually wore last night for a premiere for her new movie, a dress we've made. Emma is a great friend, and I love her, and I think she's so talented and so wonderful and she's such a good daughter to her mother and she's such a good actress. I think she has it all, and I wish her all the best.
FS: Do you have any New Year's resolutions?
AE: To lose weight . . . [laughs]
For more from our favorite bow-tie-clad designer, just keep reading.
FS: And, anything we can expect from the upcoming collection? Any insider tips?
AE: We just showed, you know, yesterday, and um . . . I'm going back tomorrow night first thing with the first plane so I can start all over again, and try to be ready for October, for uh — Feb. 28.
FS: Yes! Bonne chance! And do you have any other projects in the works? We loved when you worked with H&M on a collaboration.
AE: Yeah, we have a few coming. They will come.
FS: Ooh! Any teasers?
AE: No!
FS: OK, thank you very much.
AE: Thank you!
— Additional reporting by Liza Kaplan