Alexander Wang Likes Wiz Khalifa, Nicki Minaj, and Adele 2011-03-25 14:31:09
Alexander Wang Shares His Spring Essentials, Favorite Artists of the Moment, and More!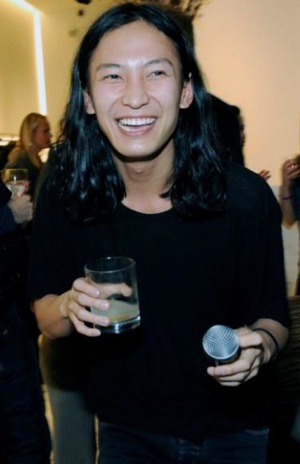 Last night, Alexander Wang and American Express hosted an event at his beautiful flagship store in SoHo. We caught up with the designer to talk about his favorite pieces for Spring, new projects on the horizon, designing red-carpet looks, and more.
FabSugar: What are three Spring essentials every Wang girl should own?
Alexander Wang: I've never been the one to dictate style, but my favorite pieces are really gauzy pieces from the Spring collection with the apron style and worker construction details. I'm also a big fan of leather and we have an exclusive collection here at the flagship store — the leather peacoat is my favorite style. Our new rose gold accessories are also great; the square Jade toiletry clutch is my favorite. It's such an easy day-to-night bag, I would own it if I carried a clutch!
FS: What's your next big challenge?
AW: Even though the new website launched three weeks ago, it's still a really big thing for us. We're working really hard to give it exclusive content, making the shopping content unique; really enhancing everything about it from viewing the collections to special collaborations. It's an exciting project for me because it is something so new and and we're doing a lot of experiments on it.
FS: What is your perspective on street style?
AW: I don't label it street style, it's more individual style and that's how I perceive it from someone walking on the streets or taking the subway. It's that realistic view on things that's so inspiring to me. I've always been inspired by things that are very grounded. There is a certain fantasy to my designs, but I love knowing and understanding that something works — people feel very comfortable around that idea.
FS: Who are some of your favorite musicians of the moment?
AW: In general, musicians are such an inspiration to me, they are always on the pinnacle of creativity. Right now, I really like Wiz Khalifa, Nicki Minaj, and Adele.
FS: What did you think of Vanessa Traina's new capsule collection for Maje?
AW: I loved it! I am so proud of her. There's such an authenticity behind her and what she creates. No matter what she does, I think people will respect and admire it because it really comes from her heart and what is true to her. I went to high school with her in San Francisco and she went through the whole process with me, and for her to go through this new venture, I have the same kind of excitement for her as I did when I first started out.
FS: Are there any other new designers we should have on our radar?
AW: Mary Katrantzou has some amazing print work and I have such a respect for her. Her Swiss Textile Award was well-deserved, her designs are just awesome. I'm a big fan of her.
FS: Would you ever be interested in doing more red-carpet looks?
AW: We do it every once in a while, but it has to be the right opportunity for us. I am more interested and inspired by people who have a disinterest in fashion, it's more about what they instinctually put on, rather then being too thought out. But when the opportunity and timing is right for us to do something, we are definitely open to it.