Amber Heard Street Style | August 28, 2012
A Cool Fall Look Starts With Cool Boots — Just Look at Amber Heard
We love a statement print and bold color, but Amber Heard's latest is a lesson in why keeping it simple can be so underrated. The actress styled up a perfect mix of essentials — white tee, black denim, and light layers — while strolling around NYC, but kept it interesting with a few key pieces. Read on to garner the styling wisdom — and shop our favorite piece — in Amber's understated street style.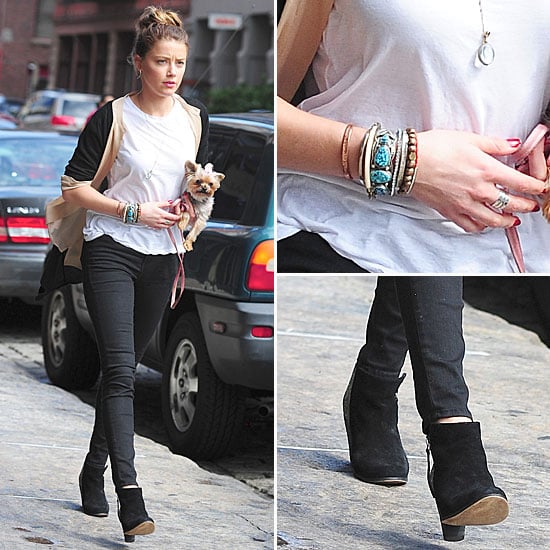 Amber's proportions are just right. A slouchy white t-shirt paired with skinny black denim feels casual, not messy. To pull off the same effortless style you'll want to look to tees that skim the body, then opt for fitted bottoms — avoid anything too oversize that will hide your shape completely.
The on-trend factor in this look comes right from Amber's boots. Her black ankle-zip boots are not only a nod to cool-girl styling, they're a Fall essential that goes with everything. Accordingly, we've narrowed down a few of our favorite pairs to lend a little edge to your jeans and tees, or dresses and tights.
Amber's look is also a lesson in elongating your stems. While black is a slimming color on its own, Amber's styling is doubly effective. By adding black booties to skinny black denim, the matching hues give the illusion that her legs keep going; they're not cut off at the ankle with a different colored boot or shoe.