America Ferrera in Red Nicole Miller Dress at Chicago
Obsessed With . . . America Ferrera's Red-Hot Look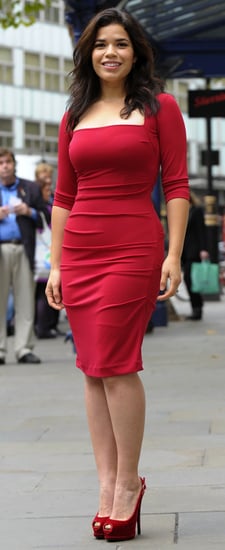 America Ferrera provided irrefutable evidence that a) the right dress can awe on its own, and b) curves are brilliant. She wore a red Nicole Miller dress to the premiere of Chicago in London, forgoing big accessories (save for a sexy pair of red peep-toe platforms) in favor of highlighting her gorgeous curves. Obviously, we went straight to the
Nicole Miller online shop to see if we could get the same dress as it's ideal for upcoming holiday parties. We found similar options that are just as flattering; here's what we recommend:
This off-the-shoulder ponte dress ($320) highlights decolletage and will be the ideal LBD that you'll wear every year.
A loose-sleeved red stretch crepe dress ($420) is the right color, but with more louche draping.
This stretchy matte jersey dress ($255) has the same neckline as America's dress but is sleeveless, which means it will translate perfectly for warmer months; if you're looking to cover up the arms, just add a blazer.
OK, now for the best part! Our new PopSugar Shop has an exclusive Nicole Miller deal happening until tomorrow, so if you're serious about getting America's look, you can do it for less.