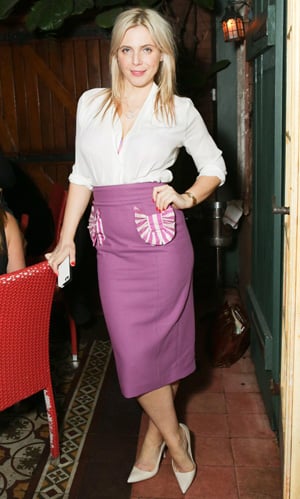 Stylist Annabel Tollman died in her sleep from a blood clot this week, The Cut reported. Police officers were called to her West Village apartment around 5 p.m. on Thursday, according to an NYPD spokesman. Tollman is said to have died of natural causes, but an autopsy has been planned. She was 36 years old.
UPDATE: Tollman's family posted on her Facebook page: "We thank you all for honoring our beloved Annabel. Her beauty, spirit, and love will remain in our hearts always. At this time, there is not confirmation of what caused this tragedy and we ask that you respect Annabel's privacy, legacy, and honor and continue to think of her just as she was, perfect in every way. When we have news to share regarding memorial services and celebrating her life, we will be sure to make an announcement."
Brussels-born Tollman graduated from Central Saint Martins in London with a degree in fashion journalism, and landed a job as senior fashion editor at Interview at age 26. It was during her time there that she met Scarlett Johansson, who needed Tollman's styling help as she embarked on the Lost in Translation red carpet premiere circuit in 2003.
From there, Tollman made a name for herself as a celebrity stylist, dressing everyone from Liv Tyler and Shakira to Mariah Carey and the Olsen twins. "My whole way of thinking is, your life is almost like a movie, and you are costuming each day as you go," she said in an interview with The New York Times. This philosophy was never more evident than in her signature Old Hollywood glamour aesthetic, and it directly translated into her ability to work with a range of body types. It wasn't long before she turned her A-list freelancing into a full-time endeavor, leaving her position as Interview's first-ever fashion director in 2008.
In addition to styling her Hollywood clientele, Tollman also served as an eBay Fashion spokesperson, appeared on Kimora Lee Simmons's Life in the Fab Lane, and according to her personal site, had a reality show in development with Bravo.
As her family, friends, and the fashion world mourn her sudden death, we remember Tollman as a standout stylist who had one simple message: "Make a fairy tale and go and live in it."