Anne Hathaway Wearing Isabel Marant Sneakers
Anne Hathaway's Travel M.O. Gives Us Real Trench-Styling Inspiration
Anne Hathaway has turned up her on- and off-duty style in a big way — with her dramatic floral Valentino gown at the opening of the New York City Ballet and this sporty Fall trench ensemble leading the way. Where the latter is concerned, can we just say, we wish we looked that effortlessly polished at the airport, too. The brunette starlet pulled together an outfit that not only nailed slick minimalism but also featured a few of our favorite autumnal styling points — no-fail outerwear, a pop of print, and pumped-up kicks. Bottom line: we really wouldn't mind styling ourselves like her every day, let alone when we travel. All in favor? Here are three Anne Hathaway-inspired takeaways for a chicer (and athletically inclined) take on Fall classics.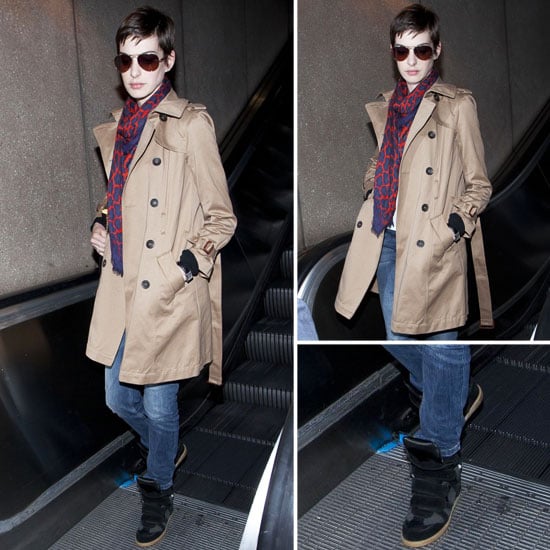 We know traveling presents its own set of packing, layering, and what-to-wear dilemmas, but we're pretty sure the trench coat covers all the bases. Wearing it — instead of packing it — is a lighter outerwear option; that way, you don't have to deal with something heavier and more cumbersome. It's compact when rolled up for in-flight storage, it's the go-with-everything staple for Fall layers (a collared blouse and chunky knit underneath are all you need), and the most obvious reason? It will keep you warm as the cooler temps settle in. Verdict: the trench is a sleek but totally functional option.
The quickest way to punch up an outfit? With a bold print, of course. Anne's red and navy Christopher Kane leopard-print scarf put an interesting spin on her laid-back denim look, and all it took was one textural accent to do so. Whether you prefer the more exotic patterns or a feminine floral design, you can add just as much ensemble intrigue with a reptilian-print tote as you can a vibrant poppy-printed scarf.
While Anne's classic trench coat set a sophisticated tone, her black Isabel Marant wedge sneakers gave her outfit a much sportier appeal. Sure, we're unabashed loyalists of the pumped-up kick, but in this case, we also think it provides a more functional twist on her on-the-go look. You could add a pointy-toe pump or a lace-up boot for a more formal feel, but for everyday versatility, the sneaker will see you through. If you're not a fan of the wedge, try a high-top iteration. The Missoni x Converse styles will not only work, but they'll also take care of the print in question, too.