Ashley Greene DKNY Interview
Ashley Greene Talks Favorite Jeans, Her Foolproof Outfit, and Most Memorable Fashion Purchase
You may know her best as a member of the Cullen clan, but even if you're not a Twilight buff, chances are you've spotted Ashley Greene making the transition from actress to model as the face of DKNY Jeans. We caught up with the gorgeous campaign star at Macy's in NYC last night to chat all things fashion. Read on to find out Ashley's reaction to the DKNY campaign, her favorite denim, and her top fashion purchase of all time.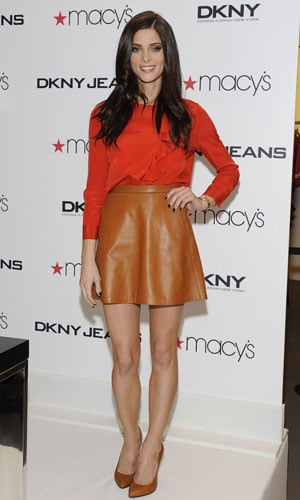 FabSugar: You look gorgeous in the campaign, but we've heard that you have trouble watching yourself on screen. How is seeing yourself in a fashion campaign different?
Ashley Greene: That was really fun for me. The thing about film is that you see all of your nuances. Nobody sits in front of the mirror and watches themselves talk. It's crazy, you get in your head. [For the DKNY campaign] I feel like I'm more excited to see what image they're going to choose and the team that we were working with was really incredible, and when I saw this billboard, it was just incredible. It was humongous. I was expecting something great but it just exceeded my expectations. So, no, that kind of stuff is exciting and I think it's kind of cool to have that snapshot in time, to be able to go back to that and say, "Look what I did!"






FS: You look fantastic in the campaign and the jeans are such a perfect fit on you. Do you have any rules when it comes to dressing your body?
AG: "I think in general with my body type, skinny jeans are pretty good on me. Jeans are really hard, though; you usually have to try them on because it just depends where they sit on you, and how much they flare, and how tall you are. It's really specific and it depends. I think low-rise skinnies are kind of a uniform with me. I actually think the high-rise flares are really fun, too. That's something I started embracing a lot more last year and stepping out of my box. I think they can be extremely flattering on people as well."
Ashley on her foolproof outfit and most memorable fashion purchase
FS: What's your no-fail, foolproof outfit?
AG: "I think a pair of really high heels always helps everybody. Luckily, I'm working with DKNY so I have access to all of their skinny jeans. So on any given night, I'll take a pair of those. I think when you pair a pair of skinnies with high heels it's instantly sexy and glamorous. And then a nice silky top is a no-fail, really great outfit that you could wear pretty much anywhere around the city, as long as it's not a black-tie event."
FS: What's your most memorable fashion purchase?
AG: "I have a really great Ferragamo bag."