Ashley Madekwe Style (Interview)
One to Watch: Ashley Madekwe Spills All About Her Style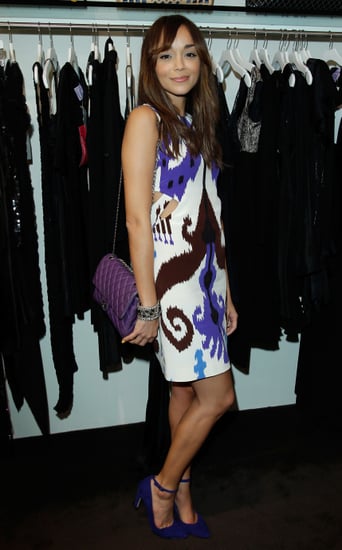 Ever since she stepped onto the red carpet, we've taken notice of Revenge actress Ashley Madekwe. She captivated us with that cool striped-skirt ensemble recently, and at the Gilt.com launch of the Decades for Modern Vintage Footwear Collection in LA, she outshone all the other guests in a Gucci dress with matching purple Chanel bag. We got to chat with the stylish Brit all about her style, including her shoe personality, favorite stores, and go-to pieces. Find out what she had to say.
CelebStyle: What is it about this Decades and Modern Vintage collaboration that made you want to take part?
Ashley Madekwe: I love wearing vintage pieces but can never find vintage shoes to fit me. This collection is a great way to grab a vintage-inspired pair of shoes.



CS: What is your personal style all about?
AM: I have a very uncommitted sense of personal style. I love trying out new looks.
CS: What are your go-to pieces in your closet that you always reach for?
AM: I have a Lenny Kravitz tour t-shirt that I reach for over and over again. It's been worn in to perfection and looks great with everything from jeans and heels to denim cutoffs and flats.
CS: How would you describe your shoe personality?
AM: My shoe personality is greedy! I also love a super-high heel.
CS: What are some of your favorite online and brick-and-mortar shops?
AM: My go-to online store has to be TopShop.com. I grew up shopping in TopShop and miss it so much here in LA. Apparently we're getting a LA TopShop soon. And of course, I love Gilt.com. If I want to actually feel the clothes before I buy them, then I head to Maxfield on Melrose.