Ashley Madekwe Style Secrets
Steal Ashley Madekwe's Best Styling Tips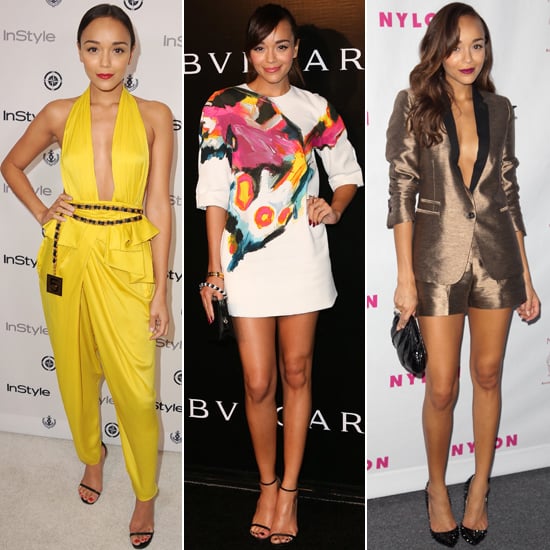 Every week, we bring you the best shoppable fashion and lifestyle stories from our partner Lifestyle Mirror. Today, we're sharing Taylor Davies's post about Ashley Madekwe's best looks.
Ever since we became hooked on Revenge, we've been style-stalking actress and personal style blogger Ashley Madekwe. On her blog, Ring My Bell, Madekwe effortlessly mixes Topshop and Anine Bing, H&M and Saint Laurent. But when it's time to hit the red carpet, she turns to celebrity stylist Joey Tierney to help her create the perfect look.
We caught up with Tierney recently and asked her to share her favorite looks that she's styled for Ashley. "I love styling Ashley. We have so much fun working together. She has a stylish sensibility on her own, so together we hit it out of the park," says Tierney.
Her favorite ensembles include an Etro tunic dress, a metallic short suit by The Kooples, and a yellow jumpsuit from Diane von Furstenberg, paired with a Chanel belt. Tierney notes, "Ashley is not afraid to push her comfort zone when it comes to fashion. My advice to channel her look is try different silhouettes, color, and fabrics, and remember to be confident!"
To get her look, we collaborated with Tierney to select pieces you can buy now that embody the same flair and stylish touch as Ashley's red carpet outfits. When in doubt — just add sky-high heels.
Visit Lifestyle Mirror to shop the picks inspired by Ashley's chic style — from printed tunics to bright jumpsuits.
Related:
Seven Ways to Wake Up Gorgeous
SoulCycle Instructor Playlist
Ten Best Food Blogs
Who to Follow on Instagram: Celebrity Edition
Dita Von Teese's Makeup Essentials