Backstage at 2011 Victoria's Secret Fashion Show Model Interviews
Karlie Kloss, Joan Smalls, and Three Other Victoria's Secret Fashion Show First-Timers Chat Diet Prep — and Wings — Backstage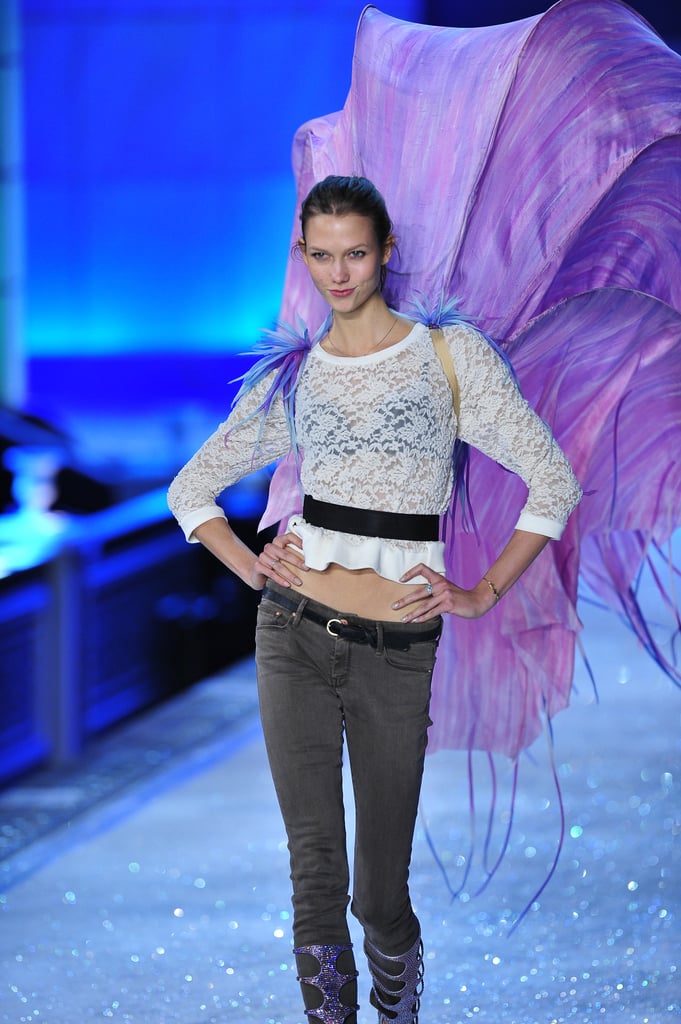 <p>
On walking for the first time: "I have goosebumps thinking about tonight, I'm definitely a little nervous. I just hope I don't knock anybody out with my wings, that's all I'm worried about. And I think Kanye [West] is on stage while I have those big wings on, so I'll have to tell him, 'Kanye, get out of the way, because these wings are coming through!' They are — I'm not joking — they're huge."
On whether she'll switch up her signature walk: "I think the only difference [from other shows] is that I get to be me. I get to smile, I get to blow kisses . . . I get to do anything I want on that darn runway. Usually, they're like, 'Straight forward, no swinging, no hips, stop, look straight in the camera, turn left, come back.' It's very military-like to do a Prada show, or another show. I guess I sort of do my own thing anyway, but . . . this show, they want you to be you, to be the most beautiful you can be and they want you to have fun. And I think that it shows when you are having fun."
On how she prepped for the show: "Nothing out of the ordinary, maybe an extra couple of butt lifts in the last couple of weeks, but just my regular biking, running, ballet. I don't know, I guess this is my first time so I'll find out soon enough if it was enough. My butt will be shaking out there, and I don't know if that's a good thing or a bad thing."
On hoping to be an Angel one day: "I think that it's something that every girl dreams of. I feel lucky that I get the opportunity to be here and in a way, live the dream for so many girls. I don't know how I'm going to do with those wings on my back, I'm either going to sink or fly. Right now I'm just enjoying it, and it's going to be fun out there."