Baldwin Denim Launches Women's Jeans
The 2 Most Important Things to Look For When Buying Jeans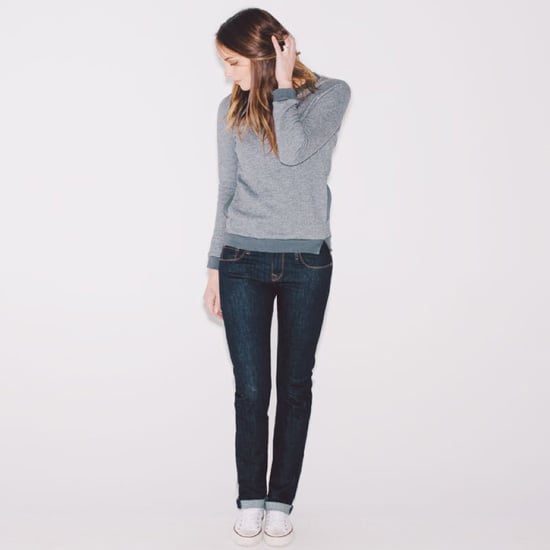 Since launching Baldwin Denim in 2009, Matt Baldwin has gained a loyal following for his made-in-America men's jeans line, including garnering awards like "Best New Menswear Designers" from GQ. And now, it's time for the ladies to get in on the fun, with a newly launched women's line for Fall 2013. With new retail locations opening in his home base of Kansas City, KS, Baldwin took a break from his busy schedule to talk jeans, womenswear, and more with POPSUGAR Fashion.
POPSUGAR: What inspired you to work with denim originally?
Matt Baldwin: I've been buying, fitting, selling, and designing denim for the last 10 years. It's the one category that has the broadest market reach with the most excitement every season. Logically first with denim for the Baldwin brand.
PS: What makes a great pair of jeans to you?
MB: Fit is always first and foremost in my mind, but fabric selection is a fast follow that you need to pay attention to. The two combined will dictate how often you will wear the jean and how far down the road it will take you.
PS: Why did you decide to branch out into womenswear?
MB: For Baldwin Denim and Collection, women's was a natural extension of the line. I always wanted to have a women's collection but knew that my men's line had to be established first. I took that cue from Ralph [Lauren]. Guys won't buy jeans from a women's denim brand that happens to have a men's line. However, women aren't afraid to grab their boyfriend's clothes.
PS: What is the one thing that surprised you the most in the process of developing the women's collection?
MB: A women's line brings sweating the details to the next level. I have really enjoyed taking all the aspects that women love about menswear and making pieces that are feminine and sexy, the way women's clothing should be. It's been a really enjoyable process.
PS: How do you develop the washes and the patterns for the collection?
MB: Baldwin Denim and Collection's washes are based off our customer breaking in their dry denim, reclaiming the pieces back from the customers, and taking them to our wash house to replicate the original jean, thus creating amazingly authentic washes. Every wash has a story behind it, and it is something our customers love about Baldwin.
PS: True or false: Jeans are the sexiest thing a woman can wear.
MB: TRUE! It's amazing when a woman wears a jean that fits her really well. When a pair of jeans fit a woman well, she'll turn heads as soon as she enters the room.