Bangladesh Safety Agreement Retailers
Pressure Mounts For US Retailers to Sign Bangladesh Safety Agreement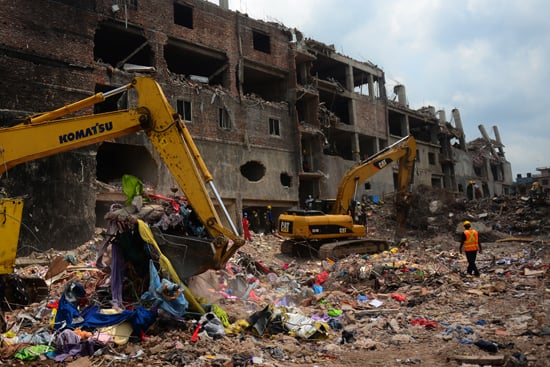 While some of Europe's largest retailers have agreed to a set of safety guidelines produced in response to last month's Bangladesh garment factory collapse, only one American company has signed on. The agreement, which would safeguard against incidents like the collapse, which killed over 1,100 people, has a May 15 deadline.
More on the agreements, here.
According to Reuters, as of Monday the only domestic clothing company to sign onto the International Labour Organization's Accord on Building and Fire Safety was Calvin Klein owner PVH. Li & Fung, which acts as a supplier to Walmart, among other brands, said it was still looking at the agreement, and Walmart itself hasn't signed yet, either. The Gap said in a statement that it is ready to sign the document as long as it includes a stipulation that addresses how future disputes between factories and workers are addressed in court.
"With this single change, this global, historic agreement can move forward with a group of all retailers, not just those based in Europe," said Gap executive Eva Sage-Gavin.
On Monday, both H&M and Zara owner Inditex signed on the agreement, and so had British retailers Primark and Tesco. By Tuesday, WWD reported seven other European clothing makers — including Marks & Spencer, Mango, G-Star, and Benetton — had either signed or had plans to sign the agreement.
But with the deadline's agreement just a day away, there are no indicators as to whether other American firms will join them. Stay tuned for more updates as this story develops.
Above: A view of the factory building in Savar, Bangladesh, that collapsed in April, killing some 1,100 people. Below: A woman holds a picture of a relative who went missing in the collapse.