Barneys Windows For Proenza Schouler's First Collection
Proenza Schouler's First Collection Gets a Cool Window Treatment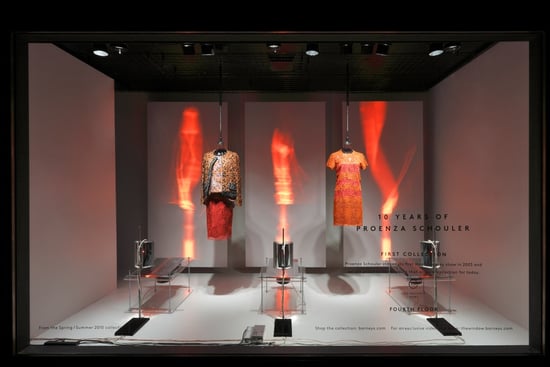 It should come as no surprise that the windows advertising Proenza Schouler's First Collection capsule at Barneys have tanks of moving liquid and lasers around the clothes. After all, these are the designers who made a CGI purple dolphin swim through sand for a fashion video last year.
The window displays, unveiled at the Barneys Madison Avenue flagship store in New York this week, are similarly avant-garde. The phosphorescent rocks, beams of light, and electrical cords running through the installations are meant to look a little like the kind of experiments one might observe in a high school science lab — albeit a particularly chic one. The retailer's creative director, Dennis Freedman, worked with Jack McCollough and Lazaro Hernandez to pull the displays together, showcasing pieces from the Proenza Schouler archives along with garments shoppers can buy in the store and online.
A look at more of the windows, here.
Photos by Tom Sibley, courtesy of Barneys New York.