There's nothing quite like Miami Swim Week. Far from the atmosphere in New York and Paris, where fashion editors dressed in all-black uniforms furiously type on their iPhones while sitting front row, the check-in at one of this past week's beachside runway shows was like the velvet rope at a hot new club. Showgoers, dressed in six-inch stilettos and microskirts, sipped cocktails while house music blared from loudspeakers.
And yet that was still nothing compared to what walked the runway. From now-household names in resortwear, like Clover Canyon, Wildfox, and Mara Hoffman, to more boutique brands like Suboo, Beach Bunny, and Gottex, we saw more skin than swimwear. That didn't mean we didn't keep our eyes peeled for the buzziest bikini moments and sexiest suits of the week. Here, the ones you'll be talking about all Summer long.
Wildfox Swim 2015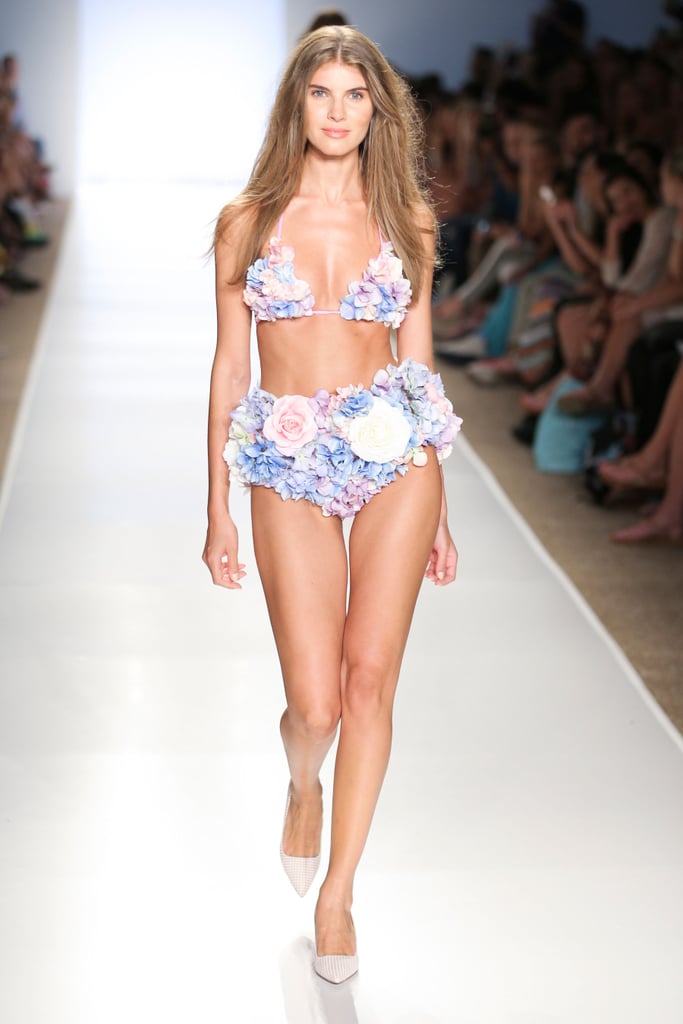 We know you're supposed to water flowers, but we're mildly concerned about wearing this floral two-piece to the pool.
Wildfox Swim 2015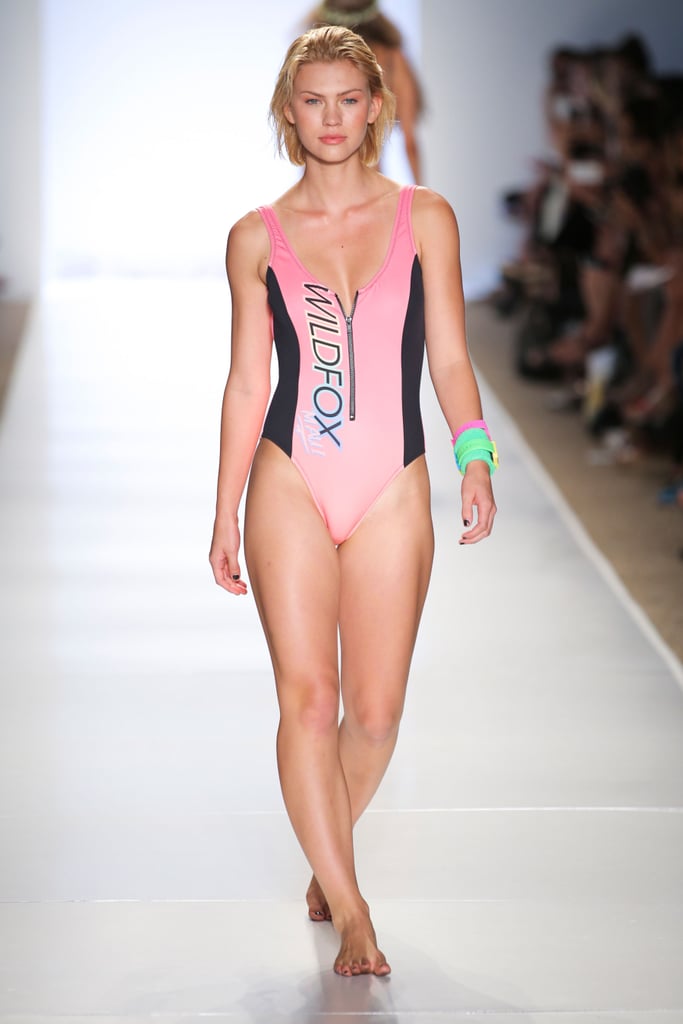 Designer Leilani Shimoda journeyed back to the '90s and returned with this lifeguard suit, with a neon wristband for good measure.
Wildfox Swim 2015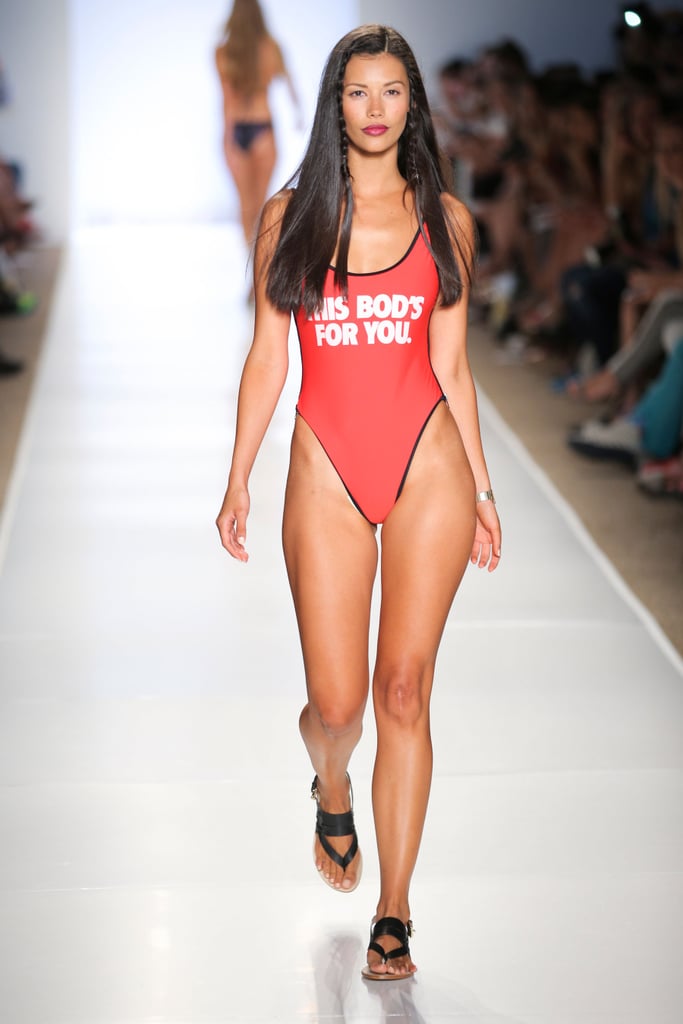 And if the '90s weren't nostalgic enough, this suit played off the 1979 Budweiser catchphrase, "This Bud's For You."
Wildfox Swim 2015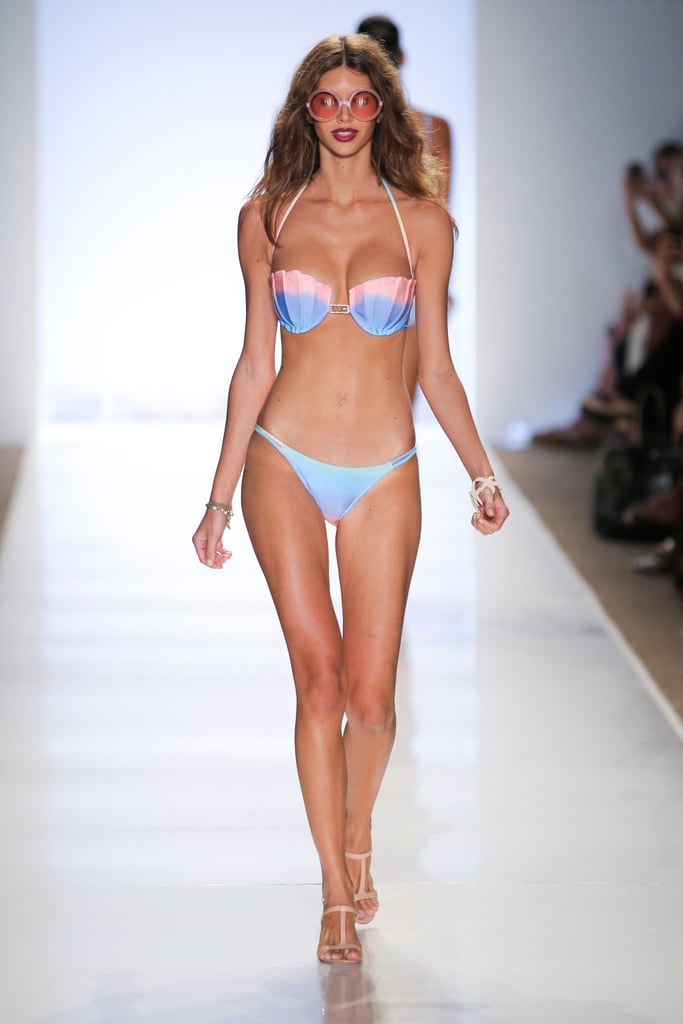 Calling all mermaid-ophiles. This seashell-inspired bikini is as close to Botticelli's "Venus" as we're going to get at Miami Swim Week.
Wildfox Swim 2015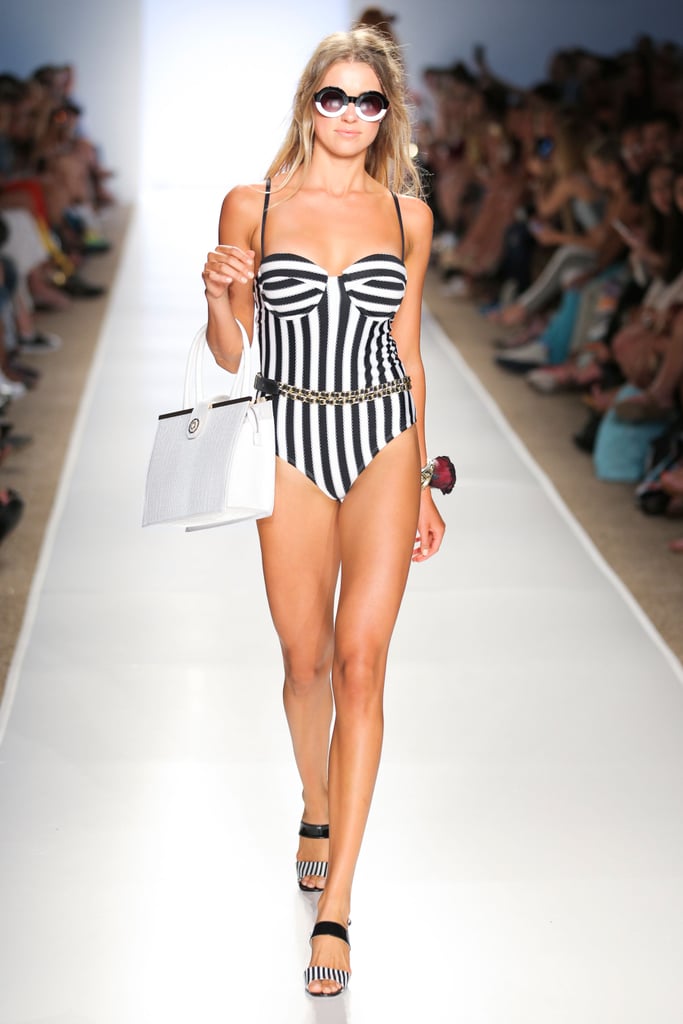 For those Park Avenue poolgoers, perhaps this black and white vertical striped suit, with a Chanel-inspired chain belt and purse, is a worthy investment.
Poko Pano Swim 2015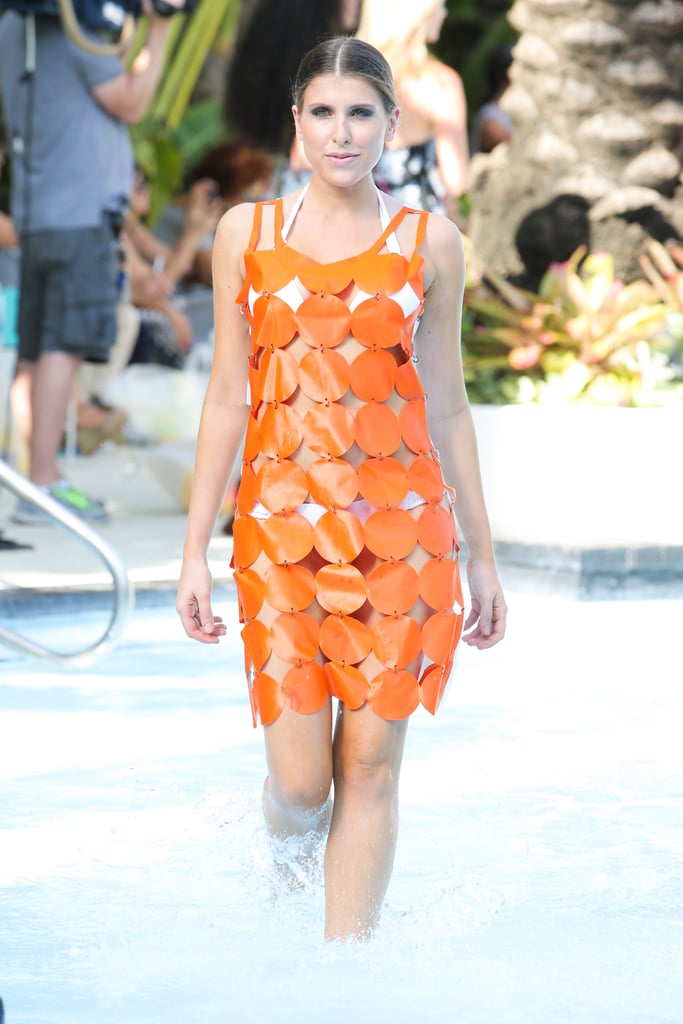 Leather in a cover-up can only work when it's got room to breathe, like this interconnected pattern of orange circles.
Poko Pano Swim 2015
We love how the clean lines of the straps carry over onto the ribbing of the suit itself. And the way they curve in at the waist is ultraslimming.
Poko Pano Swim 2015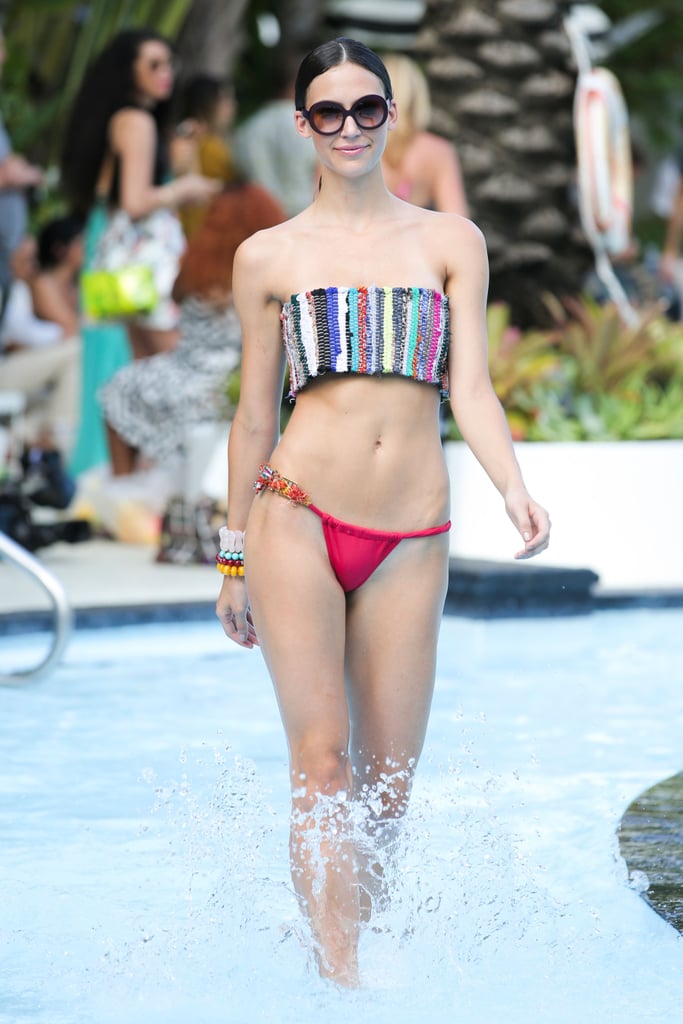 If you were to go on Etsy in search of a swimsuit, we imagine you'd find plenty with the crafty spirit of this basket-woven bandeau top.
Mikoh Swim 2015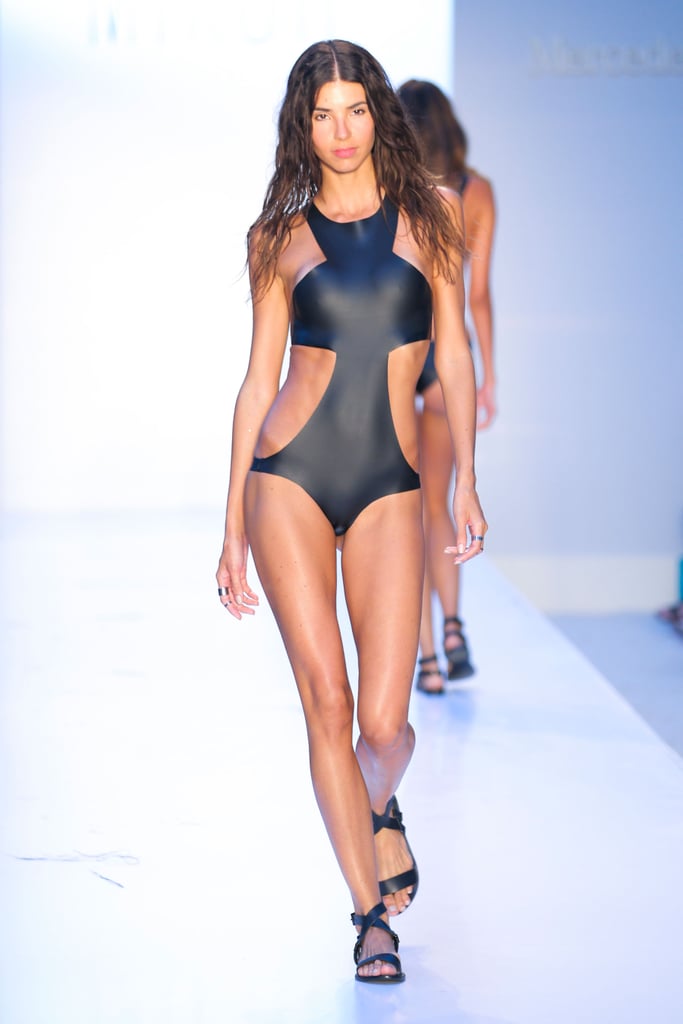 A laser-cut finish makes this suit look like it's made of liquid metal.
Mikoh Swim 2015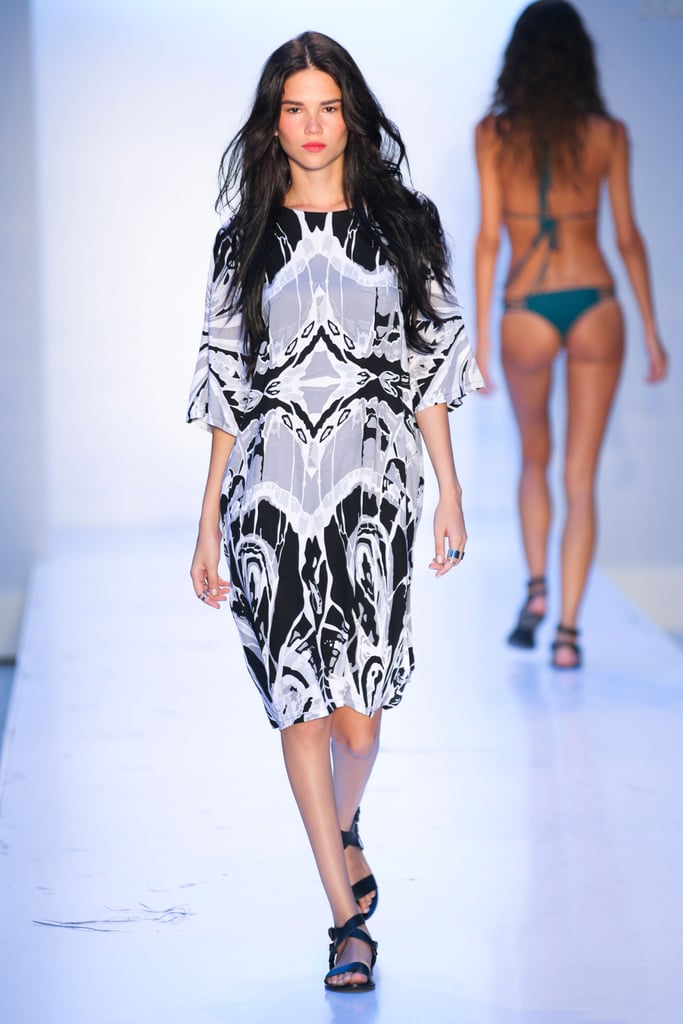 What's black and white and alarmingly conservative for the beach? This printed cover-up!
Beach Bunny Featuring the Blonds Swim 2015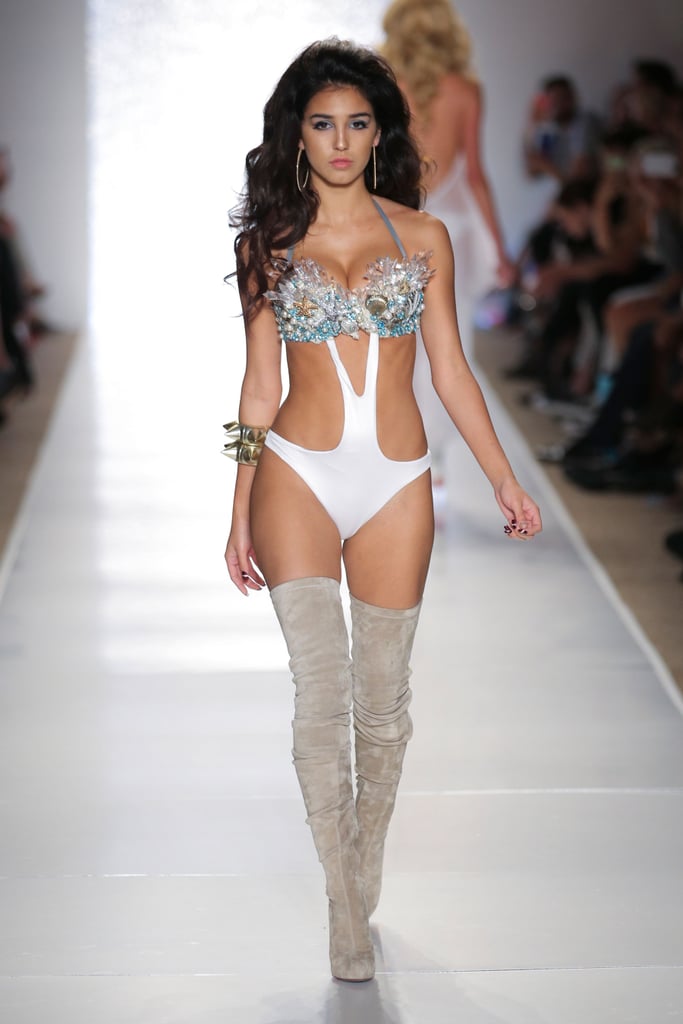 With the help of New York Fashion Week favorites Phillipe and David Blond (and the impeccable teasing action from Tresemmé hairstylists), the Beach Bunny lineup turned into an army of Barbarella-inspired bombshells. Get it, bombshells?
Beach Bunny Featuring the Blonds Swim 2015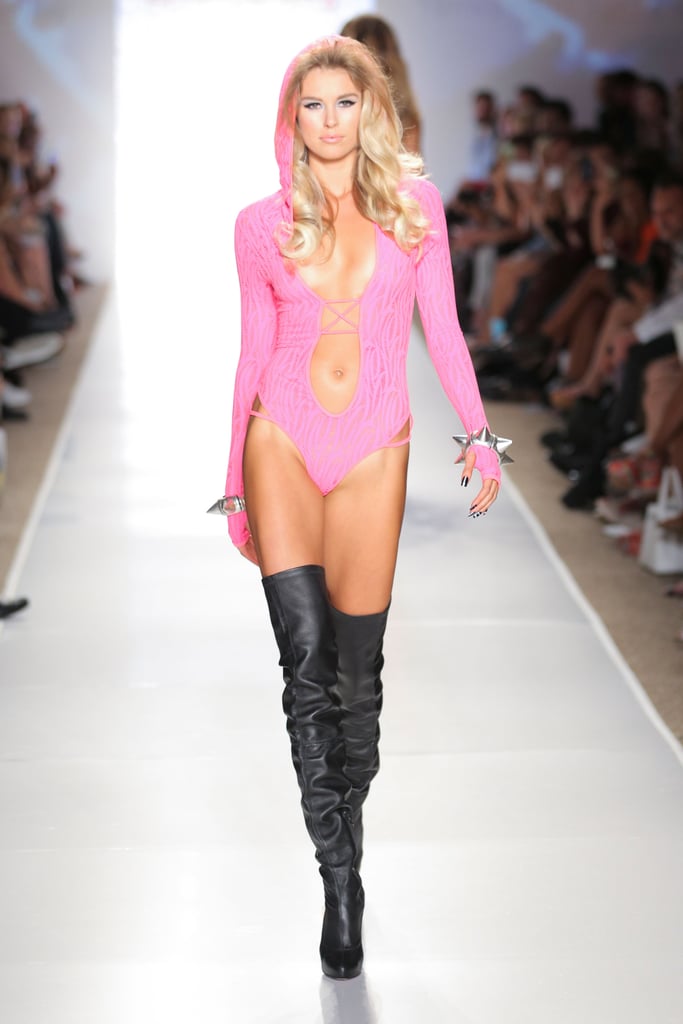 For when your swimsuit needs a hood, this pink confection will do.
Beach Bunny Featuring the Blonds Swim 2015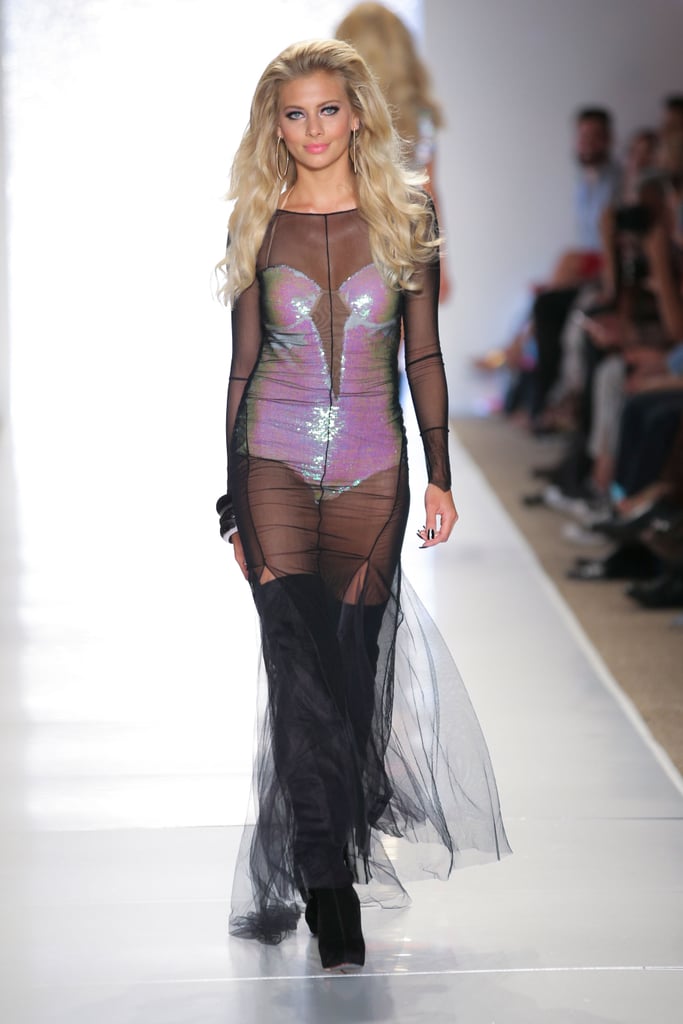 Does Miami Swim Week have an eveningwear section? This black tulle overlay adds formality to a sexy opaline white iridescent suit.
Beach Bunny Featuring the Blonds Swim 2015
This lavishly embellished, star-bedecked suit might not be the most practical for your next pool party, but it's a true display of retro-futurism.
We Are Handsome Swim 2015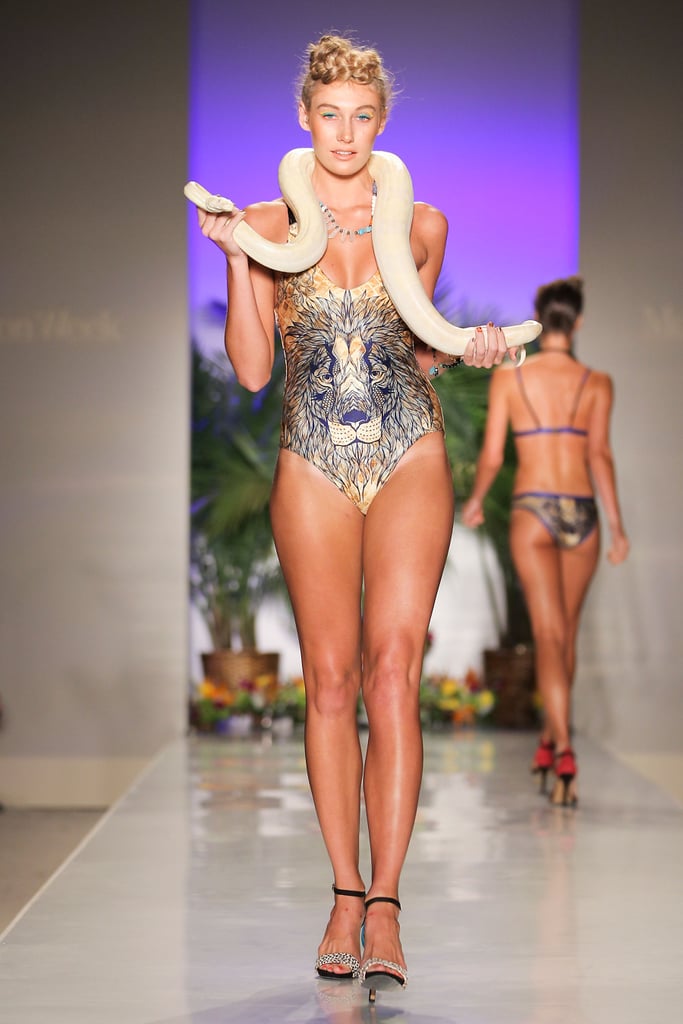 Sure, the live snake definitely adds some drama to this look, but we're seeing a seasons-in-the-making trend in large animal faces on the fronts of one-piece suits, and this lion reigns supreme.
We Are Handsome Swim 2015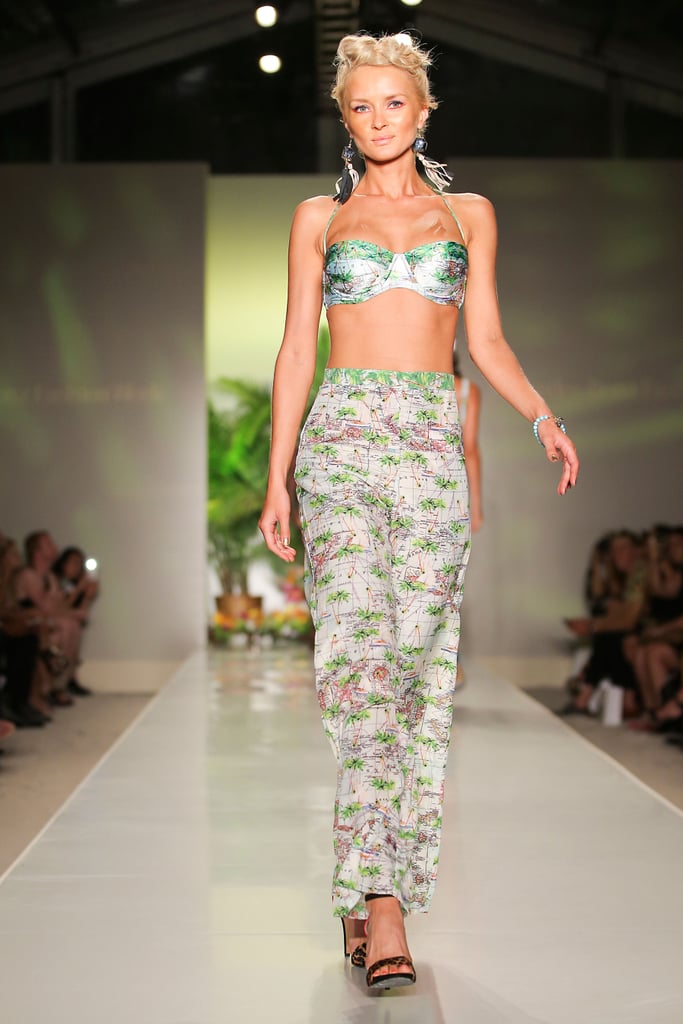 Not all who wander are lost, but they certainly would look better with this tropical-map-printed pant-and-bikini-top set.
We Are Handsome Swim 2015
For those who love a good twin set, the We are Handsome collection had plenty of suits that rivaled this season's predominant mix-and-match aesthetic.
Gottex Swim 2015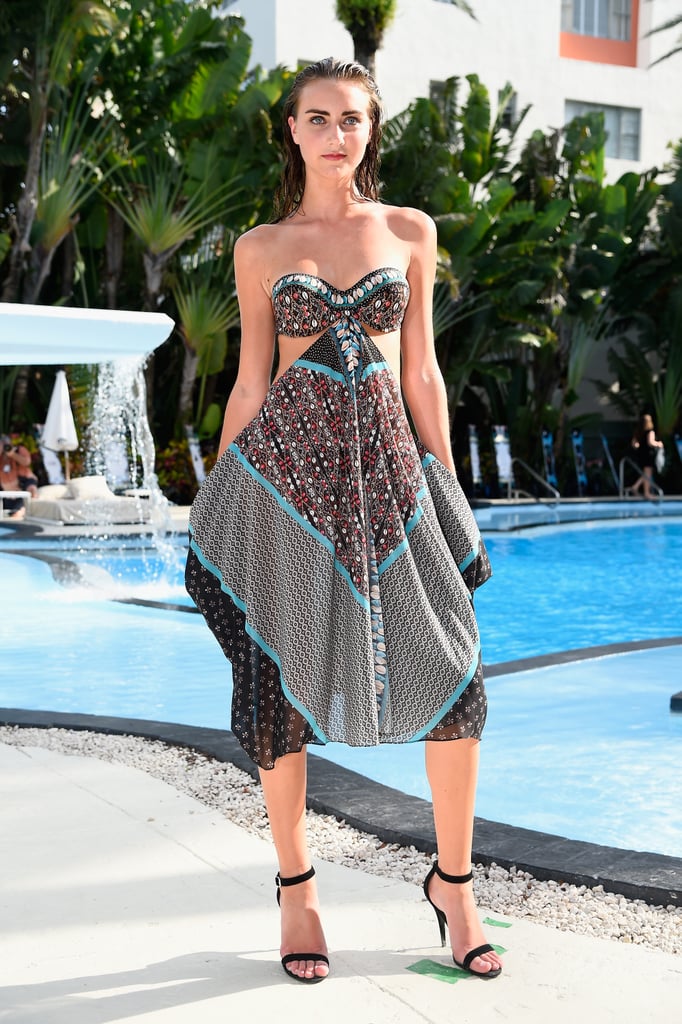 A swimsuit-cover-up hybrid, this pocketed look will be an instant hit on the festival circuit next year.
Gottex Swim 2015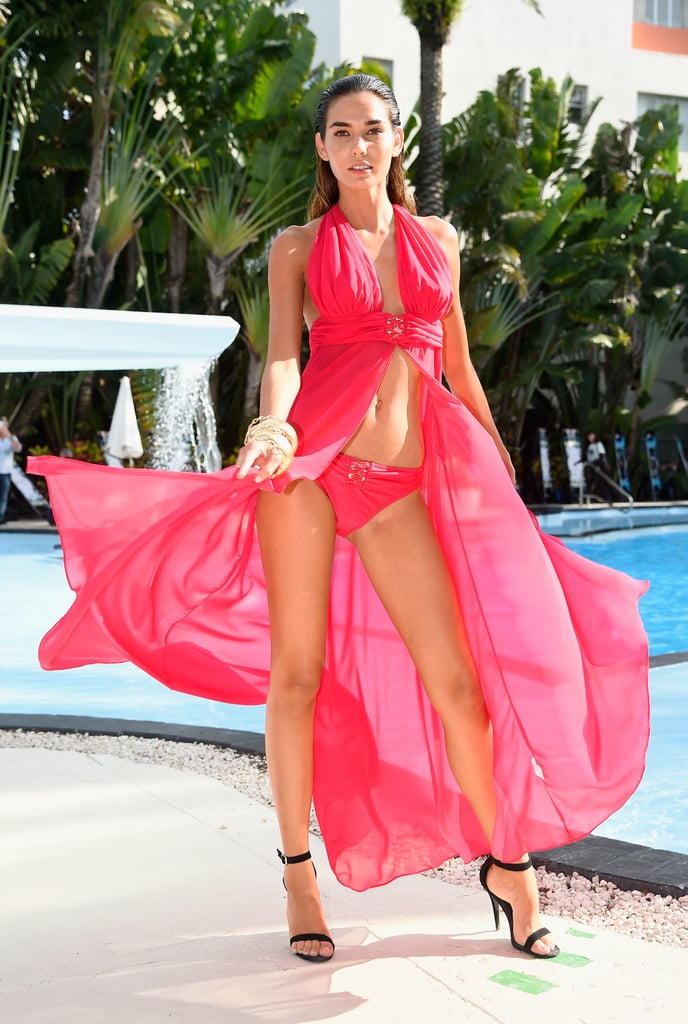 If the forecast calls for hurricane-like winds, take it as a perfect opportunity to rock this two-piece suit – and a wet hair look, courtesy of Tresemmé. The flowing back of the gathered halter top seems tailor-made for a breezy walk on the beach.
Gottex Swim 2015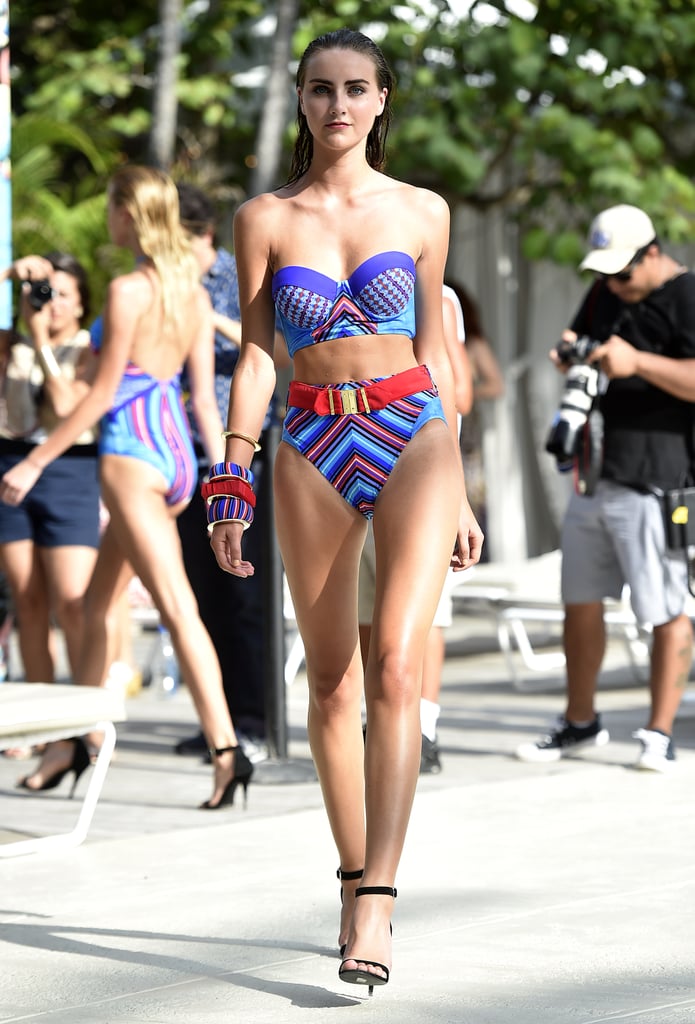 When Wonder Woman wants to go for a quick dip, this belted two-piece might fit nicely. Plus, we love a good set of coordinating bangles.
Frankies Bikinis Swim 2015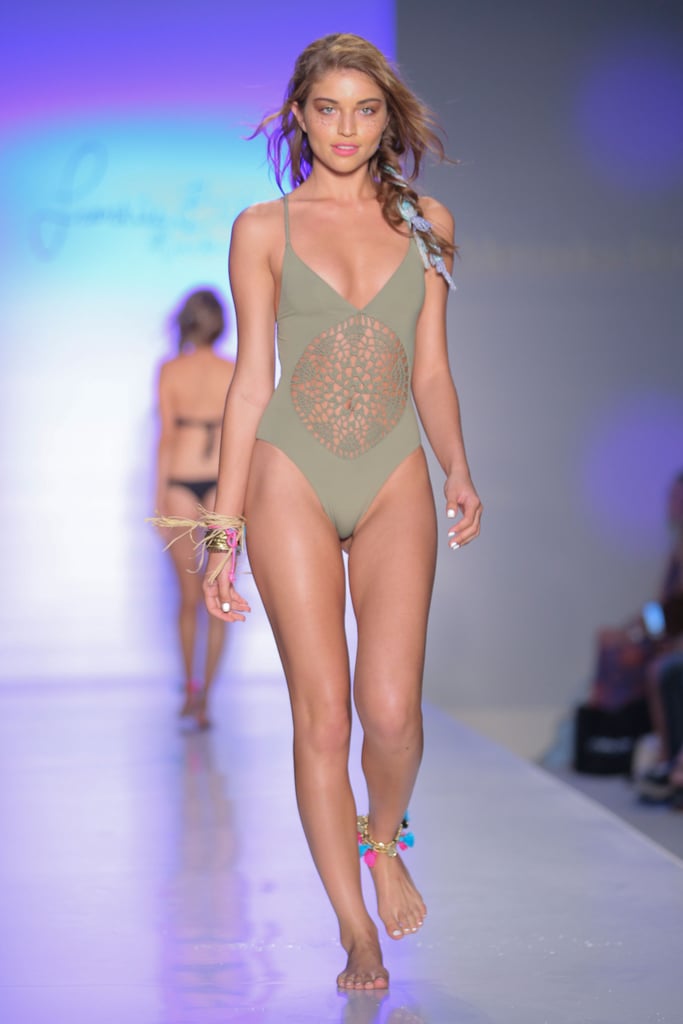 When you want the coverage of a one-piece with the, uh, coverage of a bikini, this intricate laser-cut design at the center of this suit will offer both . . . along with some interesting tan lines.
Frankies Bikinis Swim 2015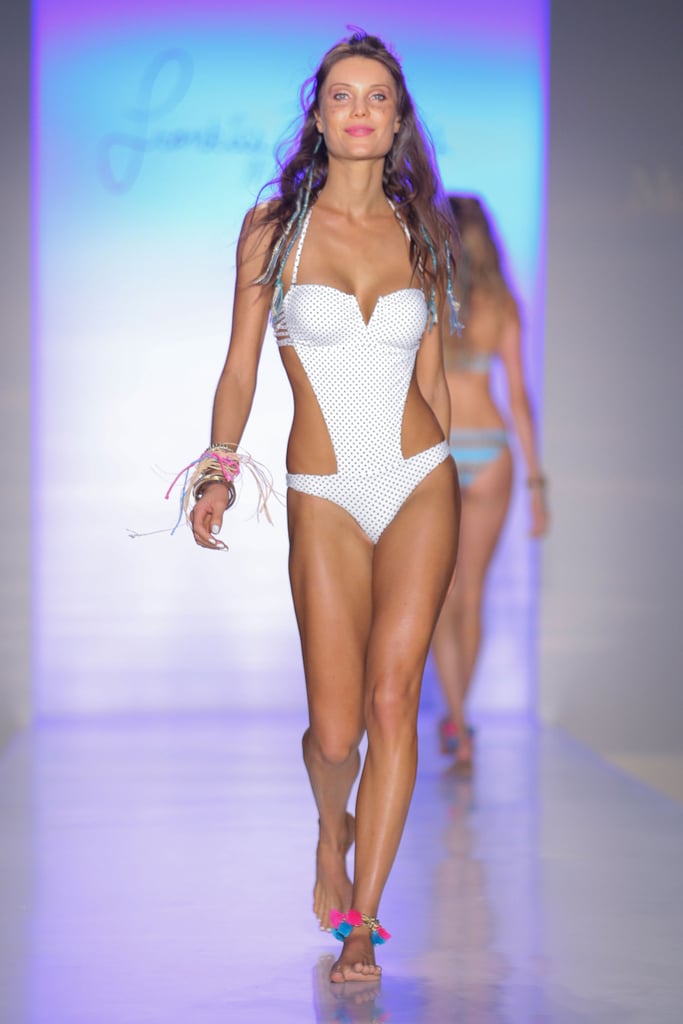 In another technique to add more sex appeal to a one-piece suit, designer Francesca Aiello cut the sides off this white polka-dot one-piece.
Clover Canyon Swim 2015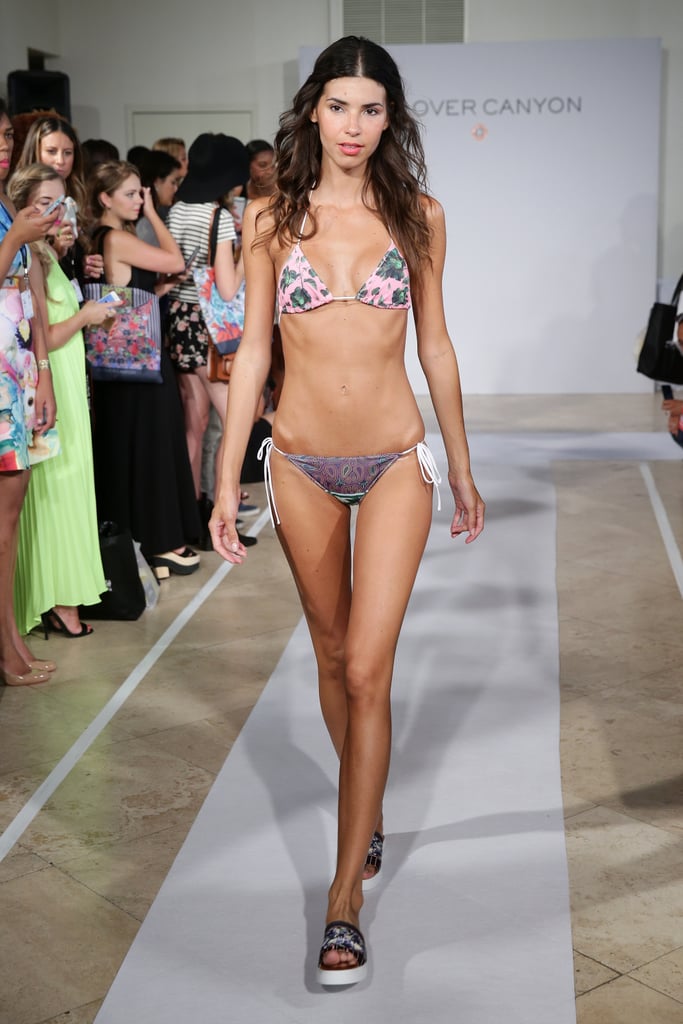 It might not be yellow polka dots, but this bikini is itsy-bitsy, teeny-weeny, so it's a wonder that there's enough real estate to showcase a mix of three different prints.
Clover Canyon Swim 2015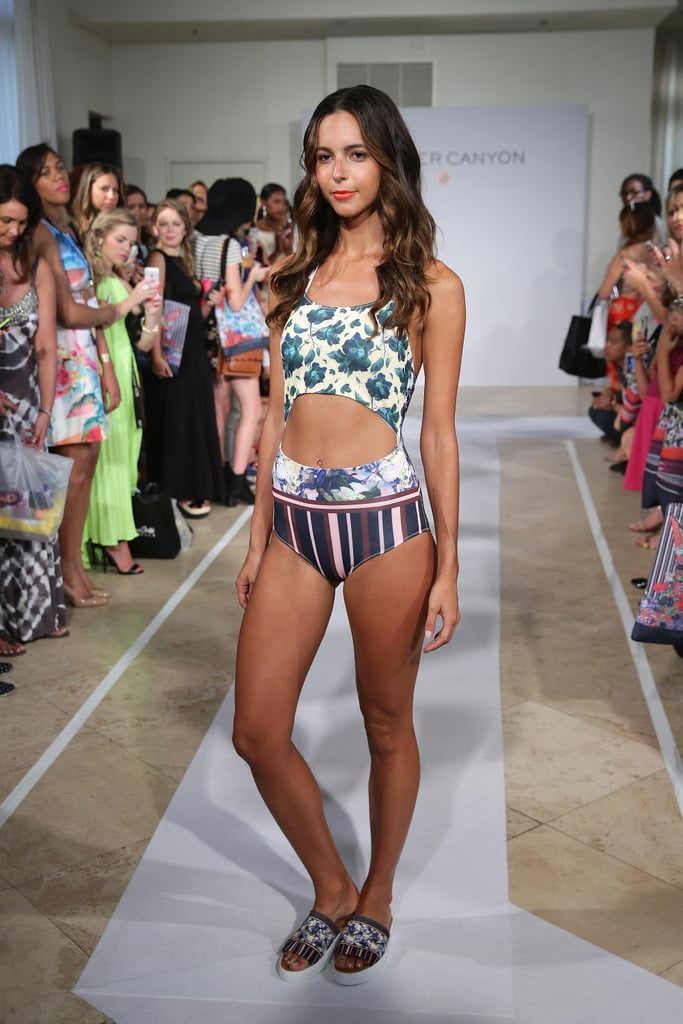 Another two-piece take on a one-piece suit, this print-happy suit from the Los Angeles-based brand is at once sporty and flirty.
Clover Canyon Swim 2015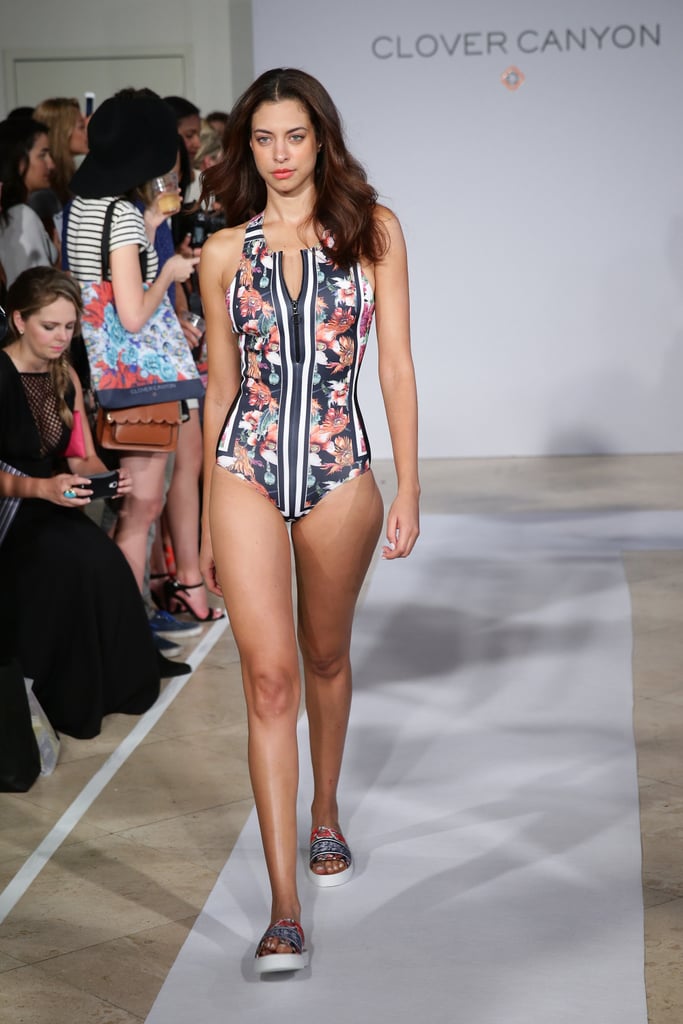 Borrowing from classic surfer wet-suit styles, we love the front zipper detail of this look.
Maaji Swim 2015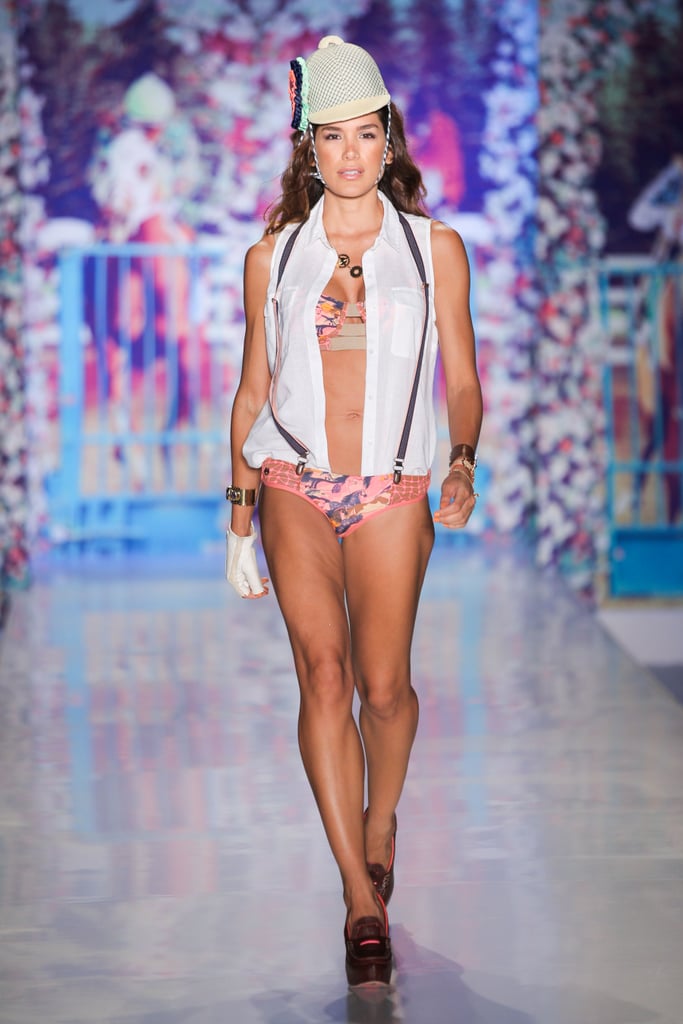 It's not often a swimwear collection finds inspiration in equestrian sports, but Maaji found a way, not just with the horse-print suit, but with every last accessory.
Maaji Swim 2015
Why not trade in your tribal-print cover-up for a reversible suede capelet?
Maaji Swim 2015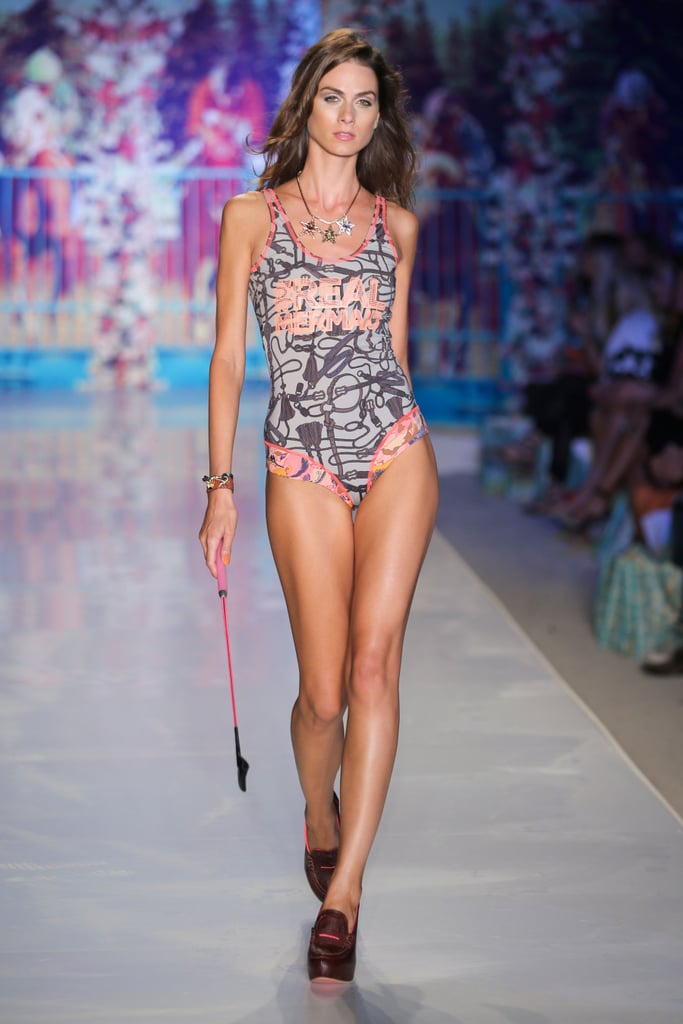 These days, no trip to Miami is complete without happening upon some piece of apparel that has a hashtag on it. Considering the inspiration for this collection, we're not quite sure what #realmermaid means, but, you know, #yolo.
Caffé Swim 2015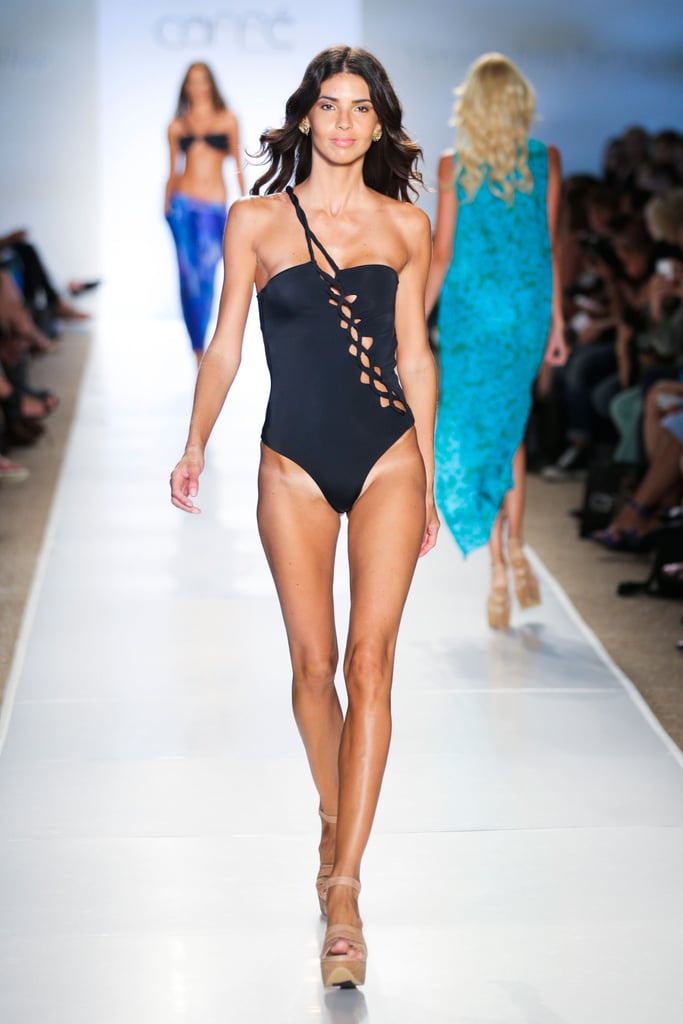 The diagonal cutouts along the twisted ties of this suit add a decidedly feminine touch to a basic silhouette.
Caffé Swim 2015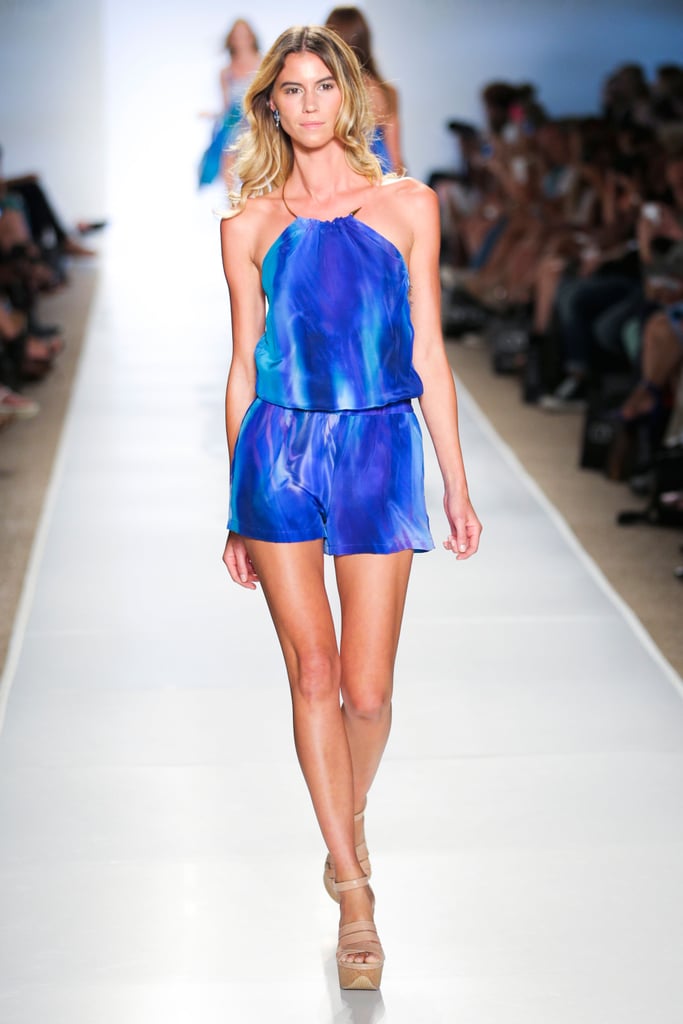 You have to see this marine blue romper move to appreciate how much it looks like the gentle waves of the ocean.
Caffé Swim 2015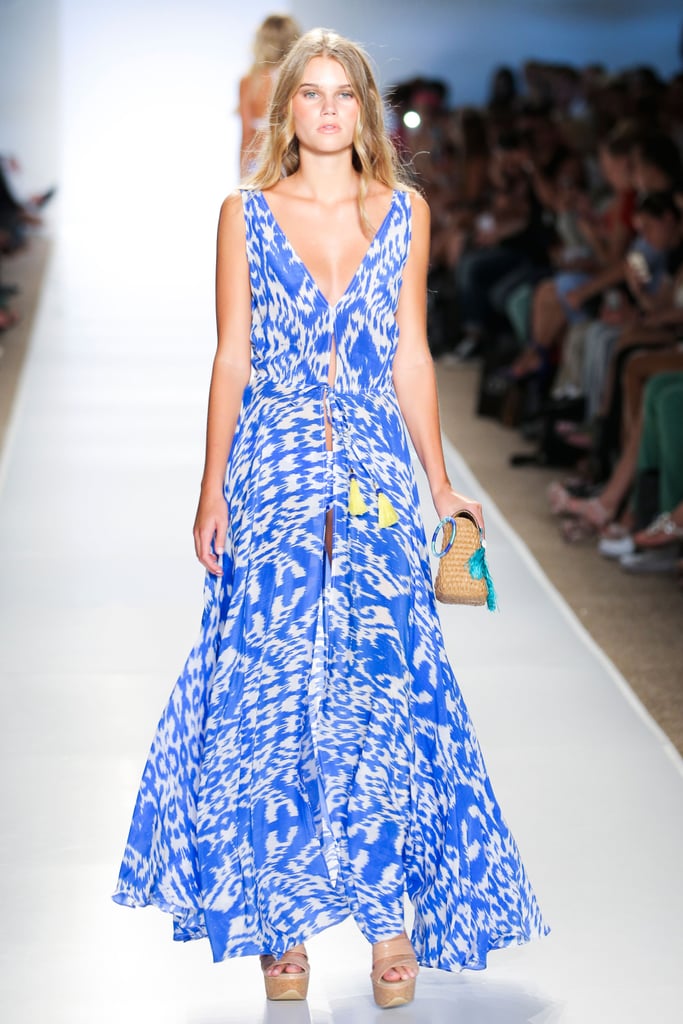 From afar, this looks like a perfect spring maxi dress, but up close, the high slit and drawstring closure make it the classiest cover-up of Miami Swim Week.
Mara Hoffman Swim 2015
We normally wouldn't consider long-sleeved swimwear for Summer's hot temps, but this geometric marvel is having us sweating that decision.
Mara Hoffman Swim 2015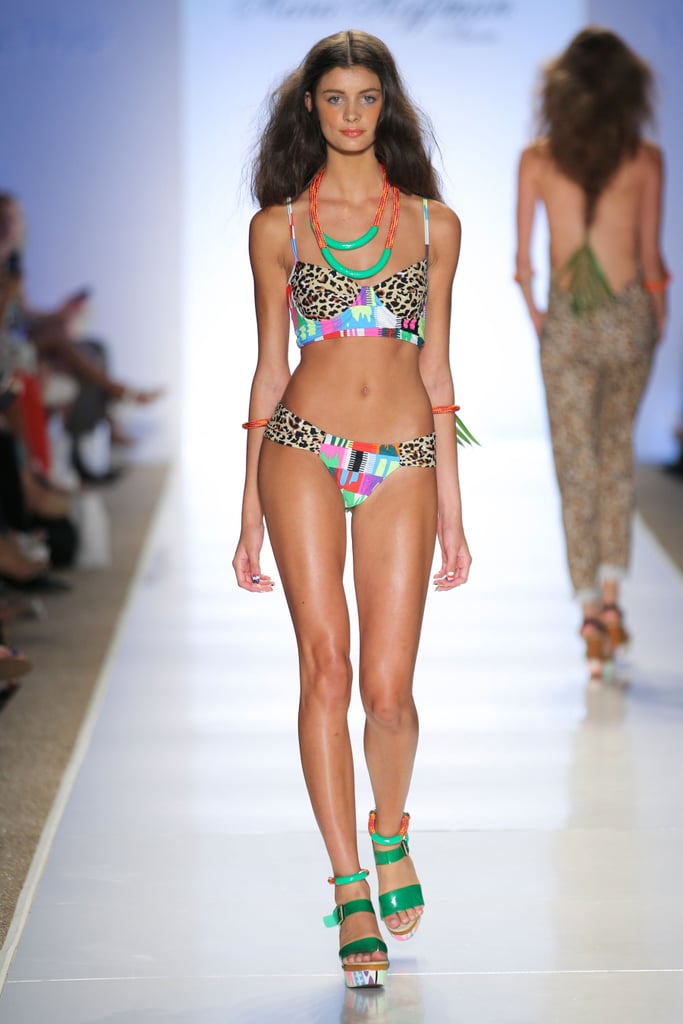 Print mixing is one thing, but throwing leopard print into said mix is a whole other.
Mara Hoffman Swim 2015
Is it just us, or could this swimsuit and formfitting sheer cover-up work just as well on the beach as on the red carpet?
Mara Hoffman Swim 2015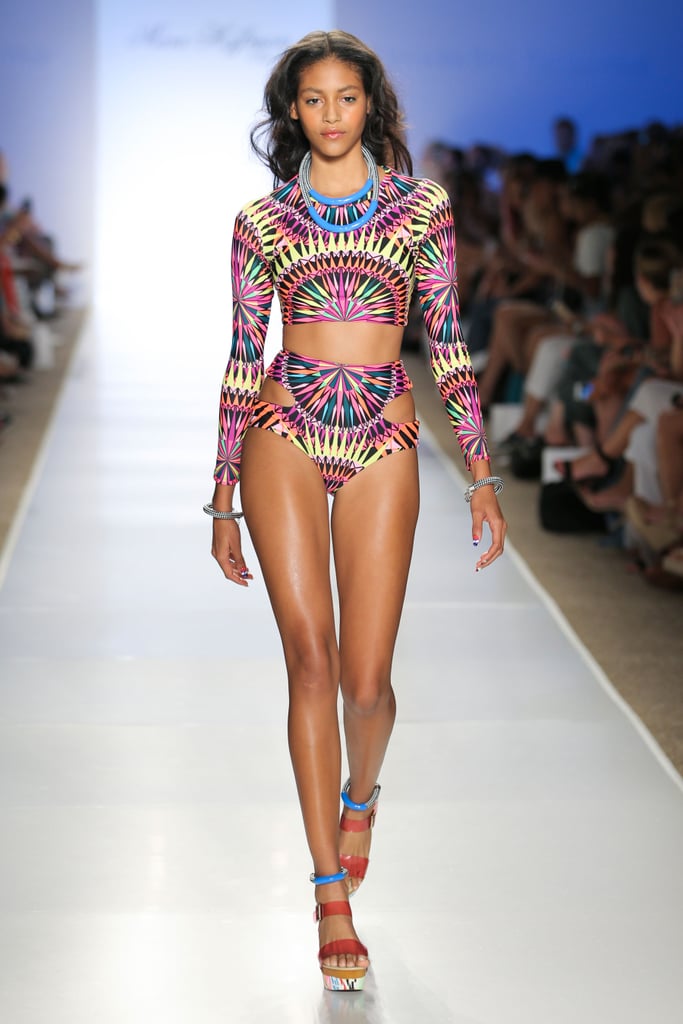 Rash guards made plenty of appearances in this collection, and the kaleidoscope effect of this one stood out from the pack.
Mara Hoffman Swim 2015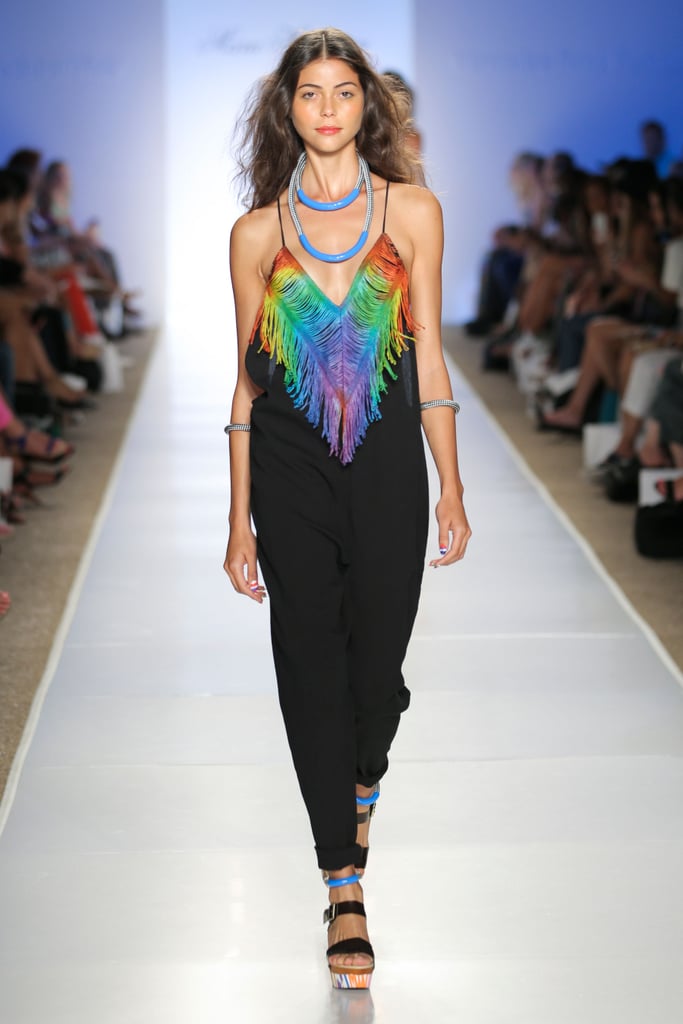 If the designer herself will wear this rainbow fringe jumpsuit to her Miami Swim Week curtain call, we assume it's a favorite.
Suboo Swim 2015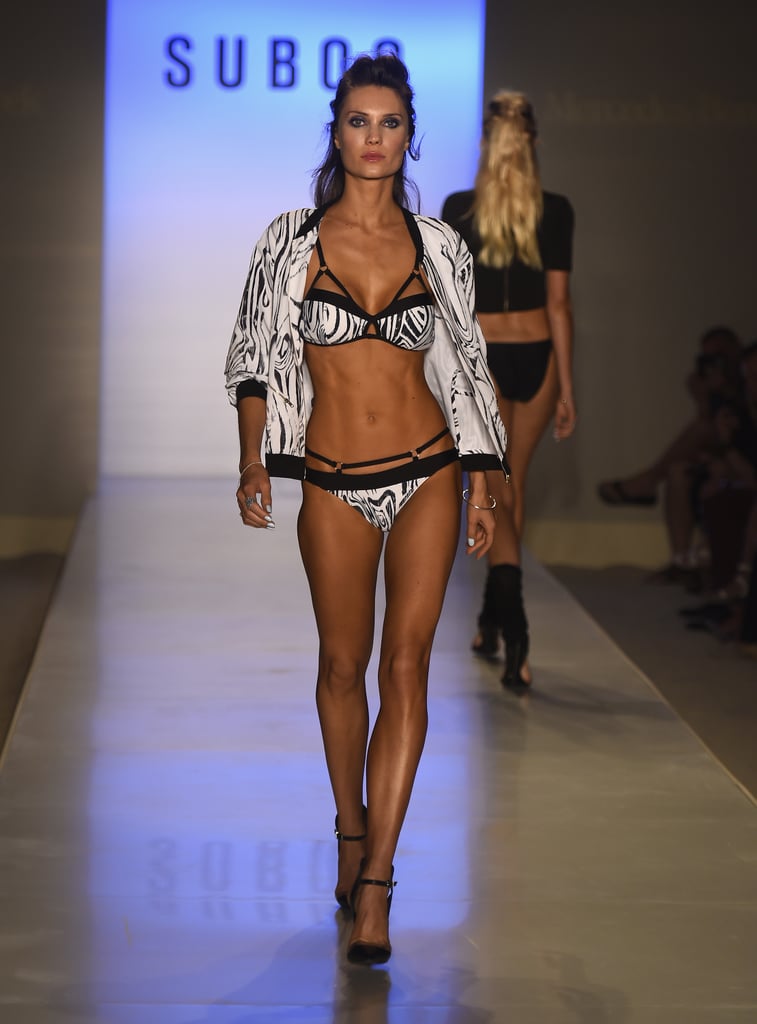 We love the caging details on this bikini bottom almost as much as we love the matching bomber jacket.
Suboo Swim 2015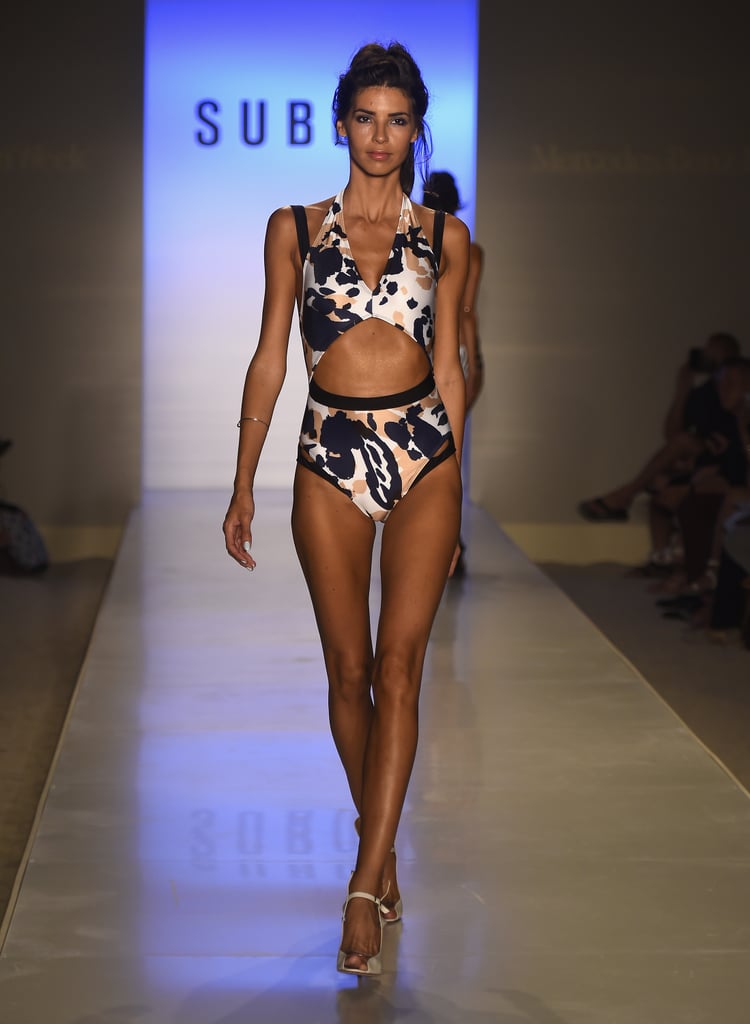 Ever worried about the straps on your swimsuit falling down mid-breaststroke? Then the doubled-up straps on this cutout one-piece halter suit will surely help.
Suboo Swim 2015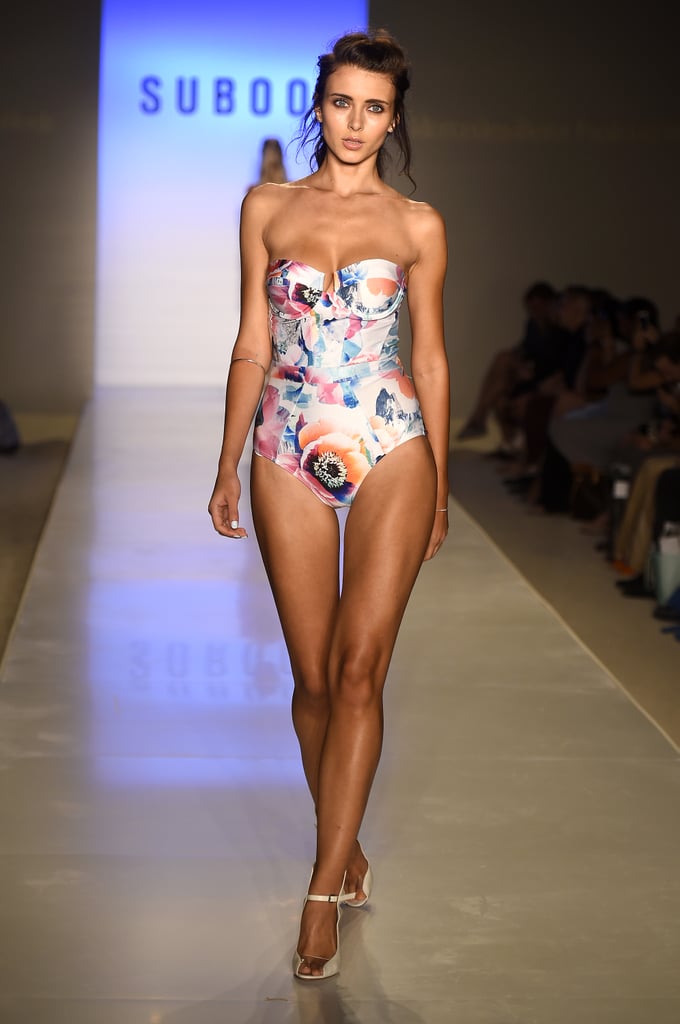 The graphic floral print gets a sexy punch with a strategically placed blooming flower.
Suboo Swim 2015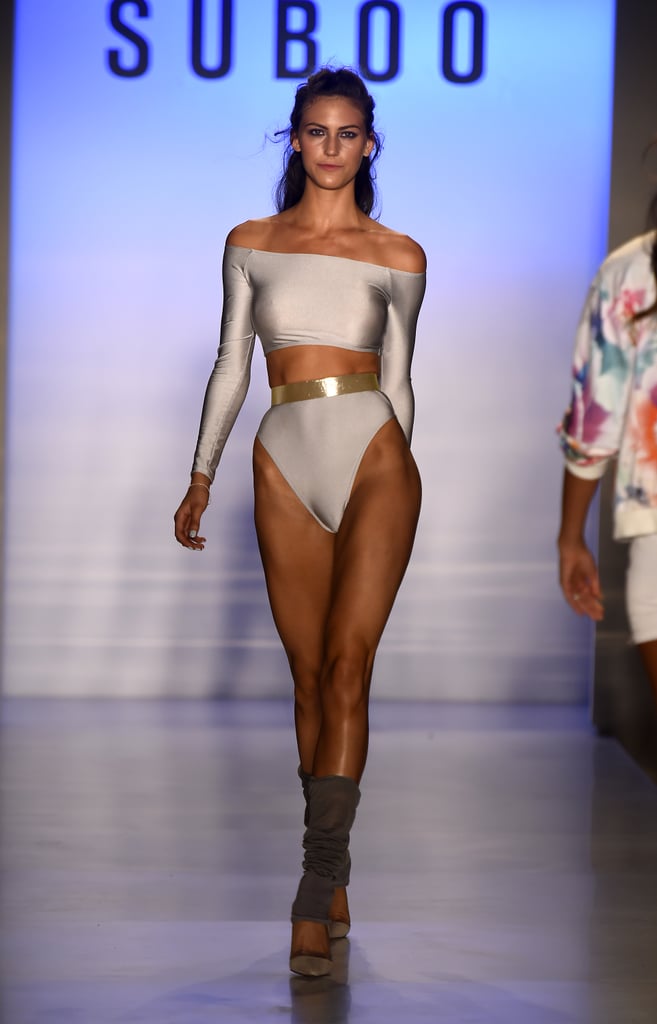 For those women who love a good power suit, enter the power swimsuit.
Suboo Swim 2015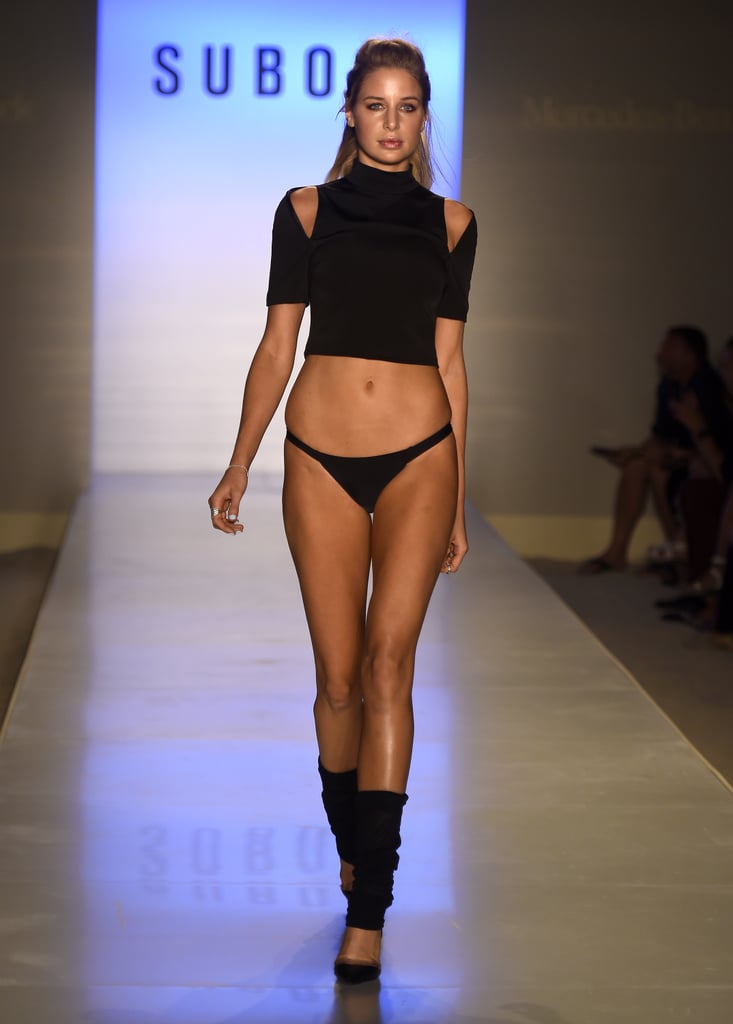 Sure, skimpy bikinis aren't for everyone. We appreciate that creative director Sue Di Chio offered a new take on the tankini that's even more conservative: the mock-turtleneckini.
Dolores Cortés Swim 2015
It's no easy feat to stand up next to that hair-rising look, provided by Tresemmé with some major backstage wiring. But, luckily, there's nothing basic about this black bikini, which uses laminated strips of fabric connected by fanning bands of elastic to offer an asymmetrical feel.
Dolores Cortés Swim 2015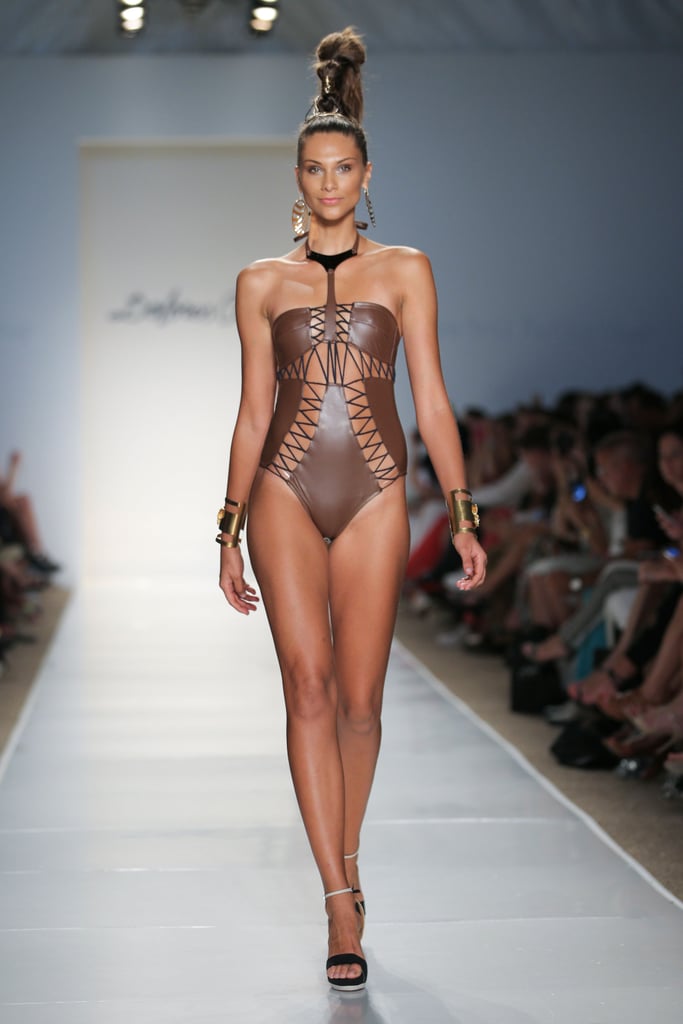 A string bikini like you've never seen it, this cutout suit is held together by braided thick black yarn and a harness collar.
Dolores Cortés Swim 2015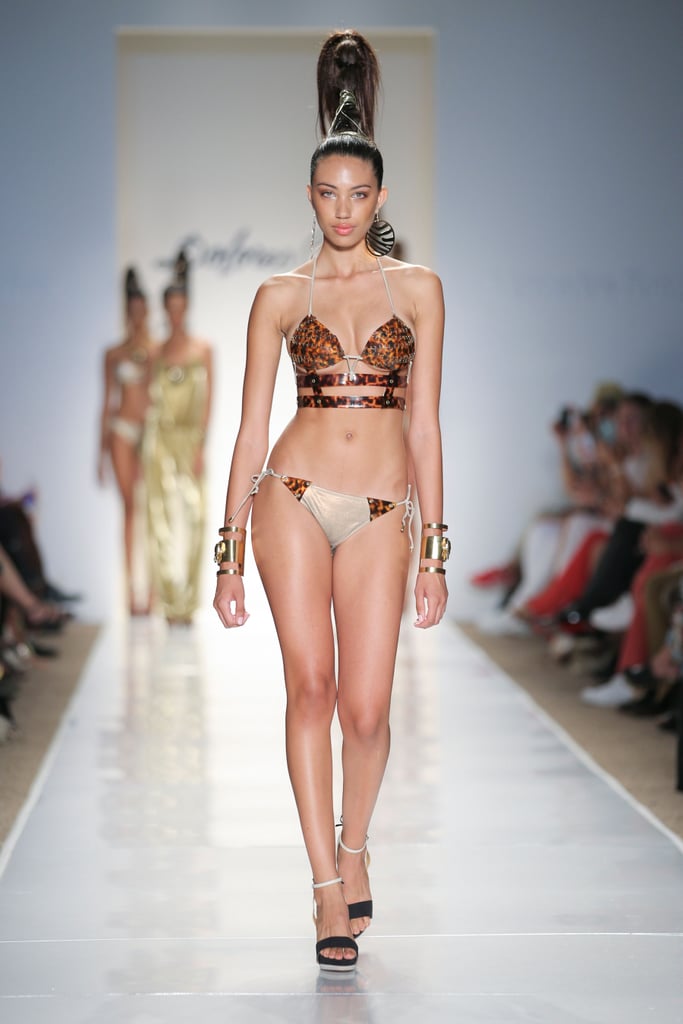 Harnesses got even more play with this collection's final look. In a hard plastic glossy animal print, the bikini top included caging details – a style that's been seen a lot on this season's runways.
L*Space by Monica Wise Swim 2015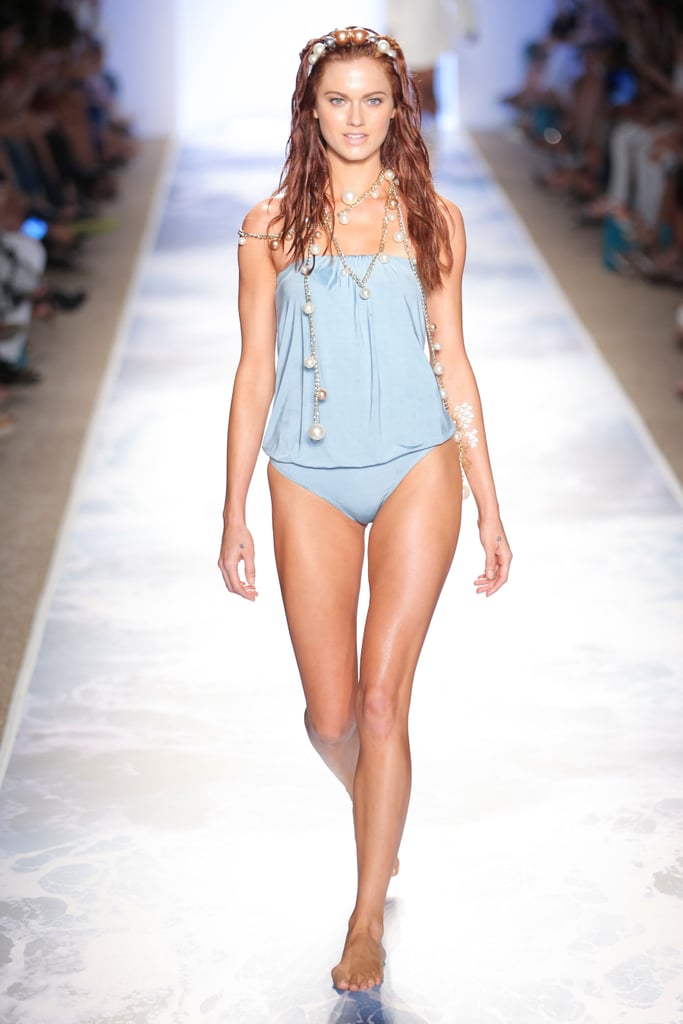 One of the most forgiving suits at Miami Swim Week was this flouncy layered tube-top style.
L*Space by Monica Wise Swim 2015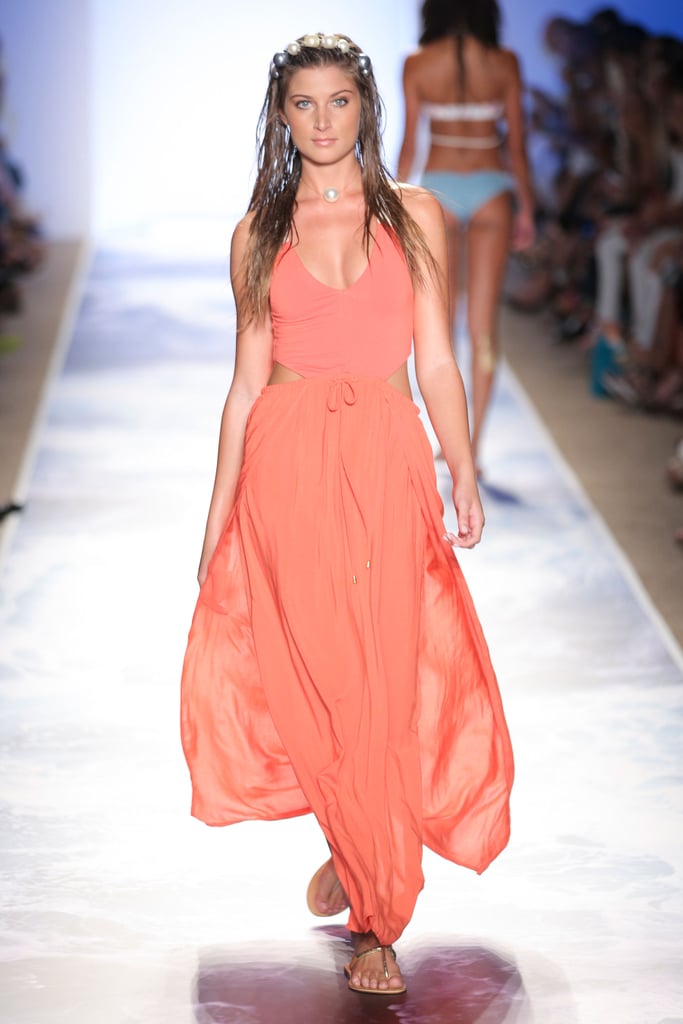 Never lose your cover-up again! This suit offers a way to connect a matching maxi skirt for a seamless look.
Cia.Marítima Swim 2015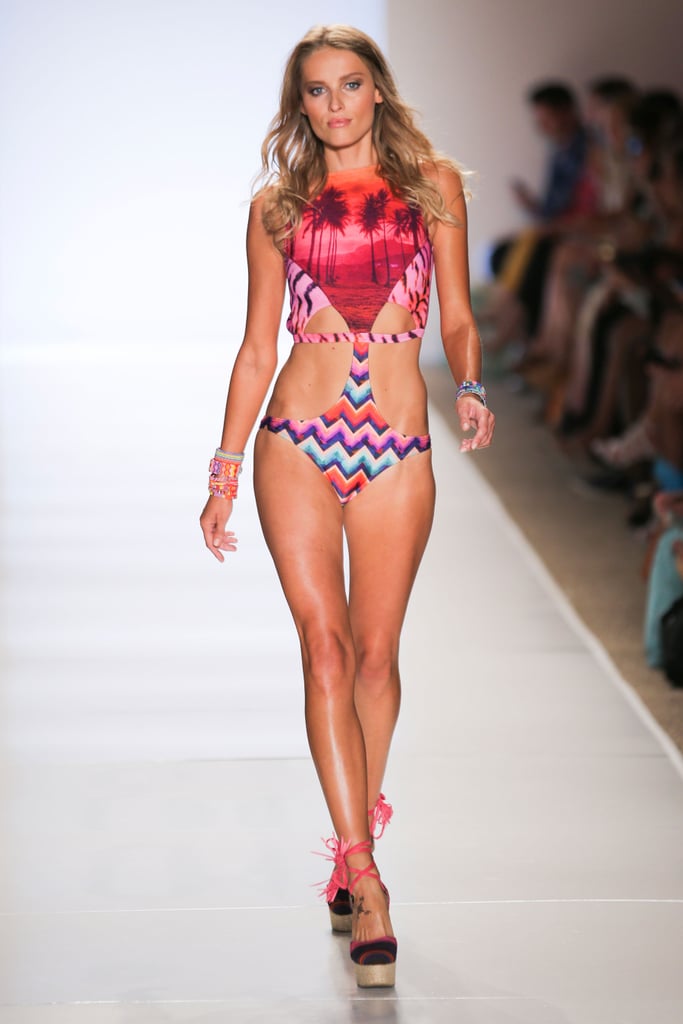 Digital photo printing has already made waves on the runways of New York and Paris, so it's exciting to see it breezing onto the Miami Swim Week scene with this palm-tree print.
Cia.Marítima Swim 2015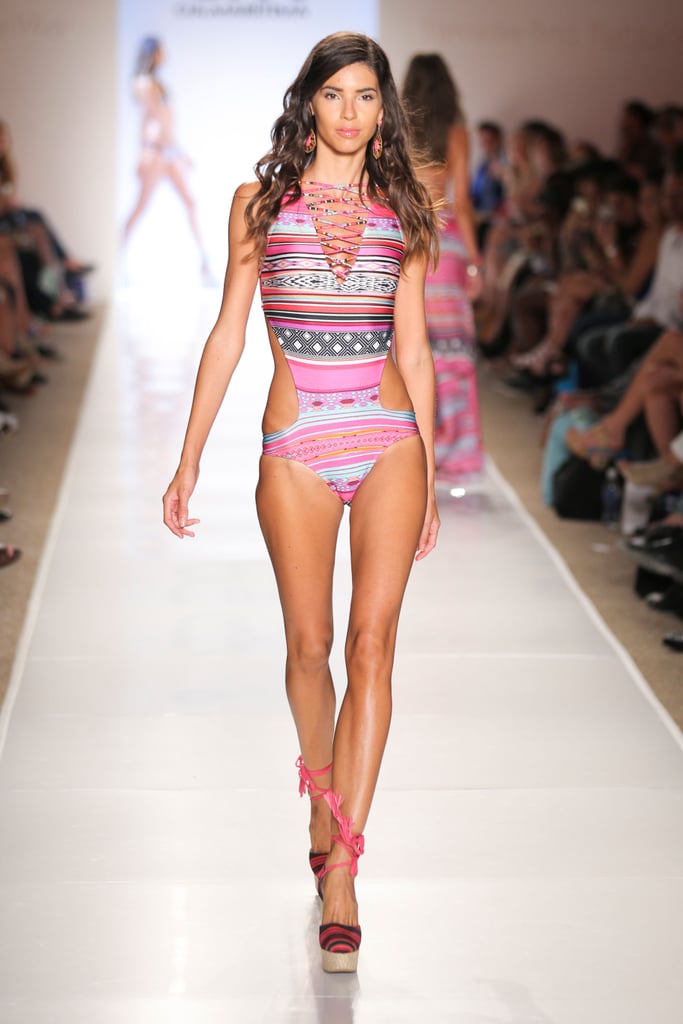 According to designer Benny Rosset, the one thing swimsuits have been missing is corsets.
Cia.Marítima Swim 2015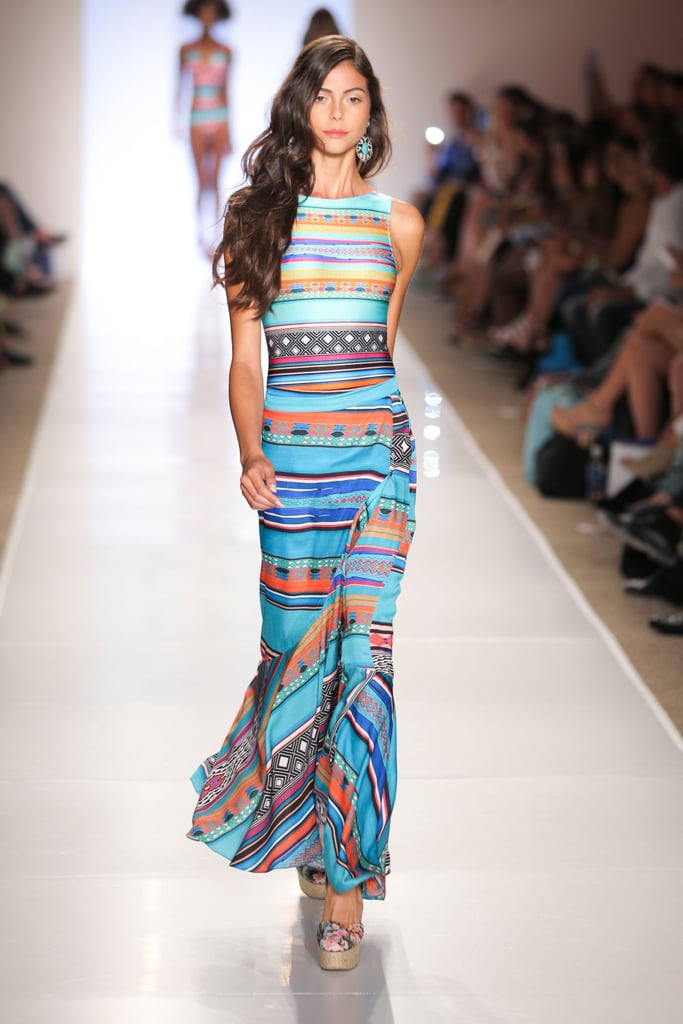 The same poly elastics that make up swimsuits make up this formfitting maxi dress, which might just be the most legitimate day-to-night transitional piece for Summer swim sessions.