There is quite possibly no bigger (or more extravagant) fashion event than the Metropolitan Museum of Art Costume Institute Gala. Each year, the best and brightest of the industry come together to celebrate the museum's exhibit [1] (it's even referred to as the Oscars of the East Coast) — and celebrities, models, and designers bring their sartorial A-game to the corresponding red carpet. This year's event is fast approaching, and we'll be covering all the glamour right here — but to get us in the mood, we're taking a look back at the most memorable Met Gala looks over the years. From Kate Moss [2]'s metallic Marc Jacobs frock to Sarah Jessica Parker [3]'s tartan Alexander McQueen getup and Beyoncé's feathered Givenchy gown, click through now to see 100+ gorgeous gowns from parties past.
Sarah Jessica Parker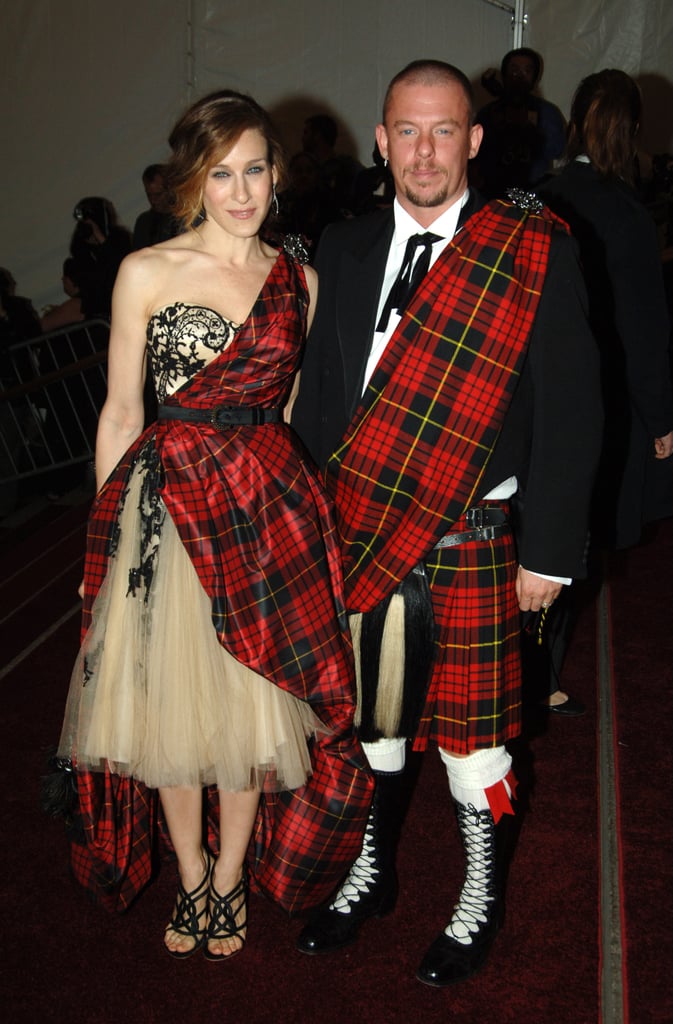 Sarah Jessica Parker [4] attended the 2006 gala with the late Alexander McQueen — the pair wore matching tartan prints.
Beyoncé Knowles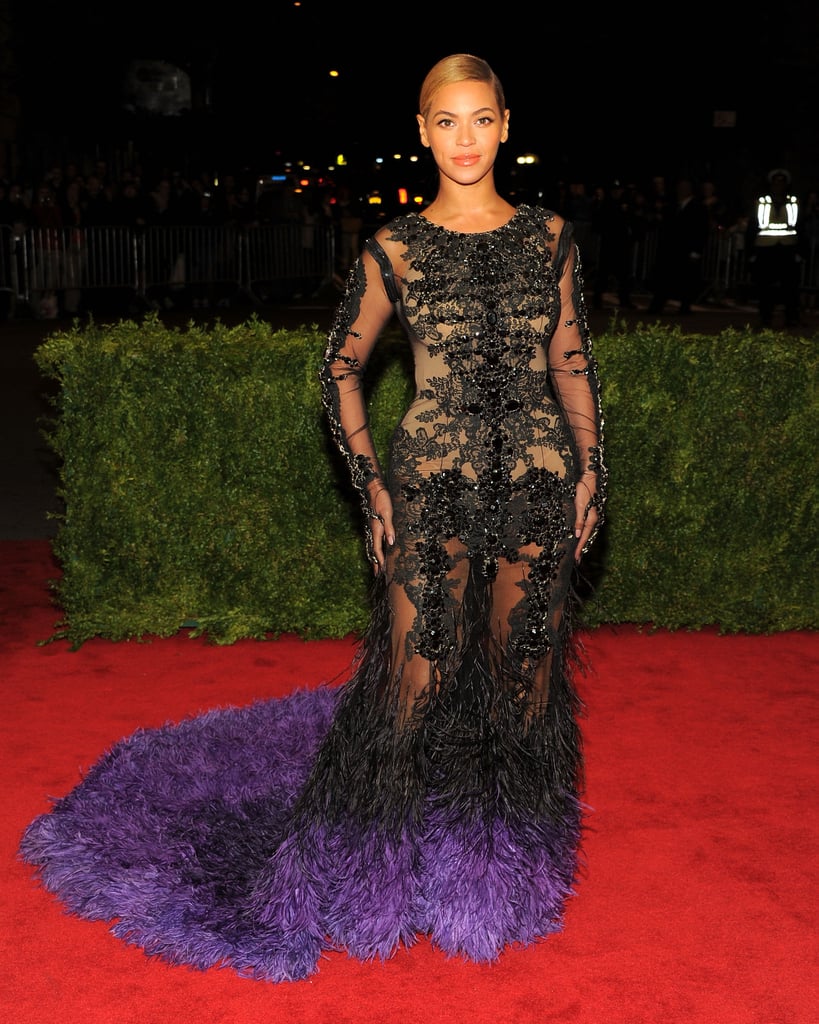 Sigh — who could forget Beyoncé's jaw-dropping Givenchy gown from the 2012 red carpet? The performer was one of the last stars to arrive at the event, but once we got a glimpse of her feathered, beaded gown cascading down the staircase, it was easy to see why she wanted to be fashionably late.
Diane Kruger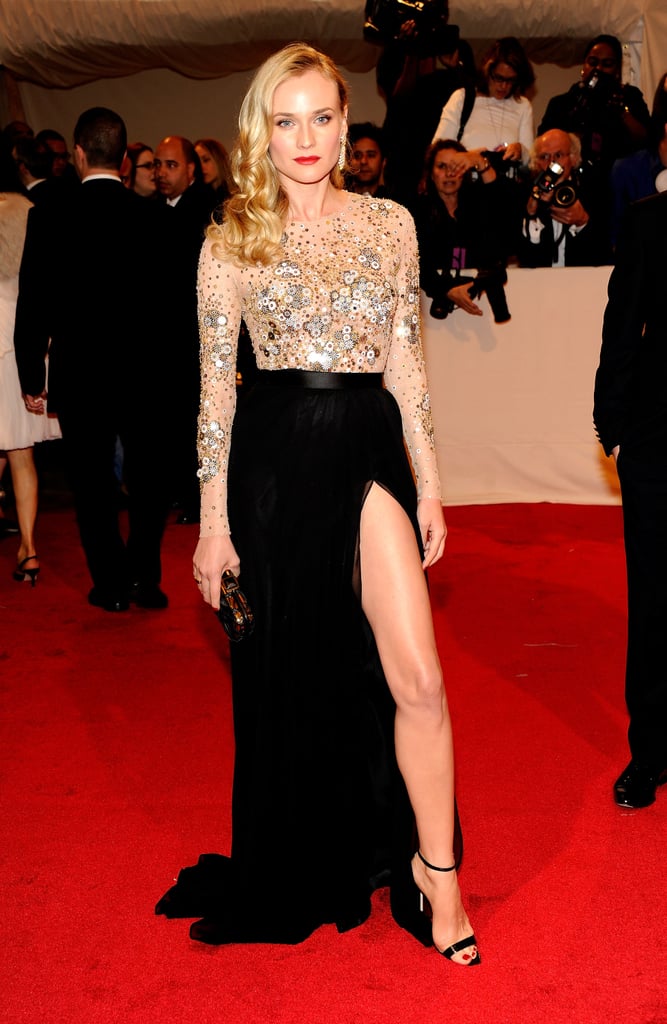 Diane Kruger [5] bared her leg way before Angelina; the actress turned heads at the 2011 Met Gala in a gorgeous Jason Wu gown.
Anne Hathaway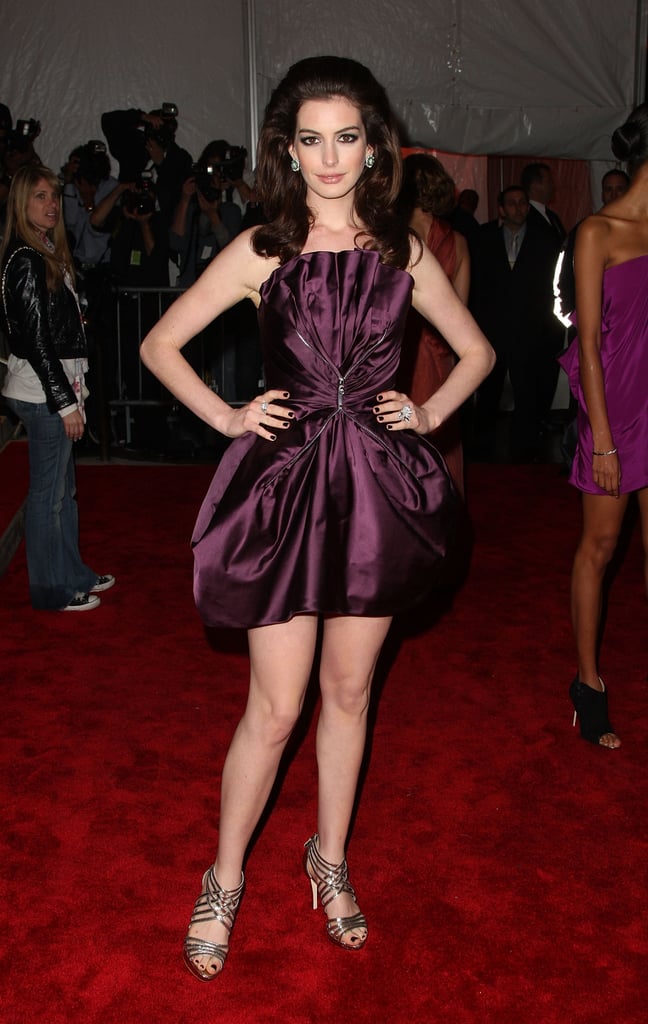 Anne Hathaway [6] was the picture of retro-chic in a plum-colored Marc Jacobs mini complete with a bouffant hairstyle in 2009.
Jessica Biel
Jessica Biel [7] made jaws drop in an asymmetrical-hem Versace dress at the 2009 gala. She accessorized the red-orange gown with simple diamond drop earrings.
Gwyneth Paltrow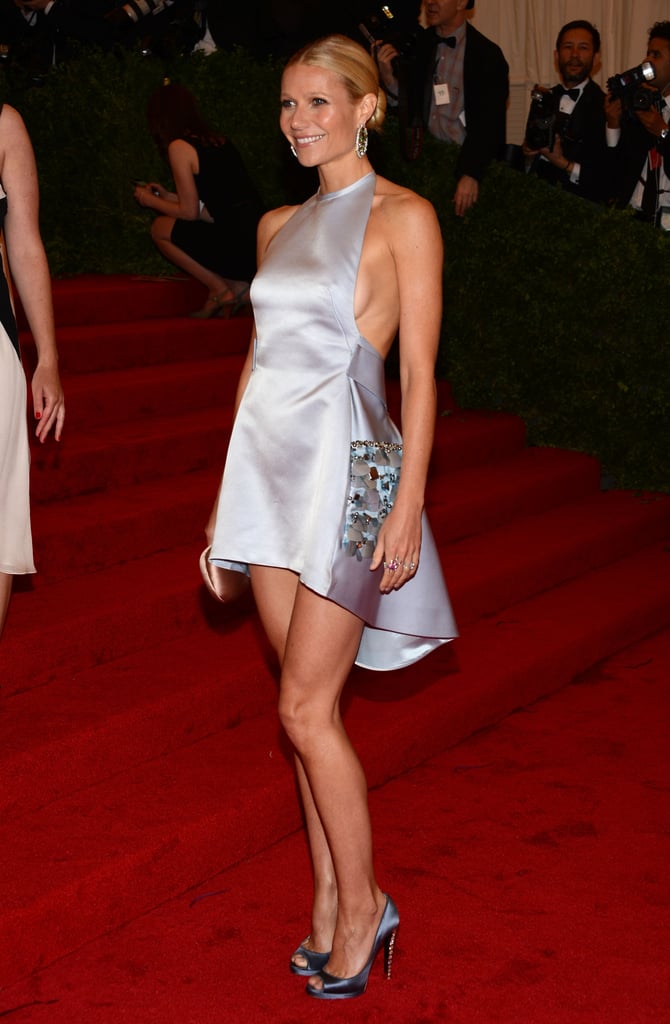 Gwyneth Paltrow [8] turned it out on the red carpet in 2012, looking gorgeous in a lilac-colored, asymmetrical halter dress by Prada.
Naomi Watts
Naomi Watts [9] looked like an Old Hollywood pin up in a deeply pleated Mugler gown at the 2008 Met Gala.
Jennifer Lopez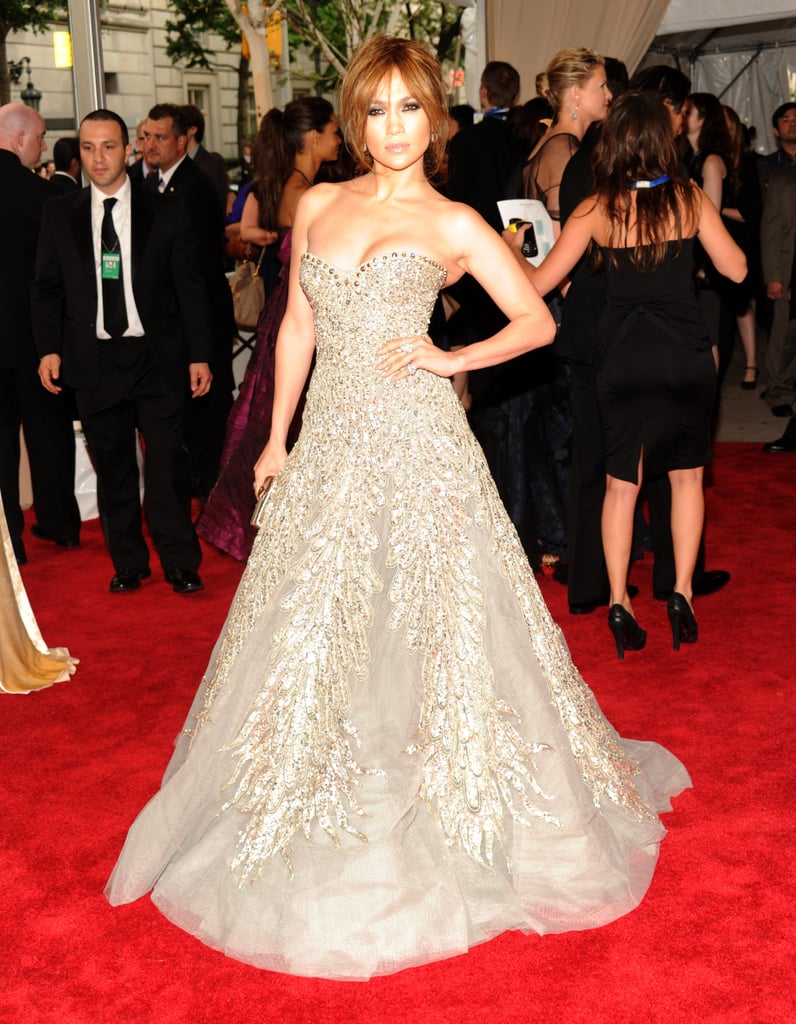 Jennifer Lopez [10] donned a sparkly Zuhair Murad dress at the 2010 Met Gala.
Blake Lively
Blake Lively [11] channeled a sexy Grecian goddess in a nude-colored Chanel Couture gown for the "Savage Beauty" red carpet in 2011.
Kate Moss
Kate Moss [12] stole the show in 2009; the model arrived on the arm of Marc Jacobs in a metallic, toga-inspired frock from the designer.
Rihanna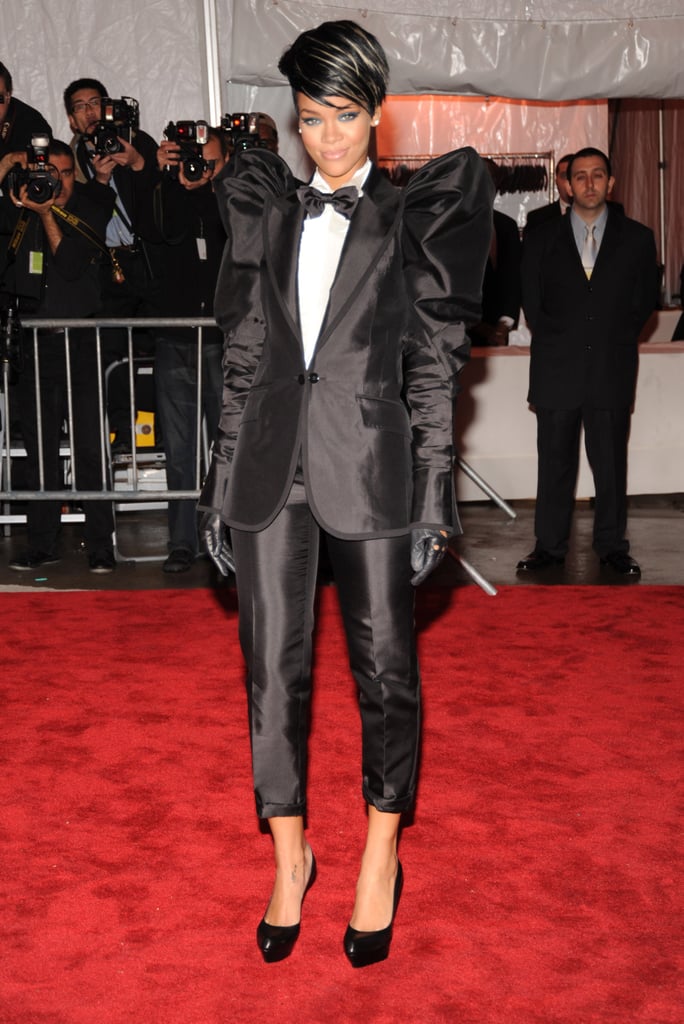 Rihanna [13] made a serious statement in a strong-shouldered Dolce & Gabbana tuxedo and bow tie in 2009.
Katie Holmes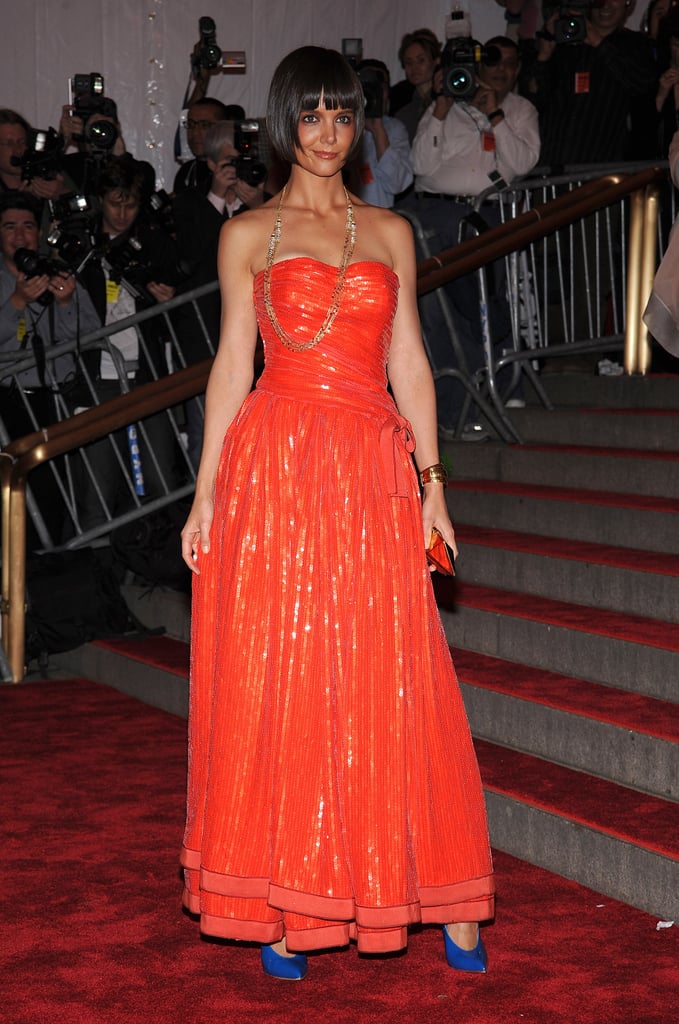 Katie Holmes [14] paired a red-orange Giorgio Armani gown with bright blue shoes (with her now iconic blunt bob) at the 2010 event.
Miranda Kerr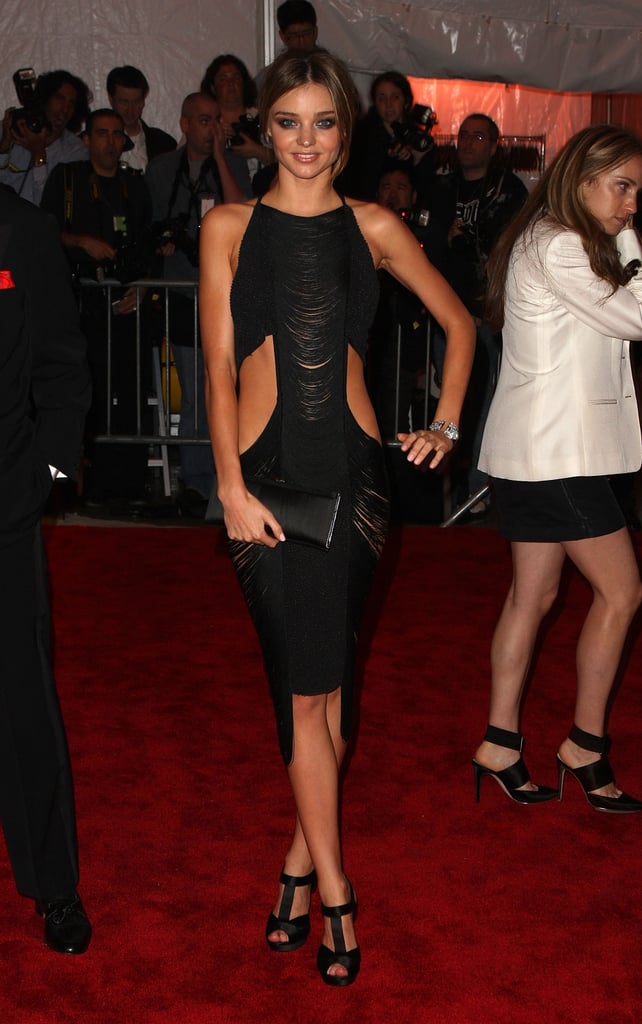 Miranda Kerr [15] showed off her enviable figure in a black Jil Sander dress with side cutouts in 2009.
Cate Blanchett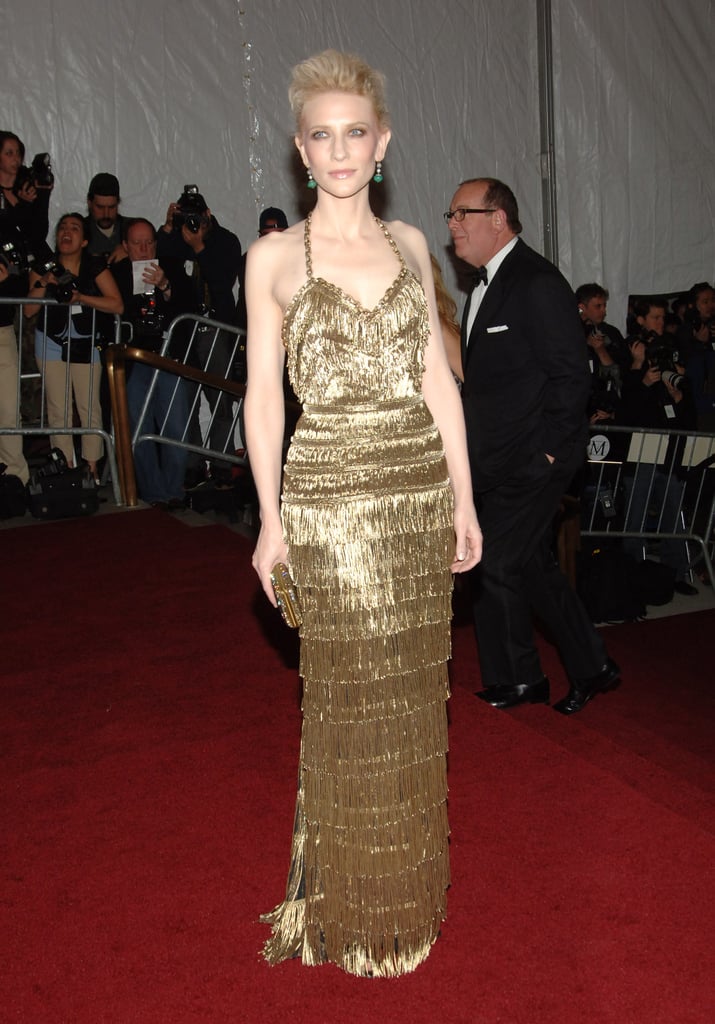 Cate Blanchett [16] stole the show in 2007, wearing a gold fringe column gown by Balenciaga designer Nicolas Ghesquière.
Camilla Belle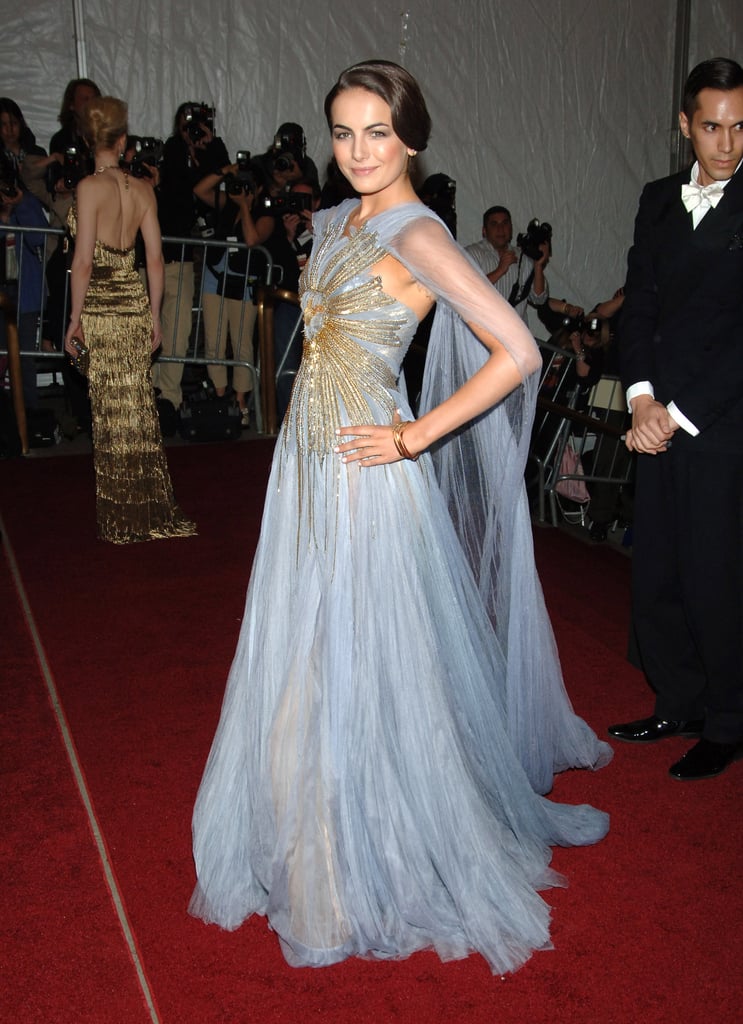 Camilla Belle wore a frothy, feminine Jean Paul Gaultier gown to the 2007 gala.
Gisele Bundchen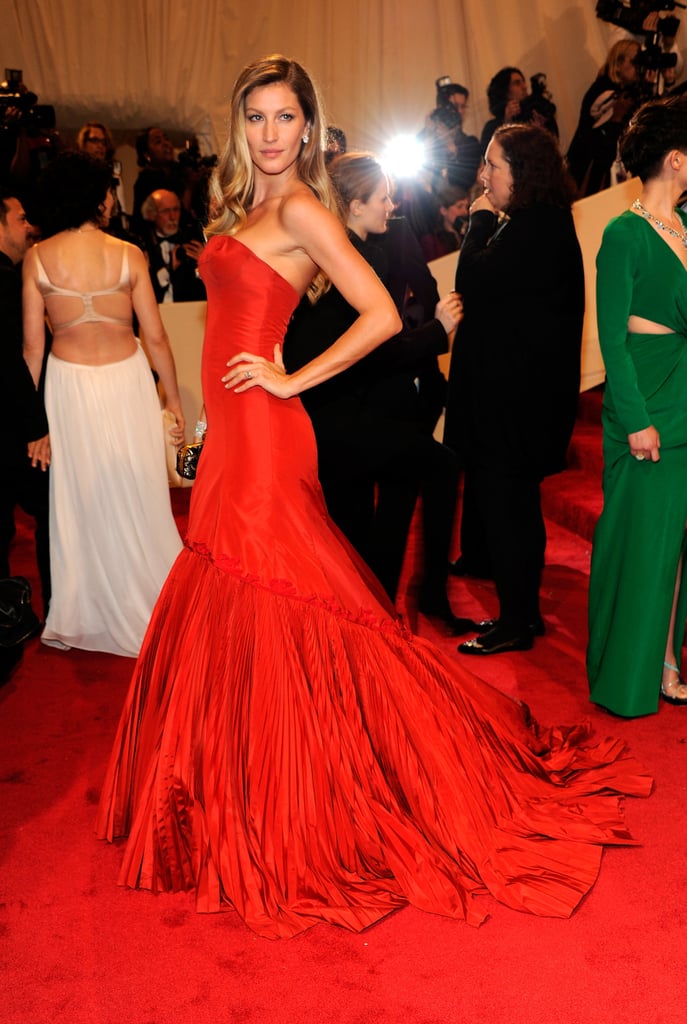 Gisele Bundchen was the belle of the ball in 2011, wearing a simply striking red Alexander McQueen gown in the late designer's honor.
Carey Mulligan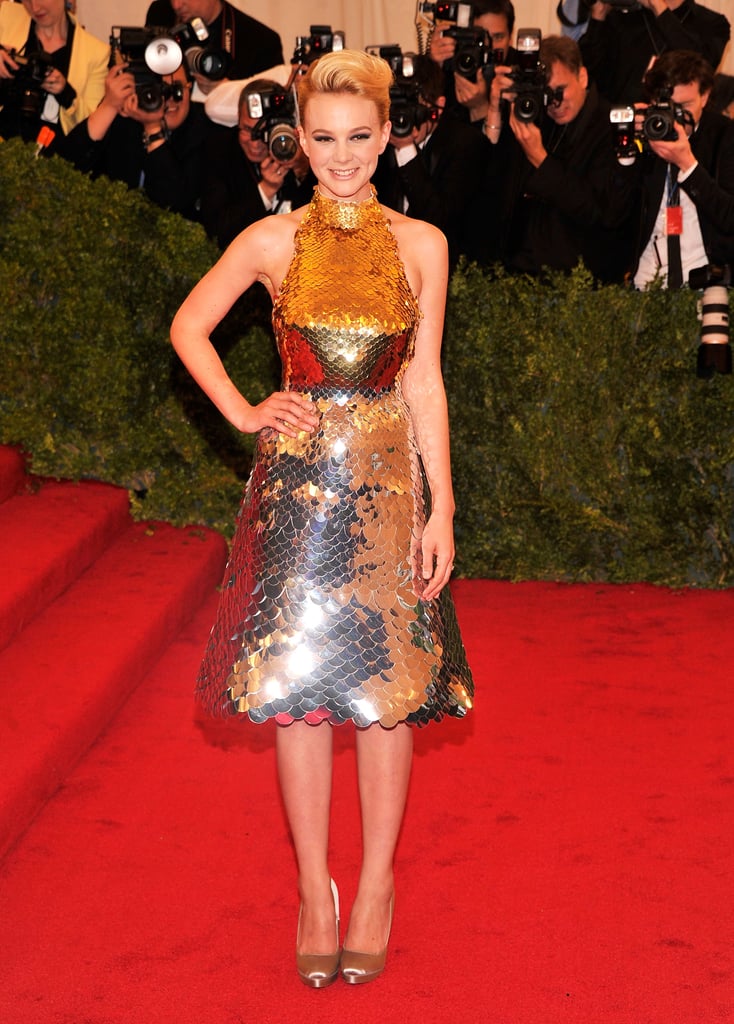 Carey Mulligan [17] shone (literally) in a custom-made sequin Prada dress on the red carpet in 2012.
Taylor Swift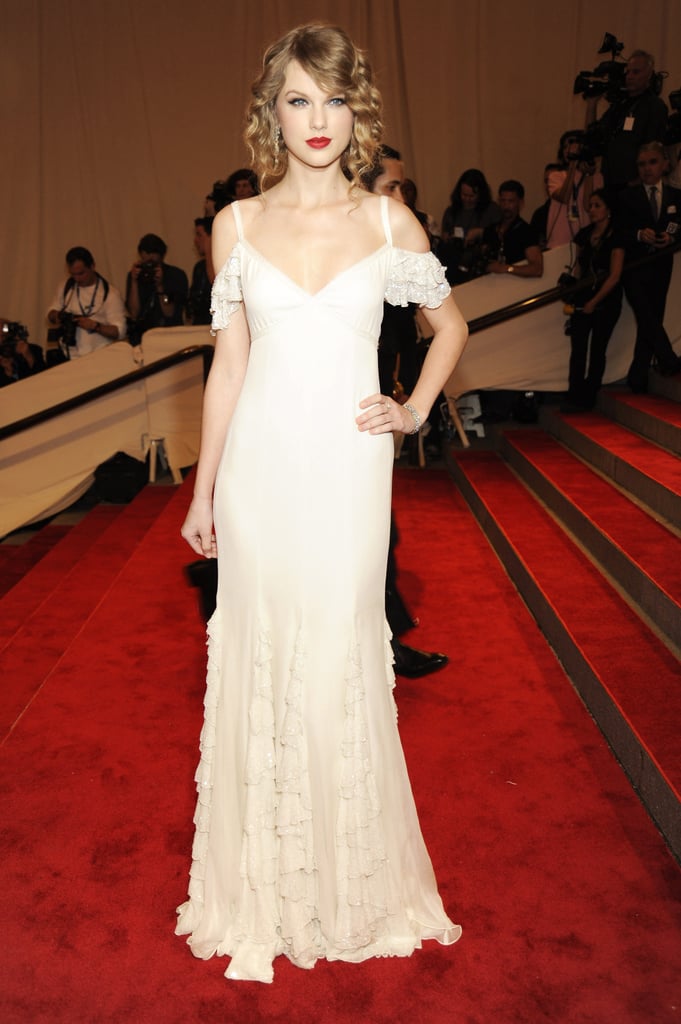 Taylor Swift [18] upped the glam factor in 2010, walking the red carpet in a sweet cream-colored gown by Ralph Lauren.
Salma Hayek
Salma Hayek [19] can do no wrong, and her 2011 Met Gala look was totally glamorous. She wore a nude-colored chiffon Alexander McQueen dress that fit her like a glove.
Jennifer Garner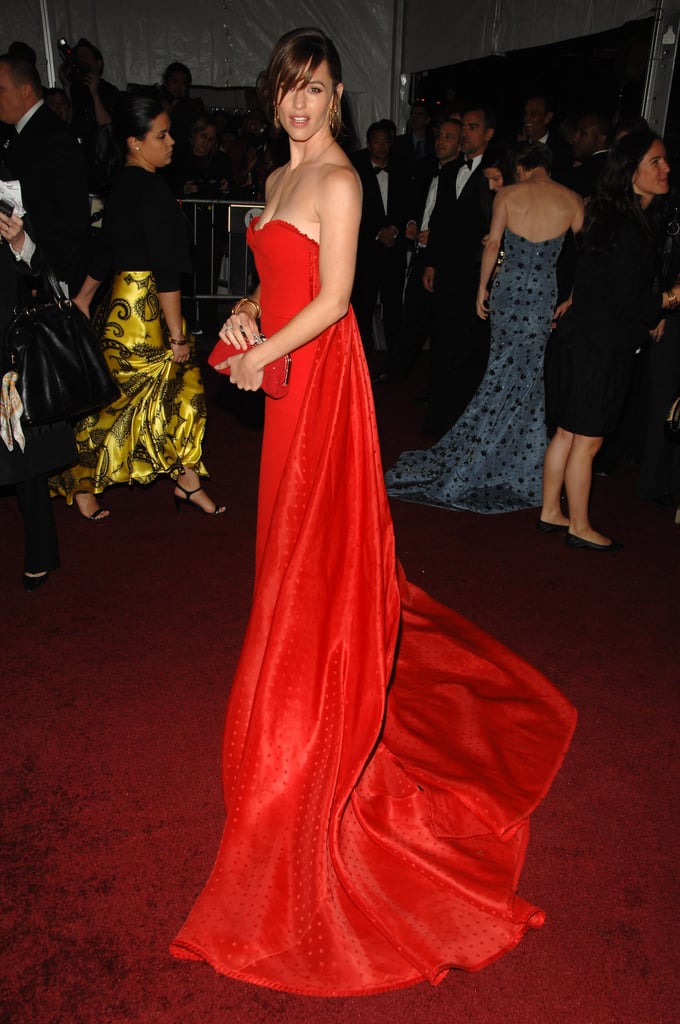 Jennifer Garner [20] wore a fire-engine-red Valentino gown in 2007.
Gwen Stefani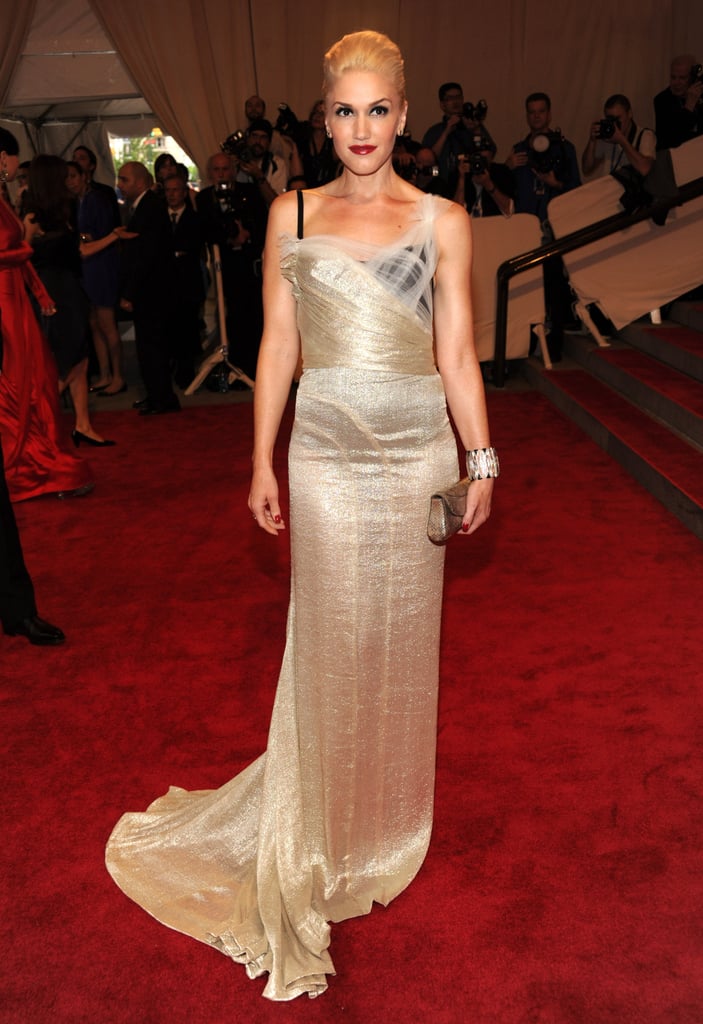 The always avant-garde Gwen Stefani [21] donned a champagne-colored gown from her L.A.M.B. collection in 2010.
Sandra Bullock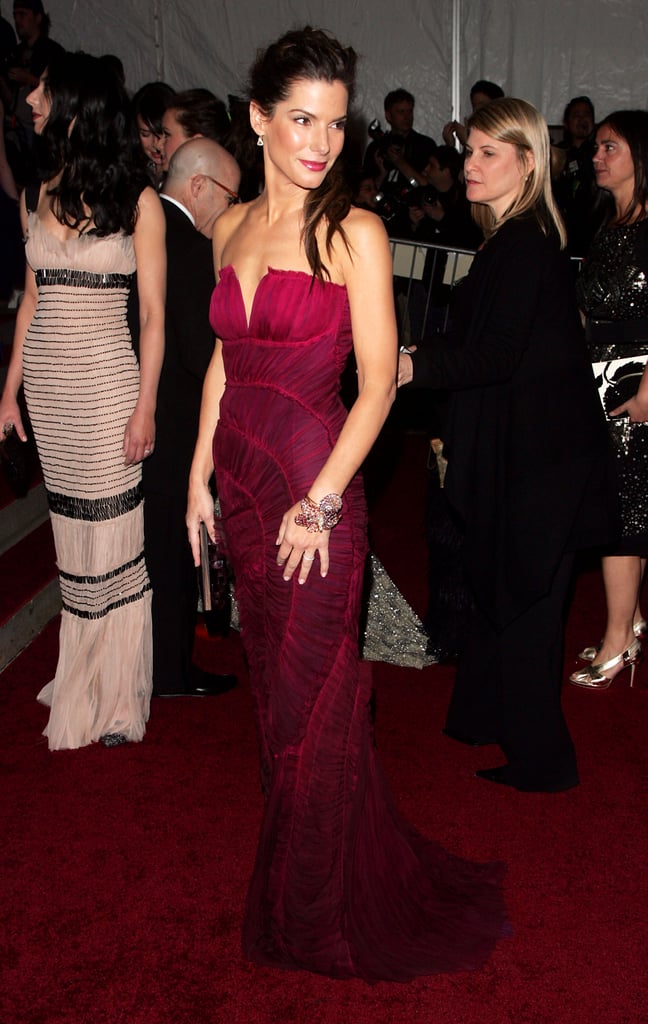 Sandra Bullock [22] wore a stunning cranberry-colored dress by Alberta Ferretti in 2007.
Nina Dobrev
The star made her presence know at the 2012 Met Gala in a daring Donna Karan Atelier gown with a dramatic train.
Karolina Kurkova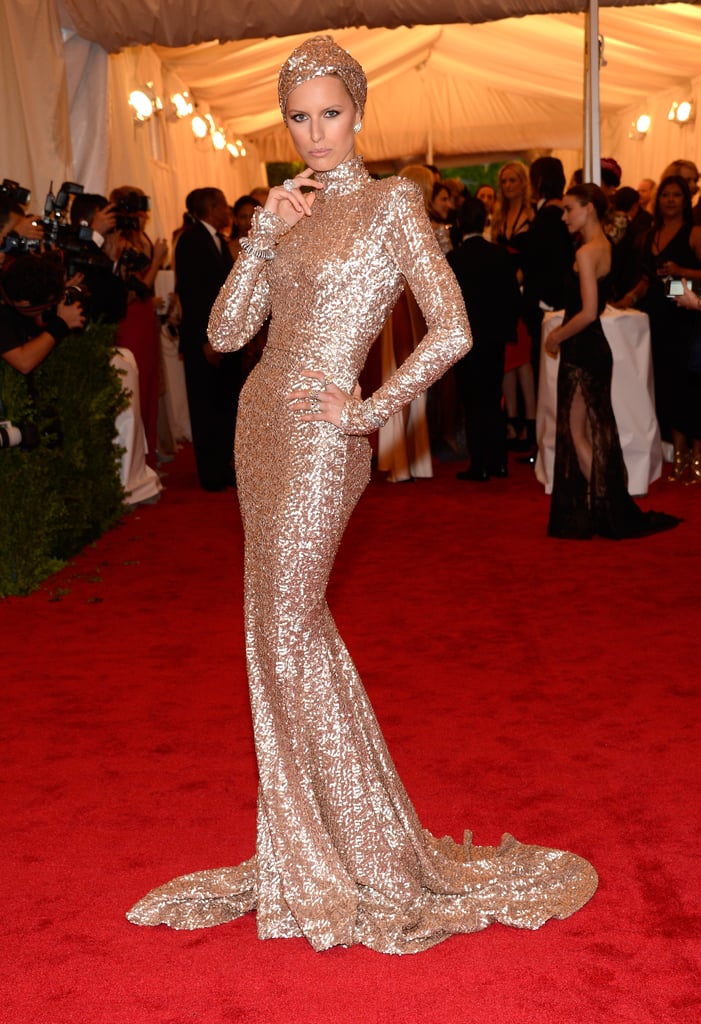 For the 2012 gala, Karolina Kurkova hit the red carpet looking straight out of the '70s. She was absolutely radiant in her gold Rachel Zoe [23] gown, which she accessorized with a matching turban. It was classic Rachel — a glamorous throwback to the days of Studio 54.
Zoe Saldana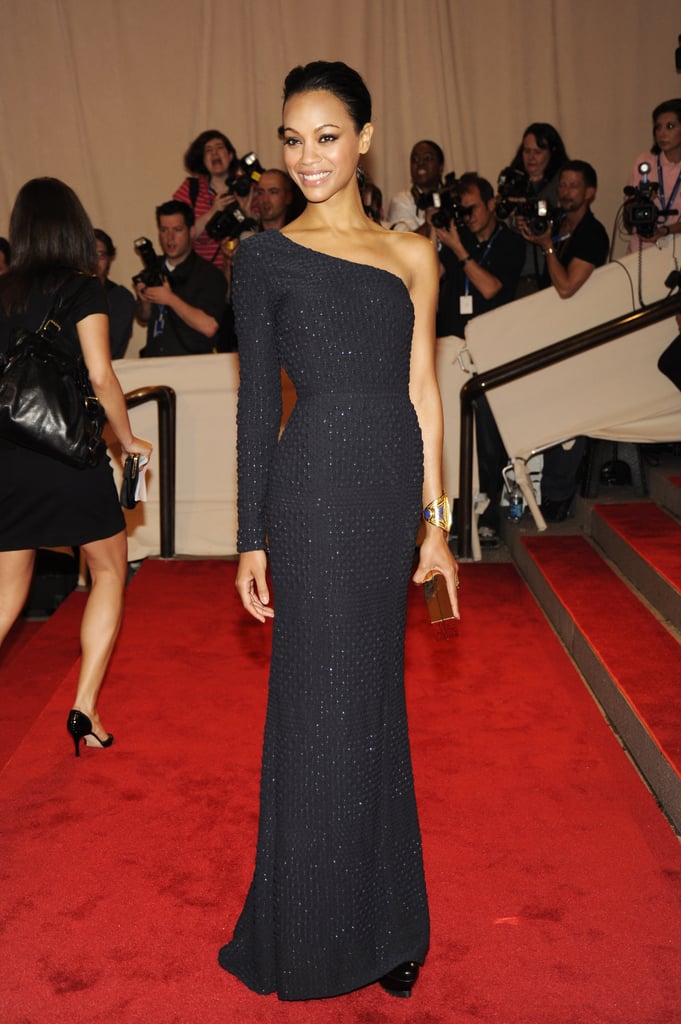 Zoe Saldana [24] went for a minimalist-chic look for the 2010 Met Gala — she wore a one-shoulder Calvin Klein column gown with a sleek, slicked-back hairstyle.
Jennifer Hudson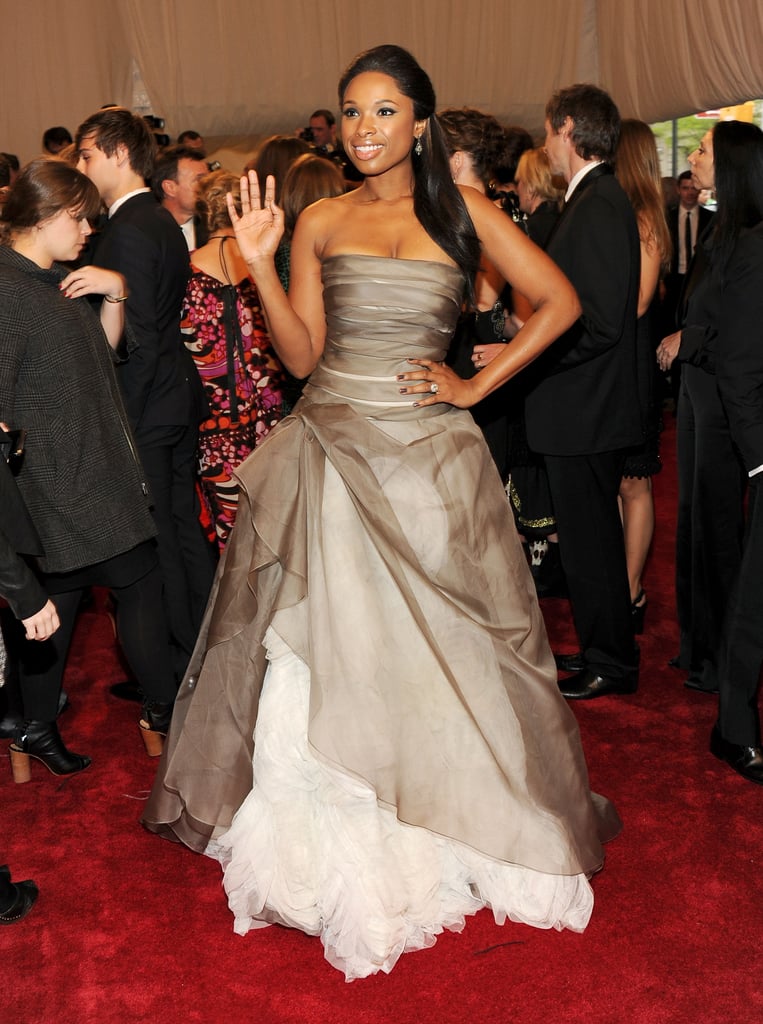 Jennifer Hudson [25] served as Vera Wang's date in 2011, wearing a pretty tulle gown from the designer's collection.
Victoria and David Beckham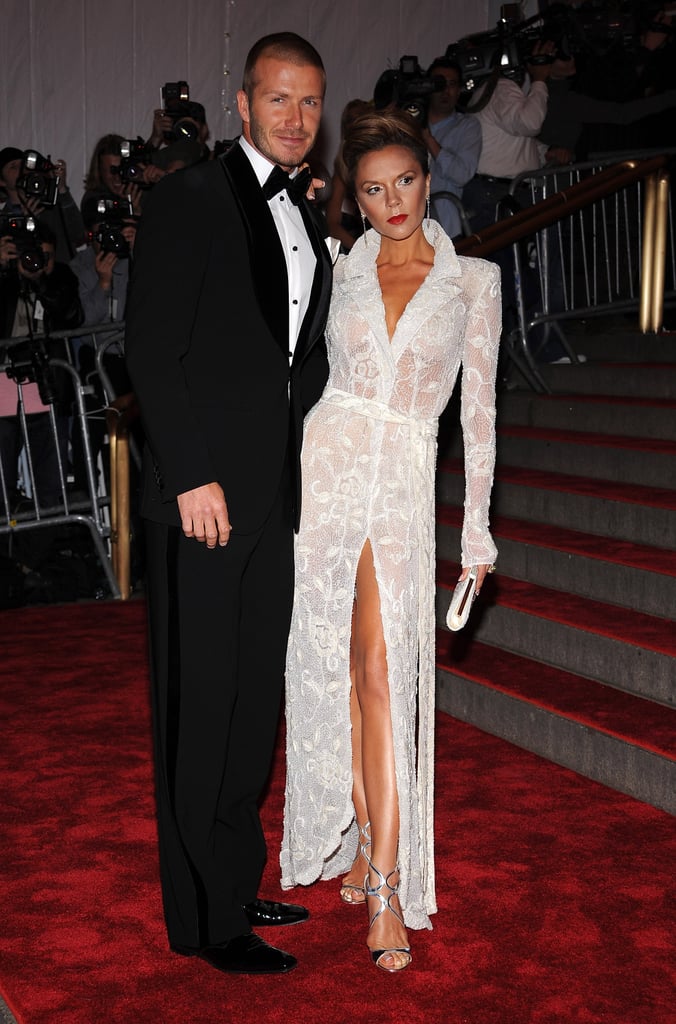 Victoria Beckham [26] sported white Giorgio Armani to the 2008 gala, striking a sexy pose with husband David.
Michelle Williams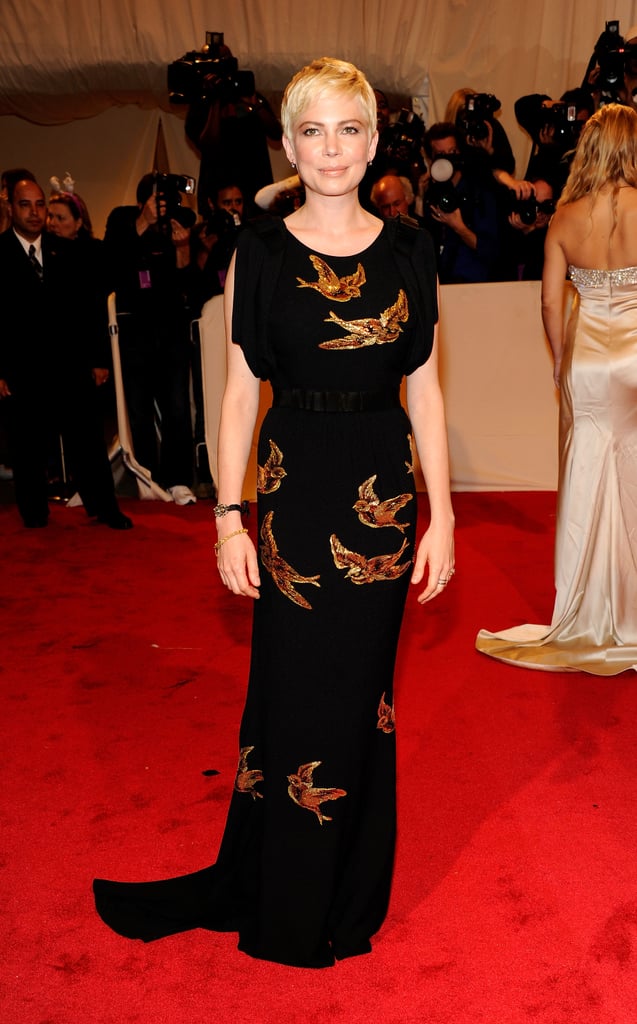 Michelle Williams [27] demonstrated her usual laid-back elegance in a black Miu Miu dress with gold embroidered birds at the 2011 Met Gala.
Rosario Dawson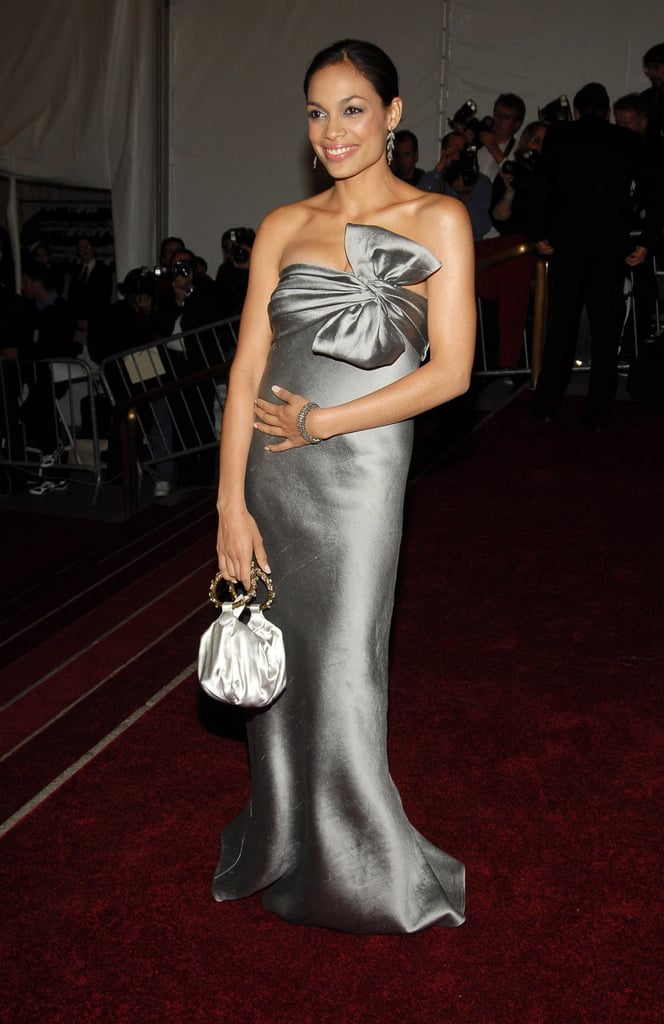 Rosario Dawson [28] looked sexy in a silver J.Mendel gown at the 2006 gala.
Kristen Stewart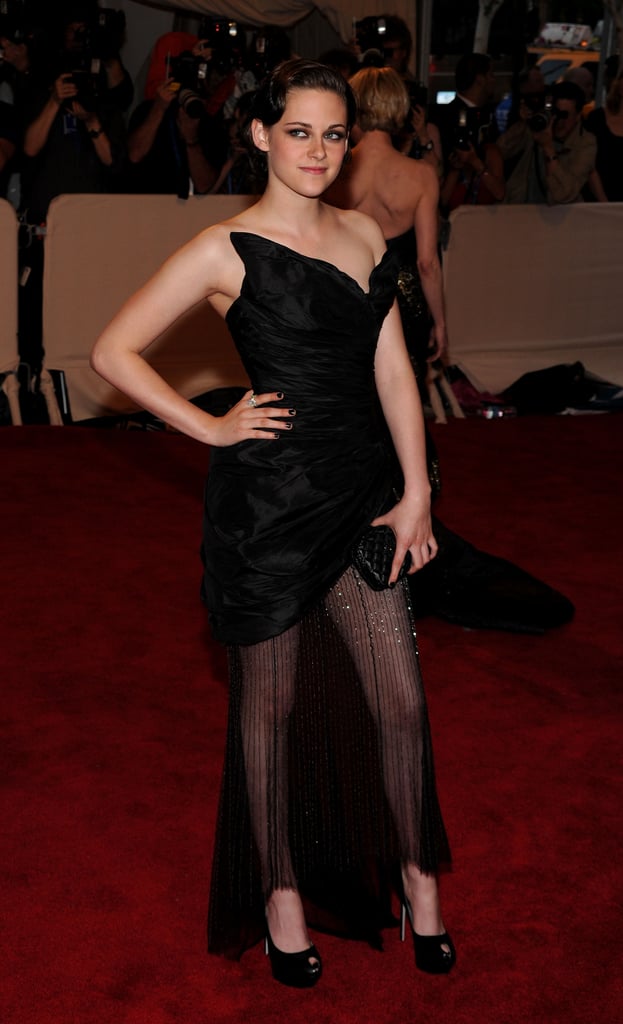 Kristen Stewart [29] played the vamp at the 2010 Met Gala, wearing a sheer black Chanel gown and '20s-inspired hairstyle.
Jessica Simpson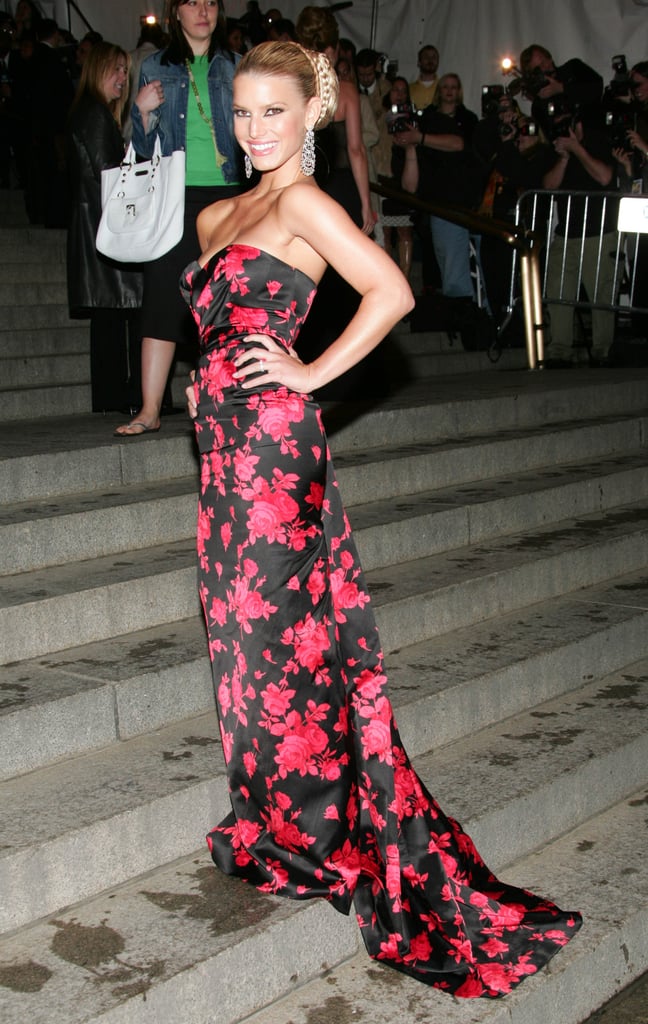 Attending as Michael Kors's date in 2005, the singer wore one of his classically elegant gowns.
Nicole Richie
Nicole Richie [30] made a silver statement at the 2010 Met Gala, wearing a metallic, liquidy-chic gown by Marc Jacobs.
Christina Ricci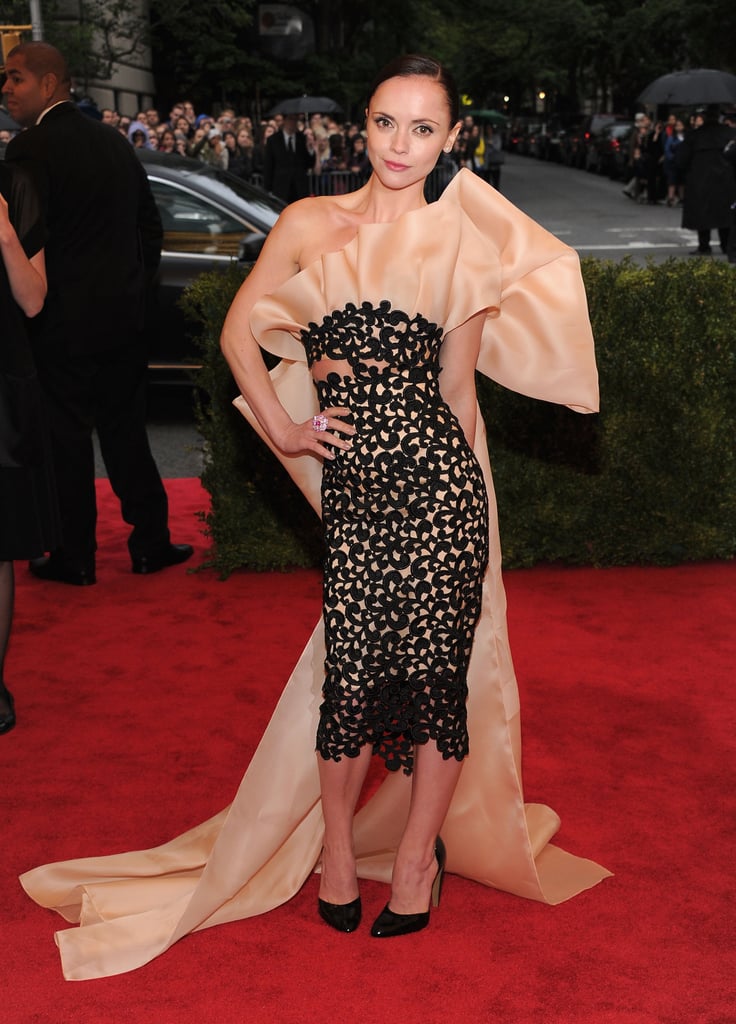 Christina Ricci [31]'s awe-inspiring Thakoon creation was the talk of the 2012 gala — the colossal bow running down the back made it quite the show-stopper.
Doutzen Kroes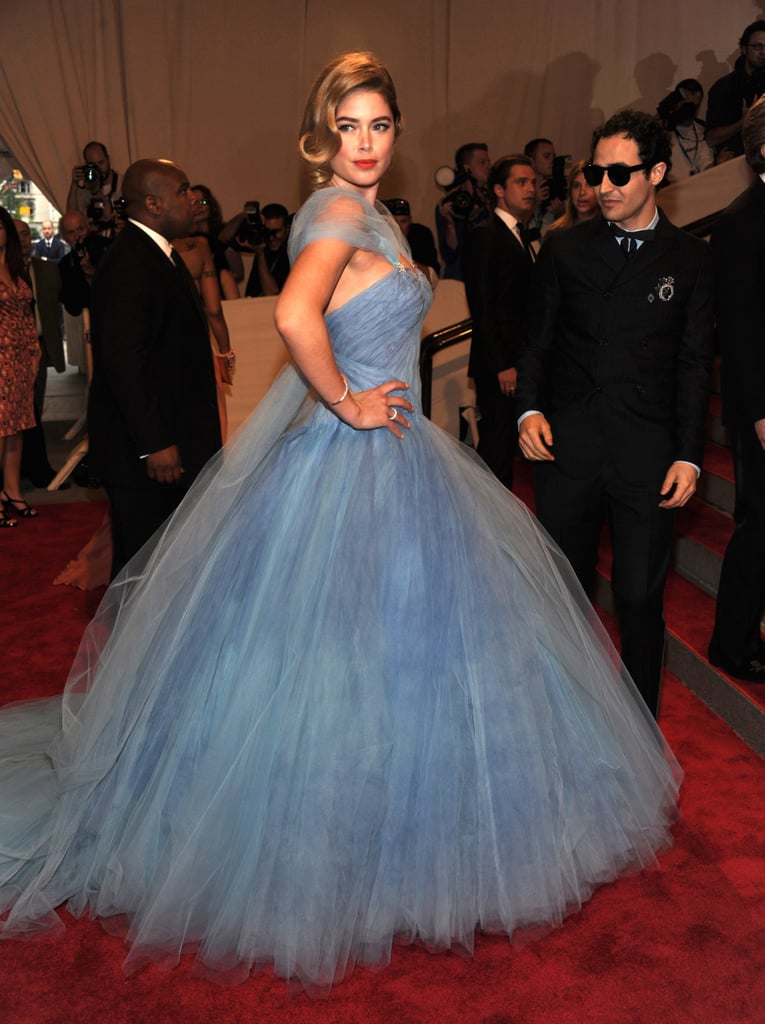 Doutzen Kroes looked amazing in 2010 — the model arrived on the arm of Zac Posen and channeled full-on Hollywood glamour in a frothy blue dress from the designer.
Scarlett Johansson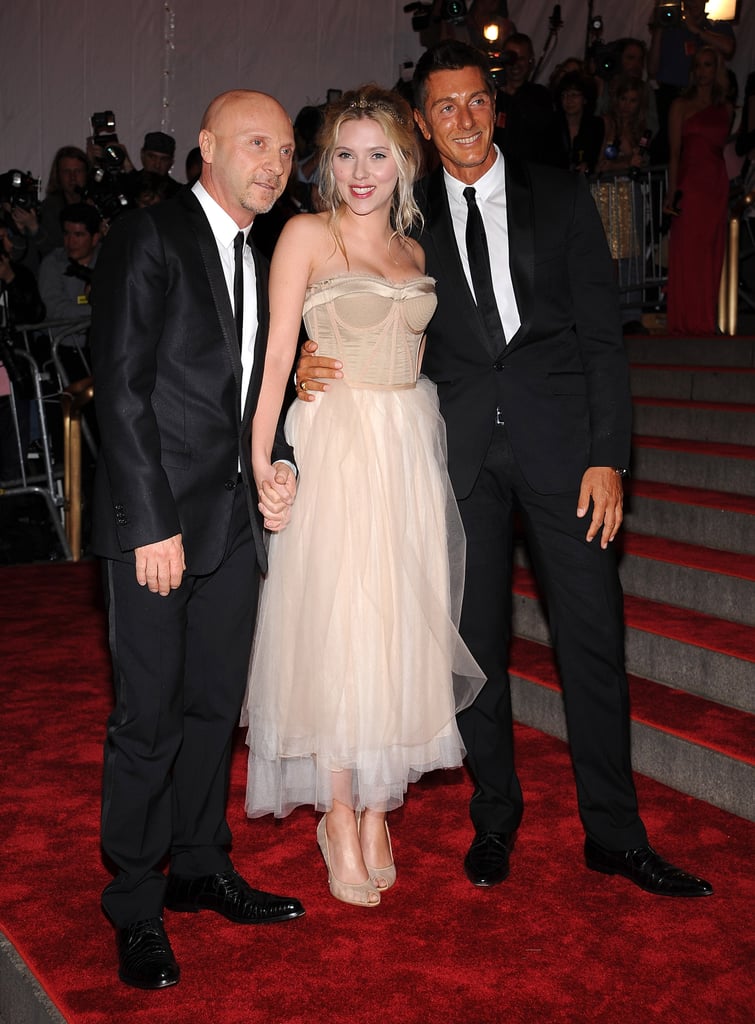 Scarlett Johansson [32] walked the red carpet on the arm of Domenico Dolce and Stefano Gabbana in 2008, wearing a nude bustier dress from the designers' collection.
Katy Perry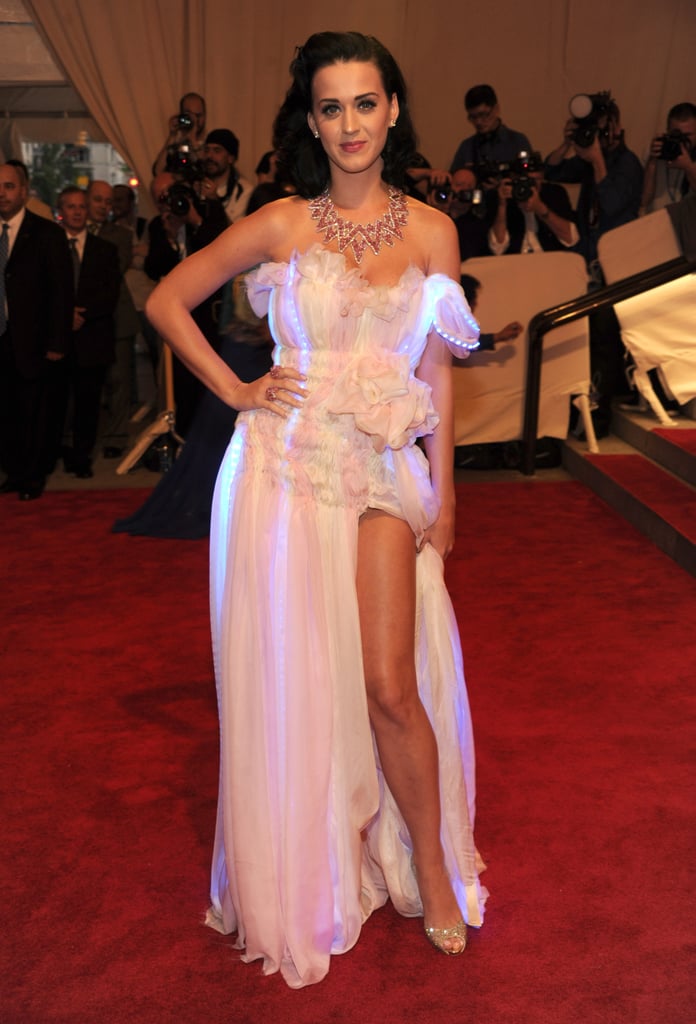 Katy Perry [33] literally lit up the red carpet in 2010, wearing an LED dress by CuteCircuit that changed colors throughout the night.
Heidi Klum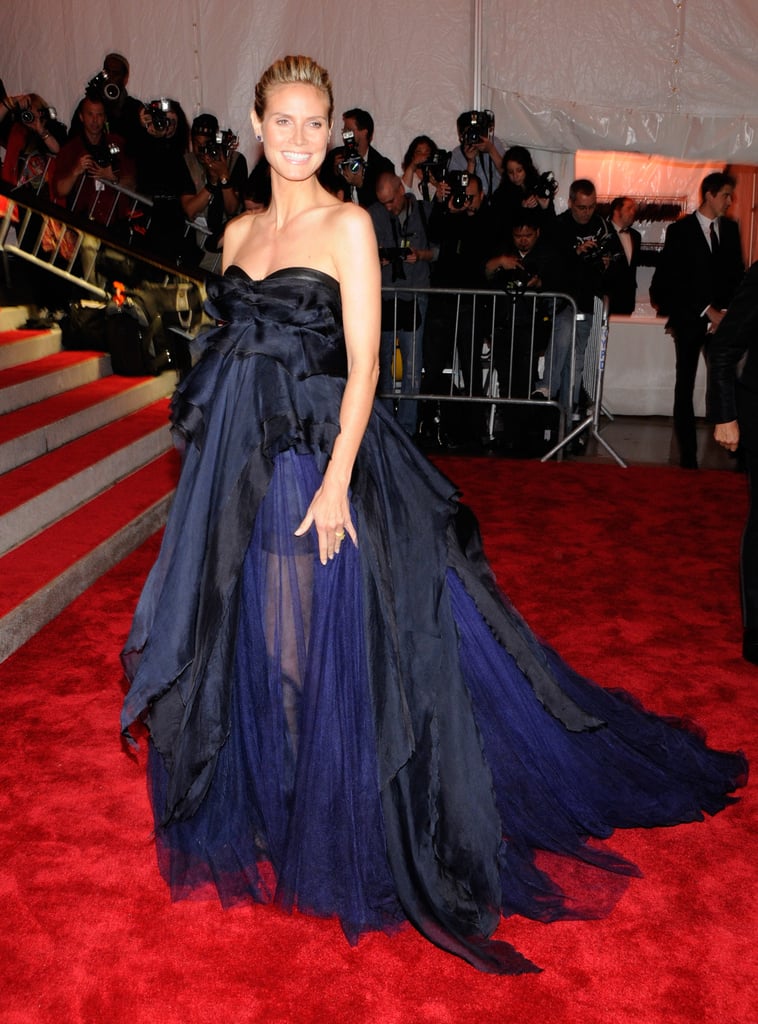 Heidi Klum [34] looked gorgeous in 2009, wearing a black and purple J.Mendel gown on the red carpet.
Rachel Bilson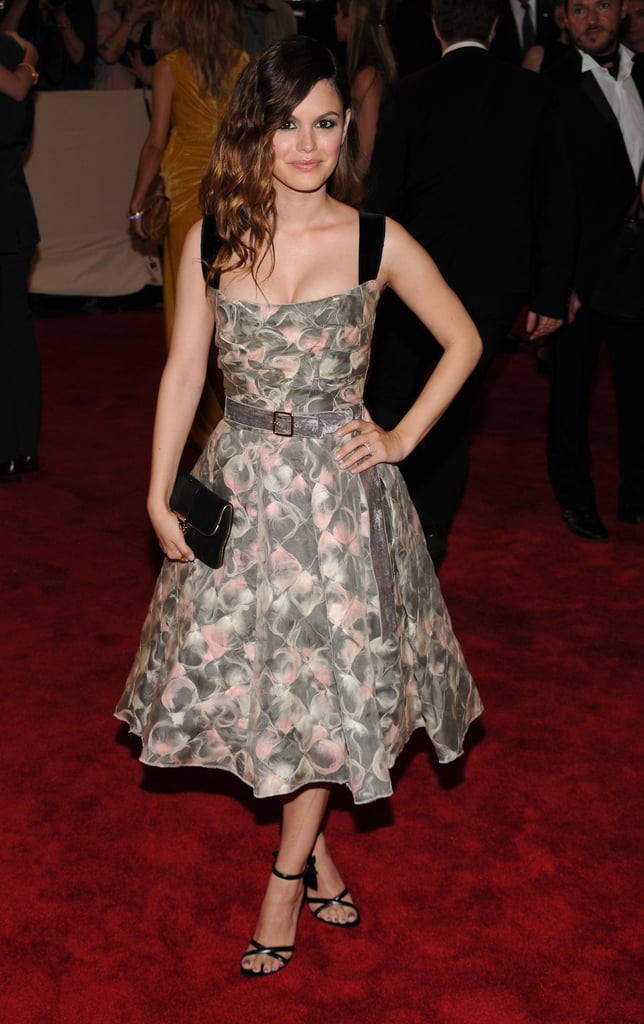 Rachel Bilson [35] kept things short and sweet in a tea-length Louis Vuitton frock in 2010.
Drew Barrymore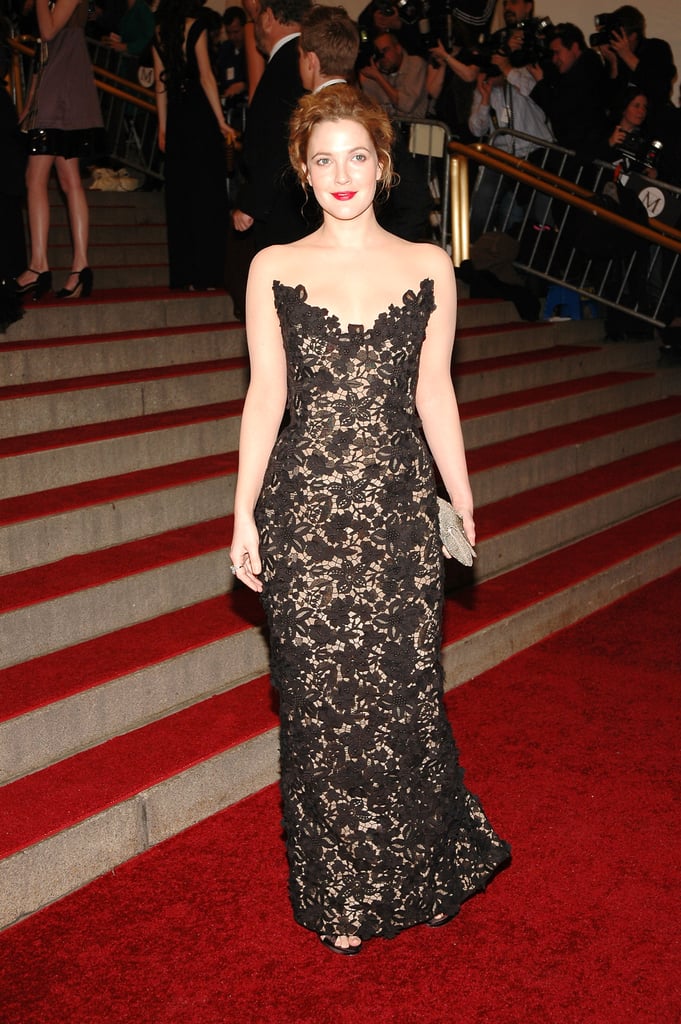 Drew Barrymore [36] showed off a low-cut lace dress at the 2006 gala.
Chloë Sevigny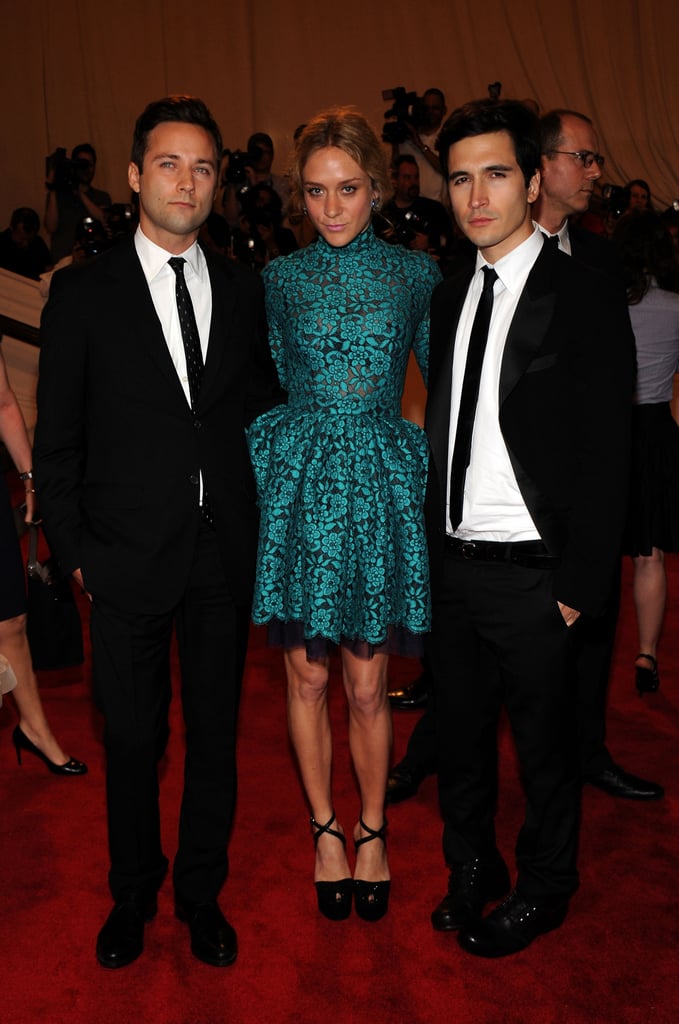 Chloë Sevigny [37] arrived at the 2010 Met Gala on the arms of Proenza Schouler designers Jack McCollough and Lazaro Hernandez. The actress wore a jade-colored peplum dress from their collection.
Kirsten Dunst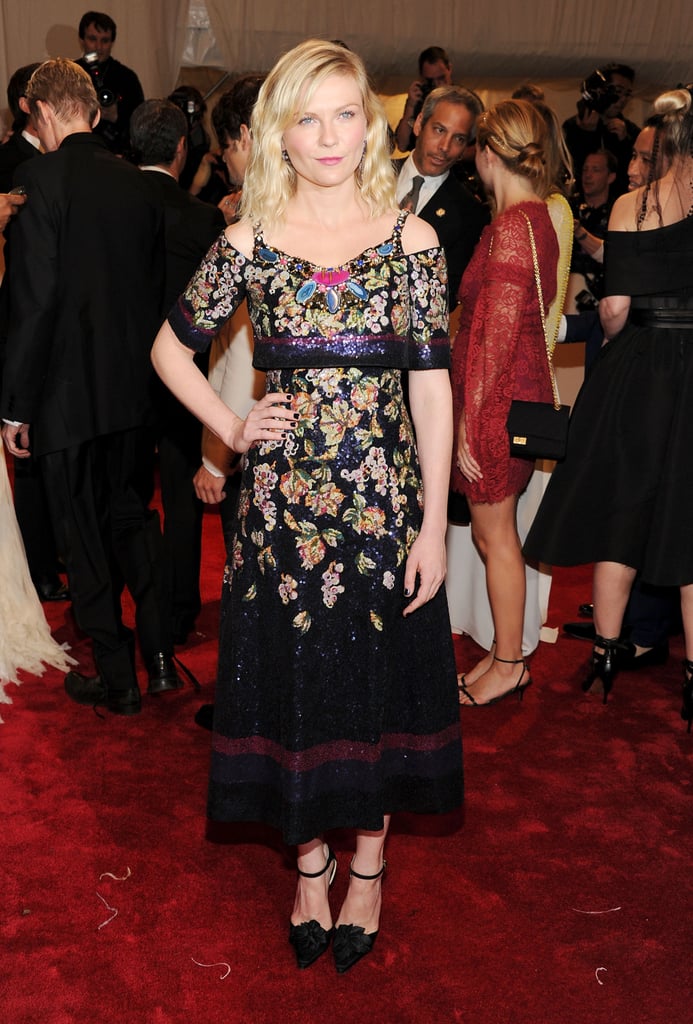 Kirsten Dunst [38] went romantic in Chanel Haute Couture for the 2011 Met Gala
Elizabeth Banks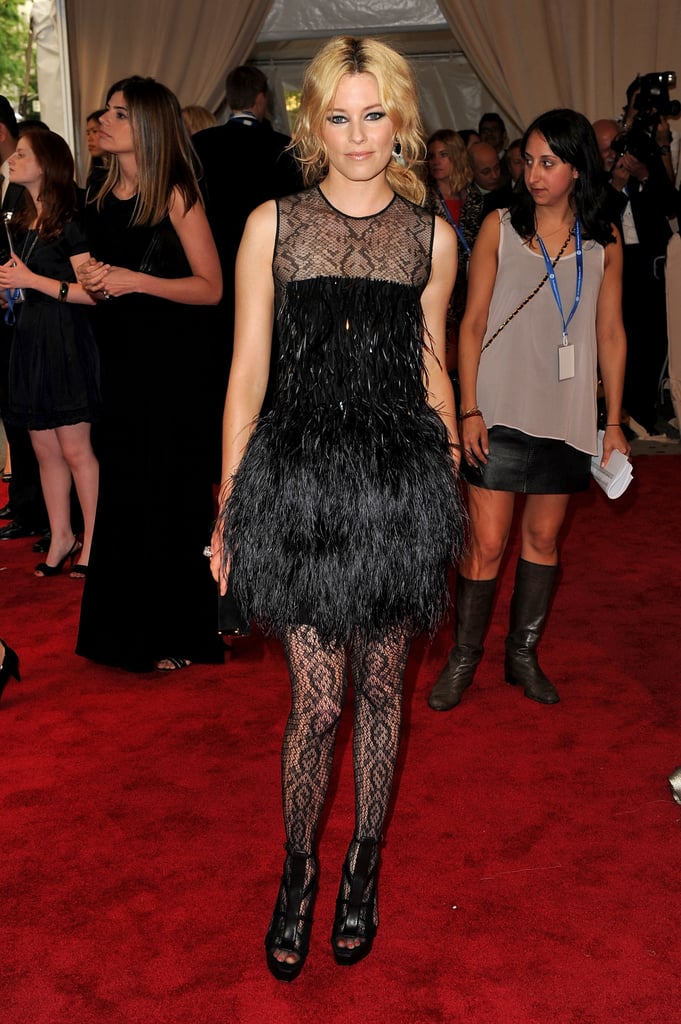 Elizabeth Banks was a total showstopper in 2010 — the actress hit the red carpet in a dark, romantic Gucci getup and smoky eye makeup.
Julianne Hough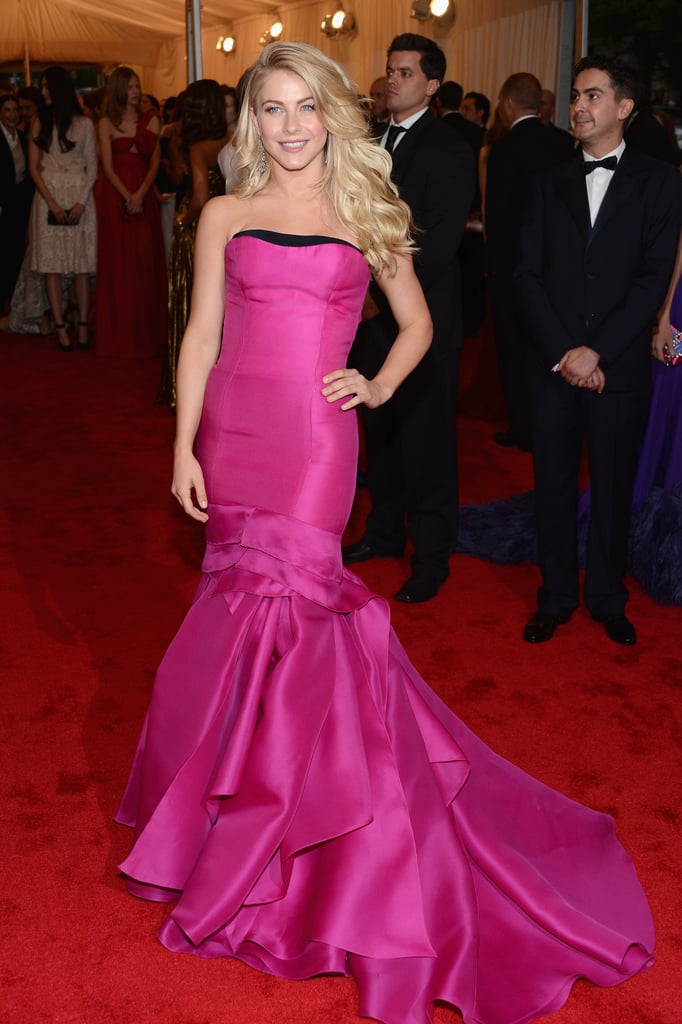 The triple threat paid homage to Schiaparelli's signature color in her fuchsia gown at the 2012 gala.
Ashley Olsen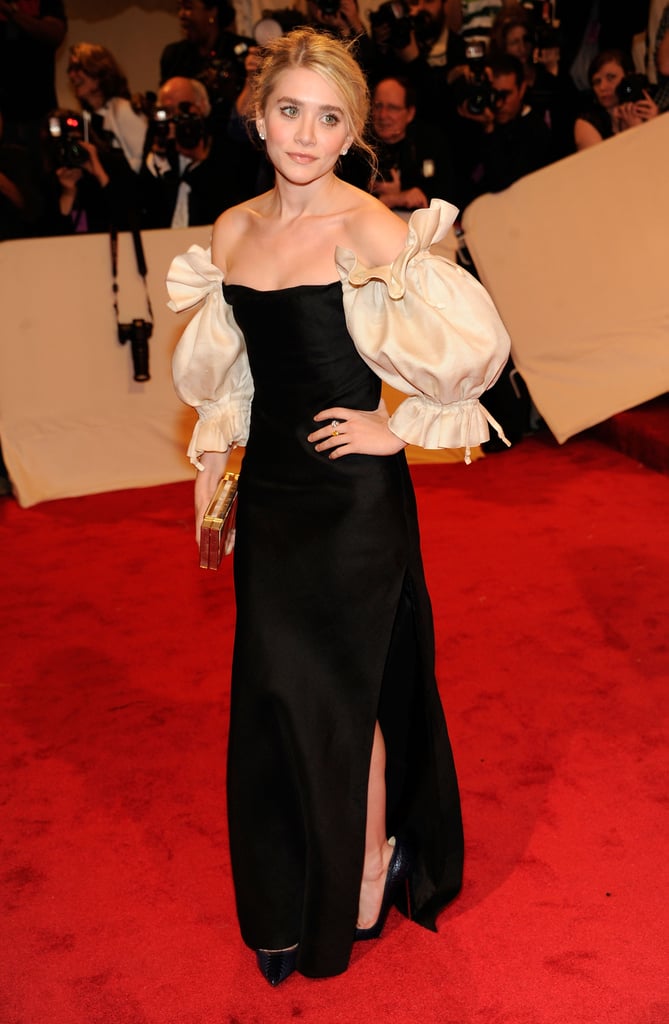 It was all about the puffy sleeve for Olsen, at the 2011 Met Gala.
Cameron Diaz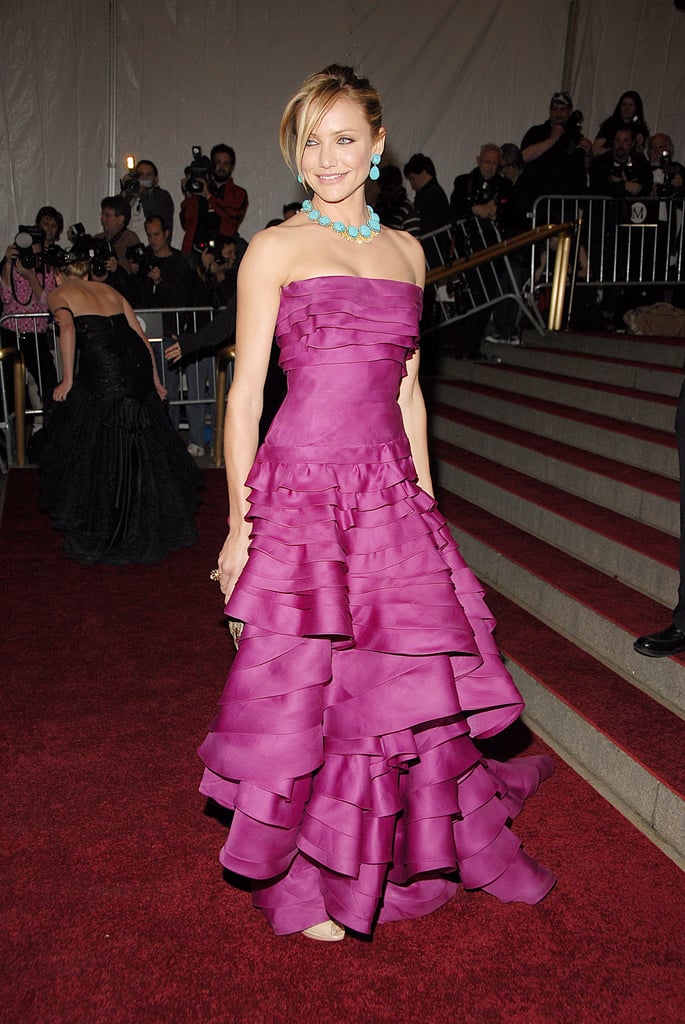 Cameron Diaz [39] brought a bold pop of color to the 2007 Met Gala, wearing a fuchsia Dior dress with bright turquoise baubles.
Emma Watson
Emma Watson [40] was a vision in 2010, wearing a gorgeous white Burberry gown with a thigh-high slit.
Eva Longoria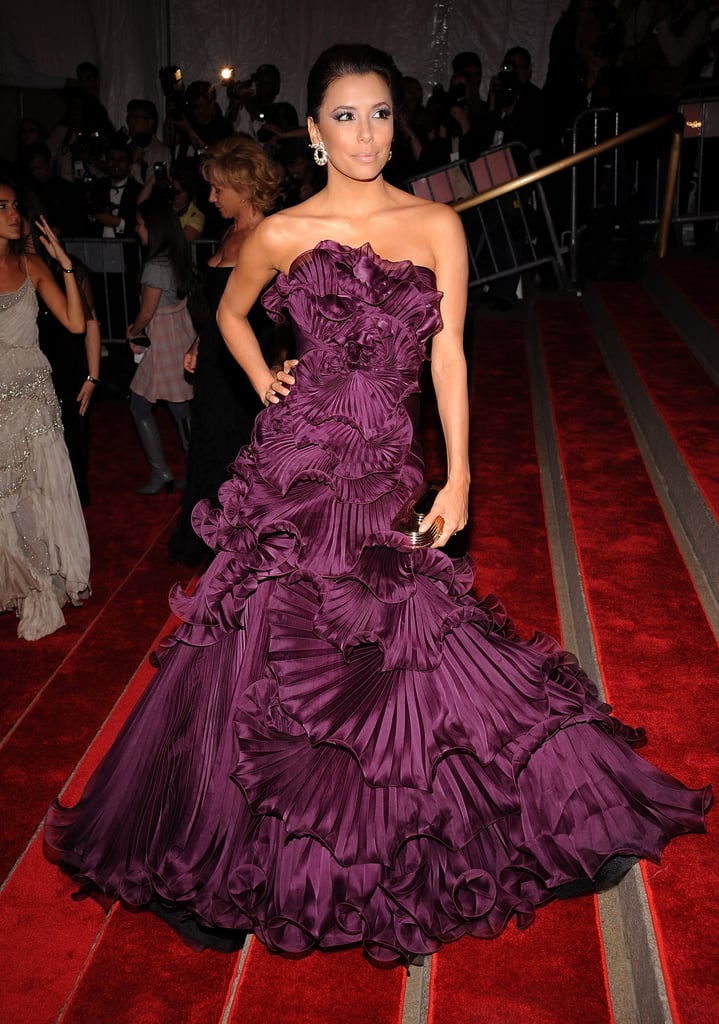 Eva Longoria [41] wore a gorgeous violet-hued Marchesa gown to the 2008 gala.
Coco Rocha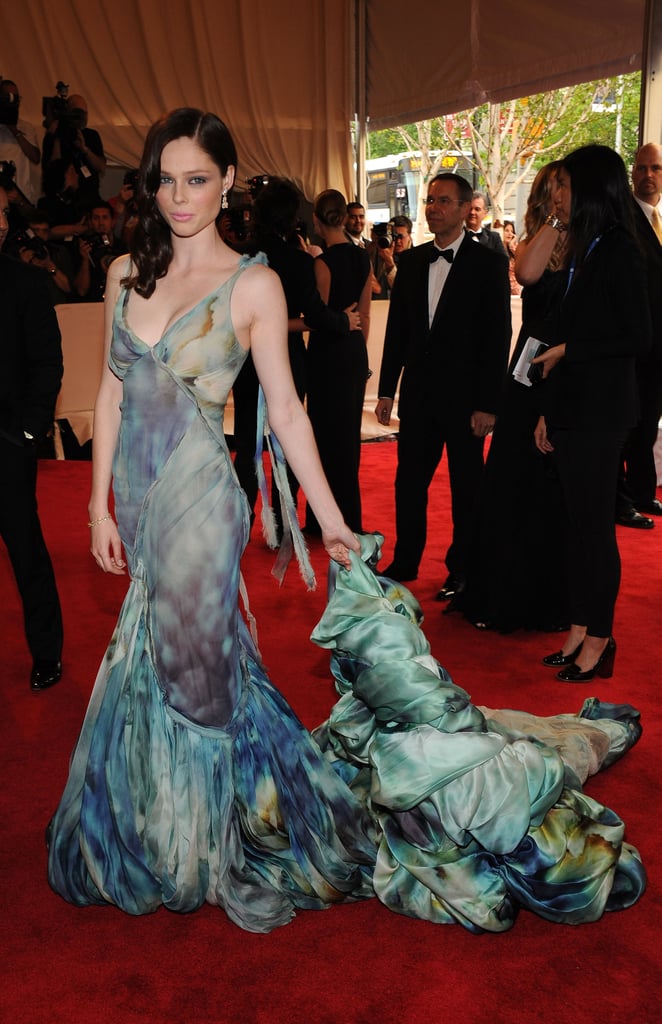 Coco Rocha made a colorful splash on the red carpet in a watercolor-print Zac Posen mermaid gown in 2010.
Fergie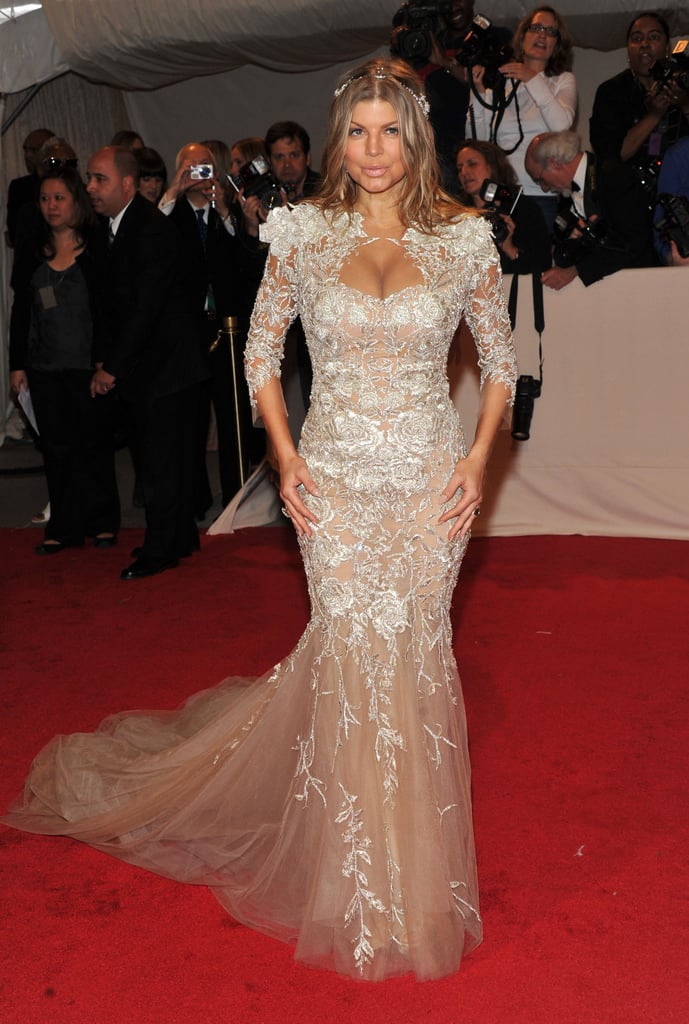 Fergie [42] attended the 2011 Met Gala in a fabulously ornate Marchesa gown.
Sienna Miller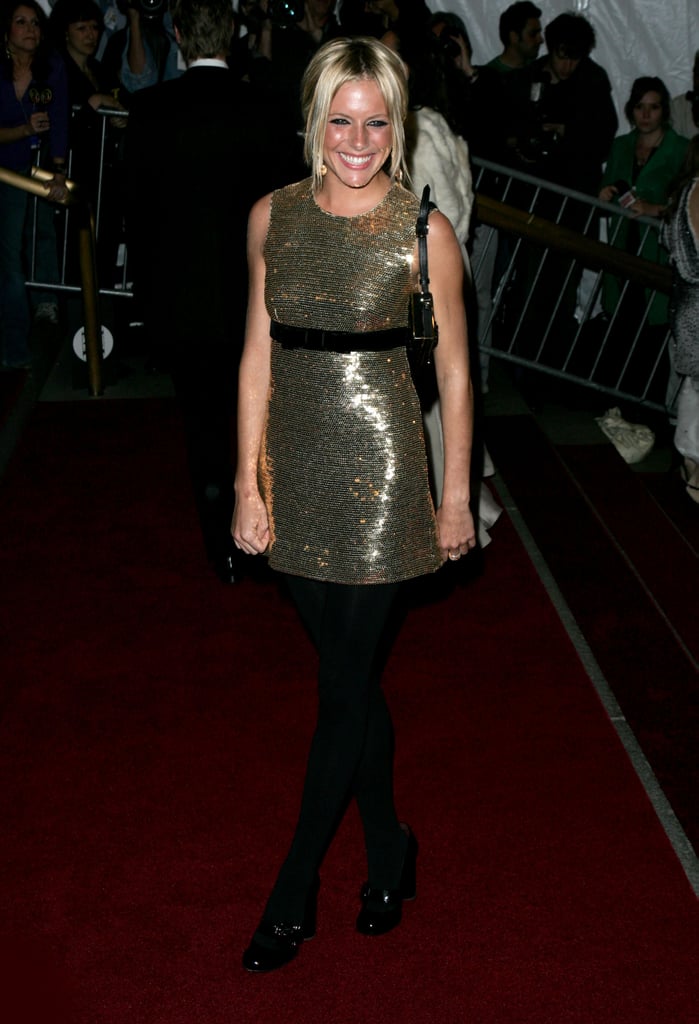 Sienna Miller [43] showed her cool-girl aesthetic in a gold sequined Burberry mini and black tights — she served as cochair of the AngloMania-themed Gala in 2006.
Marion Cotillard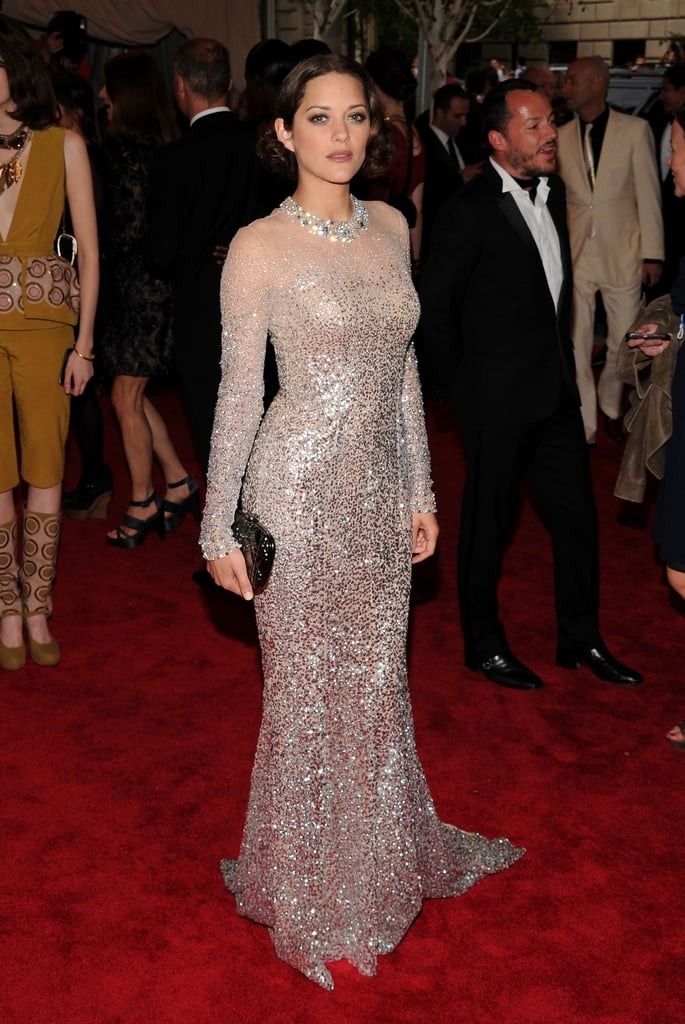 Marion Cotillard was glittering at the 2010 Met Gala — she wore a sparkly silver Dior gown embellished with a diamond neckline.
Emma Stone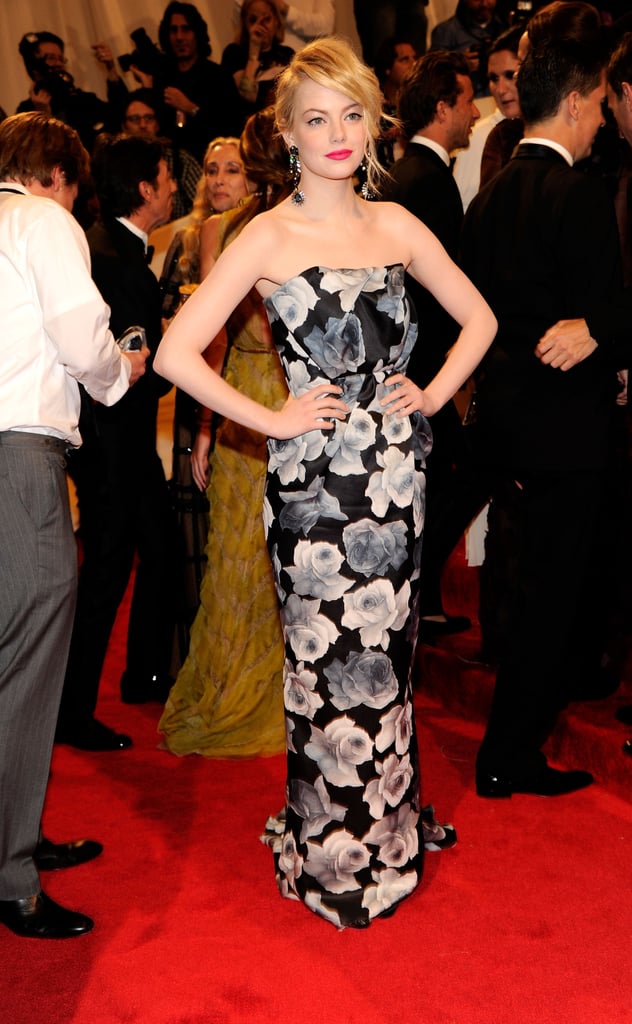 Emma Stone [44] shone in a floral Lanvin column dress in 2011 — she added to the printed look with drop earrings and a sweep of hot-pink lipstick.
Kate Hudson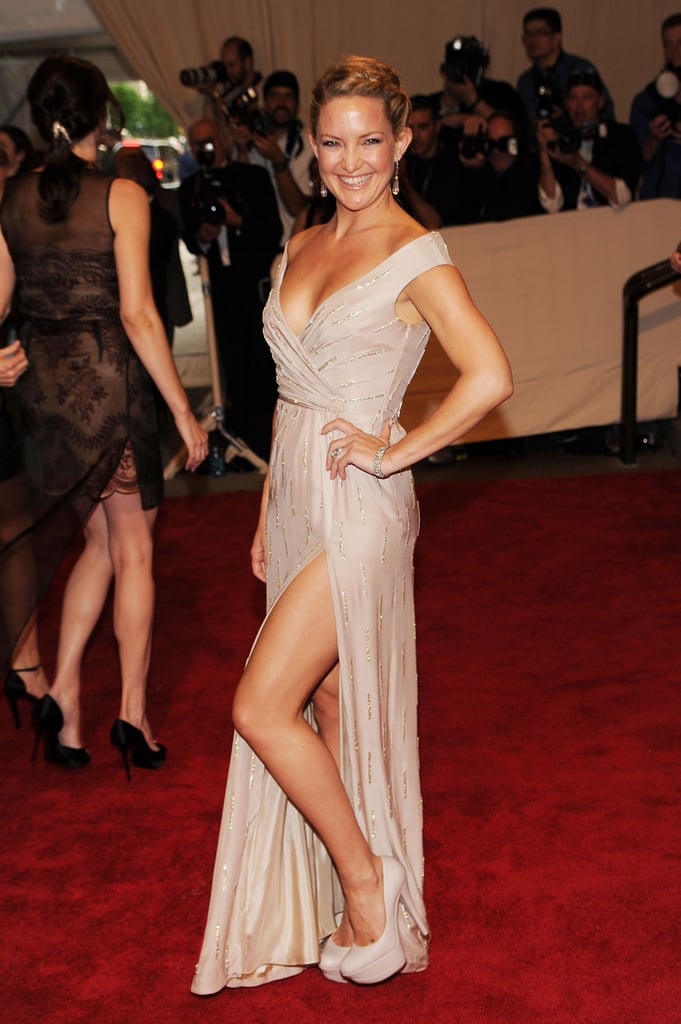 Talk abut a leg up! The actress was radiant back in 2010 in a leggy design by pal – and date – Stella McCartney.
Penelope Cruz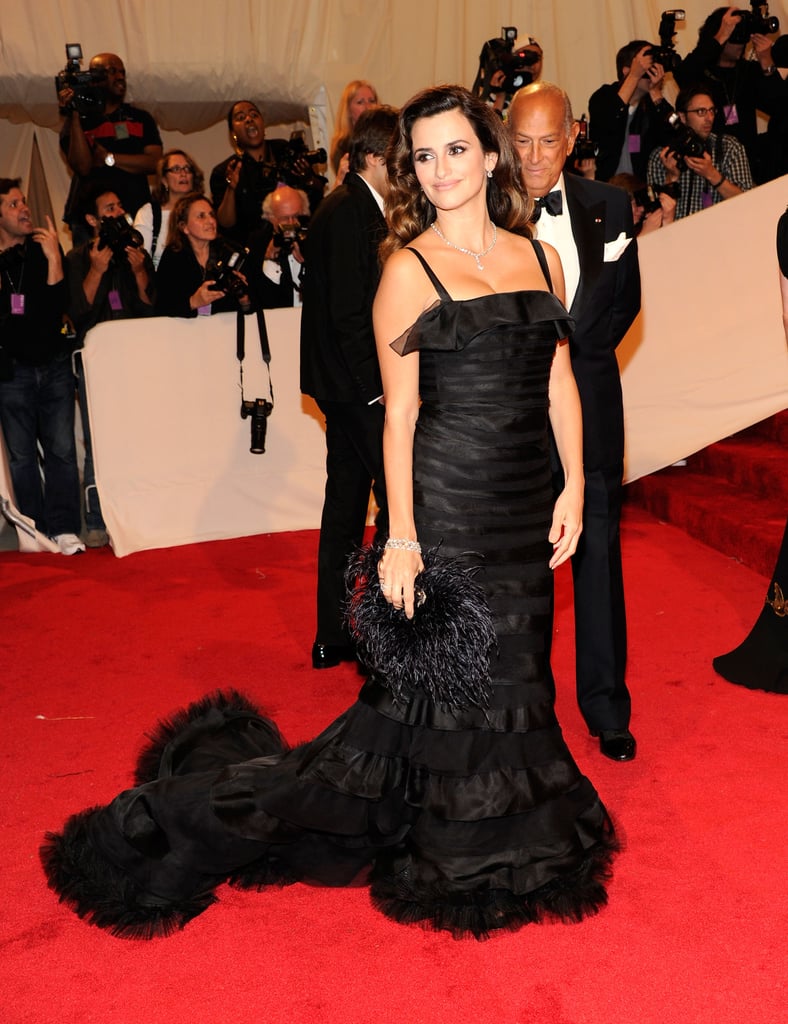 No stranger to red-carpet glamour, Penelope Cruz [45] donned a black ruched Oscar de la Renta gown to the 2011 gala.
Dakota Fanning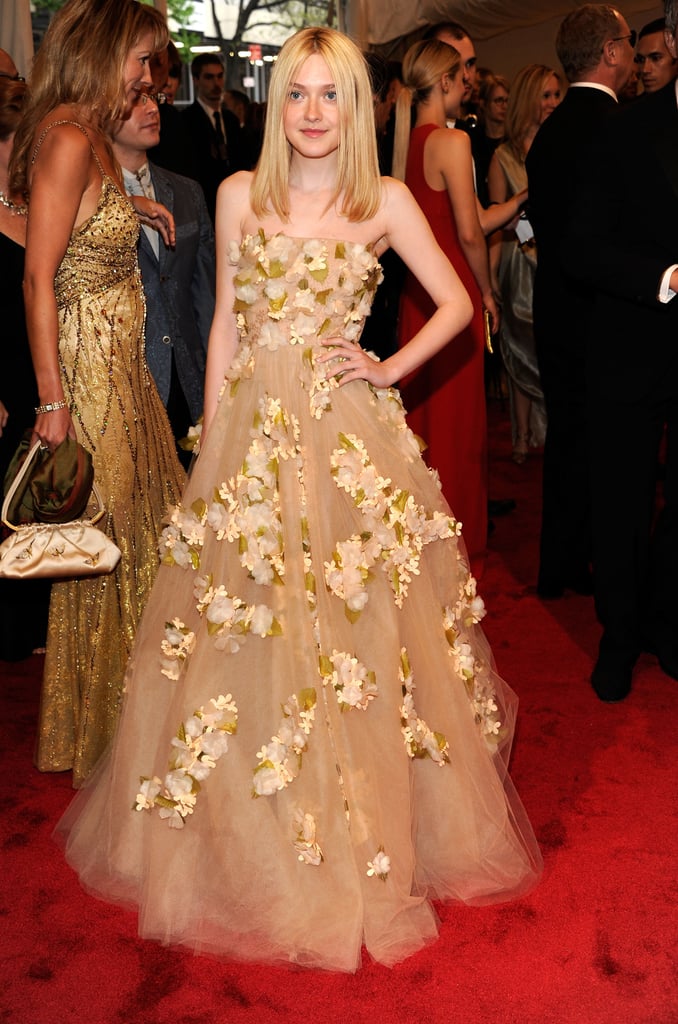 Dakota Fanning [46] looked every bit the Hollywood ingenue in a flowery Valentino dress in 2011.
Rosie Huntington-Whiteley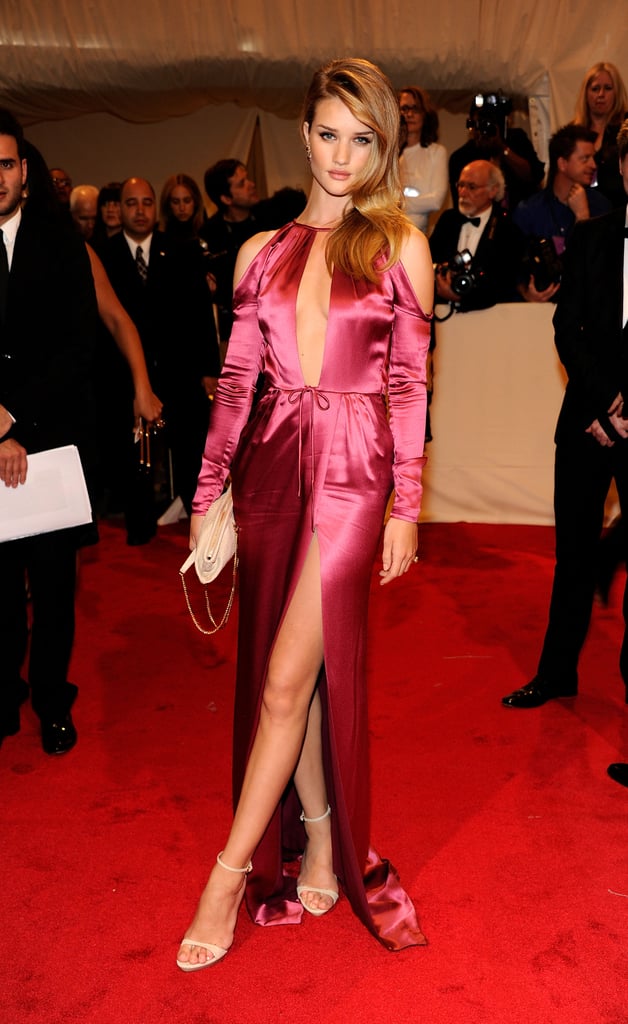 Rosie Huntington-Whiteley strutted her stuff in a sexy pink Burberry gown in 2011.
January Jones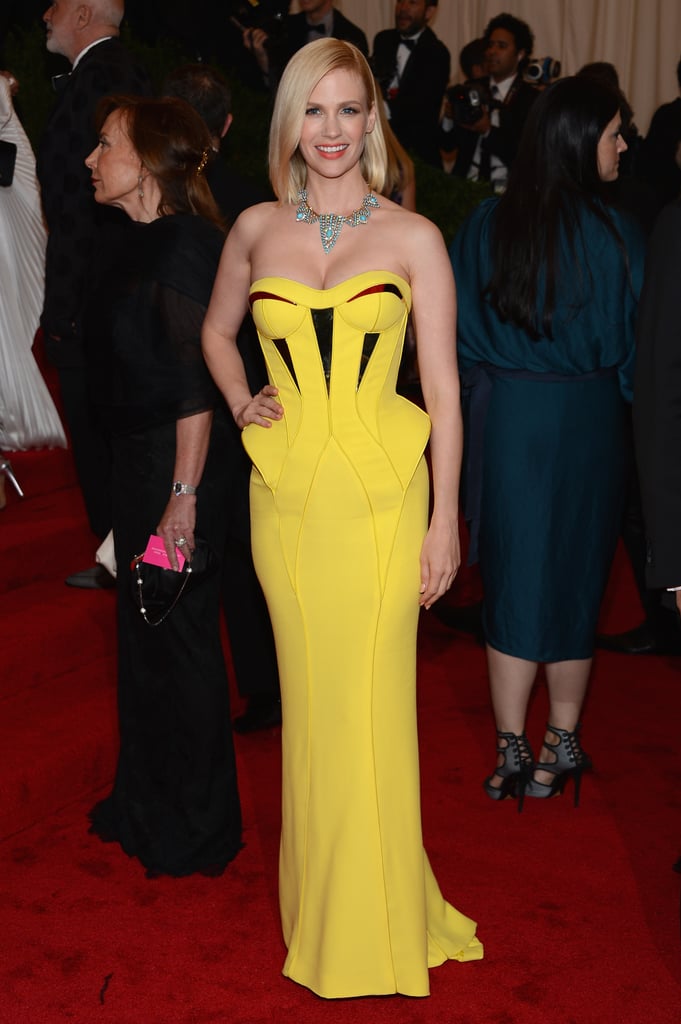 There was no missing January Jones [47] in 2012 in her electric yellow Atelier Versace gown.
Amy Adams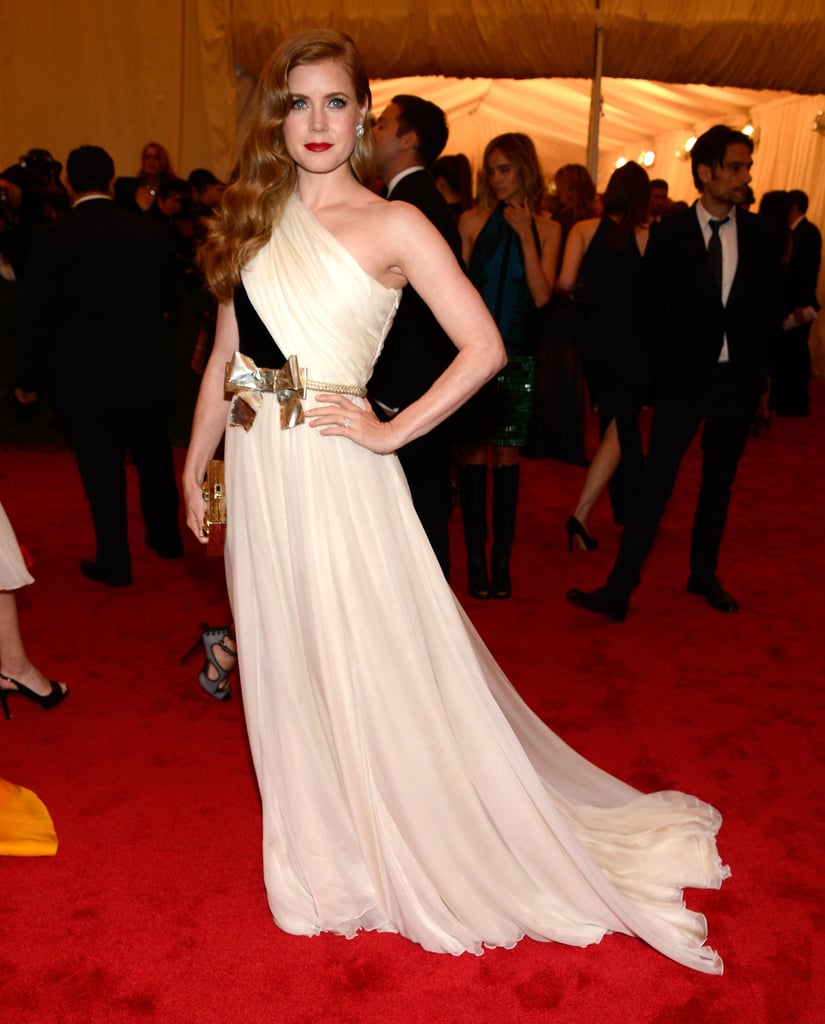 It's all pretty black and white for the actress, who let her fabulous red hair act as her main accessory in 2012.
Charlize Theron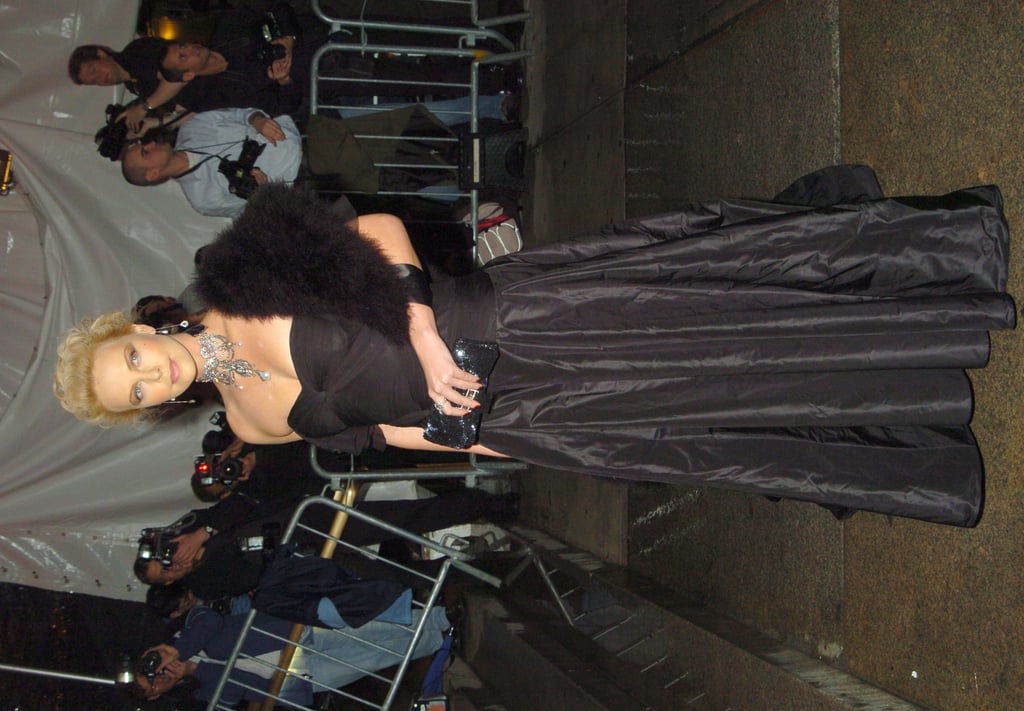 Established red-carpet queen Charlize Theron [48] looked regal and elegant in a Dior gown and fur stole in 2004.
Ginnifer Goodwin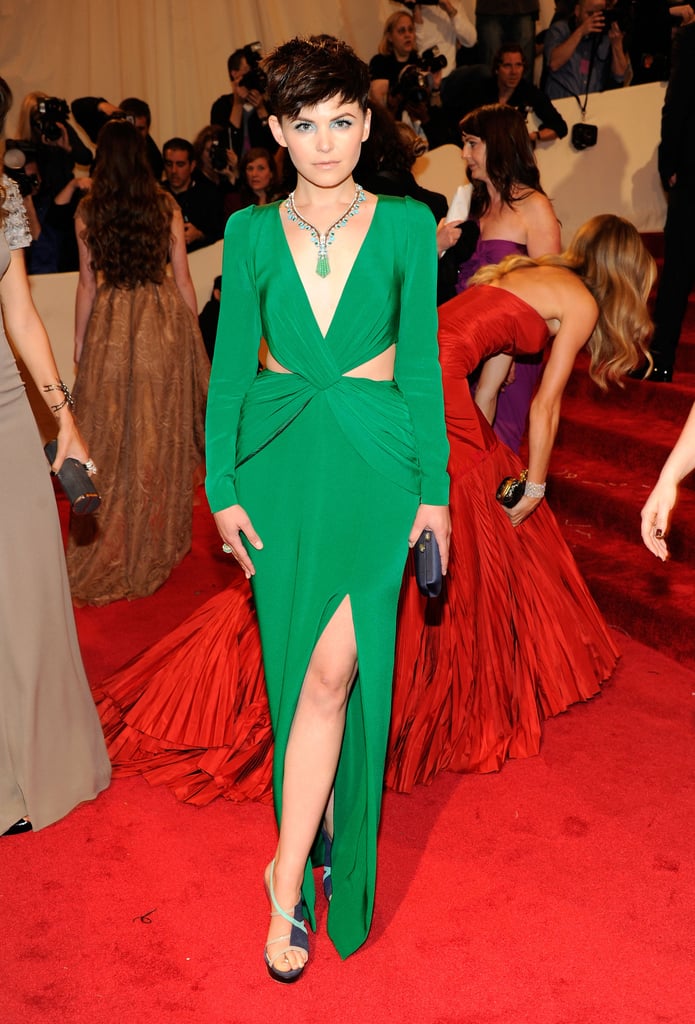 How sexy did Ginnifer Goodwin [49] look at the 2011 gala? The actress wore an emerald-hued Topshop gown with sleek cutouts, along with geometric heels and a statement necklace.
Winona Ryder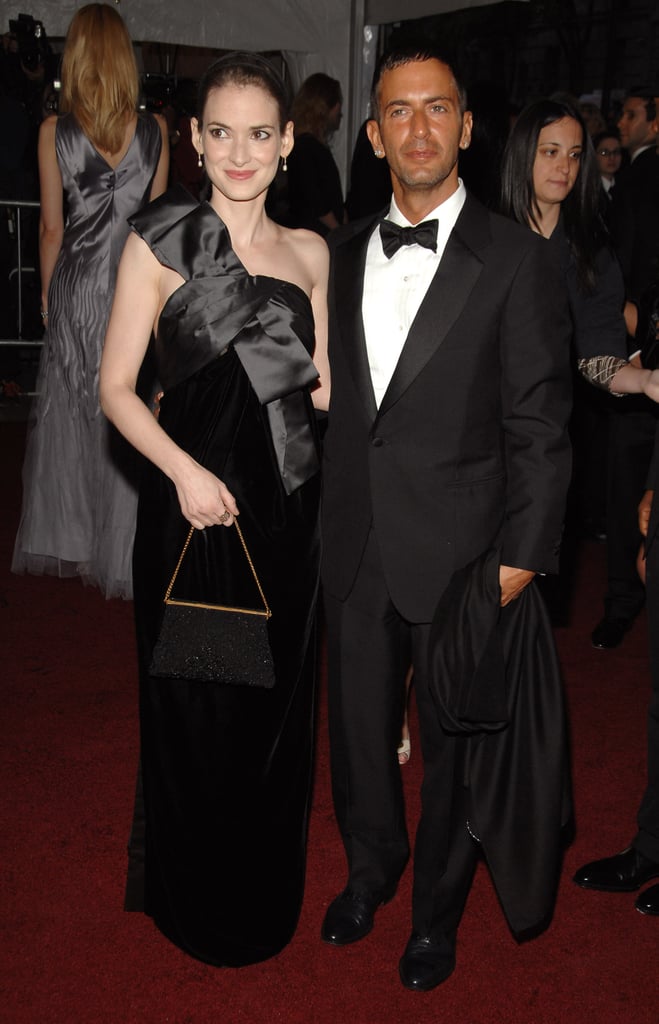 Winona Ryder [50] accompanied longtime friend Marc Jacobs to the 2007 event.
Anja Rubik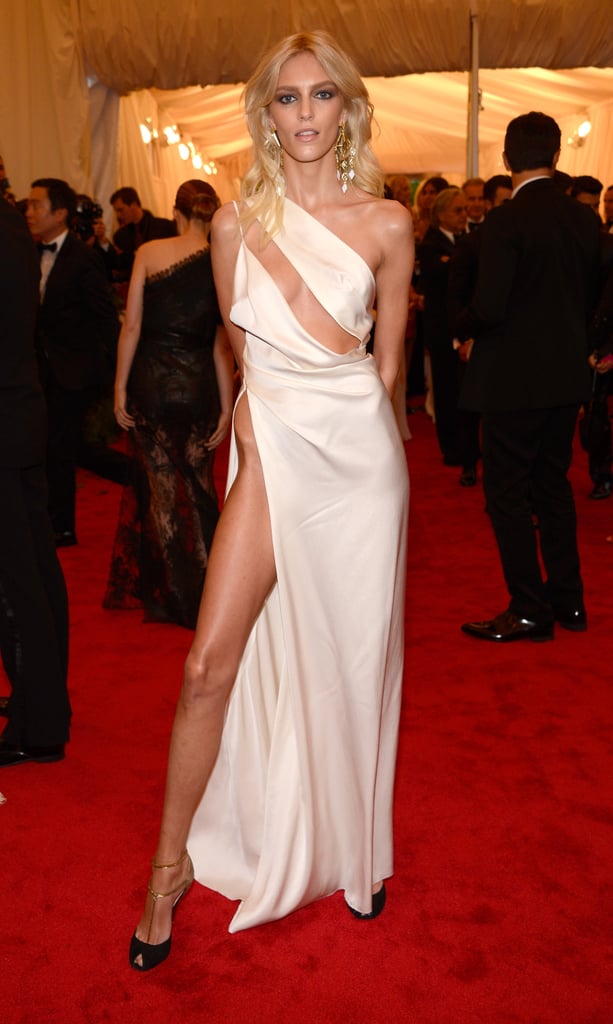 Take a deep breath — who could forget Anja Rubik's crazy-sexy Anthony Vaccarello dress from the 2012 gala? The model walked the red carpet in the white sliced-up sheath, which left little to the imagination. She paired the look with black peep-toe pumps and chandelier earrings, but all we could see was leg.
Madonna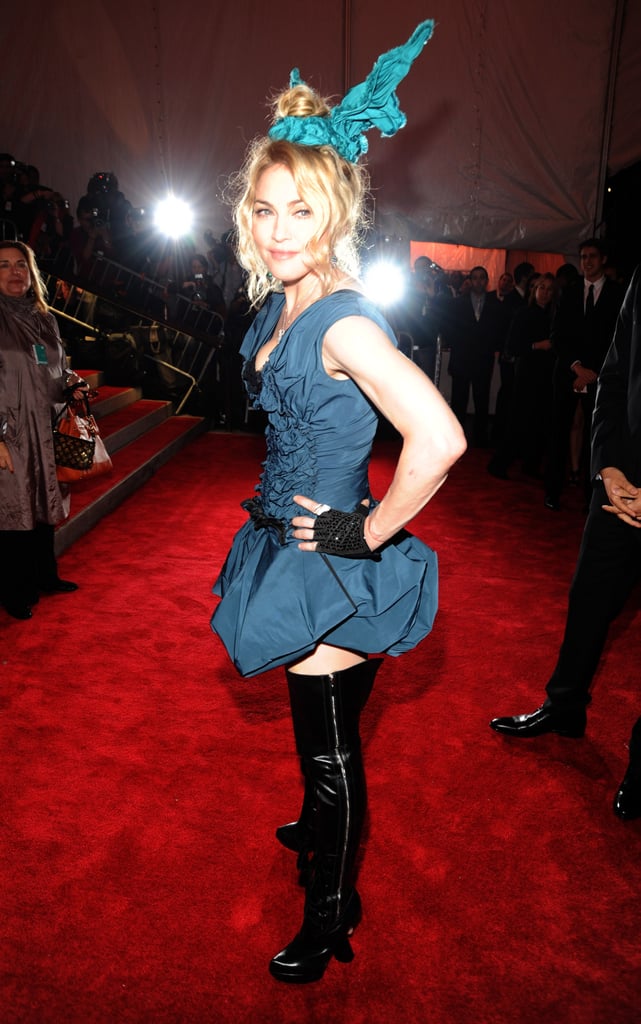 Madonna [51] was the belle of the ball in 2009 — she wore a jaw-dropping Louis Vuitton look, complete with thigh-high boots and avant-garde headband.
Natalie Portman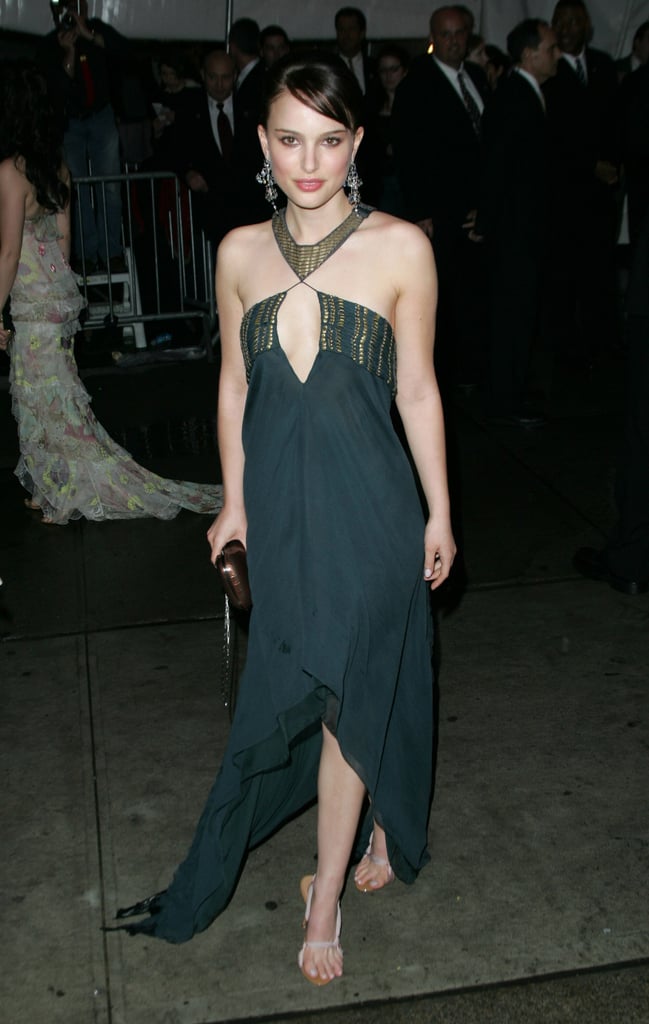 Natalie Portman [52] attended the 2004 fete in a dark green, beaded Stella McCartney dress with a sexy chest cutout.
Brooklyn Decker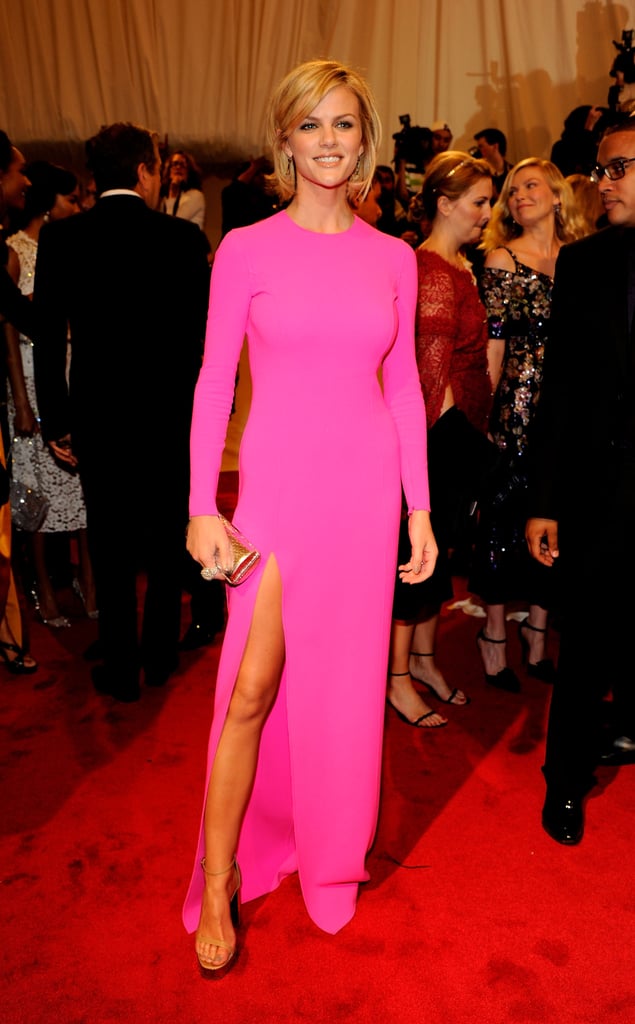 Brooklyn Decker showed off her curves in a body-conscious, hot-pink gown by Michael Kors in 2011.
Renée Zellweger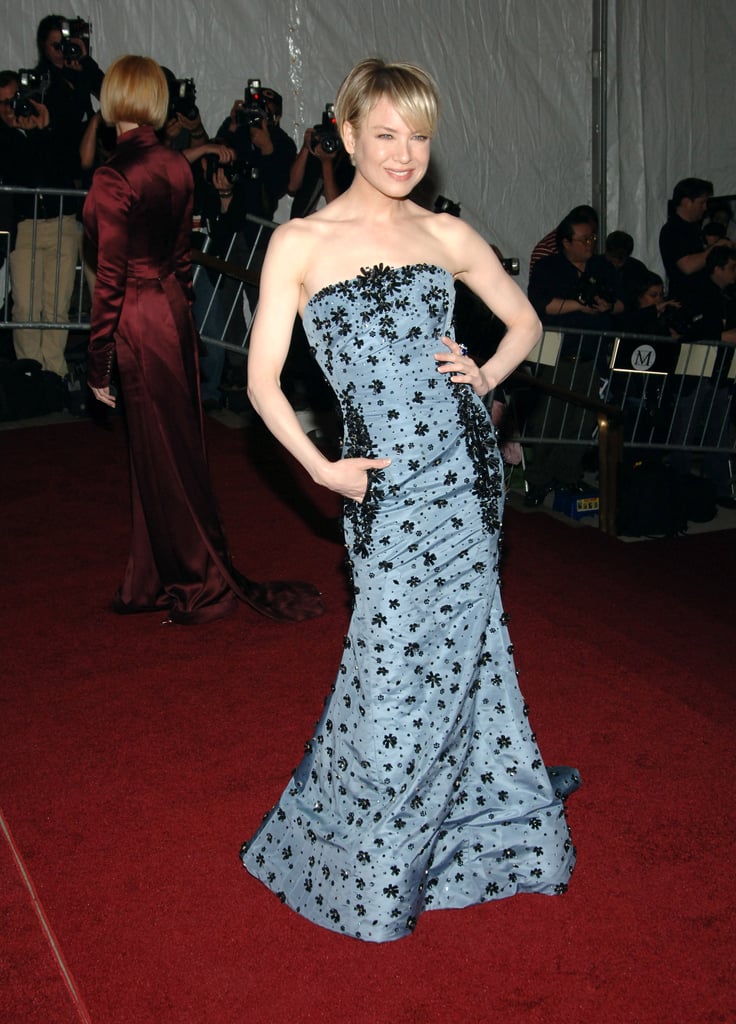 Renée Zellweger [53] wore an embellished Carolina Herrera gown with pockets in 2007.
Julia Roberts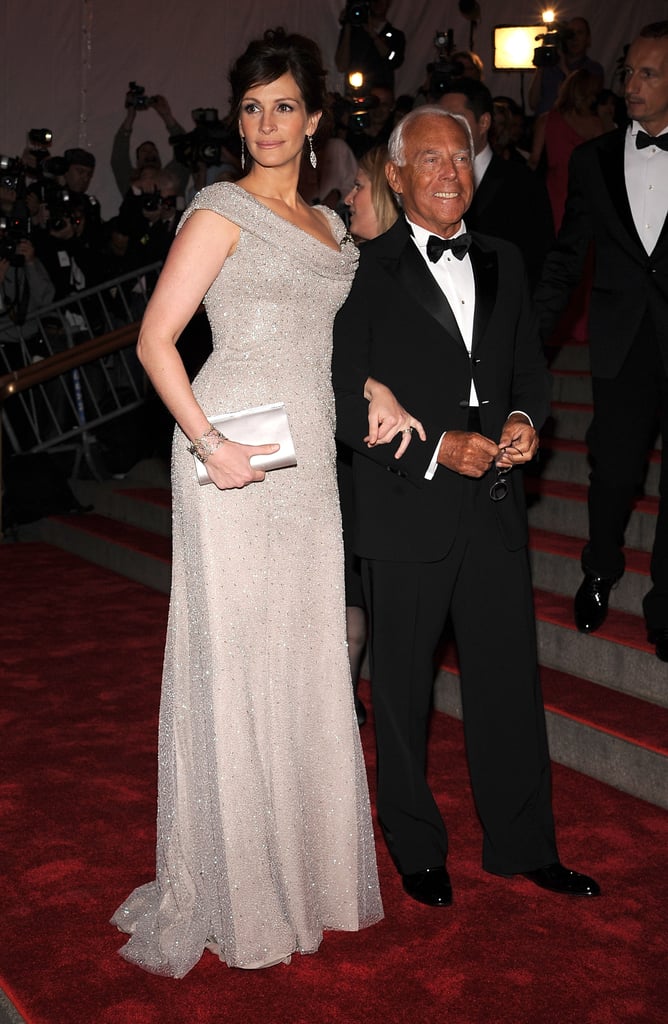 Julia Roberts [54] walked the red carpet with Giorgio Armani in 2008, wearing a silvery gown by the designer.
Elle Macpherson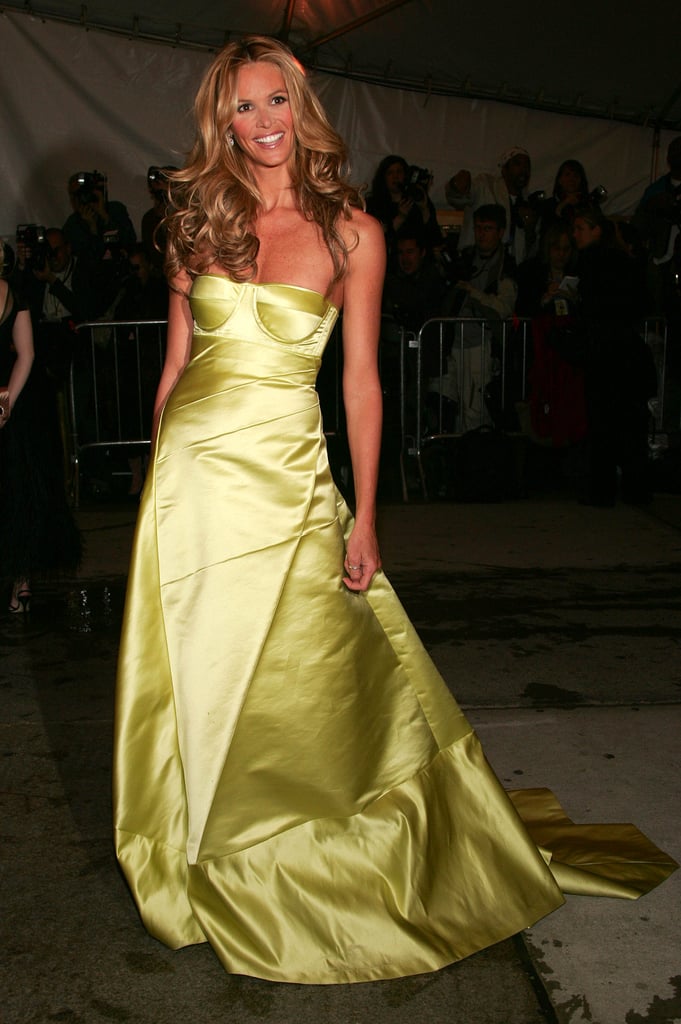 Elle Macpherson was a vision in a chartreuse Calvin Klein gown at the 2005 gala.
Jessica Stam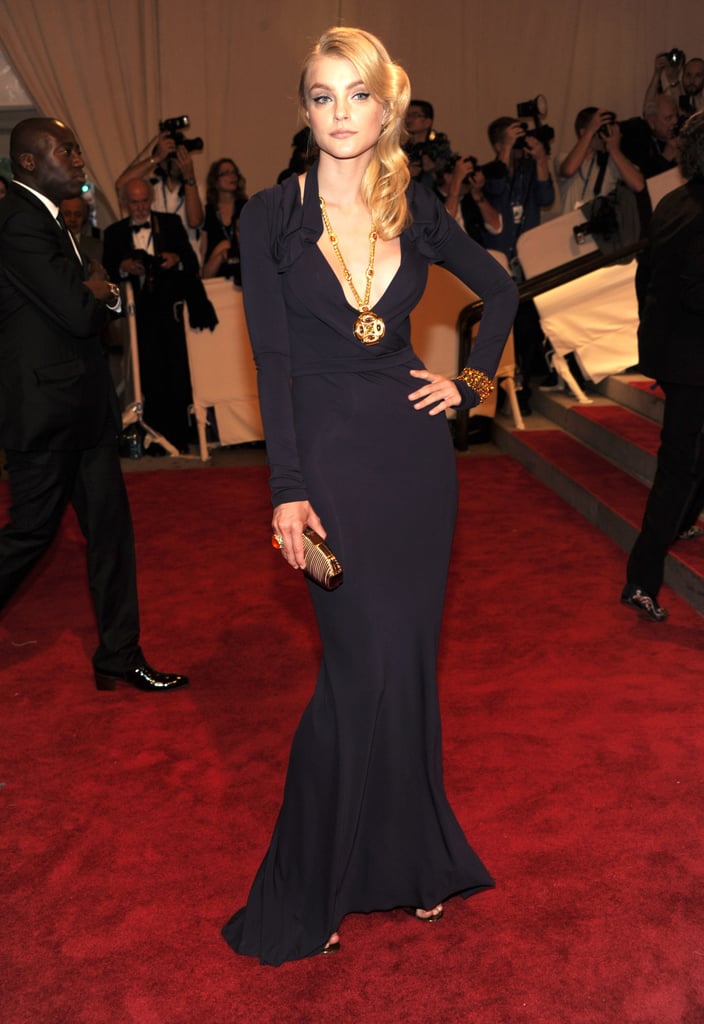 Jessica Stam took to the red carpet in 2010, flaunting her figure in a body-conscious, low-cut dress by Rachel Roy.
Kate Beckinsale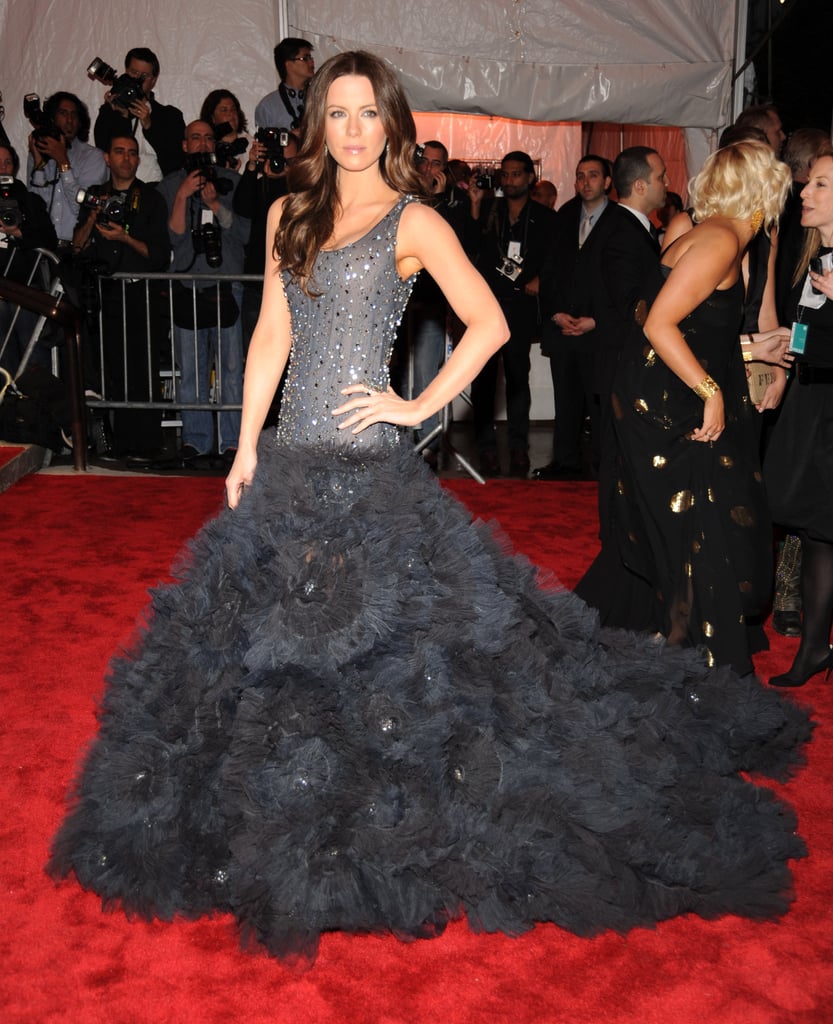 Kate Beckinsale [55] shimmied into a charcoal-gray Marchesa gown at the 2009 event.
Florence Welch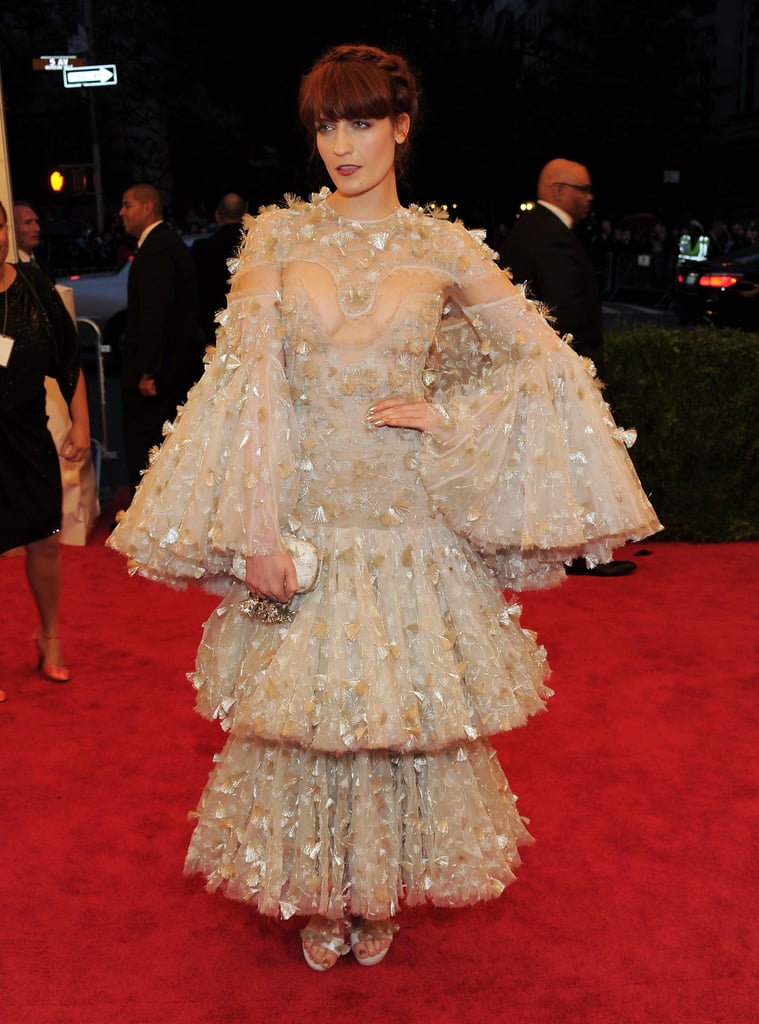 Florence Welch's tiered, beaded Alexander McQueen dress was a vision to behold in 2012 — it moved like a dream, and suited the singer's bold red hair to a T.
Bar Refaeli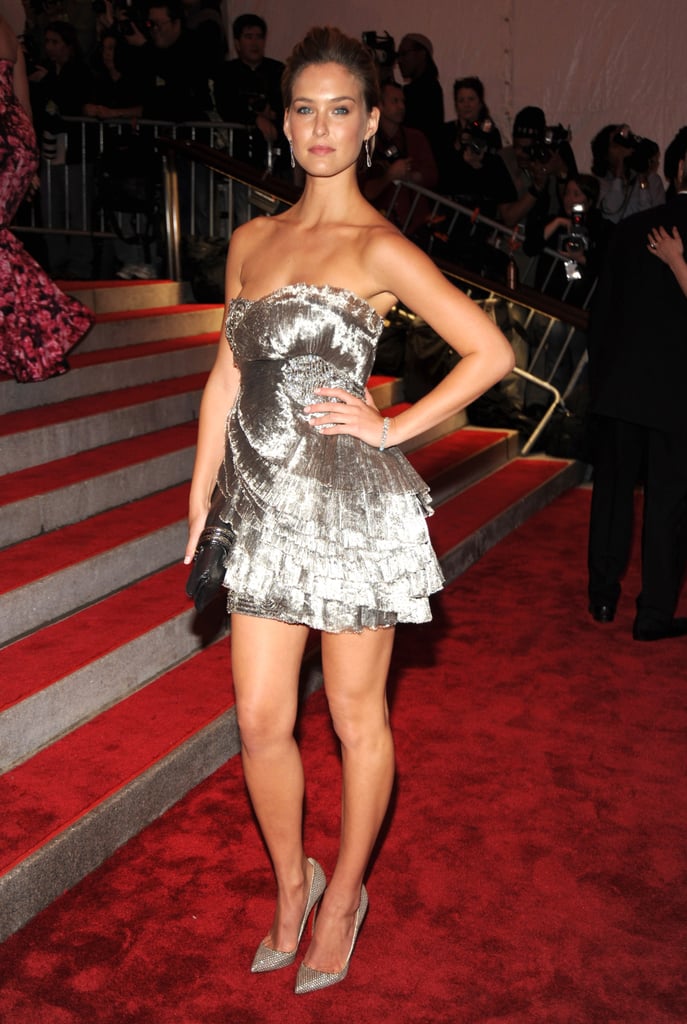 Bar Refaeli [56] rocked a short silver Roberto Cavalli dress to the 2009 Met Gala.
Iman
Iman worked a Stella McCartney jumpsuit on the red carpet in 2011, and the gold sequins popped perfectly against her skin tone.
Claire Danes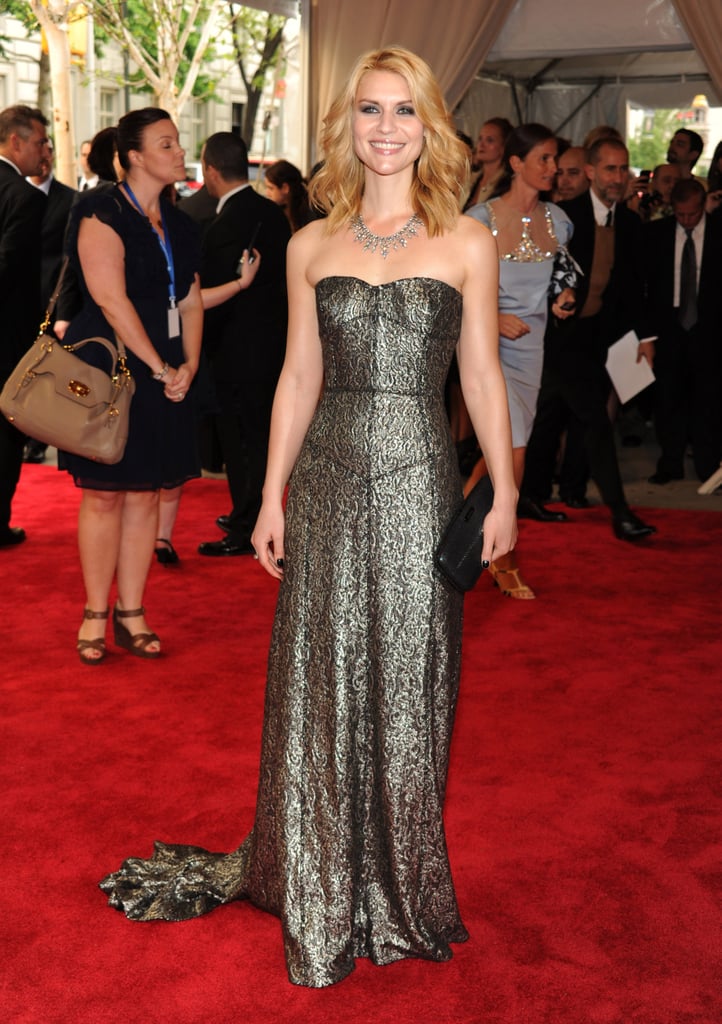 Claire Danes [57] was the picture of glamour in a metallic Burberry dress at the 2010 gala.
Kate Mara and Zac Posen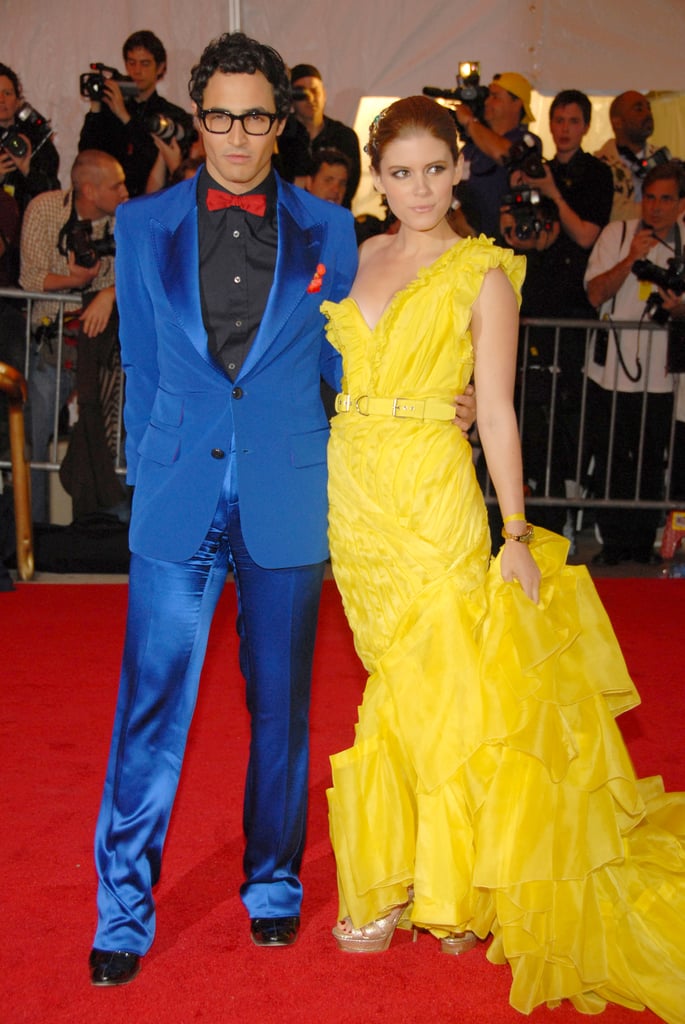 Kate Mara and Zac Posen were a colorful couple on the red carpet in 2008.
Mary-Kate Olsen
The designer took a break from her customary black for a bold red gown at the 2011 gala in honor of Alexander McQueen.
Eva Mendes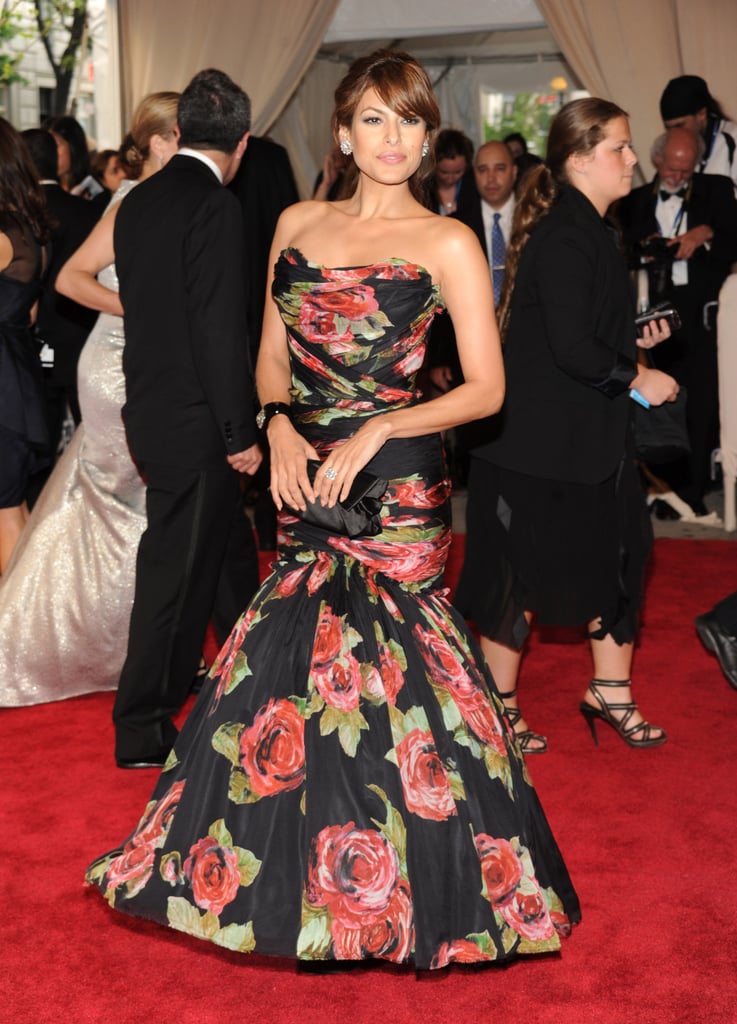 The actress was in full bloom in Dolce & Gabbana at the 2010 Met Gala in honor of American fashion.
Selma Blair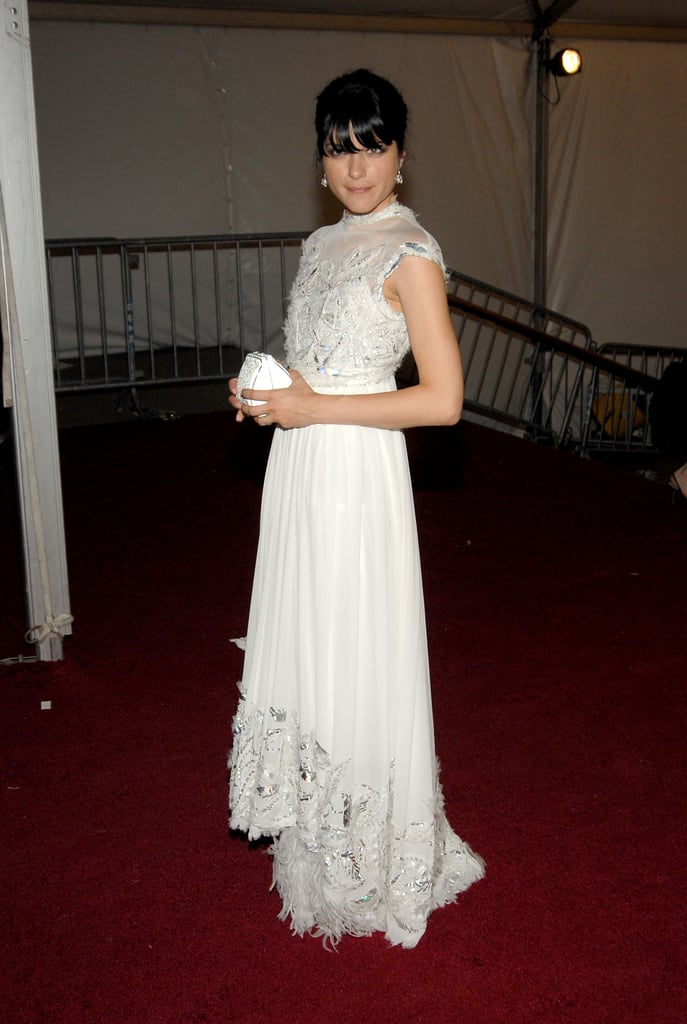 Selma Blair [58] wore a white Chanel Haute Couture gown to the 2006 event.
Mila Kunis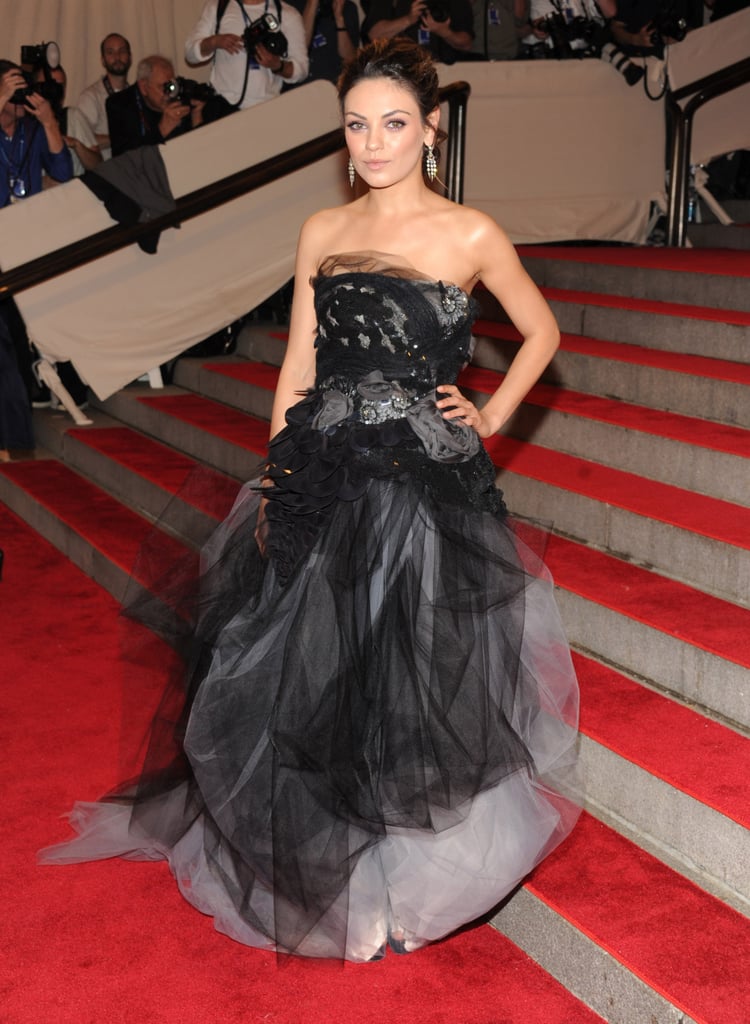 Mila Kunis [59] was all class in a tulle Vera Wang gown in 2010.
Cara Delevingne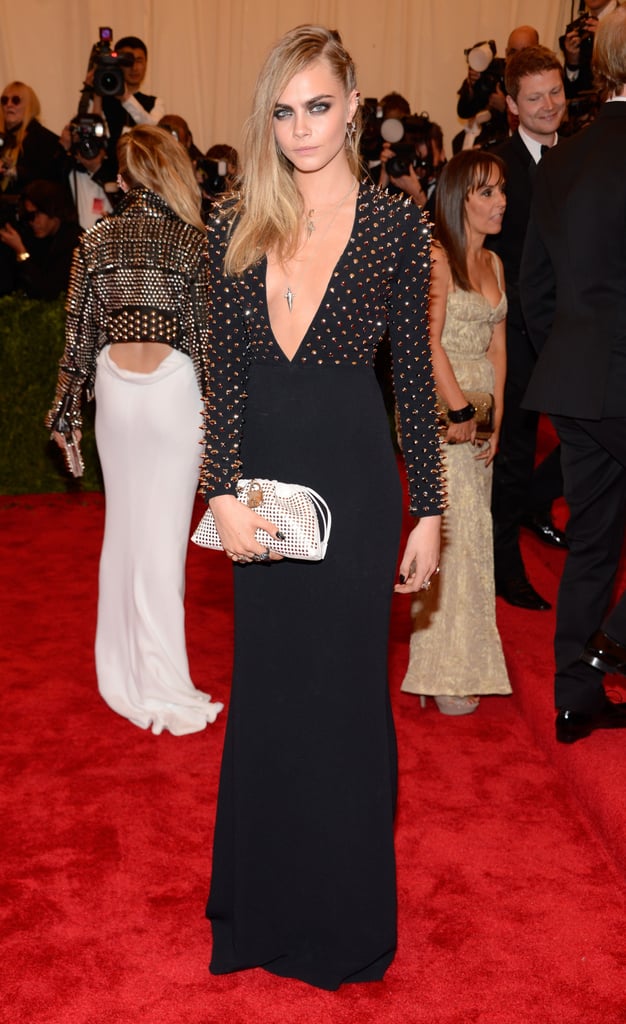 Who better to represent punk than the British model, who took the plunge in studded Burberry at the Chaos to Couture gala in 2013?
Emma Roberts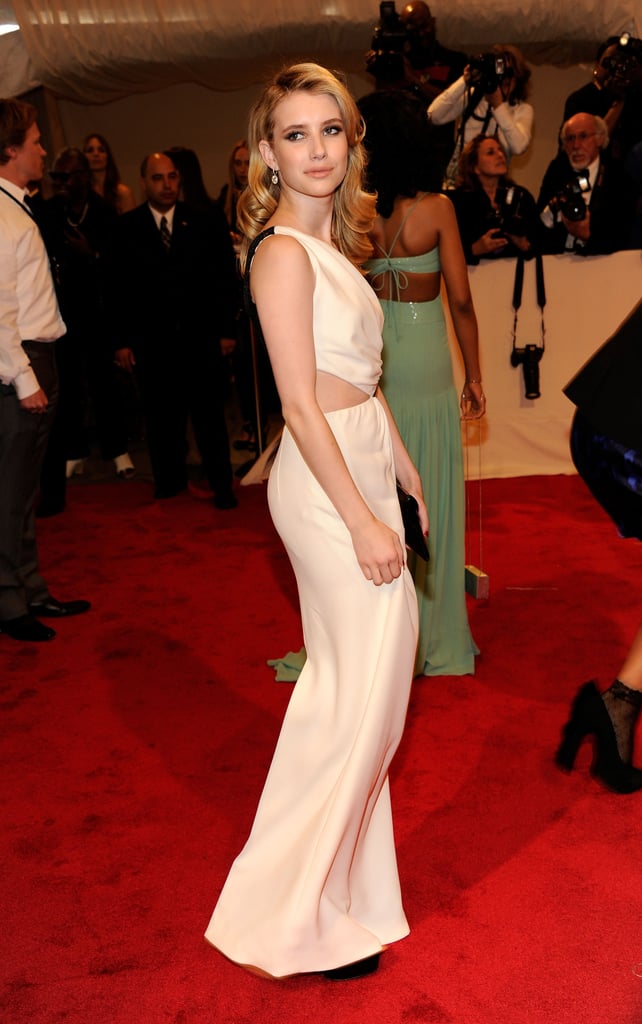 Roberts showed a slice of midriff at the 2011 Met Gala.
Kerry Washington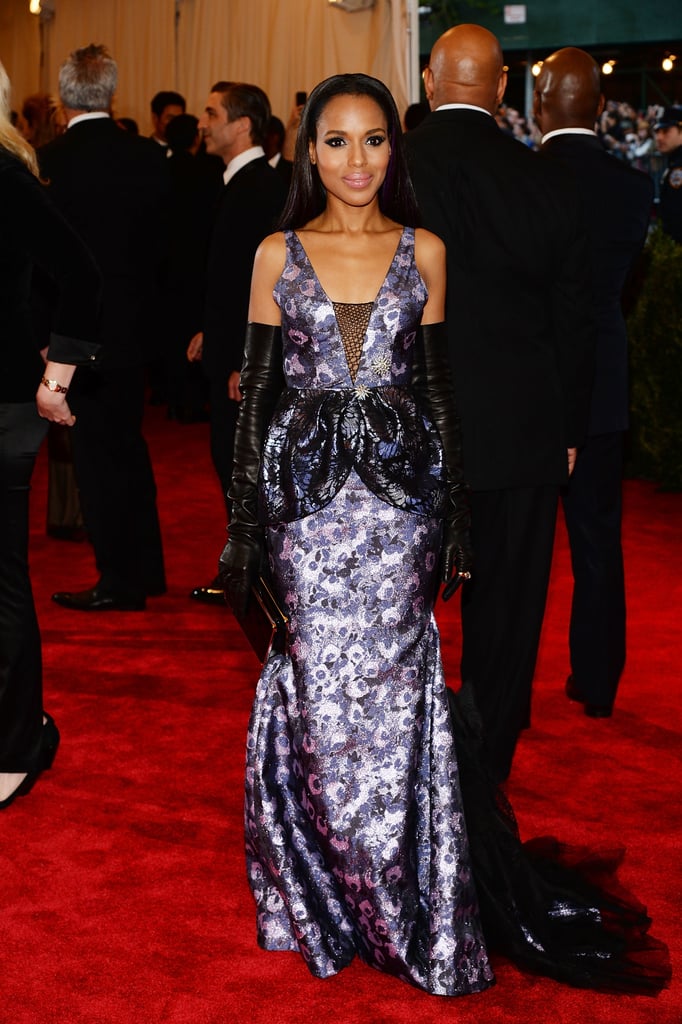 There is no scandal about Washington's Vera Wang brocade gown with a peplum at the 2013 gala.
Angela Lindvall and Karlie Kloss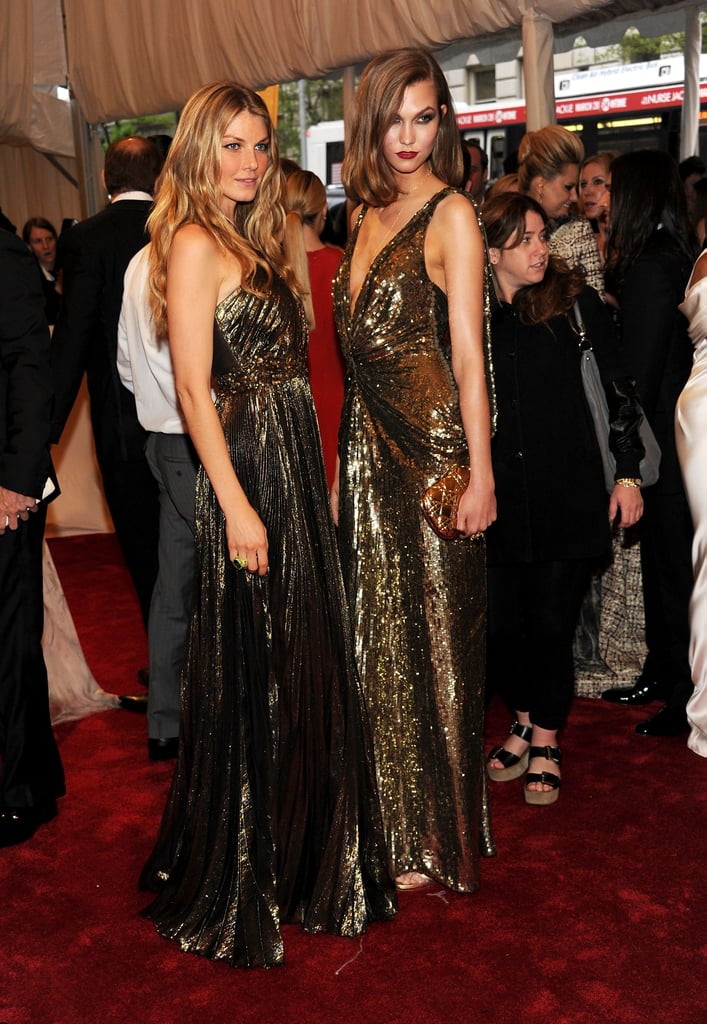 Angela Lindvall and Karlie Kloss walked the 2011 Met Gala red carpet together in gold metallic gowns — Angela wore Andrew Gn, while Karlie shone in Christian Dior.
Rooney Mara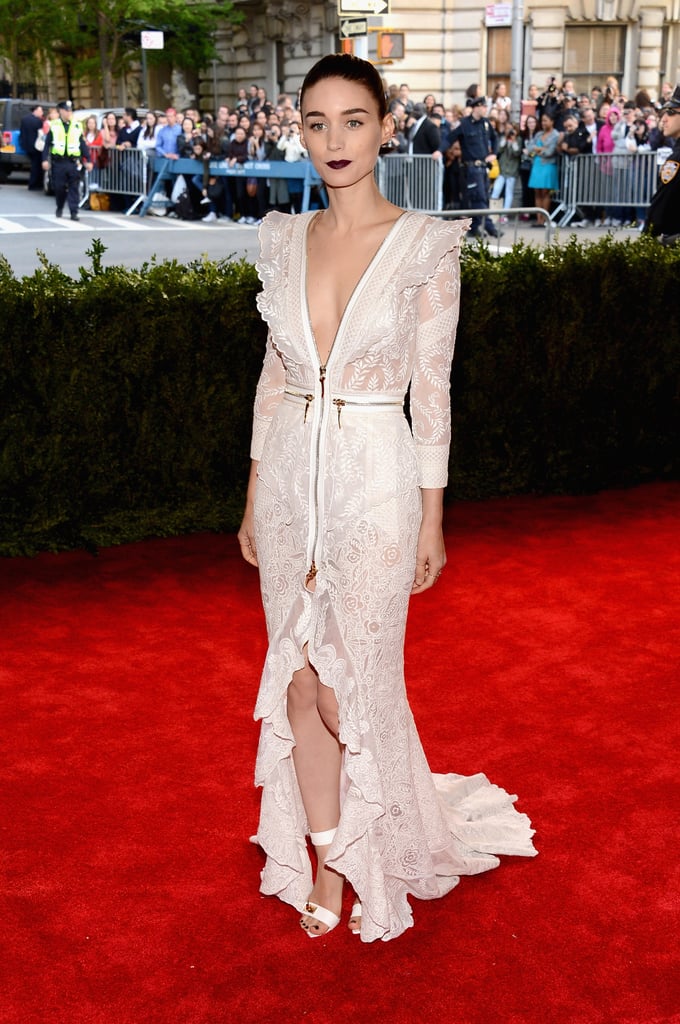 The event's co-host turned up in Givenchy Haute Couture (designed by fellow co-host Riccardo Tisci) at the 2013 Met Gala.
Liv Tyler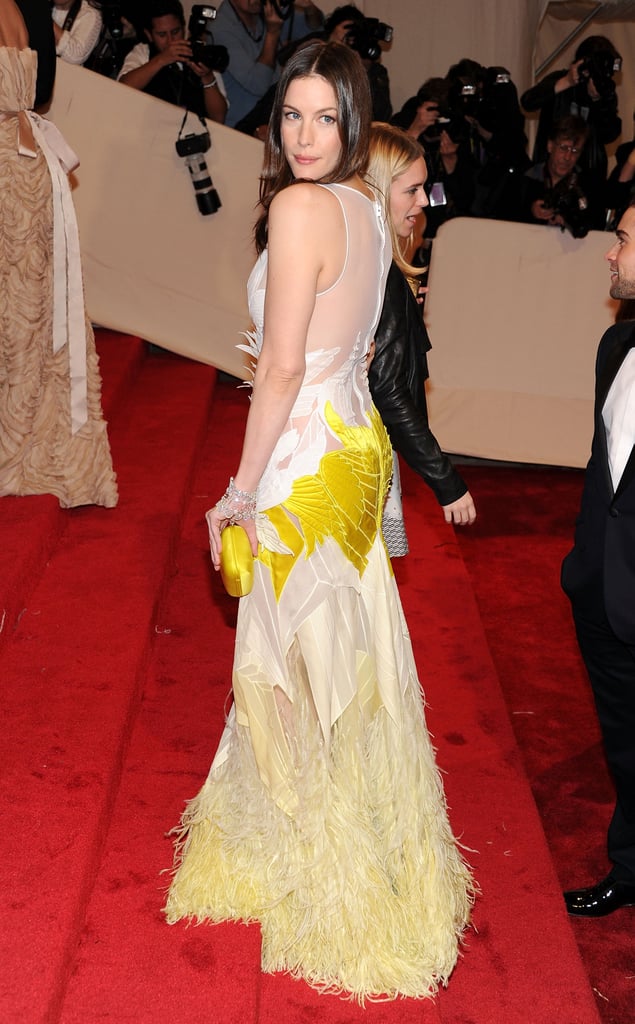 The actress got feathered up in Givenchy for the 2011 Met Gala.
Lily Aldridge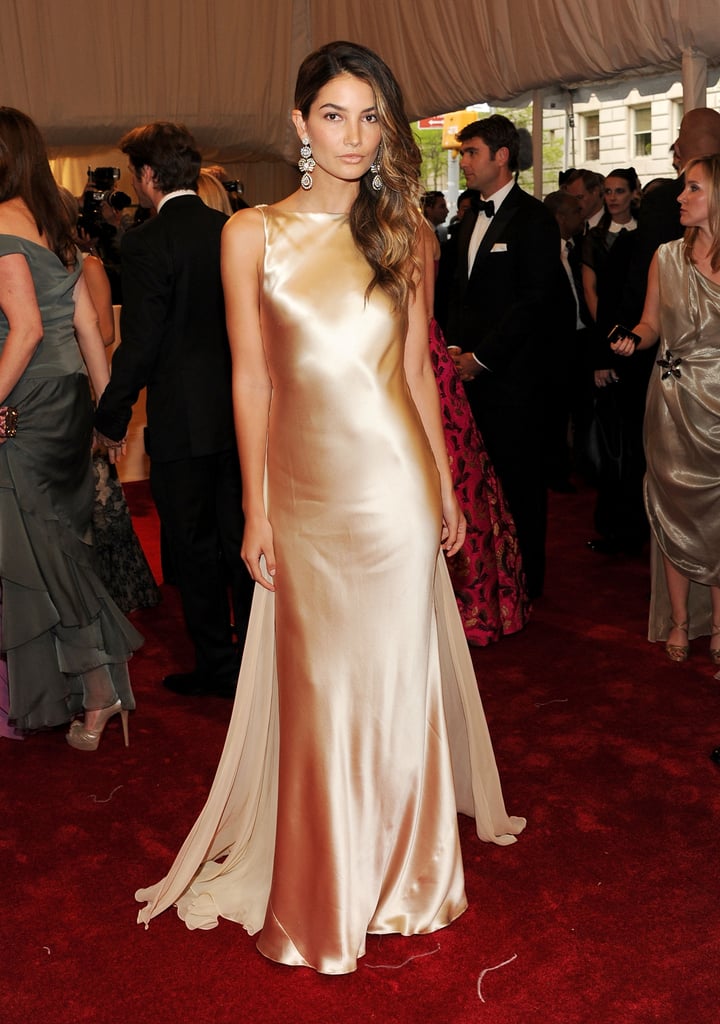 Making the most of her model physique, Aldridge went for liquid satin at the 2011 Met Gala.
Kate Bosworth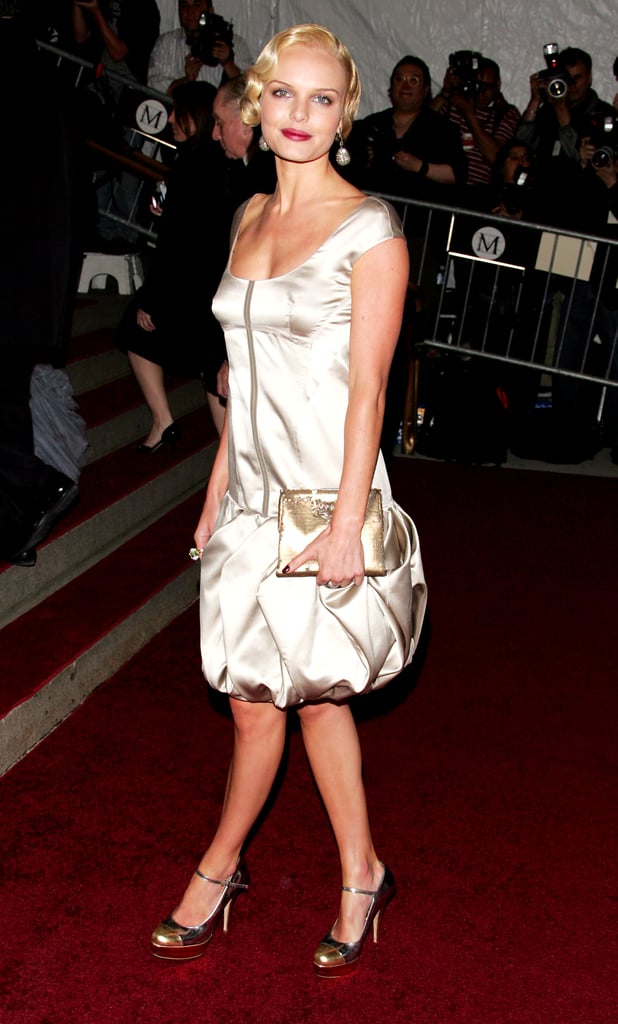 It's hard to believe that Kate Bosworth [60] wore this Prada dress in 2007, considering how often we still think about it!
Ashley Greene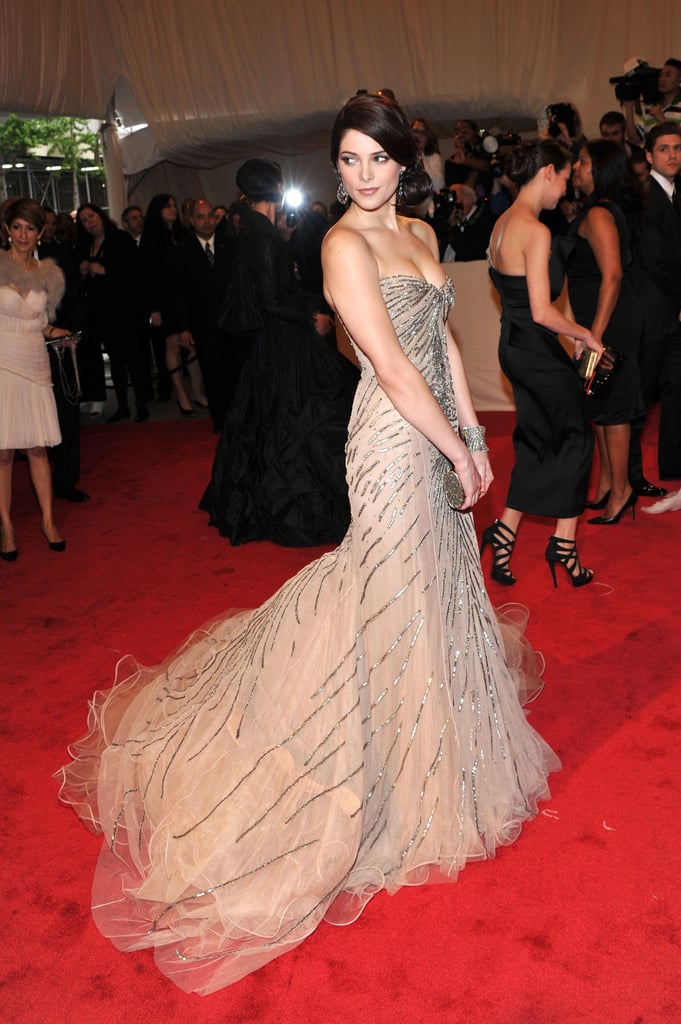 The actress hit her first Met Gala in style, in a shimmering nude Donna Karan Atelier gown in 2011.
Nicole Kidman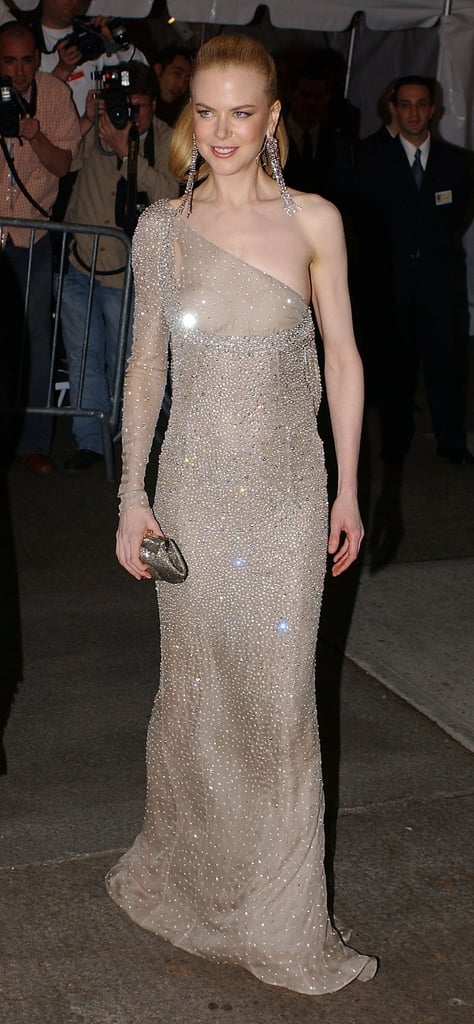 Flashback to 2003, where Kidman bared a seriously ripped arm in a metallic sheer gown.
Sofia Vergara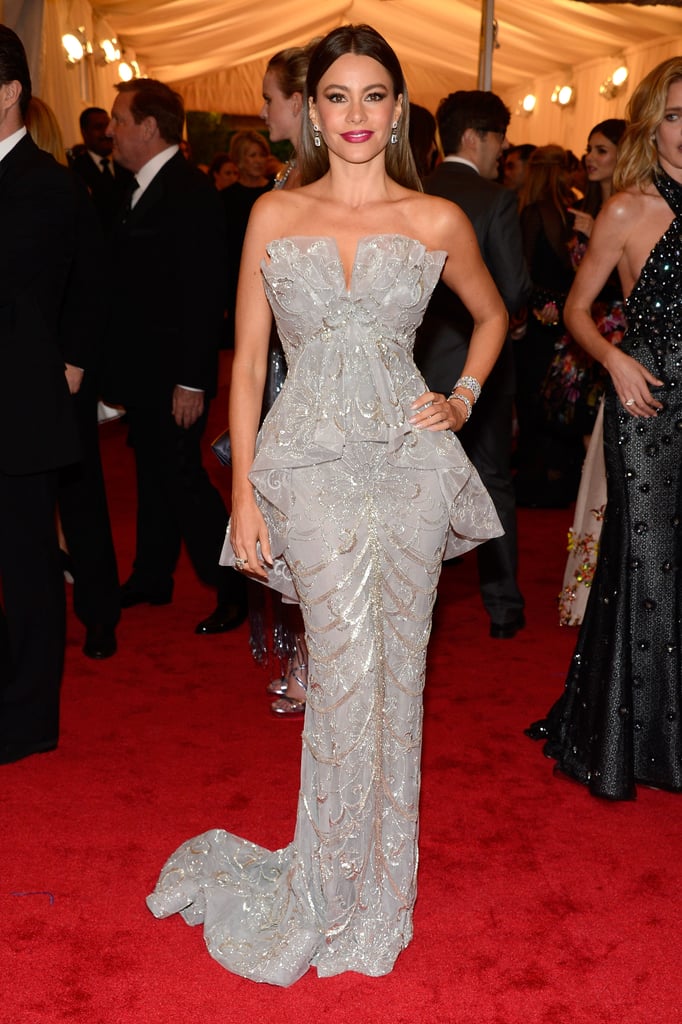 The bombshell toned down (a little) in a structured Marchesa gown at the 2012 Met Gala.
Liya Kebede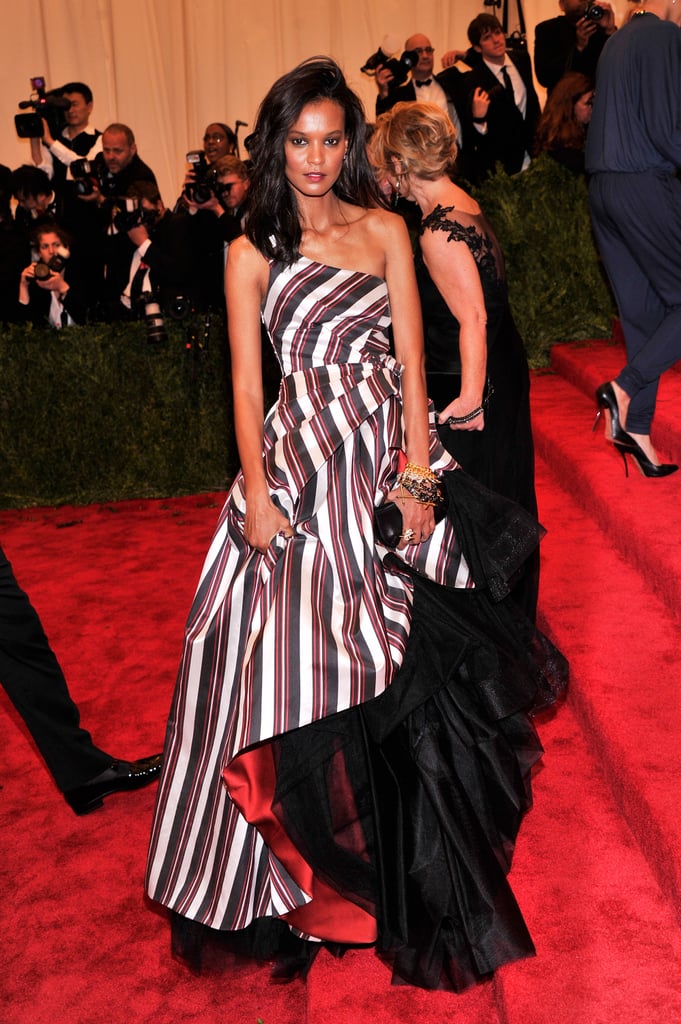 The supermodel got into the punk spirit with asymmetrical stripes at the 2013 gala.
Jaime King
It was a '30s inspired look for the blonde in a draped red silk gown in 2012.
Rachel Weisz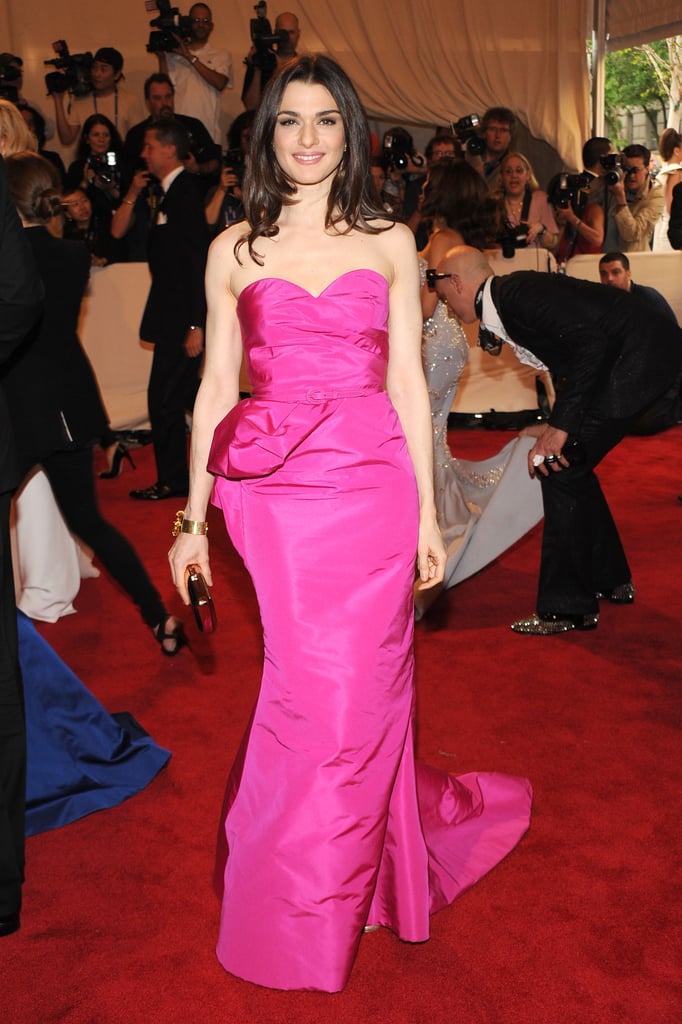 The actress glowed in her hot pink Oscar de la Renta gown in 2010.
Emmy Rossum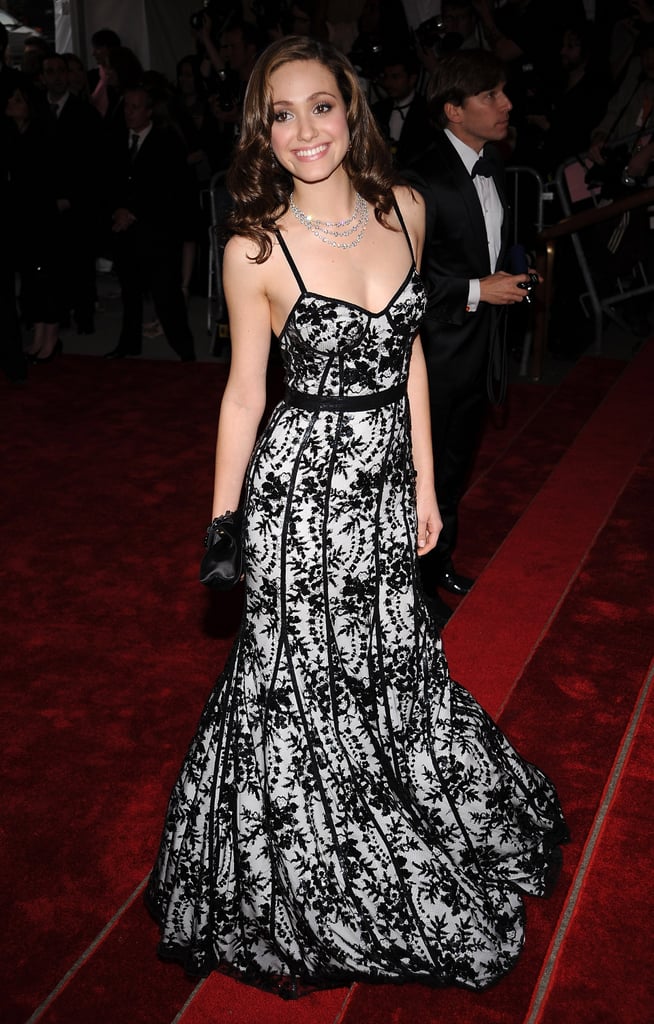 The actress donned a black and white gown for the Superheroes Met Gala.
Molly Sims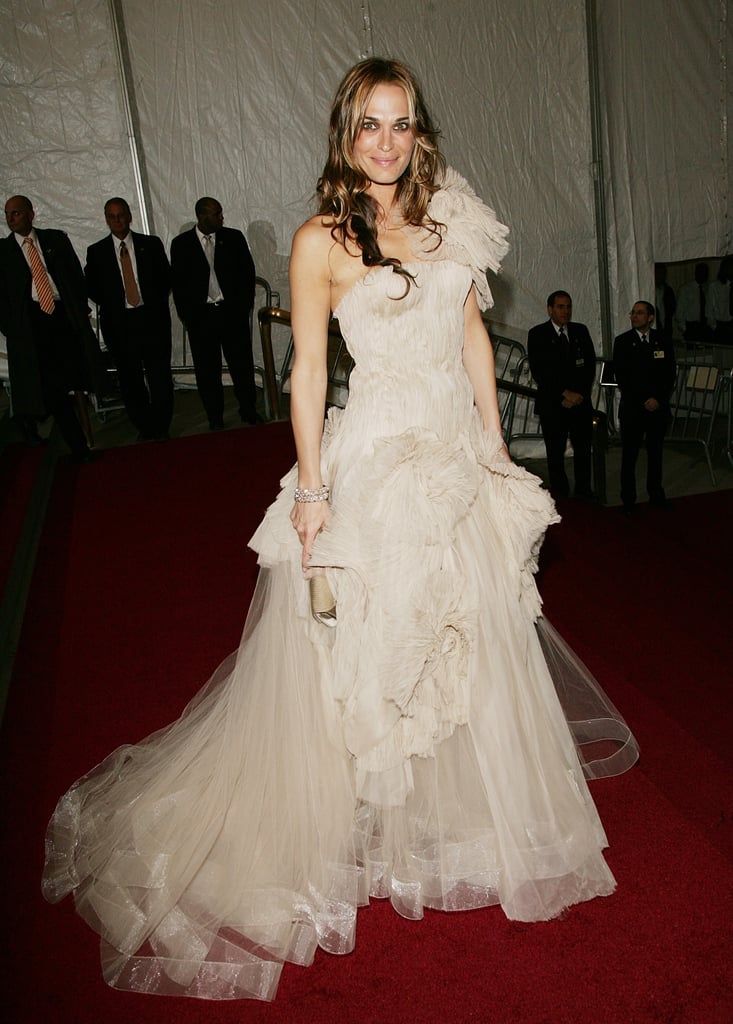 The star went for all-out ruffles at the 2007 Met Gala.
Mandy Moore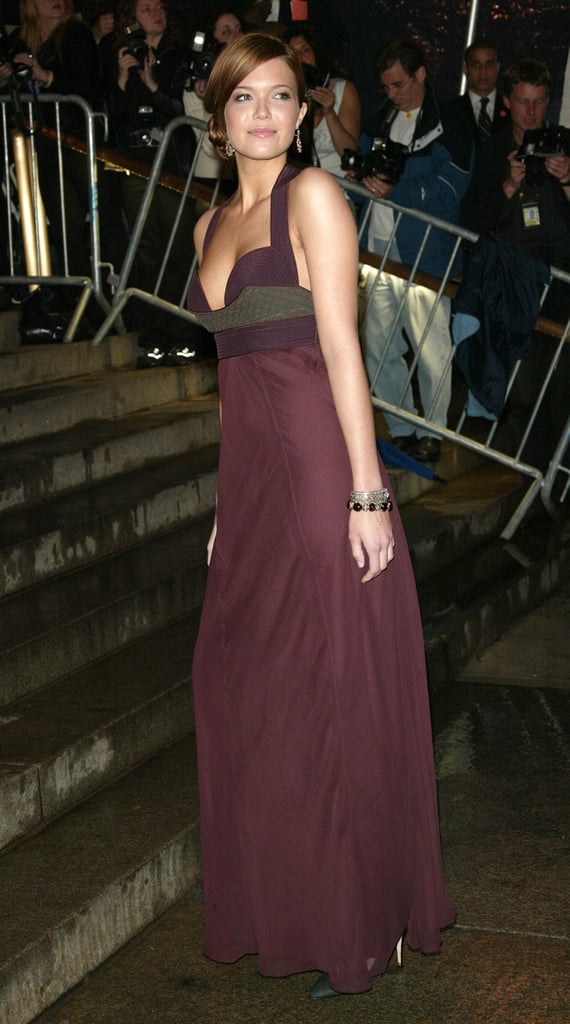 The actress made a liaison with Proenza Schouler for her maroon gown in 2004.
Naomi Campbell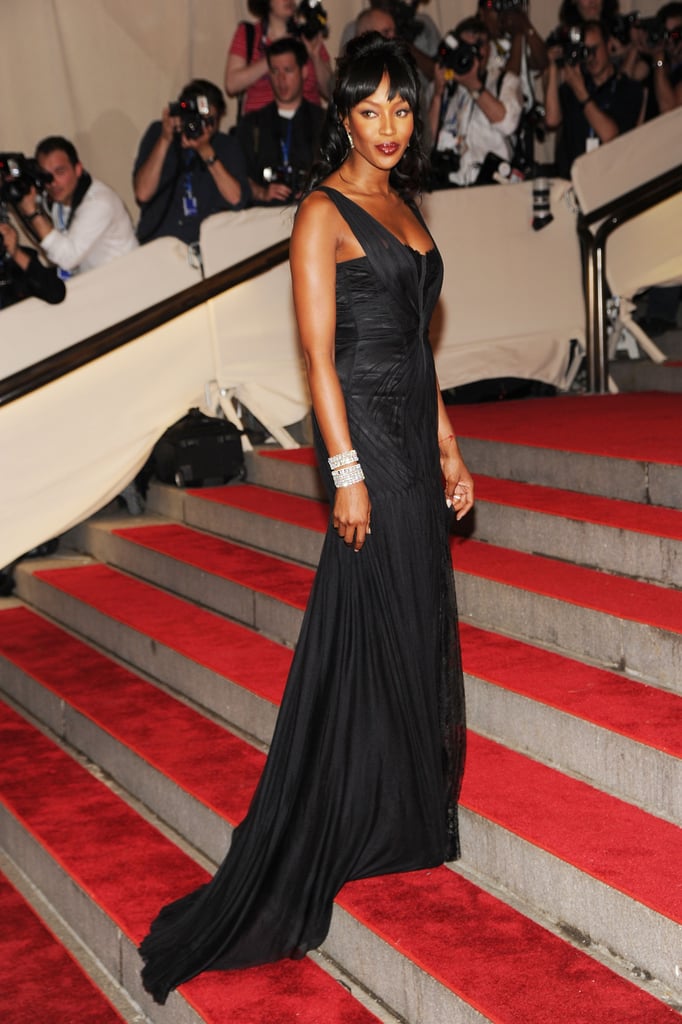 The supermodel rocks the stairs in a simple black gown in 2010.
Christy Turlington Burns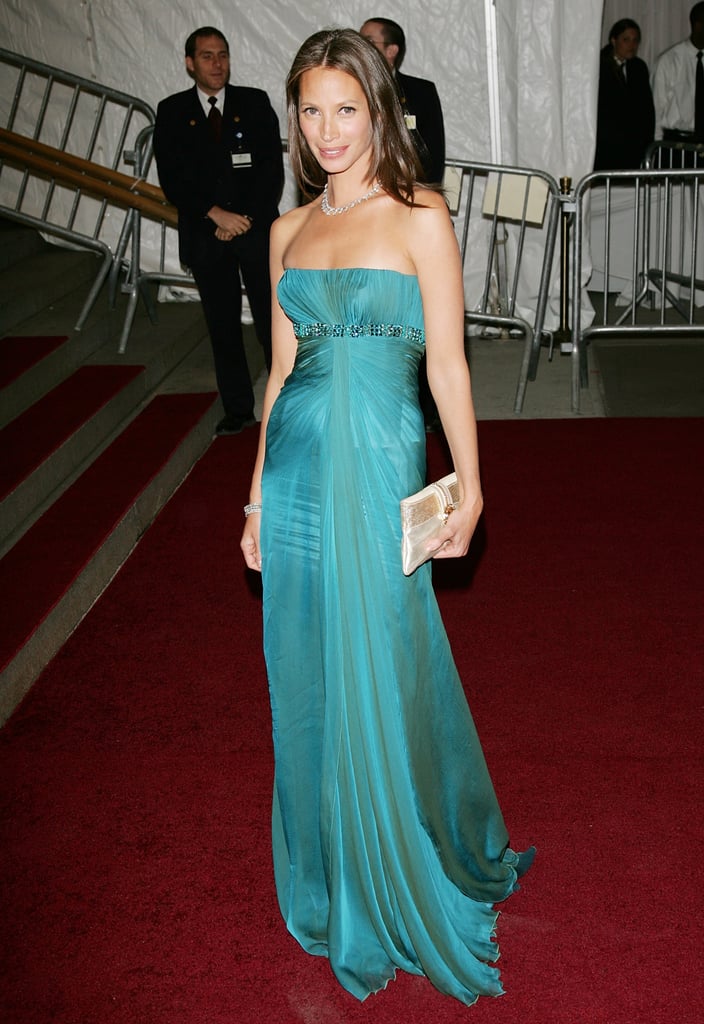 The model-activist's pick from 2007 still looks current, thanks to its classic shape.
Amanda Seyfried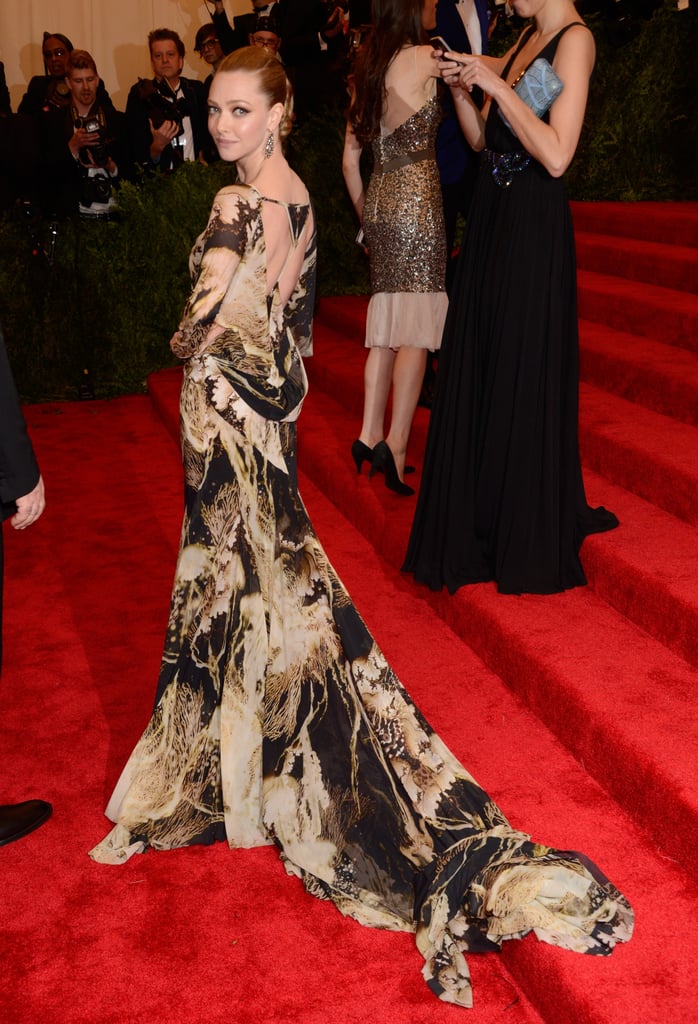 The Met Gala newbie burned up the carpet at the 2013 event in a daring Givenchy Haute Couture gown.
Suki Waterhouse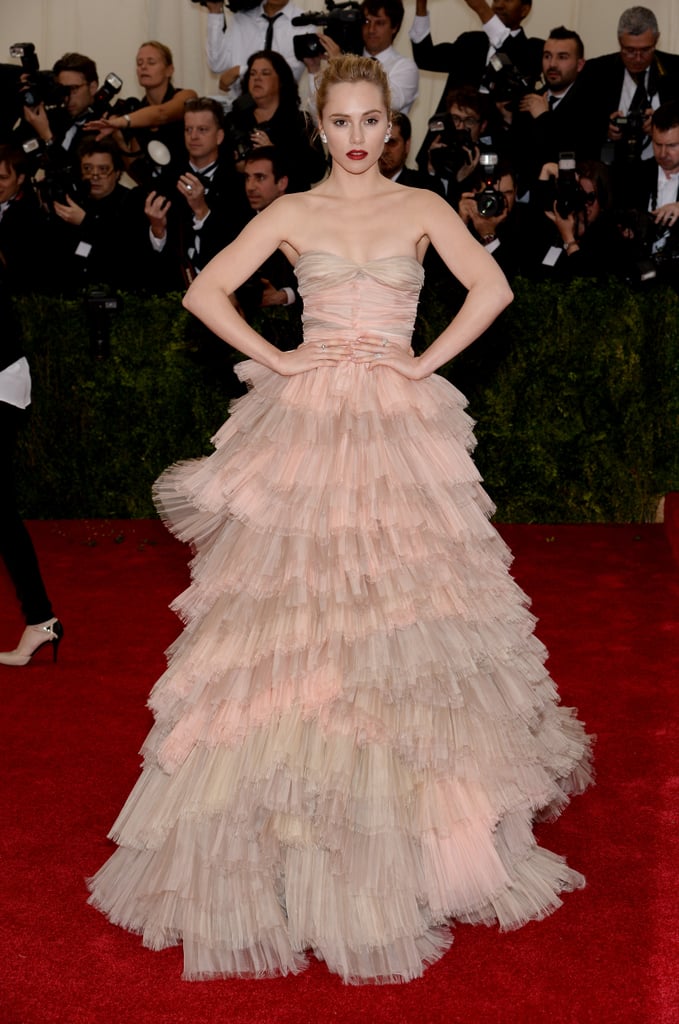 Suki Waterhouse brought tiers of joy in Burberry's layered chiffon gown at the 2014 gala.
Sarah Jessica Parker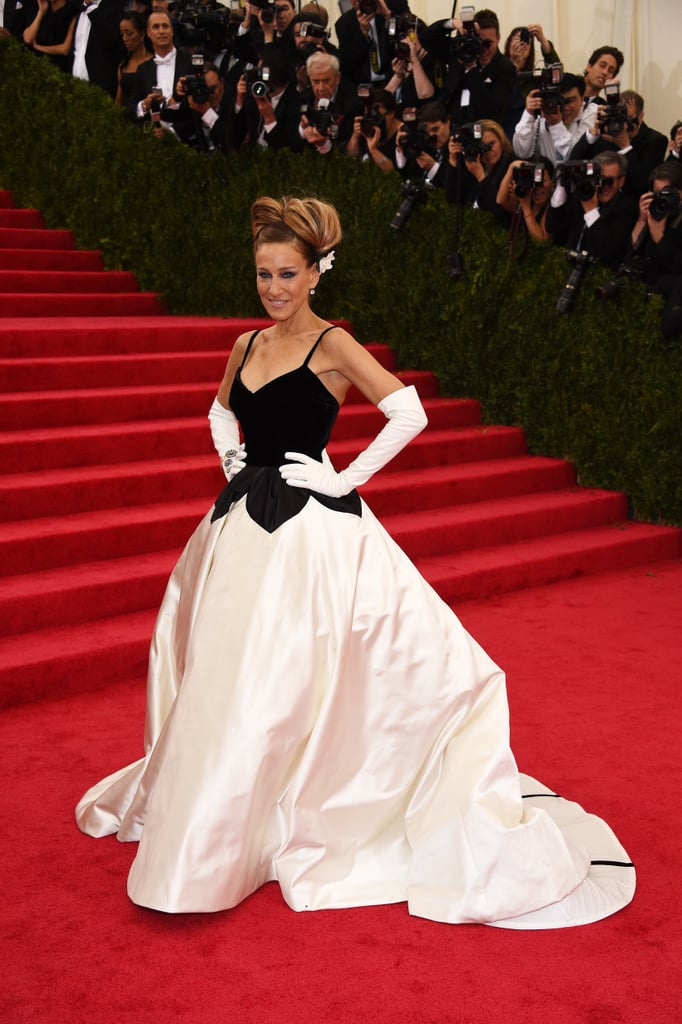 SJP arrived at the 2014 Met Gala in a graphic black-and-white Oscar de la Renta gown that had a surprise reveal when she turned around: the designer's signature.
Blake Lively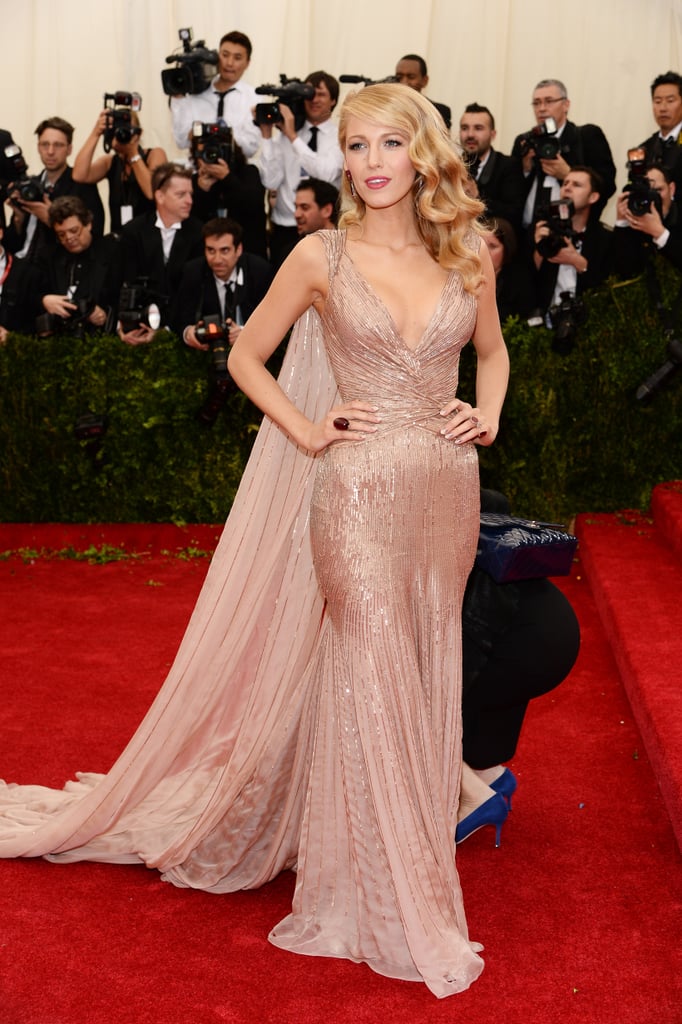 Blake Lively [61] did Gucci proud when she arrived in a dazzling confection at the 2014 Met Gala.
Emma Stone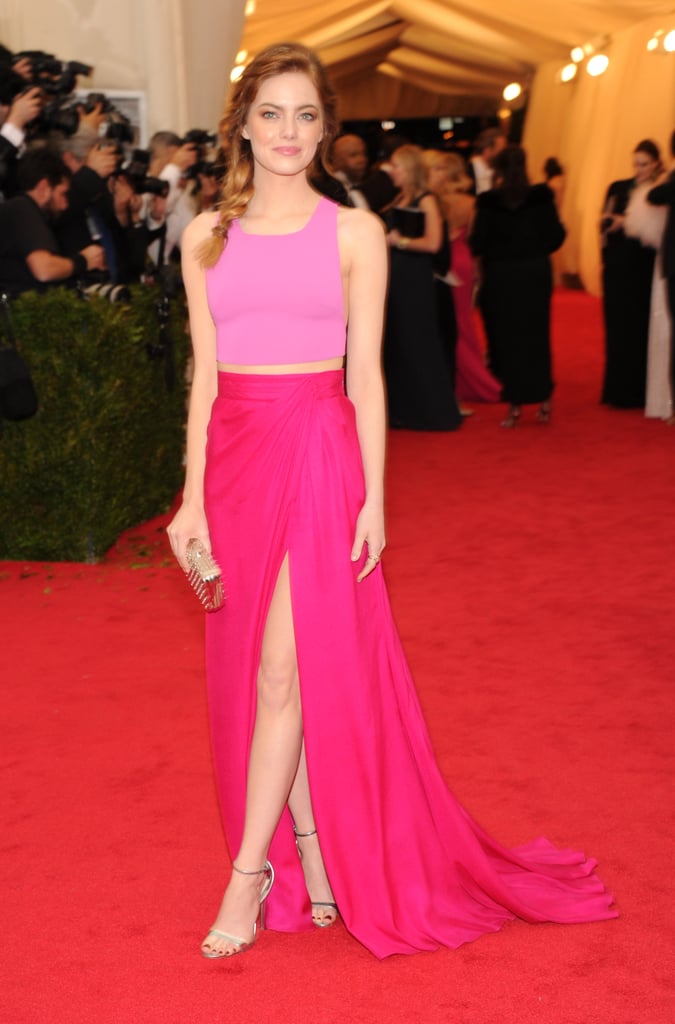 Emma Stone [62] turned heads in a bold two-toned pink Thakoon look at the 2014 Met Gala.
Mary-Kate and Ashley Olsen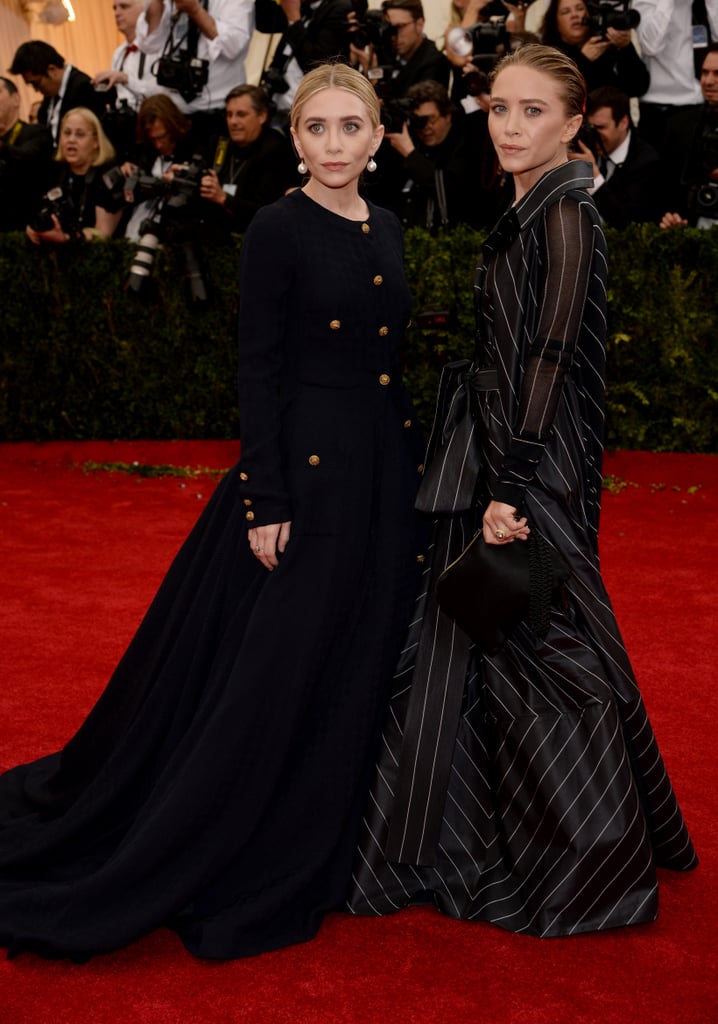 Mary-Kate and Ashley Olsen [63] borrowed from the boys at the 2014 Met Gala while wearing menswear-inspired gowns.
Beyoncé Knowles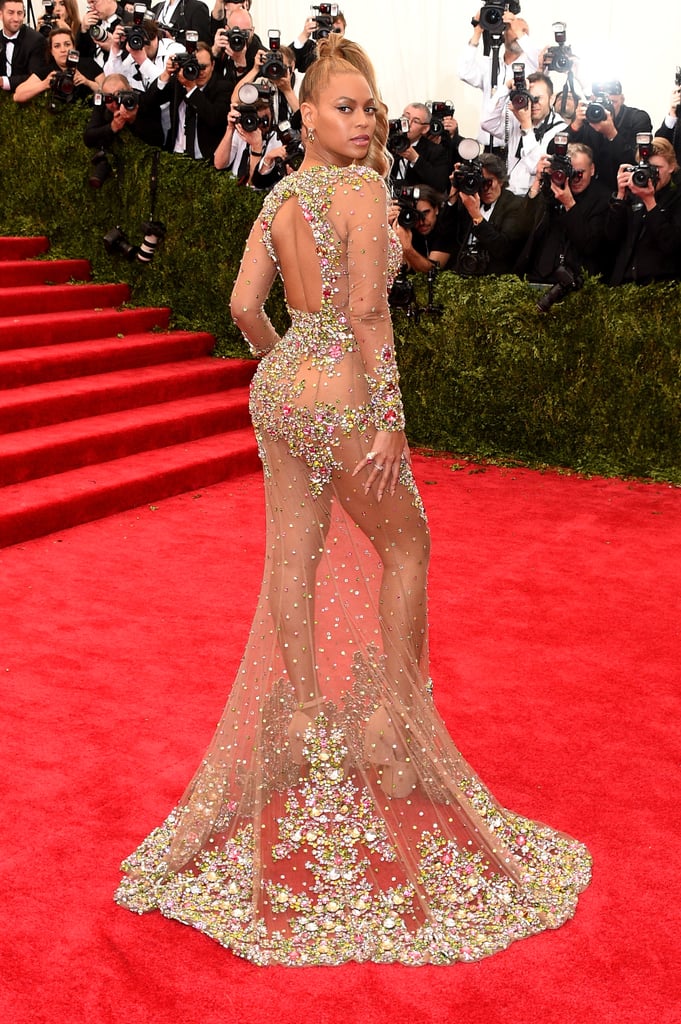 Beyoncé made jaws drop in this see-through Givenchy stunner at the 2015 Met Gala.