Best Over-the-Knee Boots For Fall 2012
The Thigh's the Limit: Push Your Style Boundaries in Over-the-Knee Boots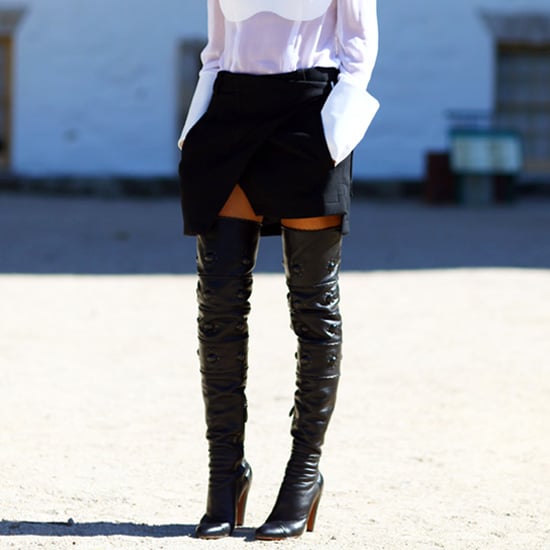 Listen up, Fall shoe shoppers: today, we're talking over-the-knee boots. It's only natural to assume that this style is hard to pull off, but you'd be dead wrong. With the right style, color, and attitude, you can absolutely rock a pair of over-the-knee boots — and subsequently be the envy of your friends. We saw the sexy style on the runways at Givenchy, Altuzarra, Alexander Wang, and Proenza Schouler (just to name a few) — and when done right, it looks more Anita Pallenberg than Pretty Woman. For our style tips, and to shop 23 of our favorite pairs, just keep reading.
Be realistic about your heel height. Are you looking for an everyday boot? Go with a flat, riding-style pair in black, brown, or gray. If you're in the mood for something sexier, opt for a classic black over-the-knee boot with a thinner heel. Of course, you can always wear a wedge; it's a great blend of sexy and wearable.
Don't count suede out. Suede boots, while a bit less weatherproof, are always chic and sophisticated, and they don't run the risk of looking as "lady of the night" as leather over-the-knee boots sometimes do.
Over-the-knee boots look great with pretty much everything; you can wear them with skinny jeans and a floaty top, or pair them with a cozy knit sweater dress. Another great way to style them is by going full-on Almost Famous: superskinny pants, a printed top, and a fur vest (with a wide-brimmed hat for maximum boho-cool effect). Look to over-the-knee boot enthusiasts like Kate Moss, Rachel Zoe, and Blake Lively for celebrity inspiration.
Be sure to check out FabSugarTV for more boot styles that you need in your closet now.