Best Red-Carpet Style of 2011
Kristen Stewart vs. Emma Watson — Who Will Be the Red-Carpet Queen of 2011?
Between Gisele's memorable arrival at the Met Gala in her scarlet-red McQueen gown and Anne Hathaway's shimmering Armani at the Golden Globes, this year has been filled with beautiful, jaw-dropping red-carpet appearances. We've culled 64 exquisite celebrity looks to celebrate a year's worth of glamour — and we've asked you to pick the winner. Now, Emma Watson's glamorous Oscar de la Renta premiere look and Kristen Stewart's sexy turn in Roberto Cavalli are neck and neck — but is your favorite in the race? Vote in our Best Red-Carpet Style of 2011 bracket, a tournament-style competition to rank the best looks of the year, and ensure that your pick for red-carpet queen makes it to the final round!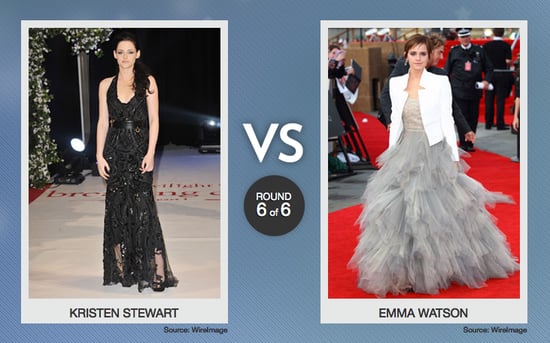 Just head over to the bracket and start clicking on your picks! Go through the first-round matchups by picking who you think deserves the most beautiful red-carpet look of 2011. Once you've finished the first round, we'll take your favorites and pair them against each other until there is only one winning celeb left!