The Best White Jeans For Summer
Summer Shopping: The Best White Jeans
You don't need to wait until Memorial Day to bring out the white jeans, but waiting for the first warm day does make white jeans feel extra special. White jeans can be a harrowing experience — too tight, too stretchy, too thin, or even too white can make your body look less than stellar. Here are a few of our favorites, and here are some shopping tips when buying them for yourself.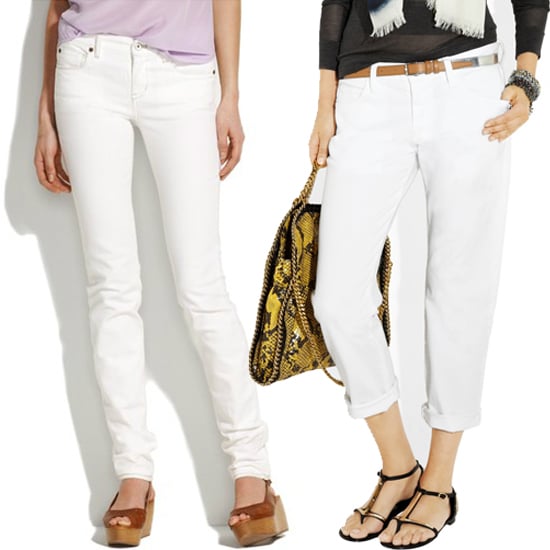 Fit: Unless you are rail thin, avoid white jeans that are too tight. They can highlight all those things you don't like to show through your jeans, like cellulite. Anyway, it's Summer, you don't want your denim sticking to you.
Fabric: For the same reasons as above, watch the fabric. We prefer a sturdier denim, as we also would prefer not to show the world our panty lines.
Color: Obviously, we're talking white. But off-white, dirty white, or cream can be great shades that don't show every speck of dirt or grime you inevitably come into contact with.
Trends: The ankle crop is the way to go, it's ideal for showing off summer shoes, and it's super flattering.
Fab Favorites: Madewell offers a huge selection of silhouettes, but their skinny skinny ankle ($115) is our favorite for its low-rise and perfect crop, and guess what? The boyfriend is back, and we love the cool version from Current/Elliot ($170) which is just perfectly slouchy for lazy Summer days.