Beyonce Wearing Topshop
Beyoncé's Surprising New Go-To Brand — Topshop!
We're used to seeing Beyoncé sporting some serious high-end wear, but recently the singer has been embracing a more mass-market brand: Topshop!
The latest includes her in a Topshop cropped tee, denim cutoffs, these striped Tabitha Simmons espadrilles, and a red bandana. Before that, while visiting Berlin, Beyoncé sported printed jeans with her hooded rain coat while touring the city. On another occasion, the singer shared a snap on Instagram of her rocking this black and cream daisy print coat ($160) with black denim and pumps.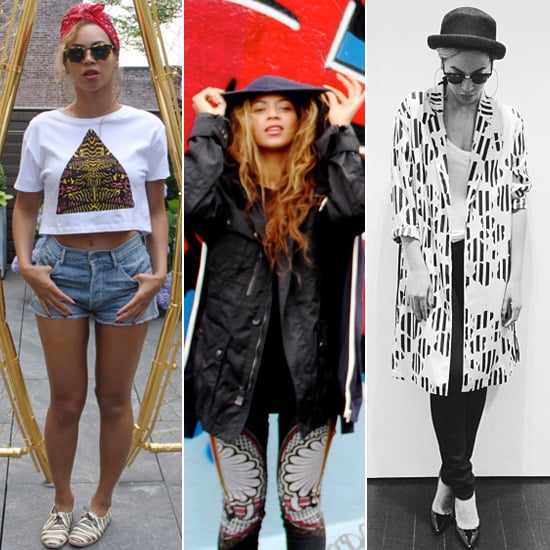 To see more of Beyoncé's Topshop looks, keep reading.
The singer has been getting a lot of wear out of the brand's latest collection. She was spotted wearing a striped Topshop crop top and matching pencil skirt to Kanye West's 36th birthday celebration in NYC. She even shared the look on her Tumblr. Beyoncé next indulged in her Topshop obsession in another formfitting top and skirt set, only this time it was tribal-inspired. She proudly put her outfit on display in this Instagram snap. And in yet another brand-loyal ensemble, the singer accessorized with a black hat and round cat-eye sunglasses while out in NYC.
We love seeing Bey mixing high with low, so let's hope she continues this Topshop streak, and maybe even sprinkles in some H&M and Zara. Unfortunately Beyoncé's exact pieces are sold out online, but you can call your local store to inquire.