Biggest Handbag of 2013
Which Celeb-Approved Handbag Had the Biggest Year?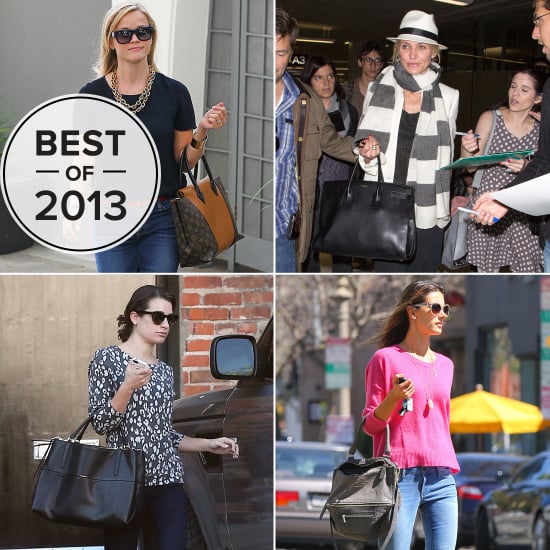 Clockwise from top left: Reese Witherspoon with the Louis Vuitton Capucine, Cameron Diaz with the Saint Laurent Sac du Jour, Lea Michele with the Coach Borough, and Alessandra Ambrosio with the Givenchy Pandora
When it comes to handbags in Hollywood, one day you're in, and the next day you're out. Still, a few bag brands have been able to hold the attention of some pretty fickle celebs month after month, putting them in the running for bag brand of the year. With Michelle Williams as its campaign model and the new Capucine and W bags seen on the arms of celebs like Reese Witherspoon, Louis Vuitton has, it's safe to say, had something of a comeback this year. Meanwhile, Saint Laurent debuted its Sac du Jour bag — and style-setters like Cameron Diaz and Angelina Jolie quickly picked it up. But we couldn't forget Coach's big year: the brand's been basking in the glow of celebrity affection, with Lea Michele and Sarah Jessica Parker making the designer's new Borough bag a full-fledged hit. Lastly, if you're talking about bags with big celebrity followings, you can't ignore the pack of models (Alessandra Ambrosio, anyone?) and trendsetters with Givenchy on their arms, making it an ever-popular bag in the celebrity world.
We can safely say each one of these labels made a big impression this year — but it's up to you to decide which brand had 2013 in the bag. Cast your vote by Dec. 16!