Blake Lively's Printed Pants
Get Blake Lively's Latest Style Statement For Any Budget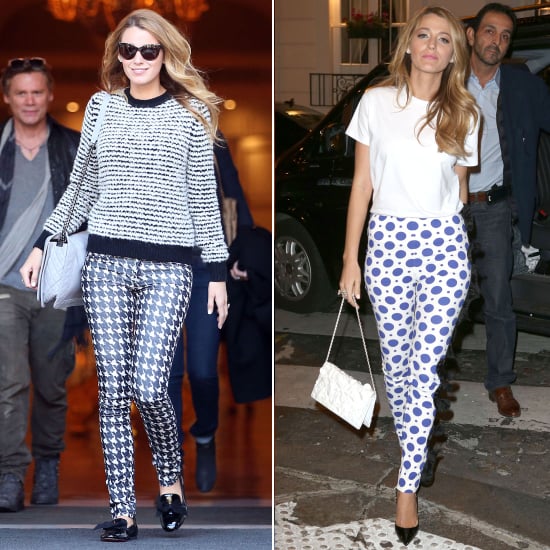 Don't mess with a good thing — that must have been Blake Lively's motto when she stepped out in printed pants twice on her trip to Paris. On back-to-back days, Blake opted for statement pants, which obviously got us thinking about both how gorgeous the actress looked and the quickest way to get the notice-me style. The answer is all in the pants. Whether you opt for polka dots or classic houndstooth, the fastest way to mimic the standout outfit is with a pair of bold-patterned trousers. Now, we're making it even faster — we did the legwork; all you have to do is shop 10 awesome pairs. And hey, if you decide to wear yours as often as Blake does, we can hardly blame you.

We love the mix of a curve-hugging skinny and a classic print on these Paige Verdugo harlequin-print skinny jeans ($189).

We think these Kensie polka-dot skinny pants ($79) would look amazing with metallic pumps and a slouchy sweater at the office.

Zara's houndstooth trousers ($36) could be dressed up or down with heels or sneakers — your choice.

Zippers make these Club Monaco Emily paisley-print pants ($170) a modern play on a sweet print.

The beautiful print on these J.Crew Factory printed skinny jeans ($59, originally $85) would pair perfectly with a slouchy sweater.

Add a blazer to temper the pattern on these Gap printed ultraskinny pants ($60), or take a cue from Blake Lively's mixed prints by adding a patterned top.

Vegan leather gives these Blank NYC skinny jeans ($98) an edgy contrast.

Not your classic polka dots, these patterned Mango pants ($50) are a little more bohemian.

Still playful but with a more subtle take on the houndstooth print, we love these cool-girl Rag & Bone Jean houndstooth print velvet trousers ($275) and would love them even more with a chunky turtleneck.

We'd tuck a classic button-down into these Tripp NYC houndstooth skinny pant ($79) to show off the high waist.