Bonnaroo What to Bring List
What We're Packing: The Official Bonnaroo Checklist
As POPSUGAR editors, we independently select and write about stuff we love and think you'll like too. POPSUGAR has affiliate and advertising partnerships so we get revenue from sharing this content and from your purchase.
The pilgrimage to Bonnaroo is upon us, and unlike its Summer festival counterparts, this massive amalgamation of music, comedy, health, wellness, and nature takes place over the course of four days on a 700-acre farm in Manchester, TN. With a projected weather forecast of temps in the high 80s with a slight chance of rain, it's fair to expect the unexpected. And because of that, you've got to pack the part. The key is to stick to light layers, functional add-ons, and when all else fails, just don't forget your bikini, sunglasses, and hat. Here's what we're packing (no, really, we'll see you there!), courtesy of our no-fail checklist — and below that, be sure to shop our product picks for each must-have item.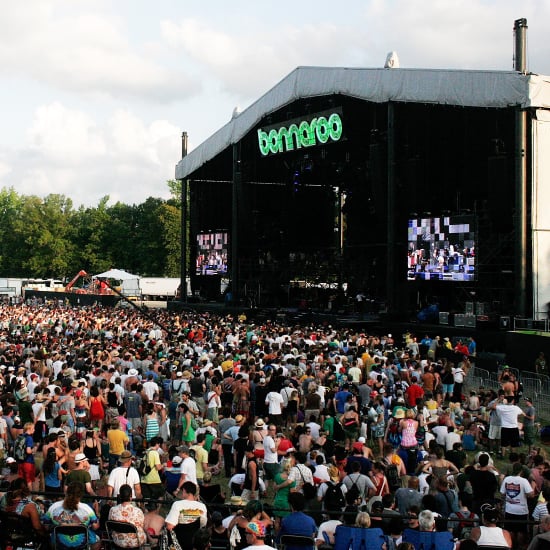 Lightweight Tops

Outdoor festivals, especially ones held on a farm, mean lots of daylong exposure to the Summer elements. We're intentionally skipping anything that adds unnecessary bulk. Instead, the lightweight top — the lighter the material, the better — will be our go-to. Pick breathable fabrics, and if you're really committed, go with skin-revealing details like cutouts and sheer paneling.

Sunglasses

A required accessory for any sunny excursion, and Bonnaroo certainly warrants one. Whether you're more of a classic aviator type or want to get into the indie spirit with a colorful mirrored pair, sunglasses are an easy way to add flair to an outfit.

Hands-Free Carryalls

Our main goal is to be carefree as we make our way to This Tent, That Tent, What Stage, and Which Stage. With that said, it's important to also have the essentials (camera, money, water, and sunscreen) with you. The compromise? A compact bag that requires little handling. Our favorite picks include a belt bag that proves a modern-day answer to the fanny pack, a polka-dotted backpack, and a utilitarian knapsack.

Denim

Don't limit yourself to the regular "diet" of denim. Spring for a lightweight vintage jean vest, embroidered white cutoffs, and if you're feeling just the slightest bit nostalgic, don a pair of short-alls with a printed bikini top.

Flats

This is not the festival nor the terrain to wear heels — and you will regret it if you try. Believe us. Instead, waterproof jelly sandals are perfect for dusty days, sneakers will keep you comfortable long into the third set of the night, and gladiator sandals are a cool combination of everything in between. Be sure to bring a few Band-Aids just in case you do incur some first-day blisters.

Mix-and-Match Jewelry

The focus may not be on accessorizing, but that doesn't mean you can't have a little fun with it — a true bohemian would. We can't wait to pile on the brightly colored bracelets, and it may even be time to try out the ear-cuff trend for real. If you're feeling the Stevie Nicks vibe, go with long barely-there chains and stone pendants.

Flowy Dresses

If the plan is to go with the flow, then surely that philosophy applies to your way of styling, too. Here, we've found the sweetest array of dresses — airy, breezy, and, yes, flowy — to keep you "ventilated" but chic enough that you don't have to worry about doing much else.

Hats

We've said it before, and we'll say it again: protect yourself from too much sun exposure. Sunglasses is one way, but double up on top with a hat. For the girlie girl, we've got a wide-brimmed floppy hat, and for the girl who wants something sporty and unobtrusive, we've picked out the season's coolest baseball caps.

Weather-Ready Essentials

Whether it rains or just cools down come nighttime, we want to be prepared for all Mother Nature has to offer. Our solution comes in the form of light ponchos, fringed kimonos, open-weave knits, and a quirky cover-up that doubles as a daytime dress.