Brad Goreski Interview at Old Navy 2013
60 Seconds With Brad Goreski: Fashion Week, Celeb Clients, and Great Reality TV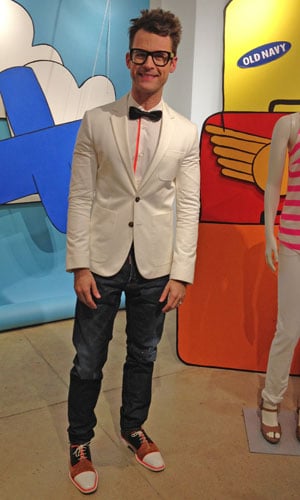 As Old Navy's official "style attendant," the ever-dapper Mr. Brad Goreski was on hand at the label's Spring styling event to do what he does best: give guests a lesson in putting together outfits with a little of that signature brand of Brad Goreski flair. Between styling sessions and cocktails, we caught up with the very busy stylist and Bravo TV star to talk Fashion Week, the new season of It's a Brad Brad World, and celebrity clients like Stacy Keibler, Jessica Alba, and Rashida Jones.
POPSUGAR: What did you think of the Fall shows?
Brad Goreski: I've never been to London Fashion Week before. It was nice because it was like the shows started maximum 15 minutes late, and there wasn't all of the stuff happening. Everyone just got to the venue, sat down, and watched the shows. It was awesome. Christopher Kane blew my mind, Peter Pilotto blew my mind. I got to see Tom Ford. It was just fun to see these worker bees doing really, really interesting, new, fresh work.
PS: Did you have a favorite?
BG: Christopher Kane just blew my mind. From the first look — I think he did 60 looks — I went backstage and saw the workmanship up close. It was unreal. To be so young and to have all those superfresh ideas is very inspiring.
PS: Do you have a client you'd love to see wearing it?
BG: Jessica [Alba] loves Christopher Kane, Rashida [Jones] loves Christopher Kane. They're probably his biggest fans.
Read on for Brad's favorite reality-show moments, and what we can expect from the new season of his show.
PS: It was really fun to watch the new season of It's a Brad, Brad World, with Minka Kelly and that first episode at Fashion Week last September . . .
BG: It feels good this year because business is really good, and it's nice for me to show people how I work and what's been going on. I just watched [tonight's] episode. I just loved it. It had everything in it that I love about the reality TV shows I watch.
PS: If there's one thing that gets edited out, or that you wish people were seeing on the show, what would that be?
BG: This year, Gary [Janetti] is in it a little bit less because he's been developing [and just] finished shooting a TV series in London that he created with Ian McKellen and Derek Jacobi as the stars. He was gone for a lot of filming. I wish there was a little more of him this season. He pops in and out but he was gone for a good portion of it. That would probably be the thing I would like to put in more — and always, gratuitous shots of my dog, if I'm being honest.
What else can we expect on this season of the show?
You'll see Coco Rocha, Beth Behrs, Rashida Jones, and Stacy Keibler is on the show. You get to see my cover shoot for Candy Magazine, which is out right now, is on next week's episode. More Kate Spade, J Brand is back on again this year. It's a really fun season.
— Additional reporting by Marisa Tom