Brad Goreski on Jessica Alba's Style (Interview)
Brad Goreski Calls Jessica Alba the Queen of Layering!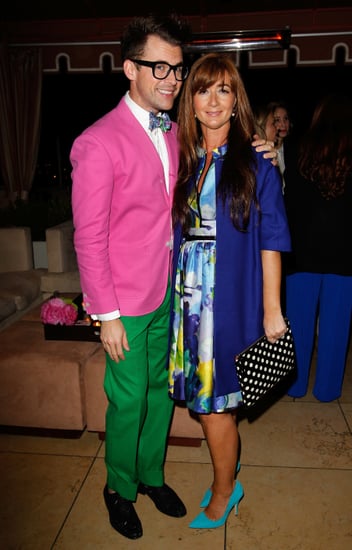 Brad Goreski is one lucky guy these days. He not only gets to play dress-up with Jessica Alba — and might we add he's doing a kick-ass job! — but he's written a book and was thrown a star-studded dinner by Kate Spade's president and creative director Deborah Lloyd. There's the colorful duo posing pretty at the affair at Sunset Tower Hotel in LA.
We got a chance to chat with Brad and Deborah, who will both be at the Kate Spade store in Century City this Saturday, March 17 from 11 AM to 1 PM, where Brad will be signing copies of his book, Born to Be Brad: My Life and Style, So Far. "The purpose of the book is to inspire people to follow their dreams no matter what obstacles or adversities they have faced in their life," Brad — who also styles Rashida Jones, Demi Moore, and Christina Ricci — told us. "Hopefully people will be inspired by my story and take away some good fashion advice." But before you go, hear what Brad and Deborah had to say about all things celebrity style.
CS: You've been styling Jessica Alba for a while now. How would you describe her personal style?
BG: I call Jessica the queen of layering. She knows exactly how to put things together. She is always casual cool and has such great personal style.
CS: If you had to pick one casual cool outfit for a girl, what would it consist of?
BG: A denim shirt paired with a pencil skirt or skinny colored jeans. I also love denim on denim. Always with a great pair of heels and an eye-catching day bag.
To hear more from Brad and Deborah, read more
CS: What's the difference between styling for the red carpet and everyday styling?
BG: Styling for the red carpet has to do with drama and high glamour. You can add those elements in your everyday styles but in different ways. Try to incorporate it all together and always add a pop of color!
CelebStyle: What made you want to team up with Brad on his book launch?
Deborah Lloyd: We really just wanted to celebrate Brad on this project which is so exciting. He and I work very closely together, and I couldn't be happier for him. It's a huge feat to write a book!
CS: What do you think it is about Kate Spade that celebs love so much and what are some pieces they're especially drawn to?
DL: I think celebrities love that our clothes are playful and colorful but still really feminine. Celebrities love our denim, especially in red and pink. Our clutches and party dresses have also been a hit on the red carpet.
CS: Which celebs would you say are quintessential Kate Spade girls and why?
DL: I love the way that Jessica Alba has been wearing our clothes lately. She has been mixing and matching our pieces in a very cool and relaxed way. I also love how Emma Roberts juxtaposes our looks with a more menswear-inspired vibe, and the result is always very chic.