Brad Goreski Styling Tips
Brad Goreski Shares His Closet Organization Tips and Tells Us Which Trendy Items We Should Toss, Stat
Last night, we chatted with stylist extraordinaire Brad Goreski at eBay's selling style event. Since the evening was all about getting rid of lost loves — also known as the pieces in your closet you know you'll never wear — and replacing them with something new, we asked Brad, also part of eBay's chic squad, to share his thoughts on editing our wardrobe. "Once we allow ourselves to free up that space that is being held by things we never wear, then we free up that space with better and more beautiful things to come in," said Brad. "Everyone has those shoes in the closet that are 1/2 size too big or too small or that dress that doesn't fit anymore. Now, you can easily sell those items [on eBay] and use that money to buy those Céline shoes you've been lusting after." Safe to say, we're all guilty of hoarding such pieces.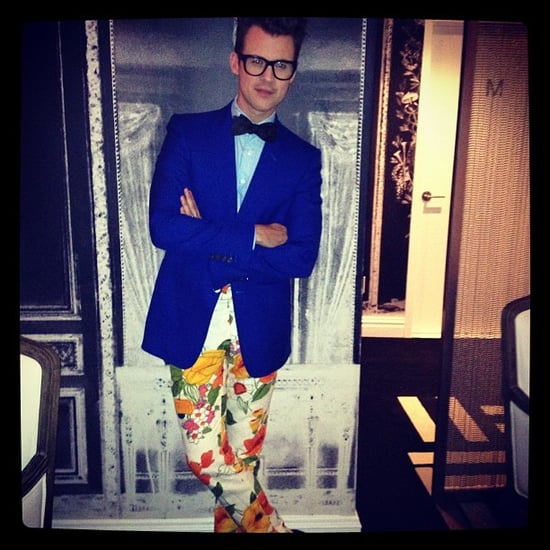 So which trendy items should you definitely get rid of? "One of the things I think should really disappear are any denim that has any kind of embroidery or embellishment (unless it's a stud) on the pockets or any kind of jeans with oversized stitching," said Goreski. "Jeans should just be clean, beautiful, and classic." So with a strong heart and Brad's amazing closet organization tips in hand, we urge you to set forth and start detoxing your closet. Just read below for Brad's quick and easy tips now:
Brad Goreski's closet organization tips:
Do a mini Spring cleaning. We all have that dress in our closet that we haven't worn in a year; pull that dress out and get rid of it.
Go through the things in your drawers and evaluate whether you really need a certain number of things you have in your closet. I have 40 cashmere sweaters, do I really need 40? How many pairs of jeans do you really need? Just keep the ones you are really into right now.
Get rid of duplicates and things in your closet which still has its tags on.
Try to allow yourself to part with something that you've been holding onto for a long time. Things that you don't love but just can't seem to get rid of for some reason. Just know that the thing you're going to get rid of is going to turn into something new and beautiful.