Brad Pitt to Host Salvatore Ferragamo Performing Arts Gala
Salvatore Ferragamo and Brad Pitt to Host Inaugural Arts Center Gala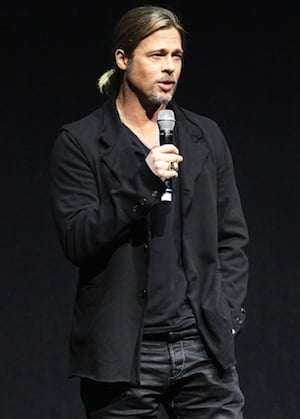 To celebrate the long-awaited opening of the Wallis Annenberg Center for the Performing Arts in Beverly Hills, fashion house Salvatore Ferragamo will sponsor a black-tie inaugural gala alongside cochairs Brad Pitt, Robert Redford, Jamie Tisch, and Wallis Annenberg. The evening will not only play host to a star-studded crowd, it will also shine light on a series of events including a performance on the Goldsmith Theater stage and an exclusive showing of Ferragamo's Spring 2014 collection.
The new cultural hub transformed an entire Beverly Hills city block, with the historic 1934 Beverly Hills Post Office and new Goldsmith Theater integral parts of the transformation. And with Ferragamo's deep-rooted ties to Los Angeles — the iconic shoe designer opened his first shop in Hollywood almost 100 years ago — and a worldwide commitment to the arts, it made perfect sense to sponsor the inaugural gala.
The gala is scheduled for mid-October, but the festivities have already started. A look at Ferragamo's cocktail preparty plus a sneak peek at the center here.

From left to right: Crystal Lourd, gala cochair Jamie Tisch, Angie Harmon, and Amber Valletta at Ferragamo's kickoff party at the Gagosian Gallery.

A model of the Wallis Annenberg Center for the Performing Arts.

From left to right: Inaugural gala cochairs Jamie Tisch, Wallis Annenberg, and James Ferragamo.