Brian Atwood on Melissa McCarthy Exclusive Interview
Brian Atwood on Living With His BFF Melissa McCarthy, the Power of the Red Carpet, and What Makes a Woman Sexy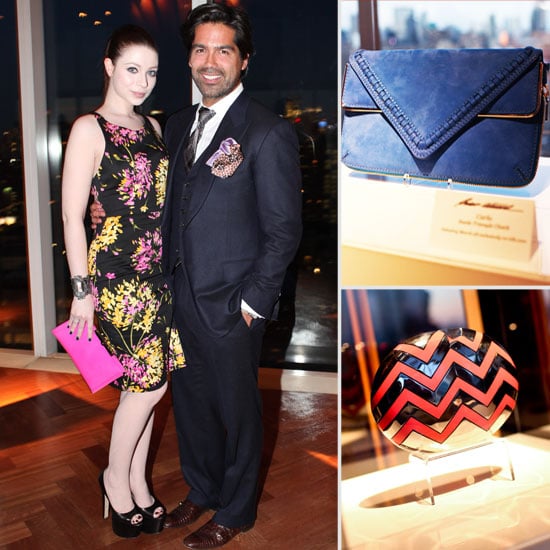 Brian Atwood's chic shoes have been spotted on a bevy of stars, like Sarah Jessica Parker, Michelle Trachtenberg, and, most recently, Jennifer Lawrence at the Hunger Games premiere, to name a few, so we're predicting that his gorgeous new handbag line, only available at Gilt.com, will garner an equally star-studded crowd. Last night, Gilt hosted a beautiful event at The Standard hotel in NYC to celebrate Brian Atwood's new collection, and not only did we get to check out the gorgeous clutch collection in person, but we also got up close and personal with the designer himself and chatted about his new line, his most memorable red-carpet moments, and his best friend, and Oscar nominee, Melissa McCarthy. Read below for all of his fun anecdotes.
FabSugar: What was the inspiration behind your beautiful new handbag collection?
Brian Atwood: It was about being surrounded by amazing women, seeing what their needs were. It was about taking that DNA and excitement from what I put into my shoes into a bag and thinking what would that bag look like, how do we make it cool, gorgeous, and showstopping? It's only the beginning, I'm having so much fun.
FS: What are some of your most memorable red-carpet moments?
BA: The first red carpet I had was with Debra Messing at the 2002 SAG Awards. I had no idea, I think she bought them, and someone told me she was wearing my shoes. That's when you really understand the power of the red carpet; it was pretty amazing. Cameron Diaz also wore [my shoes] at the Oscars with a dress which was short in front and long in back. I thought that was perfect. And now we have the shoe cam, I love the shoe cam!
Brian Atwood on living broke with Melissa McCarthy, what makes a woman sexy, and more.
FS: Tell us about the custom shoes you designed for Melissa McCarthy at the Oscars.
BA: She kind of designed her [Oscars] dress around the shoe. I had the factory who makes soles put a little special imprint on the bottom of her shoes which said, "To my BF Melissa McCarthy on Oscars night." It was her night, I have chills thinking about it right now. I met her when she was 15, and we grew up together. I told her to move out of Boulder, CO. I knew she was a star so I told her to move to New York and live with me. We lived in Hell's Kitchen and we were so broke. I gave her a free subway map for her 21st birthday. It was just a special time.
FS: Do you have any upcoming collaborations or new projects coming up?
BA: Not right now, it's more about getting this handbag line going. I have some new projects in the works, but I don't want to jinx them. There's a lot going on though, new and exciting things.
FS: What kind of accessories should every woman invest in this season?
BA: Amazing color[ed] accessories, like fluorescent or indulgent, bright colors. Also, a good clutch. It's a fun time and it's all about experimenting with what suits you. I'm all about making it original; there are no rules in fashion, you really have to make it your own and see how it works in your life.
FS: What makes a woman sexy?
BA: A sense of humor.
FS: If you weren't a designer, what would you be?
BA: A plastic surgeon or architect — because I'm obsessed with beauty. I used to build little model [houses] when I was young. If I was a plastic surgeon, I think I would be a really good one; very light, natural.
FS: Any upcoming vacation plans?
BA: I'm going to LA tomorrow, then I have to head back to Milan for work. I was just in Turks [and Caicos] for my partner's birthday, so I got a little vacation and now I have a lot to get done. Resort is just around the corner!