Brooklyn Decker Miu Miu Sneakers
60 Seconds With Brooklyn Decker: Tomboy Tendencies, Her Sneaker Obsession, and More
We got a pleasant surprise at last night's Splendid Soho store opening when we spotted fellow party guest Brooklyn Decker. With a new film under her belt — and a collection of seriously gorgeous premiere and press looks to go with — not to mention, one very hot new editorial in GQ, we've been following Brooklyn's every styled move. Last night, we got the chance to talk Battleship tour, her styling M.O., and find out a little more about those amazing gold sneakers. Read on for 60 seconds with the gorgeous Brooklyn Decker — and shop her whole look from last night.
FabSugar: Tell us a little about your look and how you styled your Splendid tee for tonight?
Brooklyn Decker: "I'm wearing Opening Ceremony, Splendid, and Miu Miu. I love basics, but you've got to mix them with something a little funky, so I picked the Opening Ceremony skirt. I'm a bit of a tomboy so as soon as I put on this skirt, truth be told, I felt way too girlie, so I put on sneakers."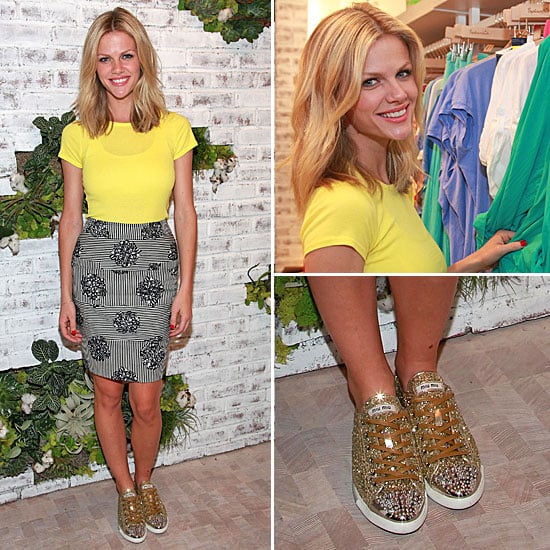 Read on for more about Brooklyn's Battleship press tour and last favorite fashion find.
FS: Are you having a sneaker obsession?
BD: "Yeah, the Isabel Marant sneakers and these [Miu Miu] sneakers — I love them. Again, I'm a total tomboy, which is why I love Splendid because it's very boy-meets-girl, t-shirt and jeans kind of stuff."
FS: We've been following your Battleship tour and you have such a great eye for putting your looks together; how do you choose the right dress?
BD: "I have help from a stylist, a good friend of mine. It's her and I and we do it together, we're such a team. The biggest thing is finding that balance between masculine and feminine. Because I'm such a tomboy, I hate showing off my body, and she's always like 'you have to show your figure.' One of my favorite [Battleship] looks was the Stella McCartney dress, and it felt very athletic with a high neck, but it was fitted. We have to kind of balance each other out."
FS: What's the last amazing fashion purchase you made?
BD: "My Miu Miu sneakers. These gold glitter sneakers — they're crazy, but they feel like the cool sneakers you'd have when you were 5 years old or something. I guess the nostalgic person in me wanted that. I love them."