Burberry Medallion Bangle
The Look For Less: Burberry Medallion Bangles
OK, so it's been a while since the Burberry warrior bracelet came out — Spring '08 to be exact — but when something is so statement, so cool, it lives on. I regret not scooping one up at the time for about $706, but luckily I landed on a look for less that looks Burberry but doesn't cost it.

To see the look for less,
.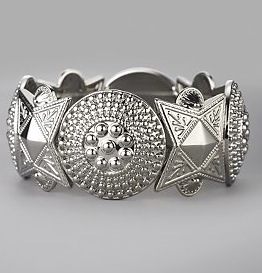 Et voila! Isn't this New York & Company Medallion Bracelet ($15) so similar to the Burberry version? Granted, it's not as chunky, but it lends the same kick-ass vibe. At that price, I'll scoop up a few to stack together.