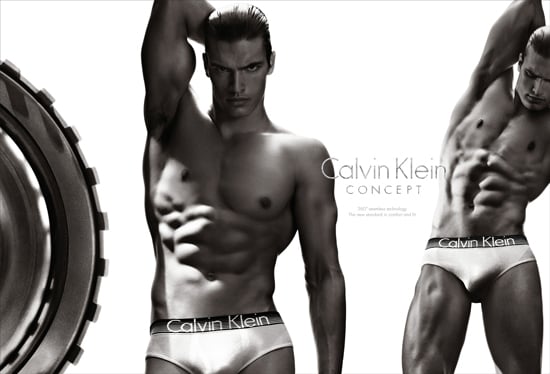 br>
If you hadn't planned on watching this Sunday's Super Bowl, Calvin Klein is making a compelling case for at least sitting through the first quarter.
That's when the company will debut its first-ever Super Bowl commercial, a 30-second spot that advertises the new Calvin Klein Concept underwear collection. The black and white ad, directed by Fabien Baron, features shots of model Matthew Terry stretching and flexing in a pair of miniscule black briefs. Between those shots are a few short clips of vague machinery. A press release said the visual pairing is supposed to invoke the "man vs. machine" idea inspired by the underwear's seamless construction. That Terry's abdominal region appears to have more horsepower in it than most modern sports cars, however, was not addressed.
Steven Klein's coordinating ad campaign, seen above, will appear in GQ, Esquire, and Men's Health, as well as on billboards around the world. Viewers will see the full commercial during Sunday's game, which will air on CBS at 6:30 p.m. A look at the teaser below.
Photo courtesy of Calvin Klein.