Camilla Belle Fashion Interview Spring 2013
Camilla Belle Talks Red Carpet Drama, Styling the Basics, and More
With an eye for fashion that's made her one of our favorite Young Hollywood style setters, it's only fitting that we'd find Camilla Belle stepping out for Cotton's 24 Hour Runway Show in Miami this past weekend. Before the catwalk, we caught up with the actress, whose off-duty brand of street style manages to be just as chic as her red-carpet wares, to find out just how she preps for the glamour of, say, the Met Gala, and her tricks for styling up your basic cotton t-shirt. Read on for all the details from the gorgeous Camilla Belle — straight from Miami.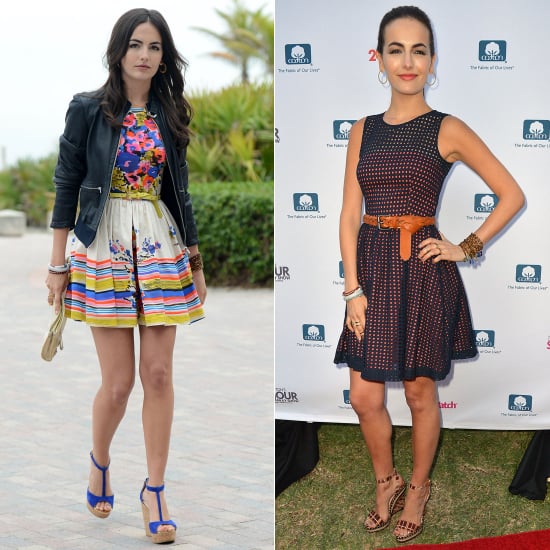 Above: Camilla Belle showed off two looks in Miami for the Cotton 24 Hour Runway festivities.
POPSUGAR: When you're reaching for something like a regular white cotton t-shirt, how do you put your stamp on it and style it your way?
Camilla Belle: That's when everyone's personality comes into play, and for me, I'm a fan of jewelry and I collect jewelry whenever I travel. I just got back from Brazil and I came back with quite a few new pieces and trinkets to add to my wardrobe, and that's something I like to play around with and to have fun with.
PS: On the opposite end of the spectrum, we love watching you on the red carpet in these amazing, high-drama gowns. Is there one moment that stands out in your mind as your absolute favorite red carpet moment?
CB: One of them is probably the first year I went to the Met Gala and I wore Jean Paul Gaultier Couture. The dress was so dramatic and the event was so beautiful, and so many amazing people that I respect were walking on the red carpet — and Cate Blanchett was right next to me. It was so over the top in so many different ways — the dress included — and I'll never forget that. The dress will always be something really special. Another one that pops into my mind is also the Met Gala, last year. I wore Ralph Lauren, and that dress was very different from any look I had worn before, and also just the whole look — the makeup and the hair. It was all very much put together in a certain way, and I think that's the moment that will always pop out as well.
Keep reading for Camilla's red-carpet dressing strategy, favorite essentials, best fashion advice, and more.

From left: Camilla Belle in Jean Paul Gaultier at the Met Gala in 2007, at the Met Gala in 2012 in Ralph Lauren
PS: Do you always look for something different from red carpet to red carpet? Do you like to change it up and challenge yourself?
CB: I always like changing, so that's something; it also depends on the event I'm going to. If it's at the Met, I'm looking for something that's going to be dramatic and in some way, either a big dress that has a big train or a look that will altogether be dramatic like the Ralph Lauren I wore. So that's an event that I'm able to take those risks with, but then if I'm going to a cocktail party or premiere, then it's something that may reflect more of my personality. I'm always looking for an overall look and not just the dress. It's a fun process to put that whole look together.
PS: You mentioned standing next to Cate Blanchett at the Met. Would you consider her one of your fashion icons? Who are your other fashion icons, if you have any?
CB: She definitely is someone I've always looked up to for many different reasons, especially her talent and the films she's made. I think she has chosen some outfits that were risky, and I admire that in her and that she's not afraid to take risks in that way. I think generally I more look up to the women of the '40s and the '50s and that era. There was a certain form of mystery to their lives and to their style, and I think that's something we've lost a lot of: being a glamorous woman in every way. Now we can put on our sweats and no one thinks twice about it, in a way that's comfortable and convenient, but at the same time, that touch of femininity has been lost a bit.
PS: What's the last clothing or accessory item that you bought for yourself?
CB: I just got back from Brazil, so I stocked up on new jewelry that they're wearing down there, which is very exciting, that I've been wearing all the time. And I also got new bikinis in Brazil, and I don't wear any other bikinis, except for Brazilian ones. I'll be busting those out when Summer comes along.
PS: As far as essentials go, what brands do you rely on for your staples: softest t-shirts, best denim, or great dresses?
CB: As far as jeans, one brand I wear a lot is Ernest Sewn. They always fit really well and I tend to wear them a lot. Some brands that I wear a lot are Gypsy or Tolani. I'm a big fan of collecting dresses, so I have tons of dresses, especially in the Summer months. I just put on one of those dresses and make it my own with my accessories and bags.
PS: Is there any trend you would never try?
CB: I don't really shy away from things that look like they might be a bit ridiculous, but they're fantastic on, and that's always something that's been a bit fun. I'm brave when it comes to those things.
PS: And lastly, what's the best piece of fashion advice you've ever gotten?
CB: My mom was a designer in Brazil, and that's her background, so she's always given me lots of great advice, like be aware of your body and what flatters you and what looks good on you. And to dress for yourself and to not be so worried about trends or things that might not be a reflection of your personality, and that's something I always stay true to, and I live my life that way. And to be really cautious about where you're going and dress appropriately for each occasion.