Candice Swanepoel Victoria's Secret Bikini Interview
Candice Swanepoel Reveals the Secret to Feeling Confident in a Bikini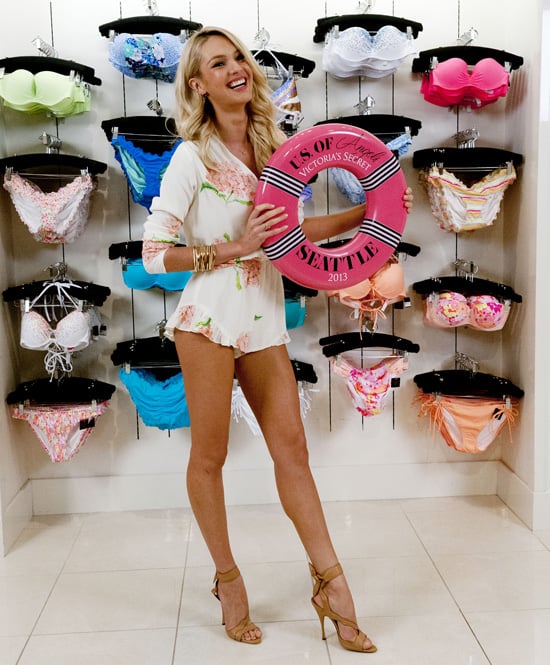 For the first stop on the Victoria's Secret U.S. of Angels Summer Swim Tour, supermodel Candice Swanepoel traveled to Seattle — and left her pants at home!
At an in-store appearance, Candice wore a super short floral romper — and strappy nude heels that made her already-long legs seem to keep going and going . . . and going.
So when we caught up with Candice during her trip (we don't know how she found time to chat between posing for photo ops with fans and catching fish at Seattle's famous Pike Place Fish Market), we not only asked her about the city and her suitcase essentials, but of course, we grilled her on her secrets to looking sexy in a bikini.
POPSUGAR: Have you ever been to Seattle before? What were your first thoughts when you were selected to visit?
Candice Swanepoel: No, this is my first time to Seattle! I was very interested and excited when I found out. Some of my favorite music artists are from here.
PS: You're often jet-setting to the most incredible, exotic locales. How does Seattle stack up?
CS: I love traveling to Paris and Rio de Janeiro, but because I'm always traveling to big cities, it's nice to come to a smaller city like Seattle. It has a great energy and small-town vibe.

PS: So, what must haves are in your suitcase right now?
CS: Havaianas flip-flops, something warm for the airplane, and portable speakers.


PS: You're from South Africa — what are some of your favorite things about traveling stateside? Anything about home make you nostalgic?
CS: I do miss my family and the more relaxed lifestyle. My favorite thing about traveling in the US is that everywhere you go there is so much culture and history.


PS: Now that we're in the thick of Summer, what's your secret for feeling confident in a bikini?
CS: I love having a good sun-kissed glow before the beach — some self-tan lotion is always good! I also feel good when I'm working out regularly.


PS: And in honor of being the first-named Angel for the inaugural Swim Tour, can you tell us about your very first bikini memory?
CS: My mom actually used to put me in one-pieces when I was little. She was a dance teacher, so I actually used to try and make my own bikinis with her leftover Lycra when I was little!