Cara Delevingne at DKNY Times Square Photo Shoot
Inside DKNY's Times Square Photo Shoot Starring Cara Delevingne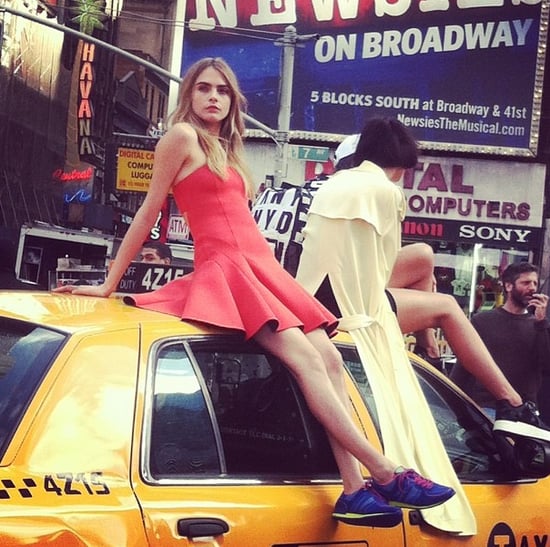 DKNY knows how to make a splash on social media, and this week's photo shoot for the New York-based fashion label's Spring 2014 campaign was no exception.
Staged in the middle of Times Square and starring Cara Delevingne, the brand made their shoot a two-day affair that we couldn't resist checking out for ourselves. We hopped in a cab — though ours was not nearly as cool as the graffitied one Cara perched herself on — and made our way to 46th Street and Broadway to get an inside look.
Keep reading to see all the photos and get more behind-the-scenes details from the two-day shoot.

Snapped by Swedish photographer Mikael Jansson, the first day of the shoot featured Delevingne (in some technicolor kicks) with fellow British models Eliza Cummings and Jourdan Dunn. A$AP Rocky, who recently performed at the DKNY 25th birthday bash during New York Fashion Week, made an appearance as well. (Fun fact: the last campaign shoot for DKNY was also staged in Times Square and featured another birthday party performer . . . can you guess who?)

The scene of the DKNY photo shoot, before word got out. (Yes, this is calm, people.)

It's hard to shoot on the streets of New York City without attracting a bit of attention. Paparazzi lined up along the yellow caution tape and even passersby snapped iPhone photos of the scene. At one point, while sitting on the cab, Delevingne took an iPhone video of a 360-degree view of the mayhem surrounding her!

For the second day of the campaign shoot, Delevingne stood tall atop the taxi, posing with skateboarder Dylan Rieder in DKNY Men.

During her costume change and while getting a little hair-and-makeup love, the model controlled the iPod and blasted music by Kendrick Lamar and Rihanna.

Nothing to be blue about here! Delevingne put her feet up but still worked it for the camera in a bold blue dress with matching pumps.
For even more of a sneak peek at the shoot, check out DKNY's Instagram!

— Additional reporting by Rachel Sumner

align=right>

Photos courtesy of Rachel Sumner