Carine Roitfeld New York Fashion Week Interview
Carine Roitfeld on Styling Cars and Why She's Not Exactly Her Own Boss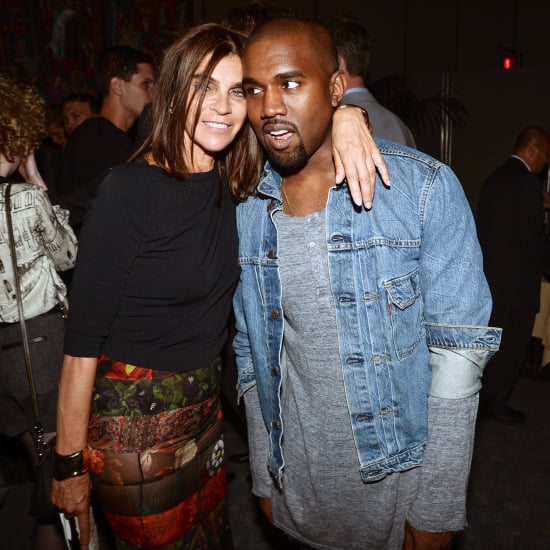 Carine Roitfeld is a woman juggling a lot of projects all at once. There's the campaign she and her friend Stephen Gan created using the Mercedes-Benz S-Class earlier this Summer; there's the new documentary, Mademoiselle C, which chronicles how she spent the year of her life after leaving Vogue Paris; and then there's CR Fashion Book, another Roitfeld-Gan project that recently caused a lot of buzz by putting none other than Kim Kardashian on its cover.
"Honestly . . . she was one of the easiest models I've ever worked with," she told us at the beginning of New York Fashion Week. Elsewhere in our interview, the legendary fashion editor also talked about everything from witnessing Kardashian meeting Karl Lagerfeld for the first time, why she's not exactly her own boss, and the challenges of being a grandmother. Read on for more of our interview with Roitfeld.
POPSUGAR: What's it like working on a campaign where the focus isn't clothing or models, but a car?
Carine Roitfeld: It's funny because for a lot of years I've been working in fashion, and this is the first time I've had to work with a car as the star of the campaign. And the first time is always very exciting. And it's funny, when you look at the car, it's a very sexy, very sensual, very sober, and chic, and very timeless at the same time. And I'm happy because I've been getting a lot of feedback. A lot of people say, "Oh, we'd love to order that car."
PS: We're sure everyone has been asking you, but what was it like working with Kim Kardashian, who was recently on the cover of CR Fashion Book?
CR: She was one of the easiest models I've ever worked with. Can you imagine, eight months pregnant, to put that mask on her face? And she didn't say anything. She accepted everything we wanted to do with her. And I think — you can see the pictures — she had a lot of fun. It was a really funny evening.
PS: What do you think made her so easy to work with?
CR: She believes in me, she believes in Riccardo [Tisci] mostly, and it was the first time she met Karl [Lagerfeld], so she was a bit impressed. And of course, who wouldn't be impressed by Karl? And Karl kept on saying, "Oh, she's so beautiful. I'm so happy that we met." And it was so relaxed. And the next day, she went back to LA and later she had baby North.
PS: Your daughter Julia had a little girl of her own, Romy, last May. What's the hardest thing about being a grandmother?
CR: Giving her back at night! I know my daughter was in love with my mother, so I hope my granddaughter will like me as much. In this world, you can be aware of many things, but suddenly with this little girl, I go back to reality. And you go back to nature, you go back to very important things in life, and I think she's like a good present for me, to have this little girl around me.
PS: You're the star of a new documentary, Mademoiselle C. Did having a camera crew follow you around give you any insight into what it's like to be a reality star?
CR: Well, I'm not as popular as Kim Kardashian. I think she has, like, nine million followers, no? I'm very, very far away from her and I don't think it's my thing. I met her through my friend Riccardo Tisci, because he's a very good friend of Kanye [West]. I met her at a dinner, in a very social moment, and I think she was very nice and lovely person.
PS: Now that you're three issues into CR Fashion Book, how are you enjoying being your own boss?
CR: Ah, this is tough, but this is a big luxury, you know? It's a big freedom. I'm the boss, but I have a partner, Stephen Gan. We've been friends for more than 15 years. People say, "Oh, you can't have friends in fashion," but that's totally false. Without him, it would not be possible to make this magazine, this campaign, you know.
PS: You're also working for Harper's Bazaar these days. Is it hard to switch back and forth between calling the shots, so to speak, and working for someone else?
CR: I'm not working for someone. I'm totally free. I'm working with someone. Working for someone is a little bit different. But you know, you have to work. I'm very happy. When I started nine months ago there were just 27 countries with Bazaar, and now it's 30 countries. It's getting bigger and bigger, and I'm getting to more readers. It's amazing, no? More than 85 million readers, no? It's magical.
PS: Finally, what do you look forward to most when you come to New York to see the collections?
CR: It's always the people I get to see every six months. Every six months, I get to see Michael Kors or Diane von Furstenberg or Joseph Altuzarra and maybe I'm very happy because it's a big family of fashion. So I'm very happy to go backstage to see them, because I'm a faithful friend.
Source: Neil Rasmus/
BFAnyc.com
, Mercedes-Benz, CR Fashion Book, and Harper's Bazaar