We know we aren't the only ones torn up over the cancelation of The Carrie Diaries [1]. Each week the CW's prequel offered a fresh batch of avant-garde ensembles to pore over — filling the sartorial void left by Sex and the City.
Season one's styles [2] were filled with the perfect mix of vibrant colors, bold retro prints, and over-the-top accessories, and as expected, stylist Eric Daman treated us to an array of grand creations worthy of the original Carrie Bradshaw [3] in Season Two.
Before we bid adieu to one of our favorite fashion-centric shows, take a trip down memory lane with the best looks from season two.
Front image source: HBO [4]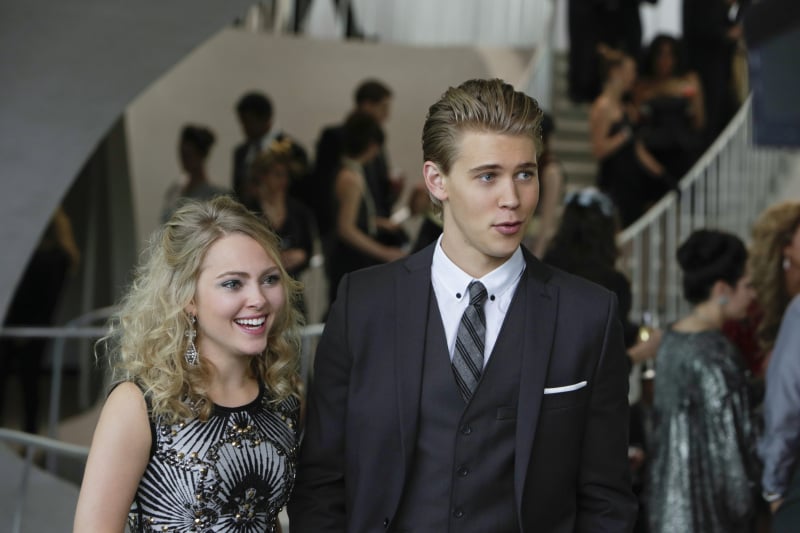 Swing into Carrie's beaded Hervé Léger body-con [5] ($2,950) for your next black-tie affair.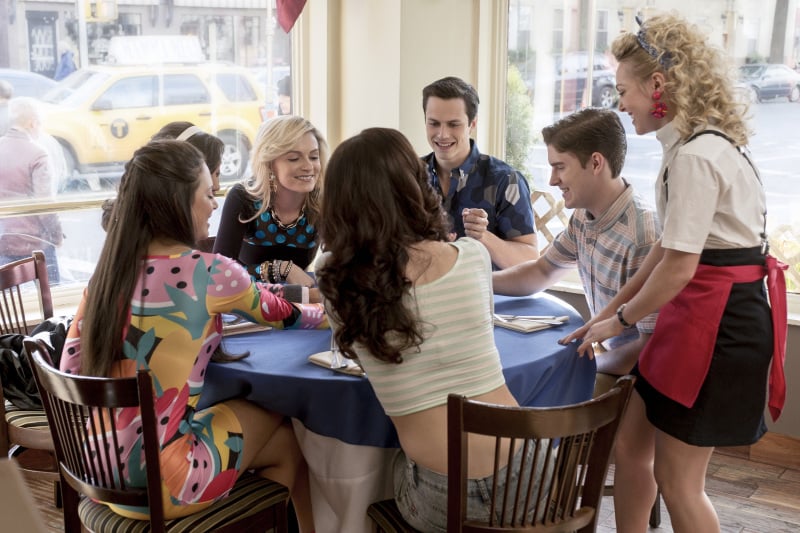 The original breakfast club.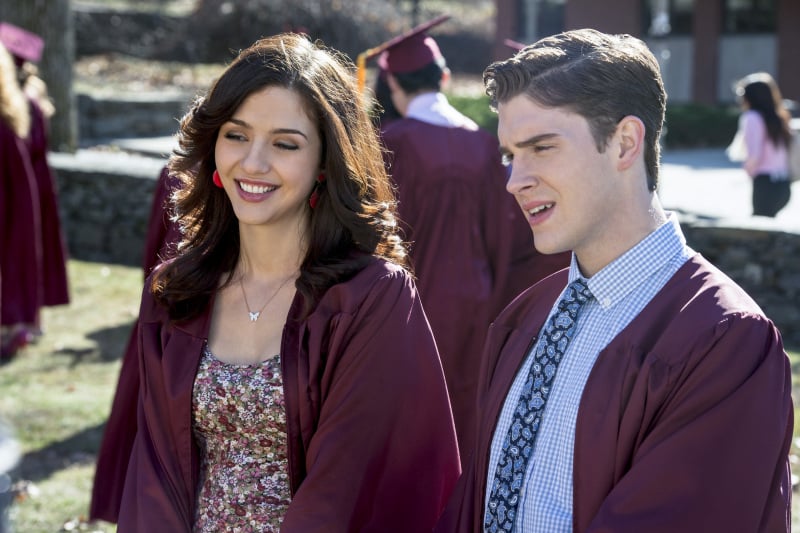 Channel Maggie's blooming style by pairing this liberty-print La Prestic Ouiston sundress [6] ($545) with ankle-wrap espadrilles for a warm Spring day.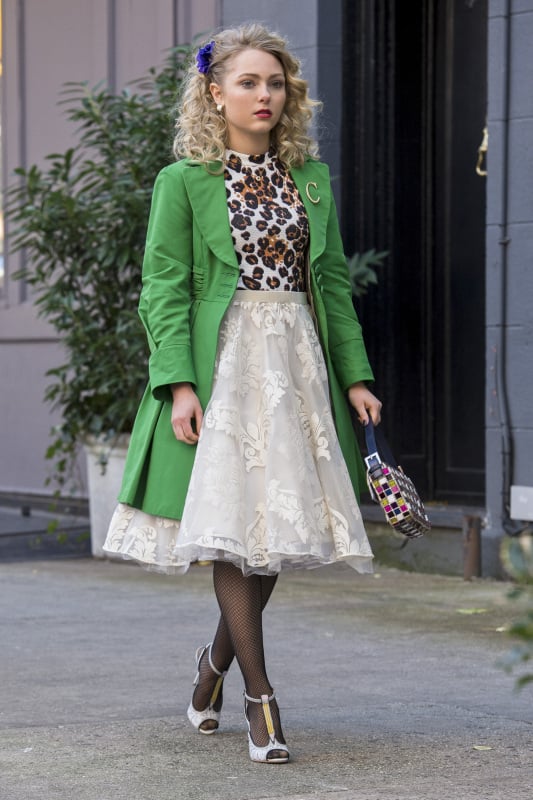 Carrie strutted the NYC streets in a leopard Topshop top, embroidered Tulle skirt, and metallic t-strap pumps, then finished with a kelly green coat. Don this luxe Simone Rocha skirt [7] ($2,871) for a fancy affair, or go flirty with this Loft mini [8] ($65, originally $80).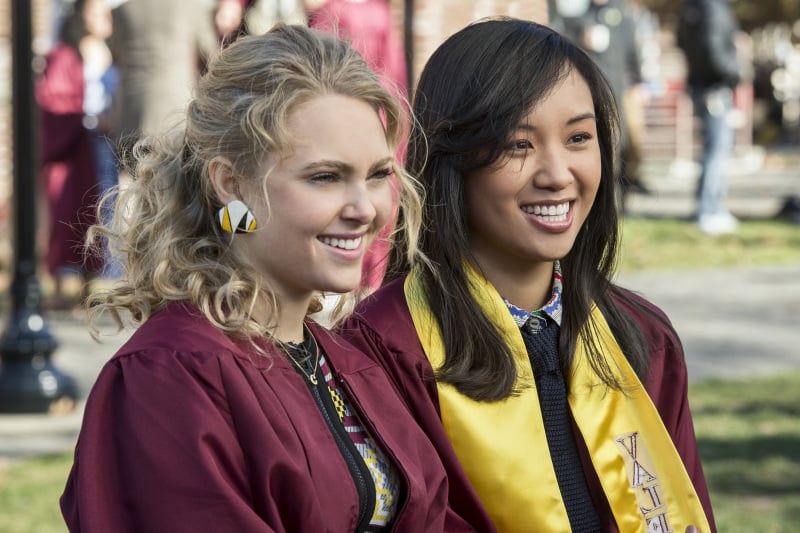 Complete your date night look with these geometric AMM earrings [9] ($24), via Carrie.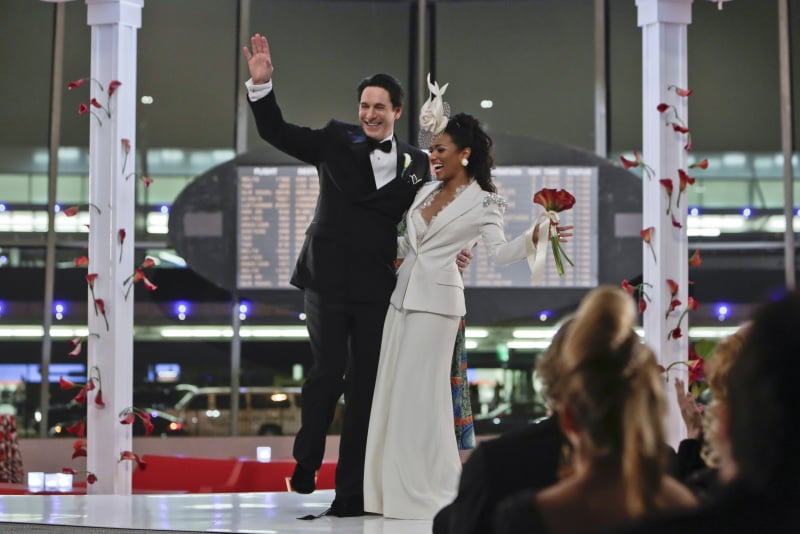 Check out Larissa's haute fascinator.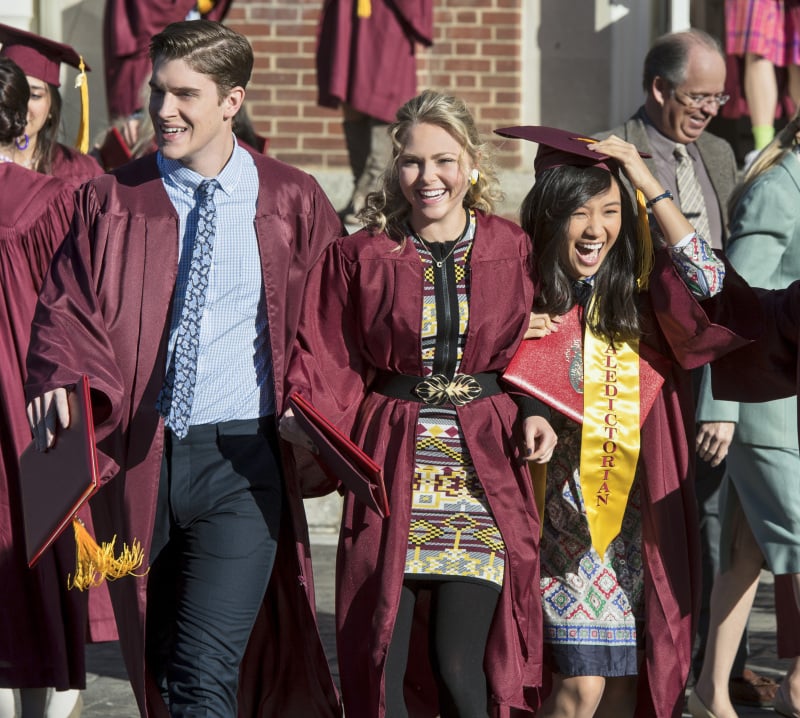 Carrie celebrated in an aztec-print body-con mini, similar to this one by ASOS [10] ($39).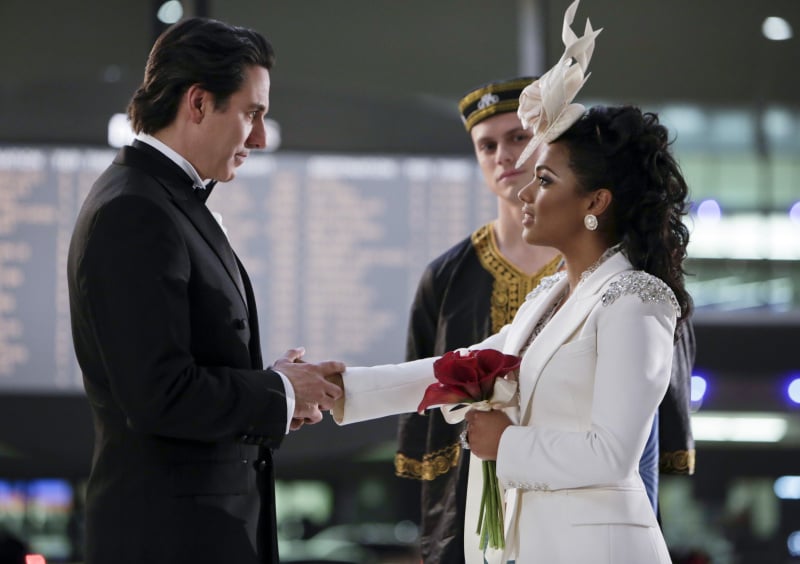 Take Larissa's sparkling blazer from wedding [11] to real life by pairing this embellished Calvin Klein topper [12] ($48, originally $140) with dark-wash denim and leopard pumps for a night out.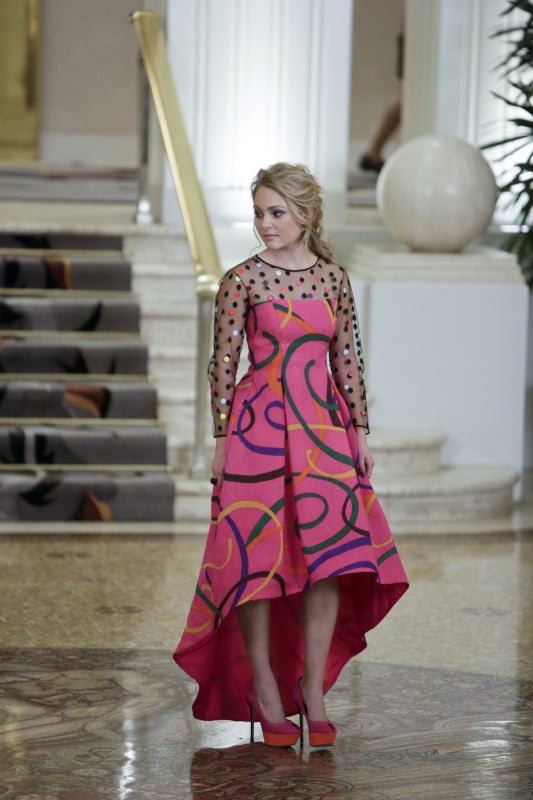 Carrie's polka-dot-infused lace-overlay Bill Blass gown is the epitome of '80s glamour. Score her exact dress on Etsy [13] ($1,334) — only one left! — or take a more subtle approach to Carrie's colorful creation with this Coincidence & Chance mini [14] ($79).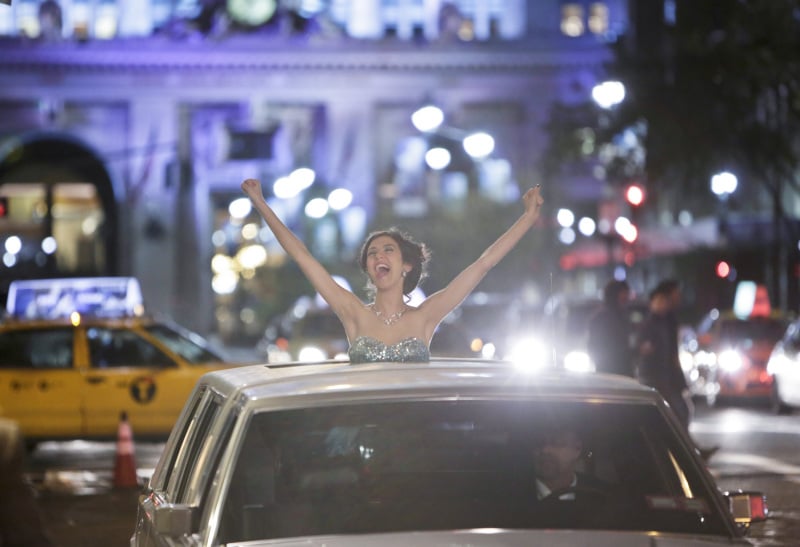 Who doesn't love a good rooftop limo session?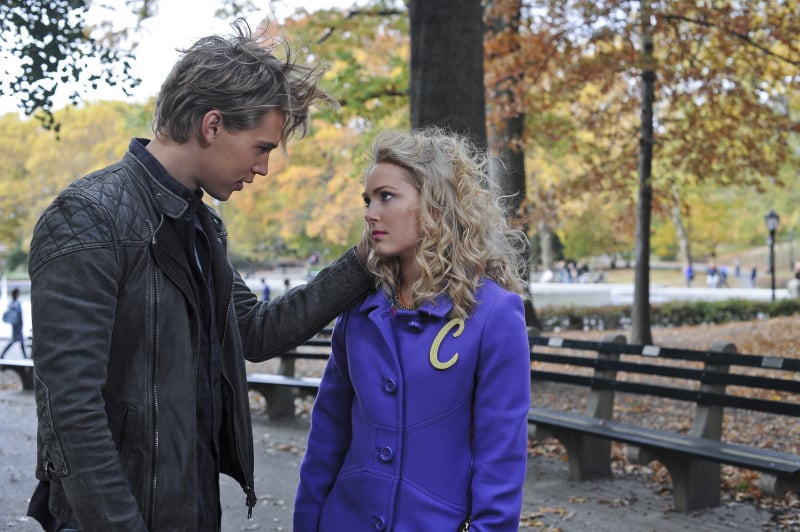 Score Carrie's exact Kate Spade coat [15] ($384, originally $698) before it's gone!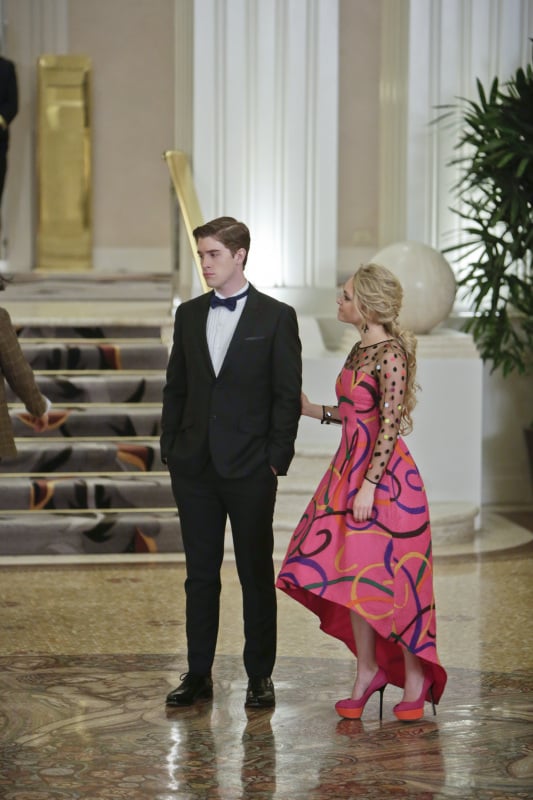 Ms. Bradshaw's colorblock Sergio Rossi pumps [16] ($395, originally $715) complete her prom look perfectly.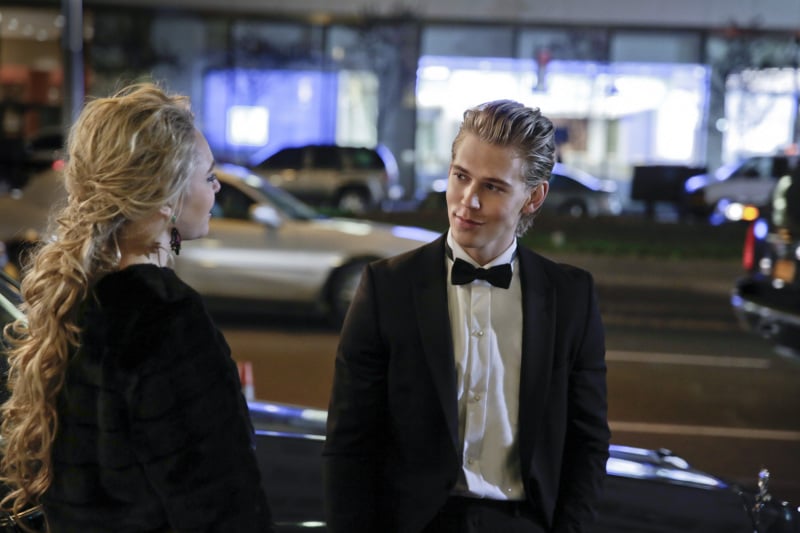 We are in awe of Carrie's cascading curls.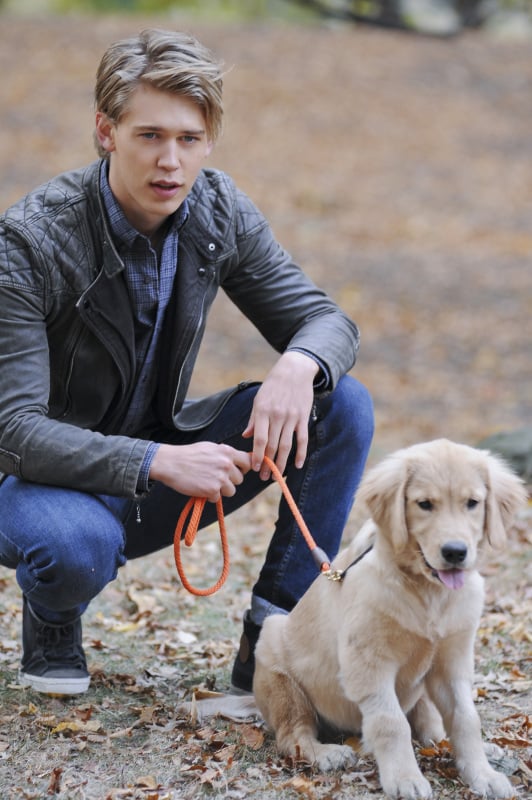 Man's best friend.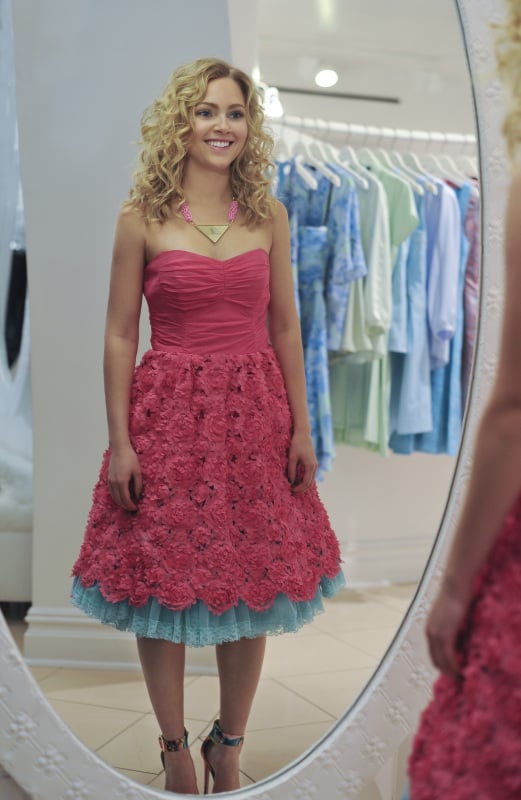 Lookin' good Carrie! Work this floral appliqué Theia dress [17] ($795) with her exact floral ankle-strap Steve Madden sandals [18] ($100) for a fashion-forward Valentine's Day combo.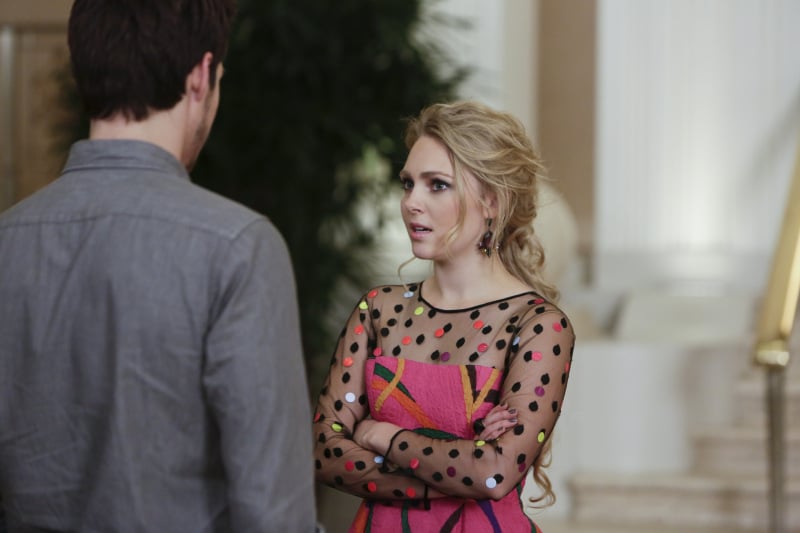 Carrie, it's prom. Why are you so serious?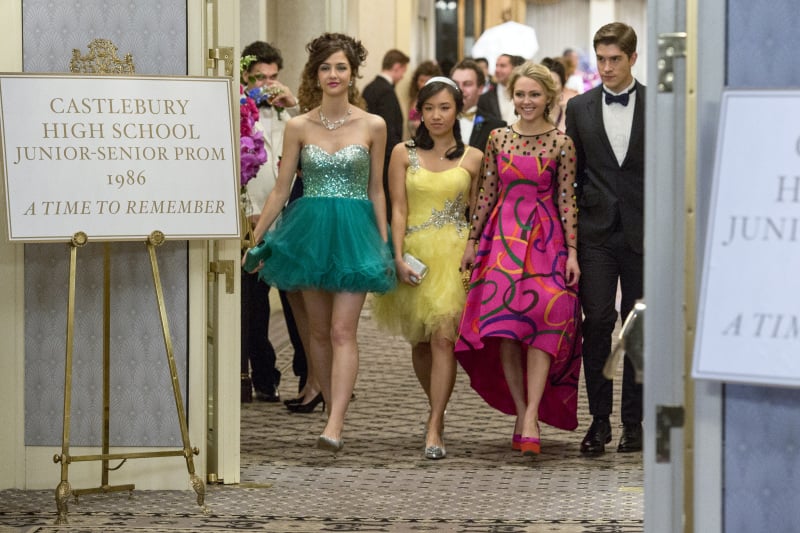 Maggie is working it out in this sequined ombré La Femme creation [19] ($350).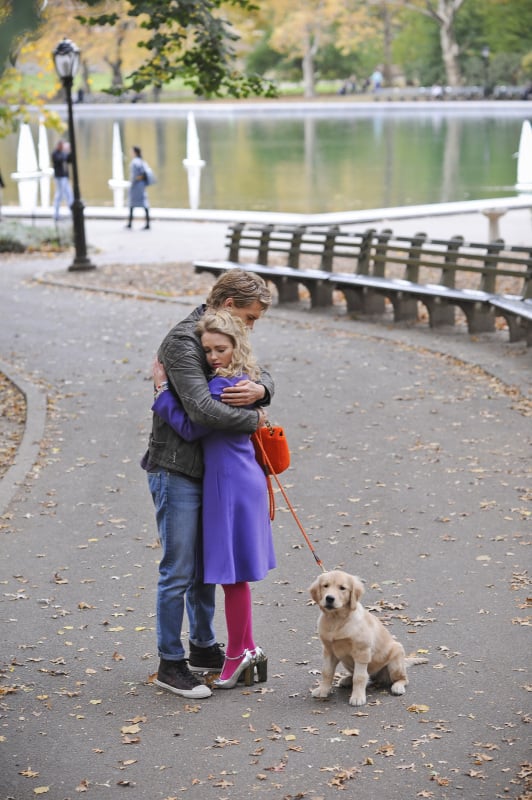 First comes love, then comes a puppy . . . wait, that's not how it goes.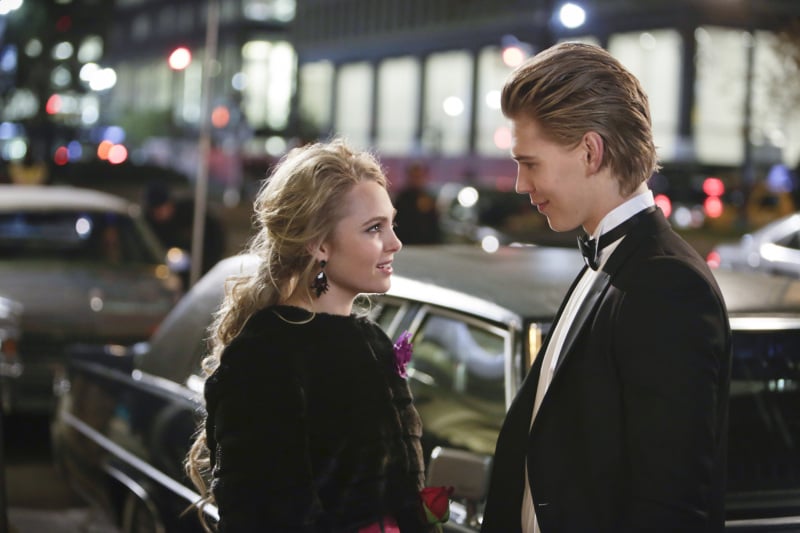 The blond beauty tops her kaleidoscope Bill Blass creation with a cropped fur pullover like this one from Juicy Couture [20] ($160, originally $398).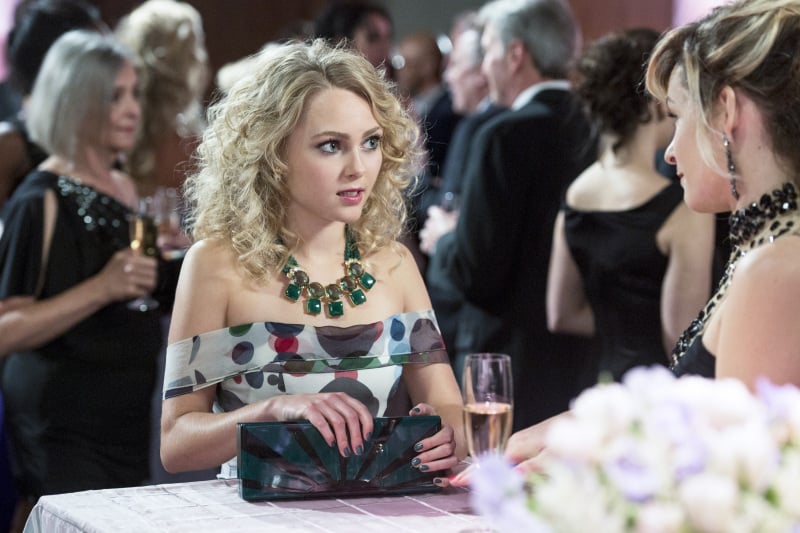 Carrie parties the night away in a polka-dot print Carolina Herrera gown, accessorized with this double row Bounkit necklace [21] ($1,738), on this week's episode. This striped Carolina Herrera creation [22] ($4,690) is just as playful as Carrie's selection.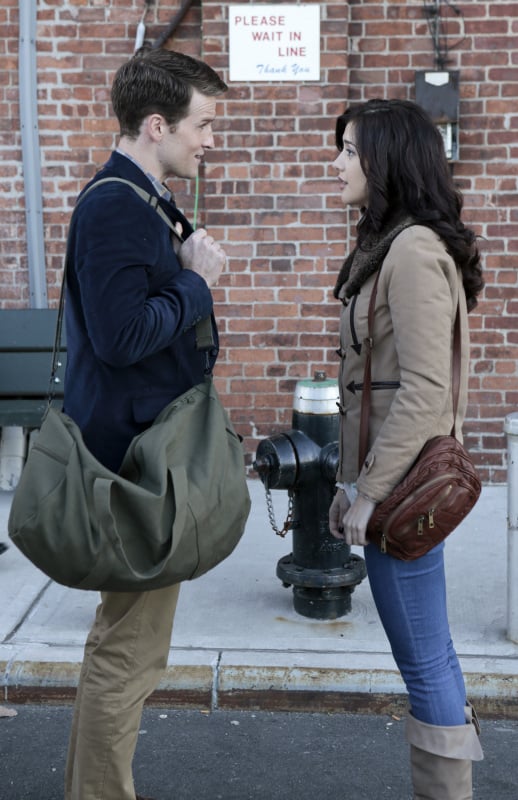 A shearling-trim twill coat and folded boots were Maggie's look of choice this week. Pair this asymmetrical Guess jacket [23] ($100, originally $210) with your favorite denim and leather boots to nail her casual-cool look. Don't forget a leather camera bag, like this one by Marc Jacobs [24] ($228), to store all of your street style essentials.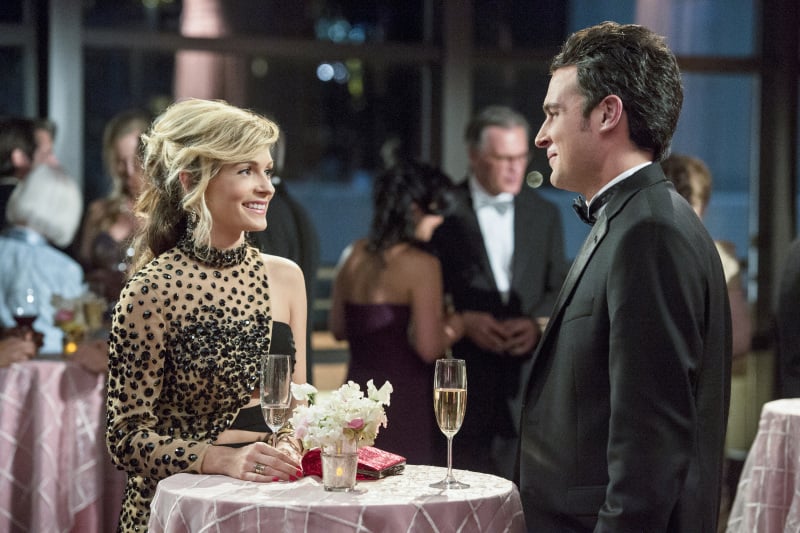 Samantha chatted up a handsome stranger in this crystal-embellished Sherri Hill minidress [25] ($398).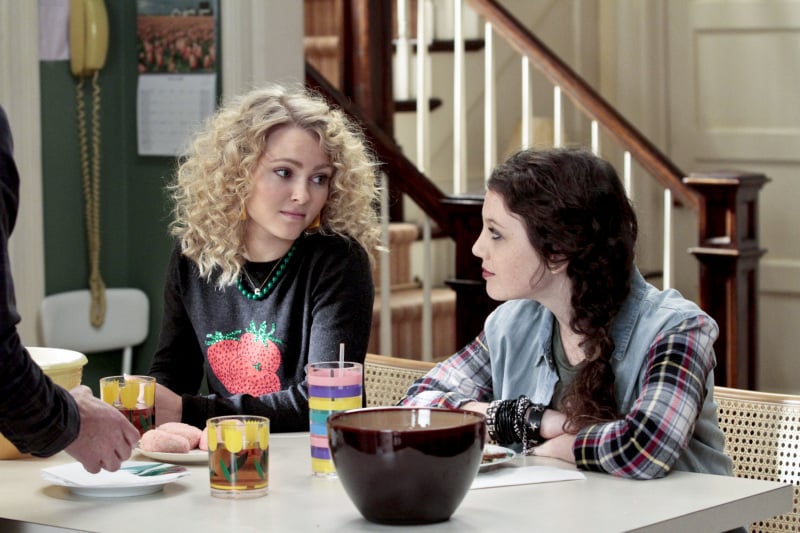 Carrie's cute strawberry French Connection sweater [26] ($39, originally $118) is ripe for the pickin'. See what we did there?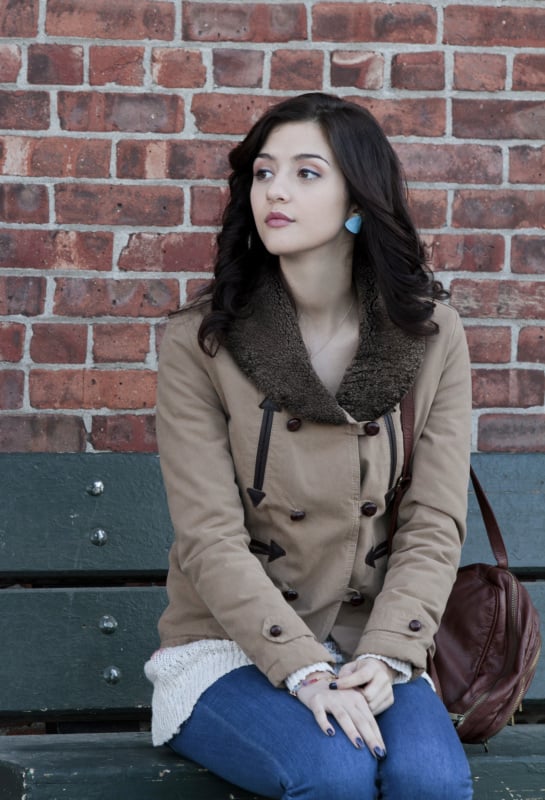 Brighten your Winter coat with statement earrings like this turquoise pair from Blu Bijoux [27] ($16).
Sam's arm candy lent a spot of sweetness to her sassy party dress. Stack on this New York & Co. floral bracelet [28] ($20), Michael Kors buckle bangle [29] ($93, originally $125), and lacquered Forever 21 number [30] ($9) to mimic her style.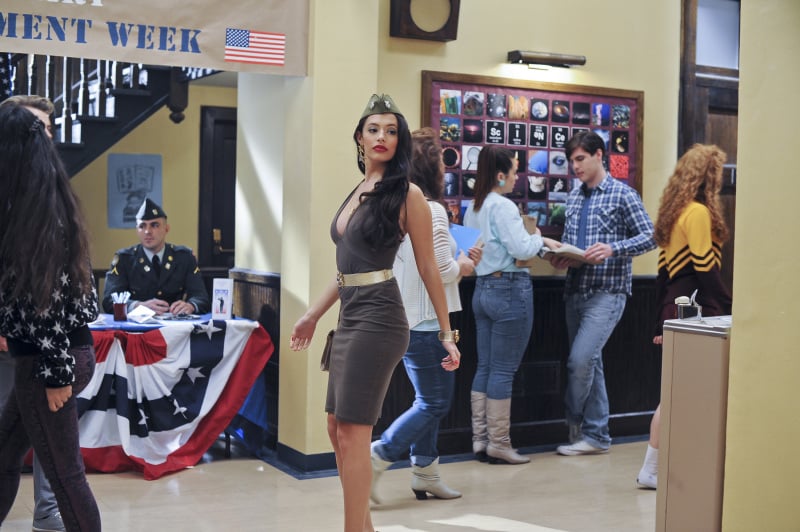 Inspired by Donna's military style? Work this Moschino body-con [31] ($95, originally $131) with classic pumps and a blazer for the office, or try this Haute Hippie slip dress [32] ($148, originally $295) with a leather jacket and cage sandals for a sexy date night look.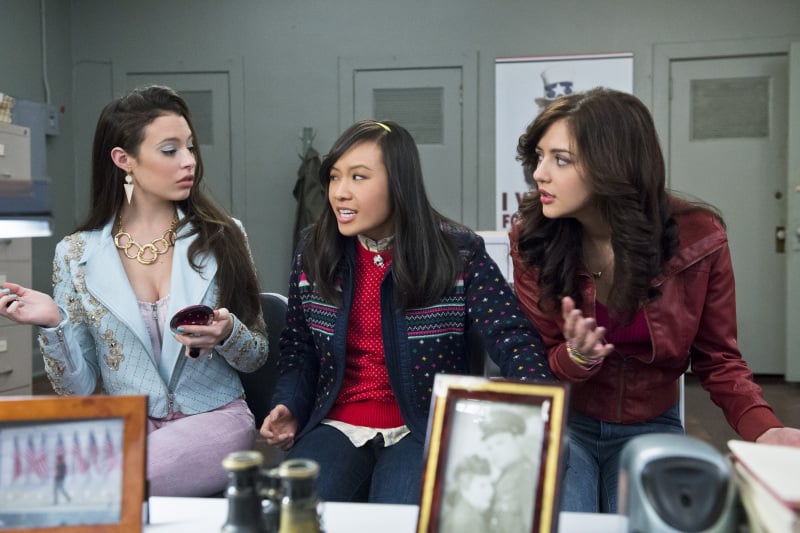 Hit the slopes in this Mouse-inspired printed puffer jacket by Ralph Lauren [33] ($52, originally $129).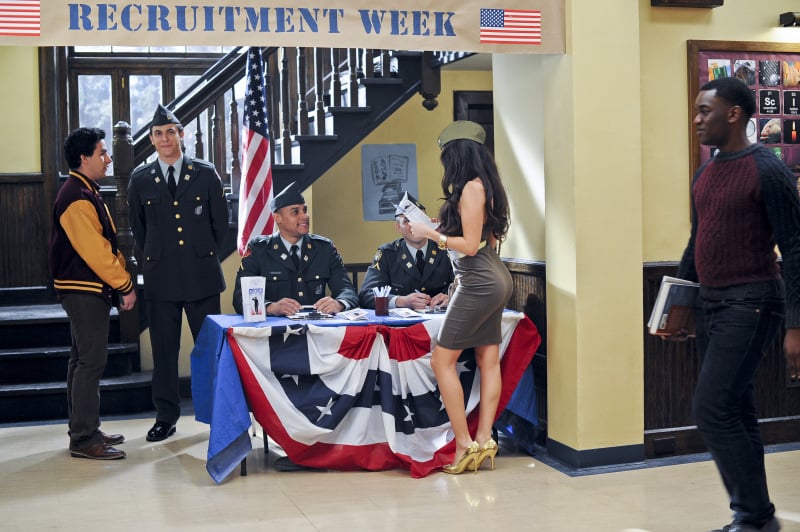 Make a bold statement, à la Donna, with these mirrored Brian Atwood pumps [34] ($299, originally $665).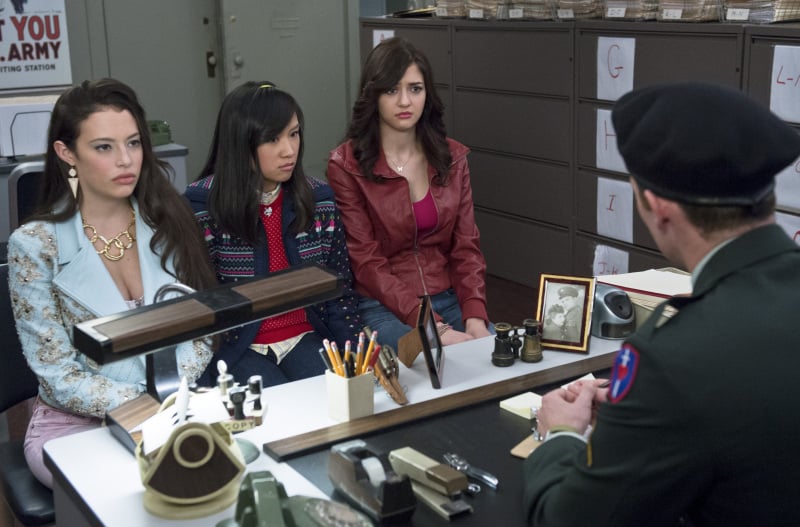 Though this periwinkle leather Topshop jacket [35] ($370) isn't as eye-catching as Donna's embellished number, we love it just the same.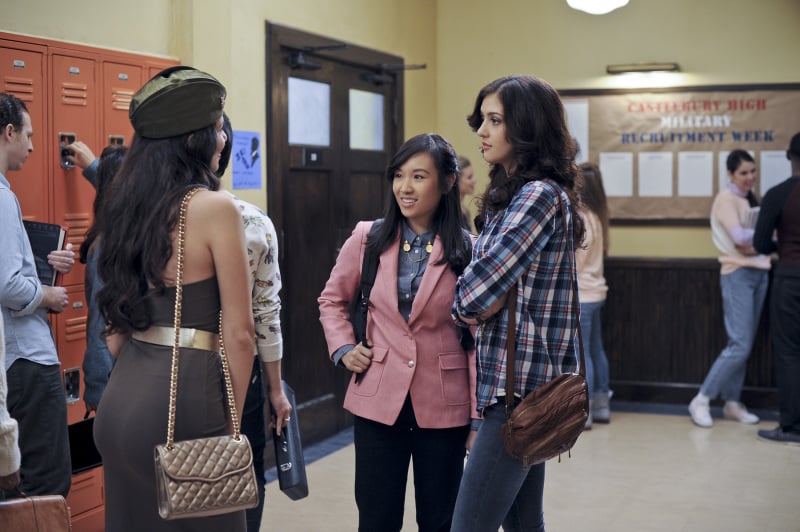 Mouse's sweet blazer is ideal for Valentine's Day. Layer this Chaus topper [36] ($69) over a black sheath for the perfect work-to-dinner ensemble.
Leather jackets seem to be a theme in this week's episode. Take a cue from Maggie and stay toasty and trendy in this moody Christin Michaels jacket [37] ($63, originally $69).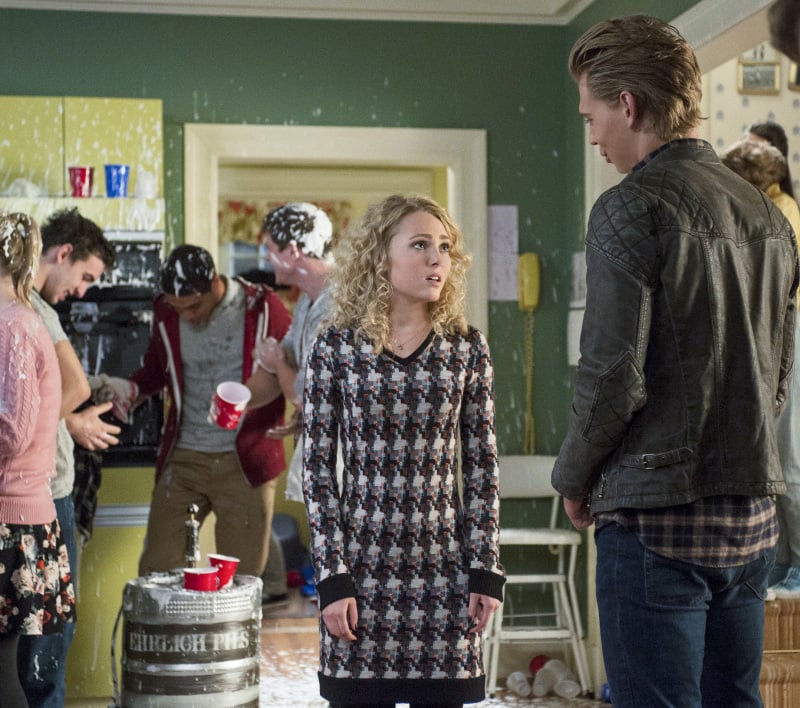 On the hunt for the perfect no-fuss yet totally on-trend sweater dress? Look no further than Carrie's printed Rag & Bone creation [38] ($237, originally $395).
We wouldn't mind being carried by Sebastian.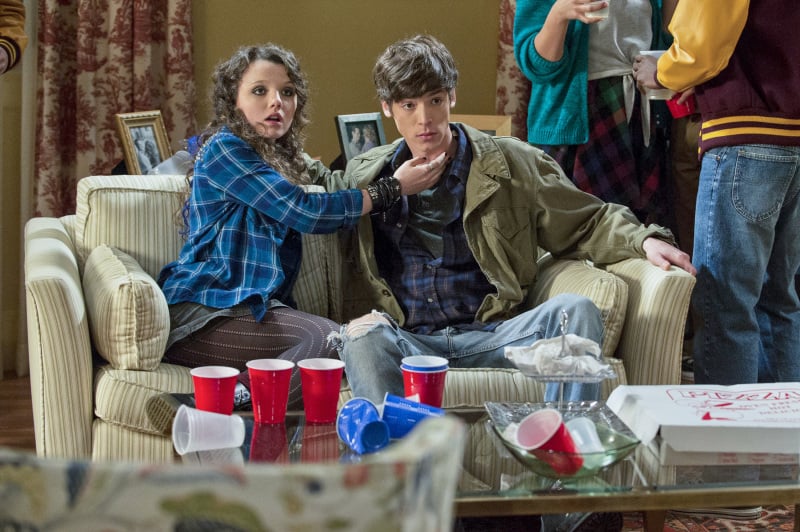 Style this embellished-collar Guess flannel [39] ($60, originally $89) with distressed black denim and combat boots for a Dorrit-approved style.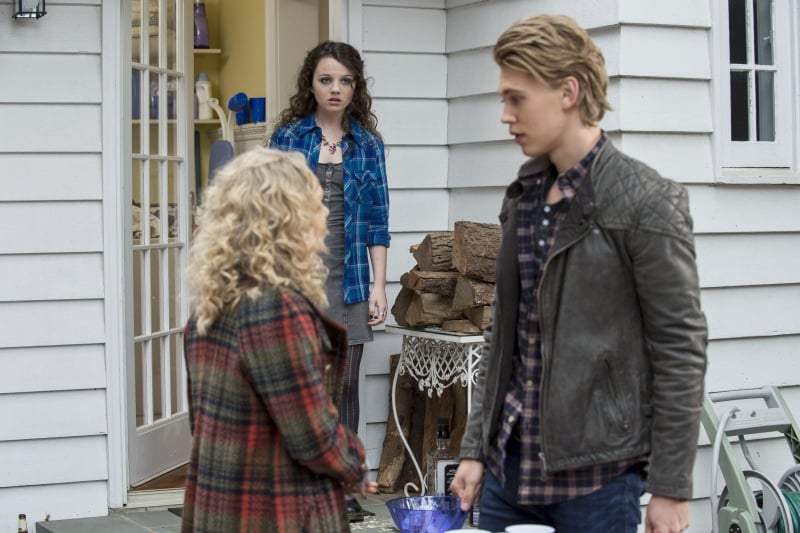 Battle Chiberia and the polar vortex in Carrie's exact plaid Free People coat [40] ($230, originally $348).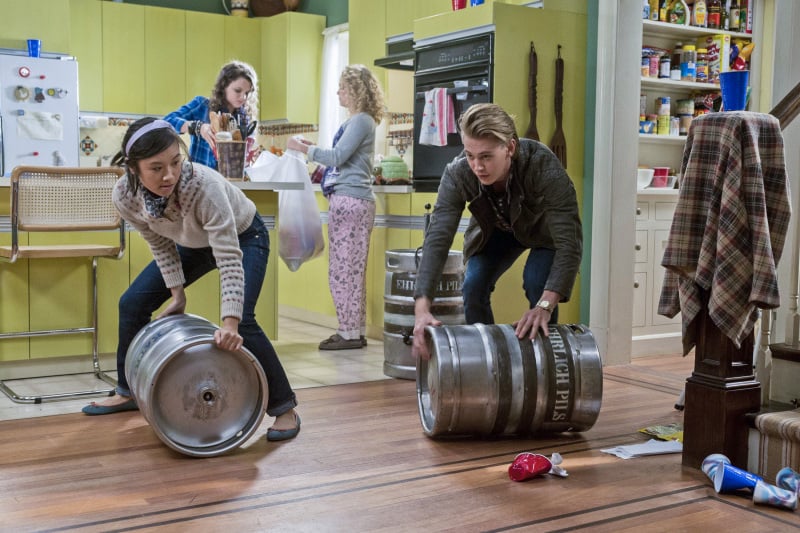 Brighten Mouse's layered look with this marled neon sweater from J.Crew [41] ($100, originally $118).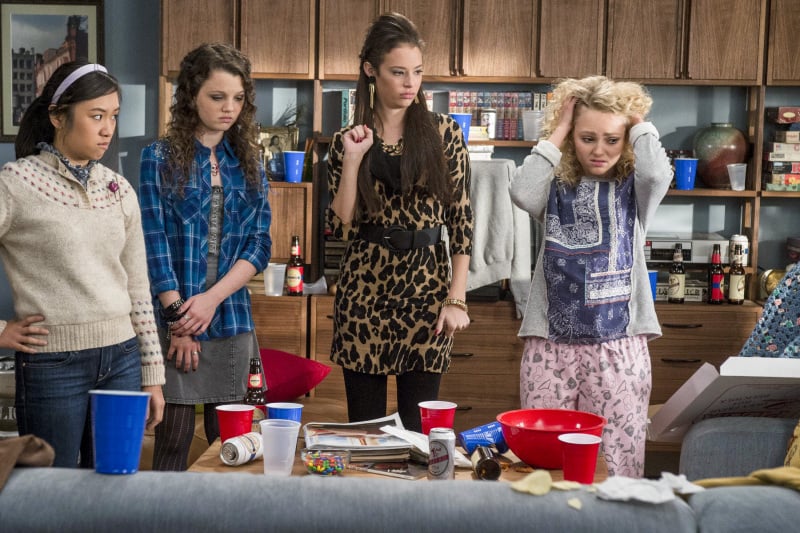 Dorrit topped her acid-wash BDG denim dress with a blue flannel by Guess while assessing party damage with the girls. Swing into 2014 with this almost-identical skater dress by ASOS [42] ($55).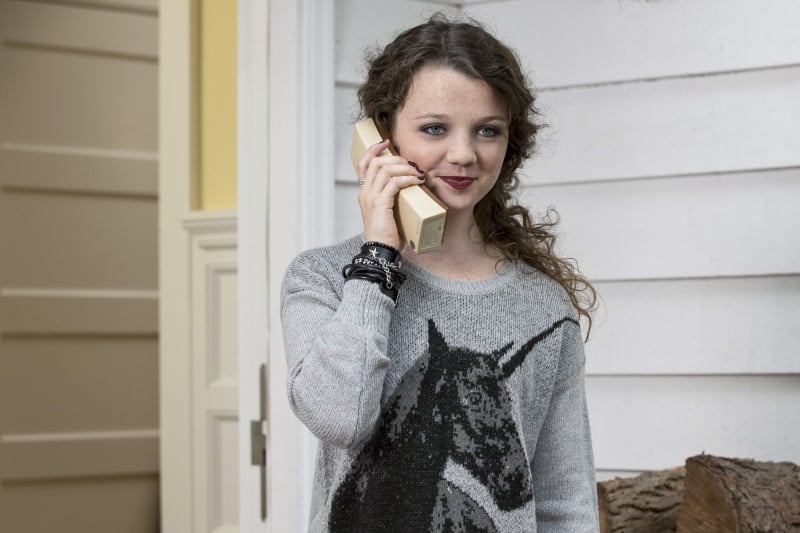 Though Dorrit's Sparkle & Fade unicorn sweater is no longer available online, this black and white Tilly's number [43] ($35, originally $42) will lend the same amount of whimsy to your Winter basics.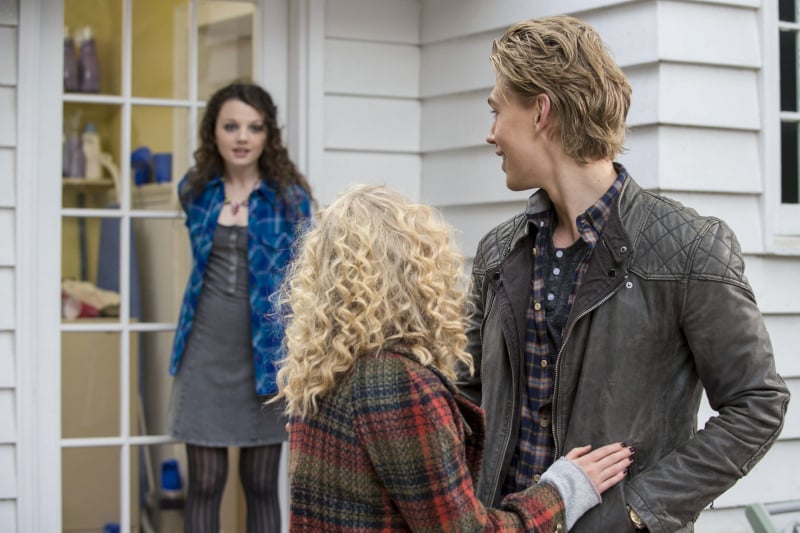 We hope Dorrit's not interrupting anything . . .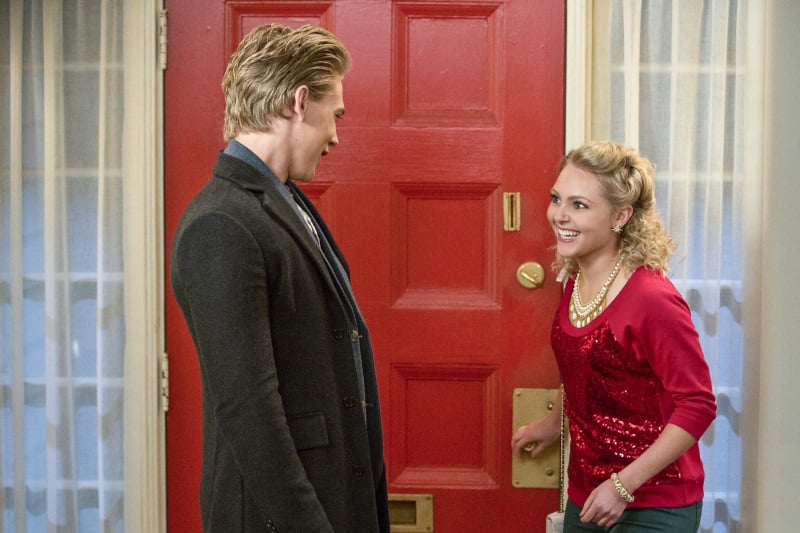 Shine bright in a cherry sequined sweater and emerald denim like Carrie. Top these Banana Republic skinny jeans [44] ($70, originally $90) with this embellished NY Collection sweater [45] ($32, originally $54) to nail her party-ready look.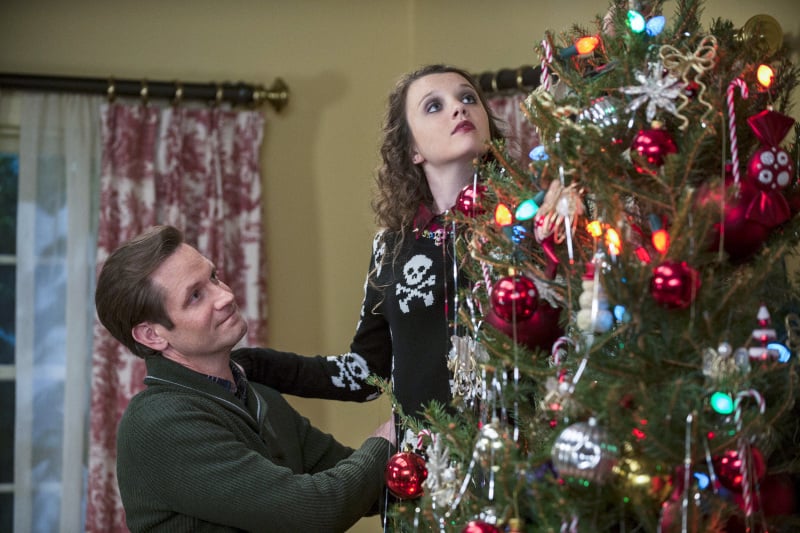 Dorritt donned a skull-print Aqua sweater and plaid button-down for her tree-topping duties. Tuck this dazzling Wildox pullover [46] ($199) into a festive skater skirt for an unexpected holiday pairing.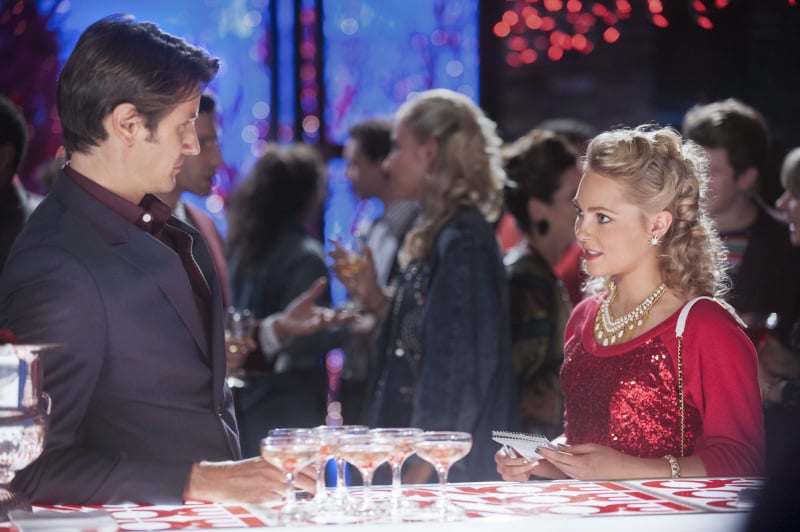 Carrie accessorized her sparkling sweater with a white stone statement necklace, like this one by Kendra Scott [47] ($195).
The Bradshaws wishing you and your family a very happy holiday season!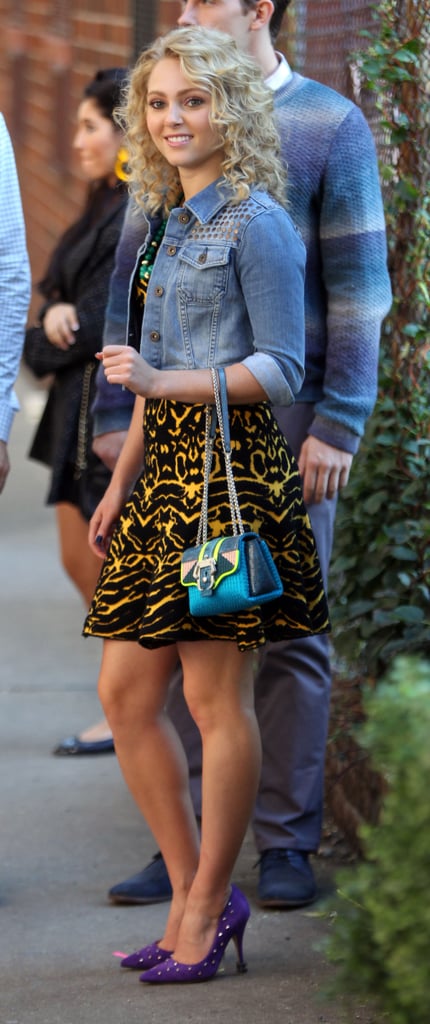 She showed off her wild side in an animal-print Torn by Ronny Kobo sweater dress [48] ($378), a studded Topshop denim jacket, and and a lizard Paula Cademartori bag.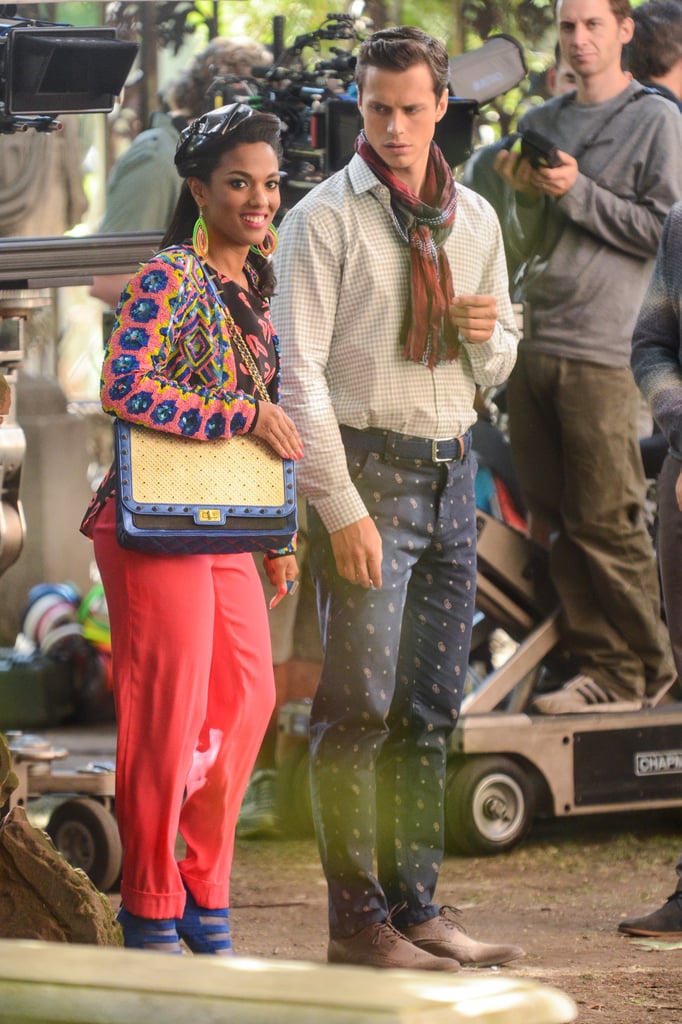 Larissa overdosed on color and print, tastefully, in a sequin Topshop jacket, punchy cropped trousers, and cobalt cutout heels. Turn heads in this bold topper [49] ($70, originally $100) or this floral cropped biker jacket [50] ($255, originally $363), both by ASOS.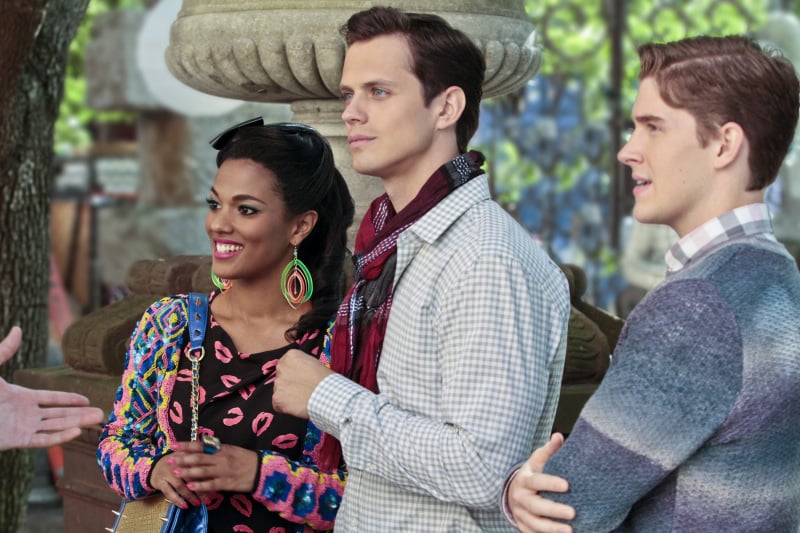 A closer look at Larissa's rainbow sequin Topshop jacket, kiss-print top, neon earrings, and this Poupée Couture studded bag [51] ($340).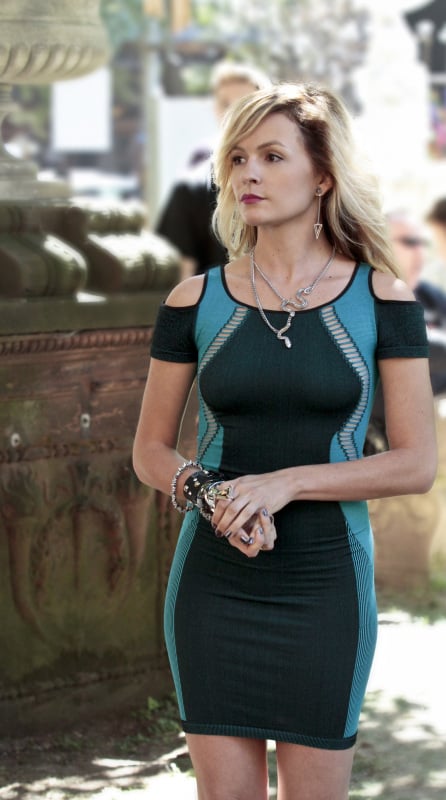 Body, body, body. Samantha wowed in a colorblock body-con dress by Bebe. Style this Torn by Ronny Kobo creation [52] ($378) with a statement snake necklace and a serious arm party to re-create her sassy ensemble.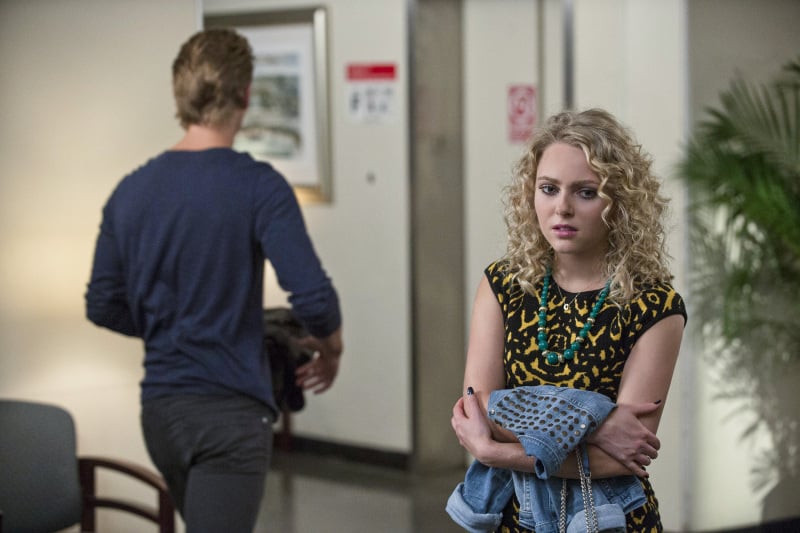 Though this isn't the first time we've spotted Carrie donning her studded Topshop denim jacket, we're still in love. Get in on her punky style with this Saint Laurent cropped jacket [53] ($1,181 originally $1,574) or go really bold with this ModCloth topper [54] ($68).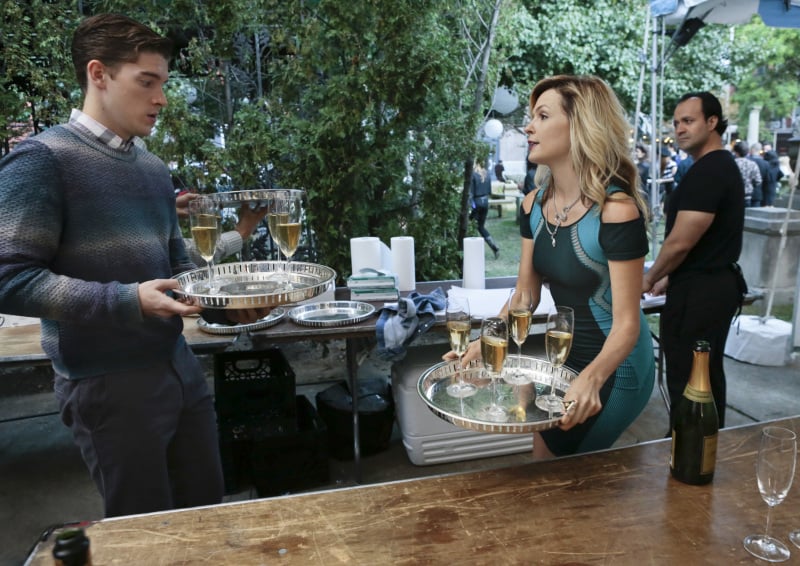 Of course, Sam would head the Champagne campaign.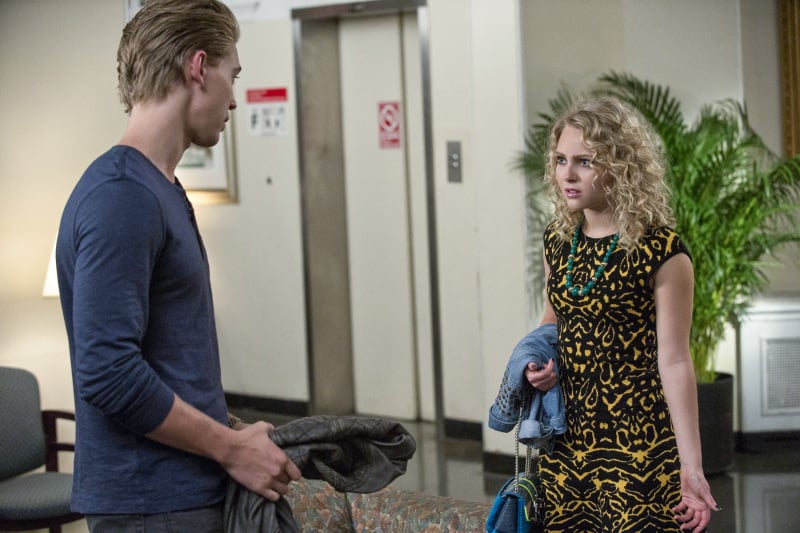 We love the color combination of Carrie's yellow-and-black Torn by Ronny Kobo dress and teal beaded necklace.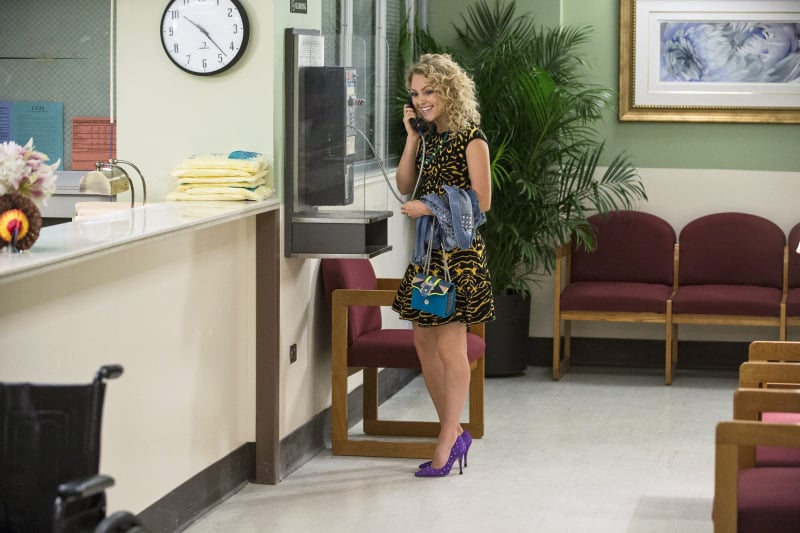 A full shot of Carrie's colorful look. Check out her regal purple Kate Spade pumps [55] ($198, originally $328).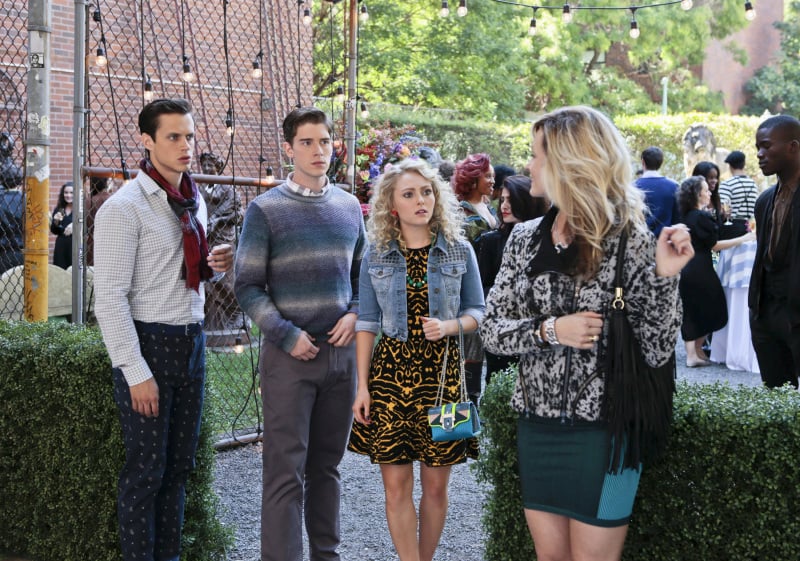 Sam's stunning 3.1 Phillip Lim jacket edged up her body-hugging Bebe dress, while her fringe bag — like this one Monserat De Lucca [56] ($247) — added a spot of boho flair.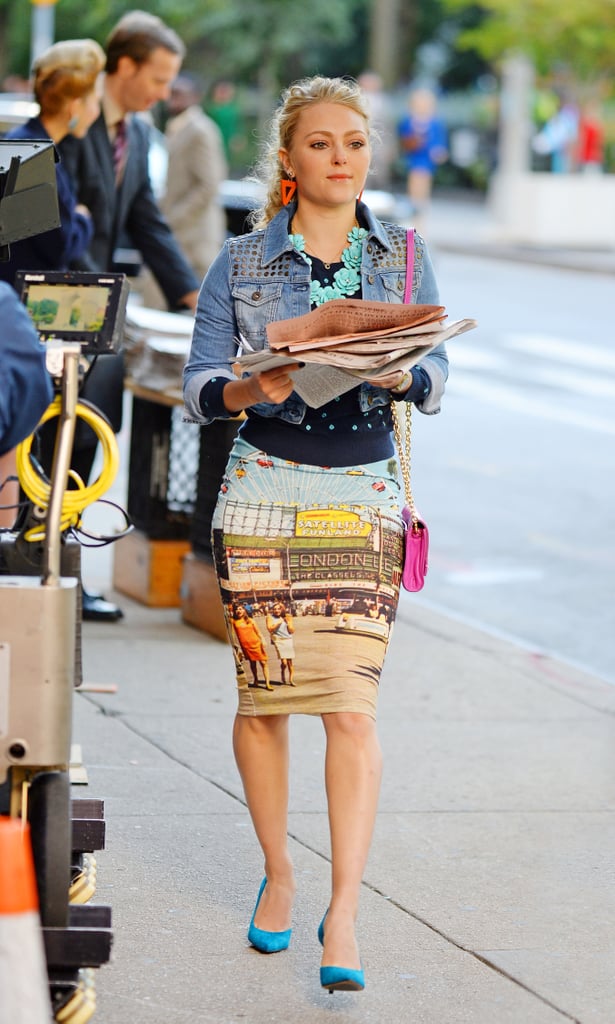 Carrie styled her Topshop big-wheel-print skirt with a polka-dot Opening Ceremony sweater and denim Topshop jacket. Don your jean topper with this Topshop tube skirt [57] ($56) to mimic her style.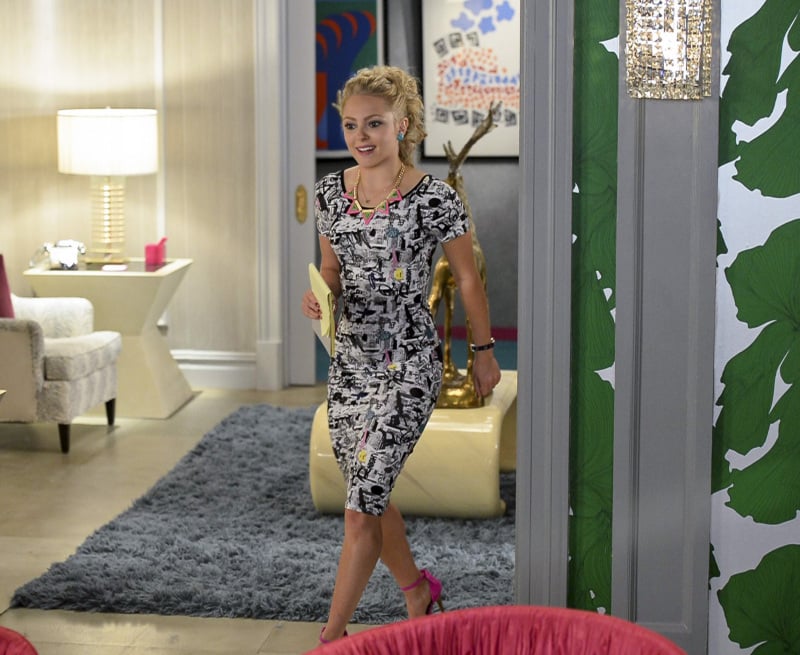 Carrie showcased her love for Topshop in a scribble-print dress and neon necklace! Nail her artistic style with this printed Walt by Walter Van Beirendonck dress [58] ($621).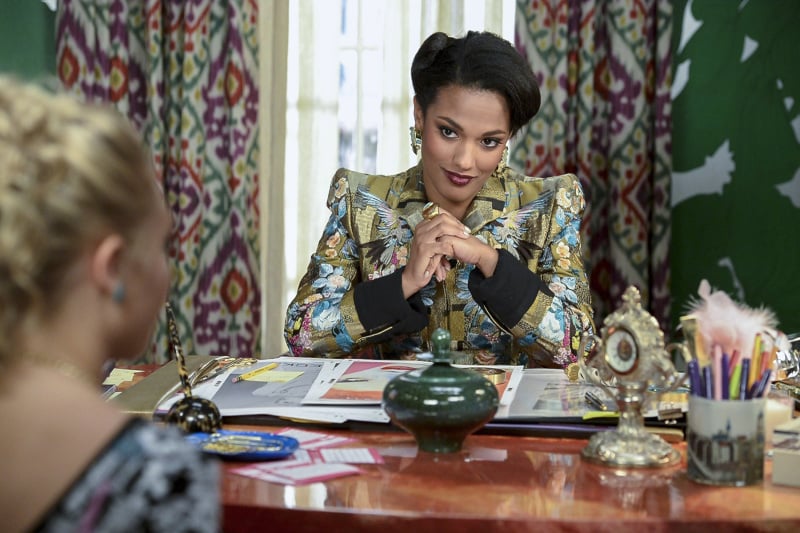 Take a cue from Larissa — in Alexander McQueen — and top your business separates with this regal brocade Alice + Olivia blazer [59] ($245, originally $484).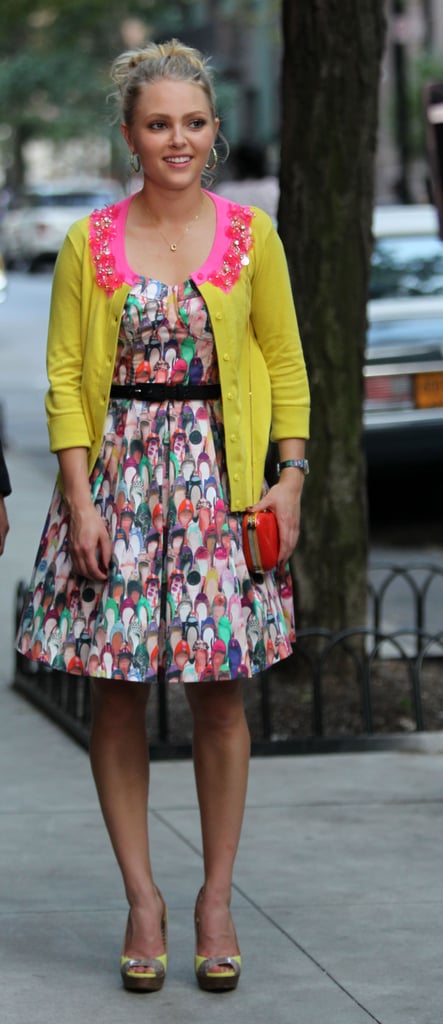 In true Carrie fashion, the trendsetter layered a prim Kate Spade cardigan over a watercolor shoe-print Eva Franco fit-and-flare [60] ($137, originally $304). Score her exact cardigan in a different hue here [61] ($125, originally $448).
Pretty in pink. Score Carrie's exact Jessica Simpson sandals [62] ($50, originally $89) to sweeten up your date-night look.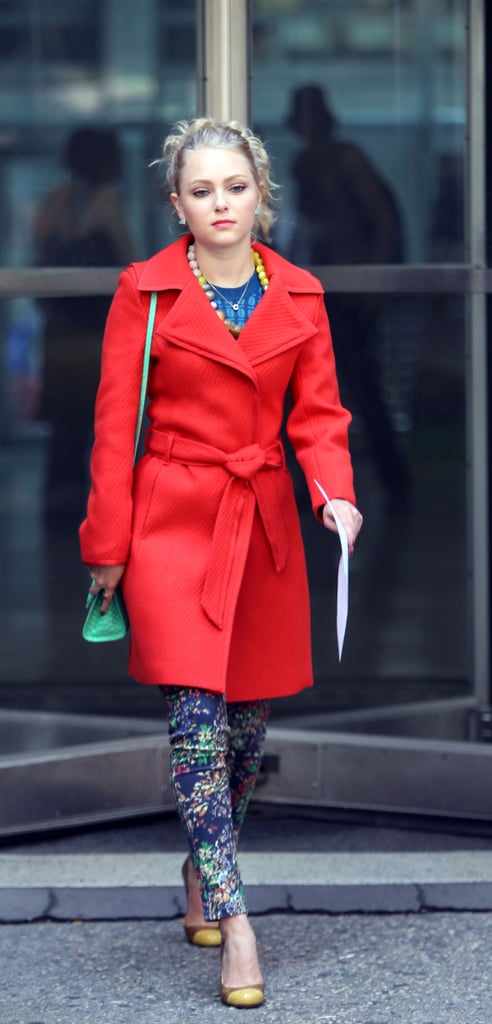 She proved the power of a statement coat in this gorgeous Reiss creation. Warm up in this stunning Calvin Klein version [63] ($140, originally $325).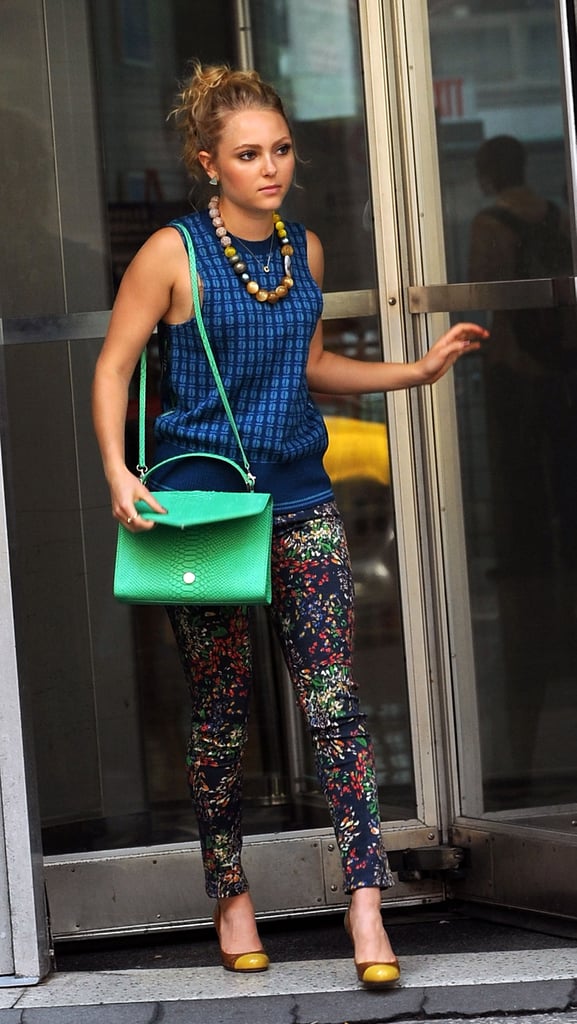 Carrie was all business, donning a blue Tory Burch sweater [64] ($195, originally $325), cropped at the sleeves, with garden-print Alice + Olivia denim [65] ($170, originally $199) and cap-toe Kate Spade pumps.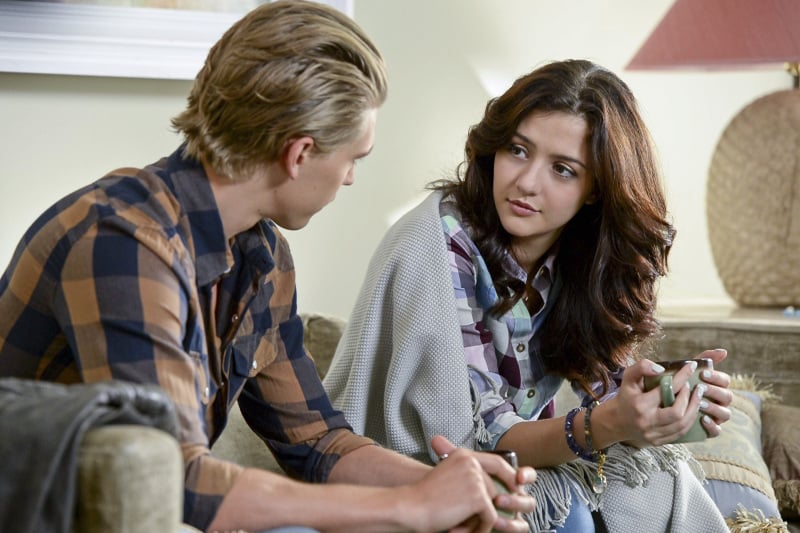 Maggie and Sebastian are on the same fashion wavelength — both don madras button-downs like this one from J.Crew [66] ($70, originally $90).
The style setter topped this lightning-print Claudie Pierlot skirt [67] ($236) with a printed Sandro top. Take Carrie's electrifying style to your next party by pairing this faux-leather Forever 21 skirt [68] ($23) with a silky black blouse.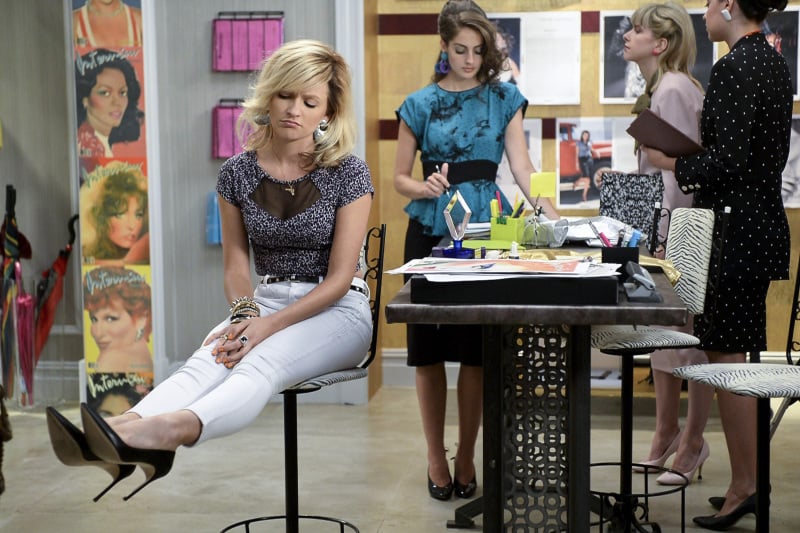 Love Sam's style but aren't quite ready to double up on trends? Don this mesh-inset Forever 21 top [69] ($13) with a high-waisted skirt and polished pumps.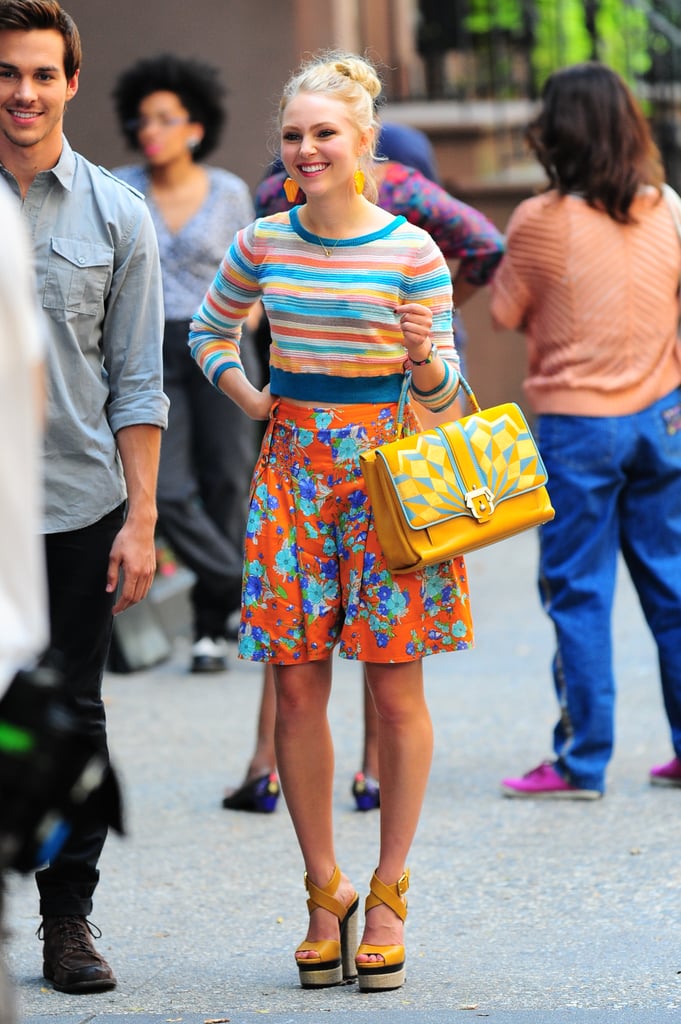 Carrie knows the key to mixing prints is finding a coordinating base color. She sported a colorful cropped sweater with high-waist floral shorts, then accessorized with a gorgeous Paula Cademartori bag. Take Carrie's bold ensemble from the streets to the beach with these tropical Josh Goot shorts [70] ($940).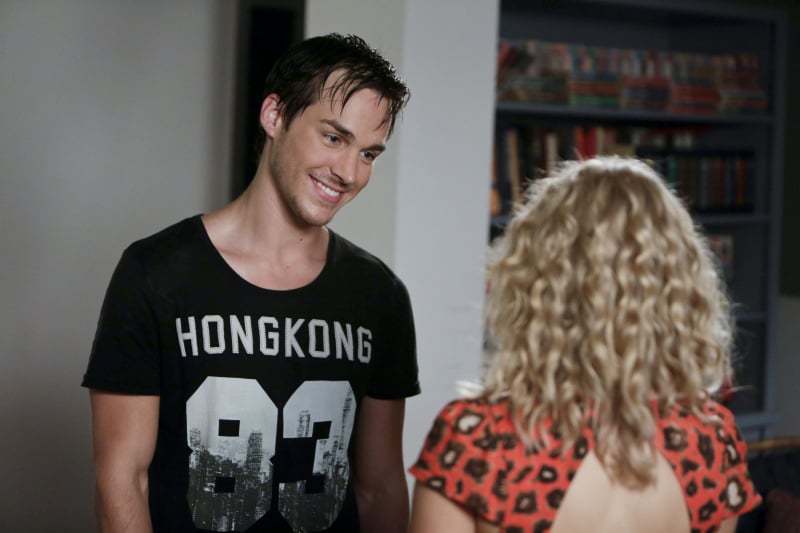 Carrie brought sexy back in a leopard-print, open-back Topshop dress, these colorful Jessica Simpson sandals [71] ($65, originally $89), and this showstopping Angel Jackson bag [72] ($466). Don her exact platforms with this Moschino Cheap and Chic mini [73] ($175, originally $272) to nail her wild style.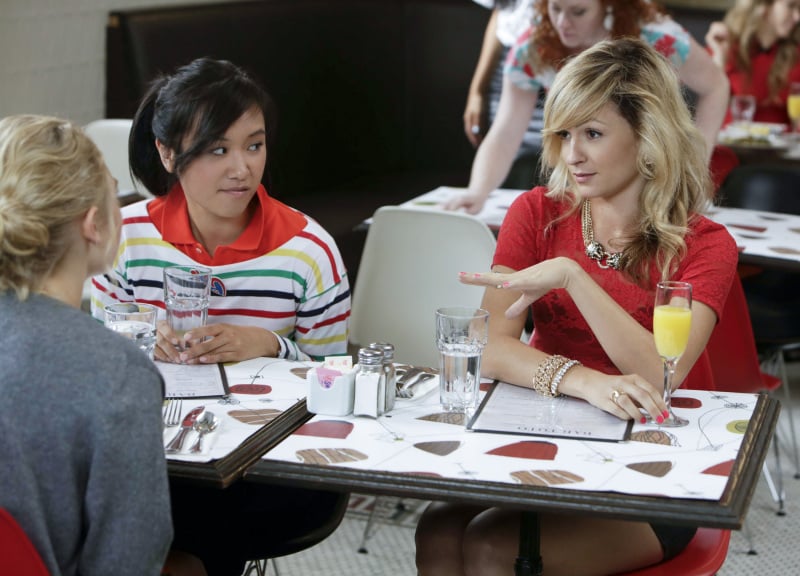 Sam looked red hot in a lace blouse and statement necklace. Pair this lace-inset ModCloth peplum [74] ($38) with a polished pencil skirt for a more sophisticated take on her sassy style.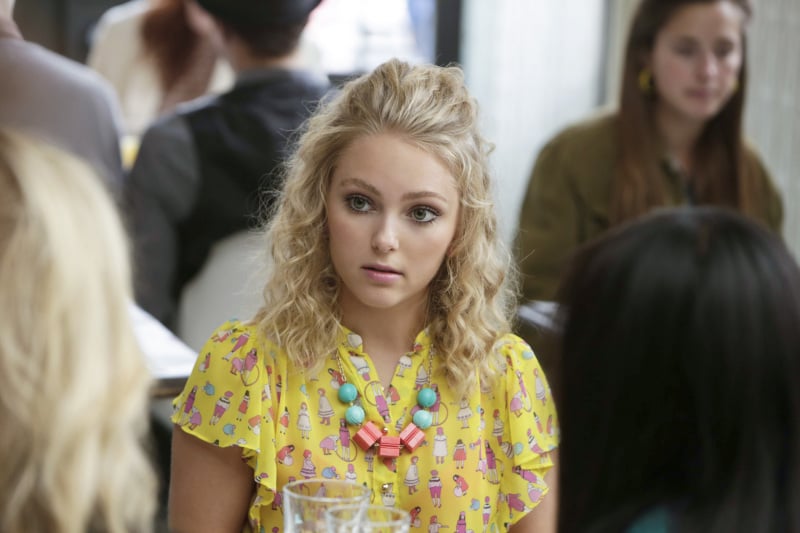 Top this bold Croft & Barrow top [75] ($14, originally $36) with this beaded Kate Spade necklace [76] ($69, originally $98) to nail Carrie's sunny ensemble.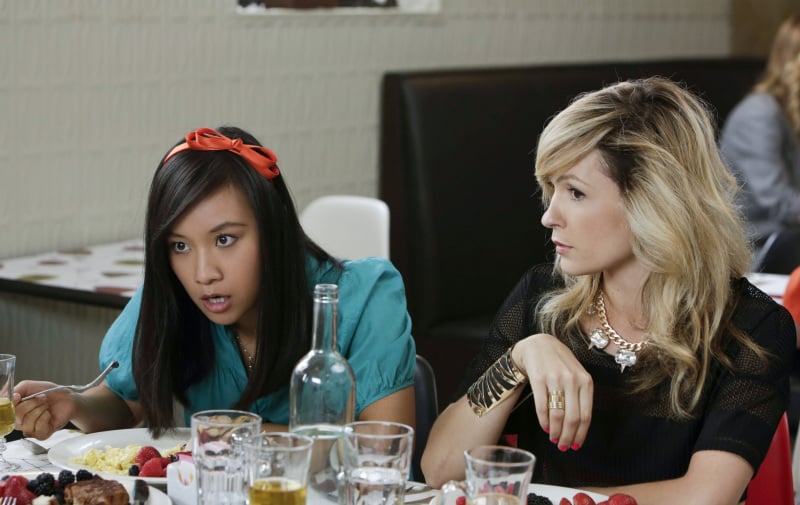 Life is a runway. Channel Mouse's sweet look with this Forever 21 bow headband [77] ($3) or go glam with an oversize cuff and this crystal and spike Fallon necklace [78] ($325) like Sam.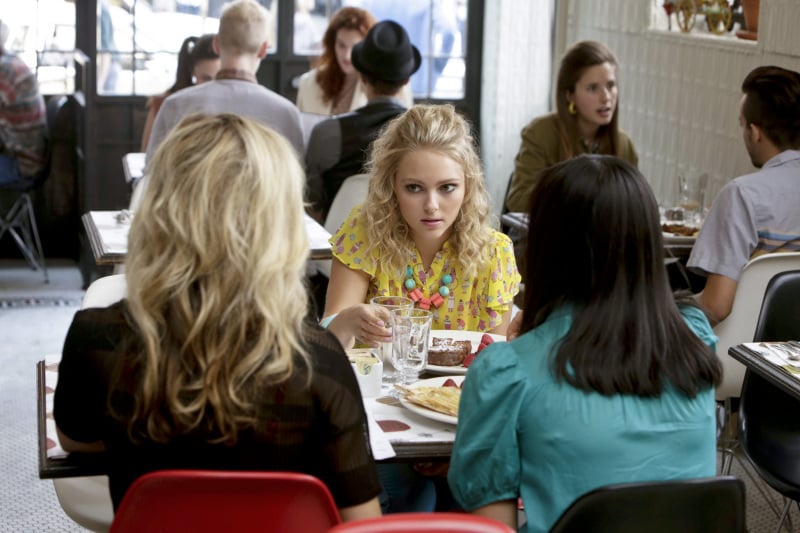 Just a little girl talk to kick off the morning.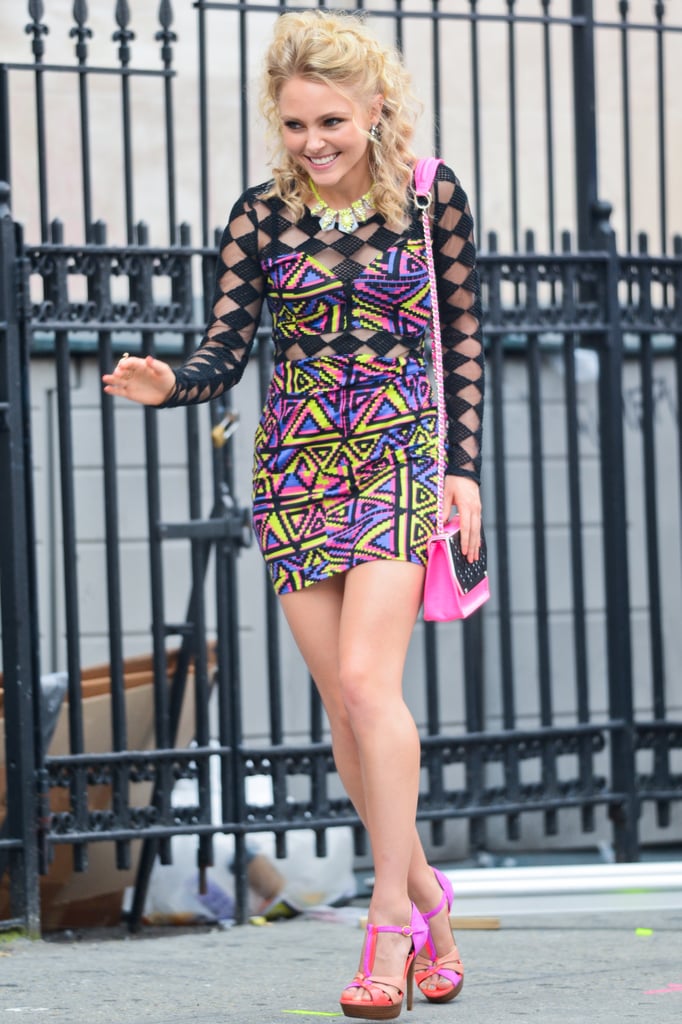 It's hard to miss Carrie in a neon geometric-print Nasty Gal body-con mini and colorblock Jessica Simpson sandals [79] ($42-$50, originally $89). Make a bold statement in this sparkling mini from Nasty Gal [80] ($88), or glam it up with this BCBG Max Azria number [81] ($428) for a more sophisticated affair.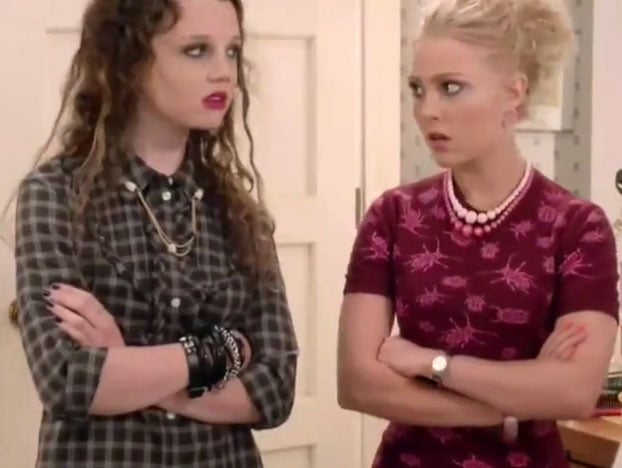 Dorrit nailed '90s grunge, accessorizing her plaid shirt with a leather wrap cuff and black nail polish. Get in on the trend with this moody Jessica Simpson shirt [82] ($21, originally $59) and a mix of chain and leather add-ons.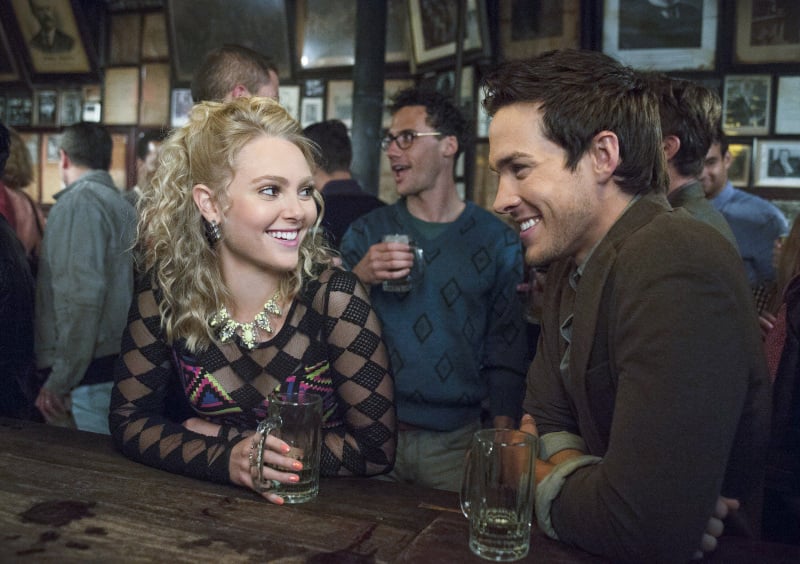 Carrie's flirty glow was almost as bright as her neon t+j Designs statement necklace [83] ($82).
Carrie brightened the NYC street in a striped Torn by Ronny Kobo dress [84] ($124, originally $248), featuring a sweet peplum detail and colorblock Aldo pumps.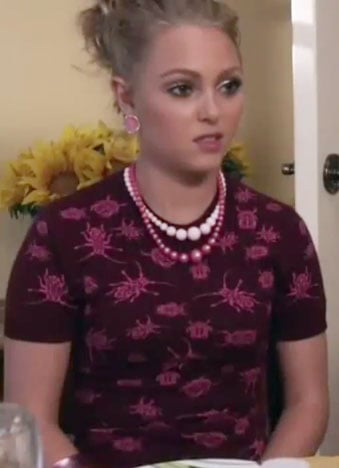 Carrie was a little bugged out — both physically, in this Alexander McQueen mini [85] ($480), and mentally — while entertaining her dad's girlfriend's son, Dylan.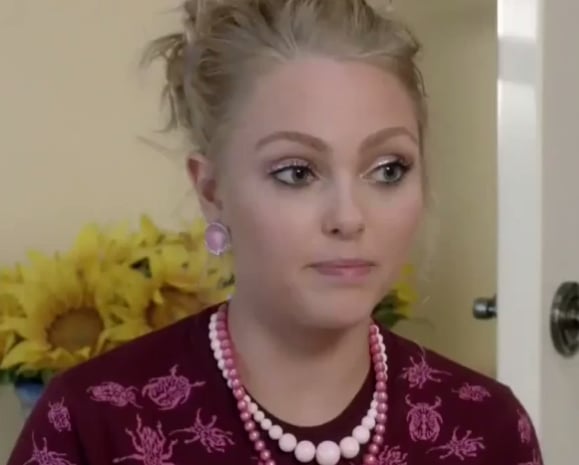 We love how Carrie highlighted her sweet pink and burgundy dress with coordinating jewels.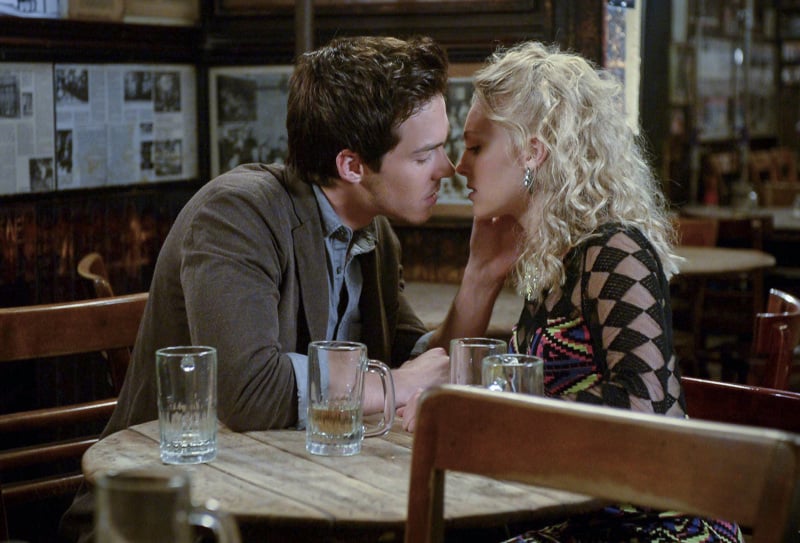 Getting a little close there, are we Weaver?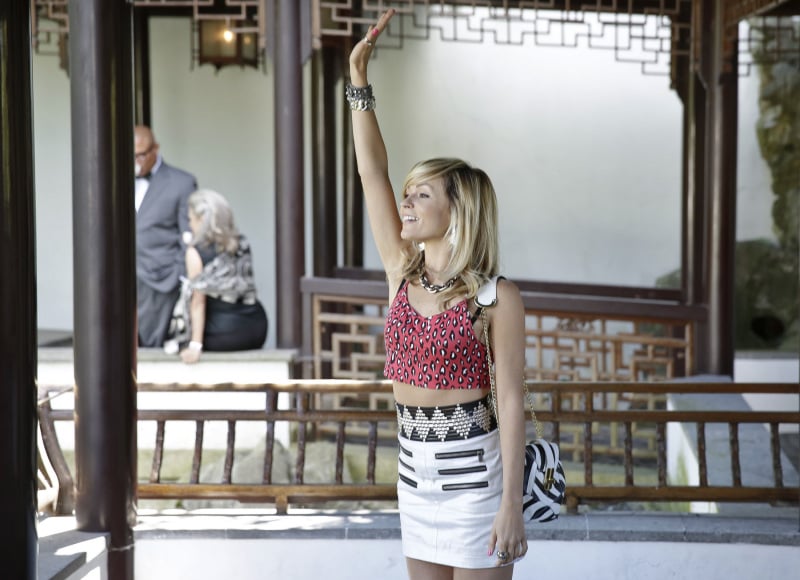 Samantha stole the show in a cropped leopard cami from Topshop, a zipper-detail Kelly Wearstler miniskirt [86] ($130, originally $325), and this geometric Marciano belt [87] ($68).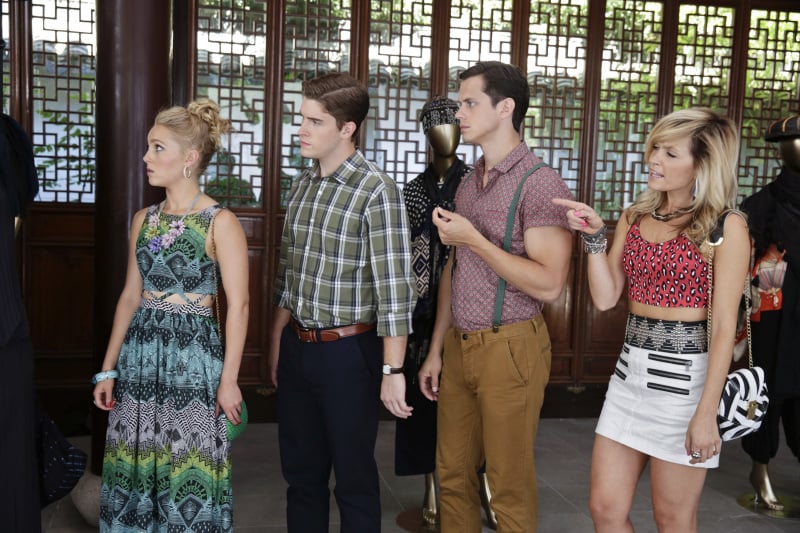 Carrie's tribal Mara Hoffman dress [88] ($135, originally $385) and woven Kayu clutch [89] ($175) has us dreaming of warm beaches and tropical sunsets.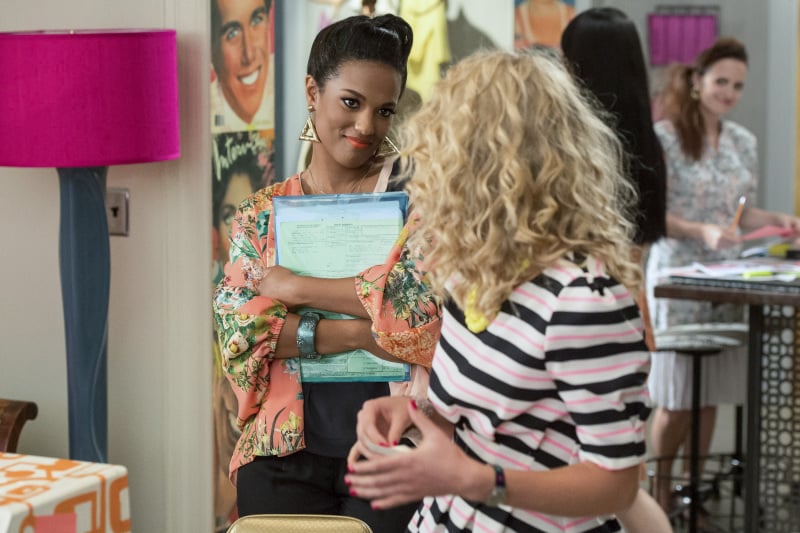 Larissa layered a floral Zara kimono over her work basics for a splash of color. Don this Topshop kimono [90] ($90) with liquid leggings and a chambray shirt for an instant weekend hit.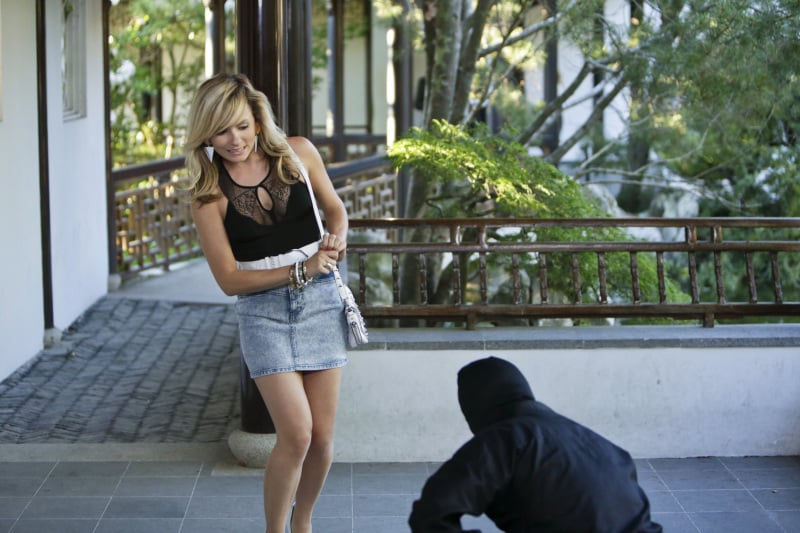 Umm, excuse me, what do you think of my outfit? Samantha showed off her curves in a lace keyhole blouse and acid-wash Silence + Noise denim skirt, cinched with a white leather belt, while approaching an unidentified man ninja. Style this sassy Only Hearts Club top [91] ($62, originally $92) with liquid leggings for a night out with the girls.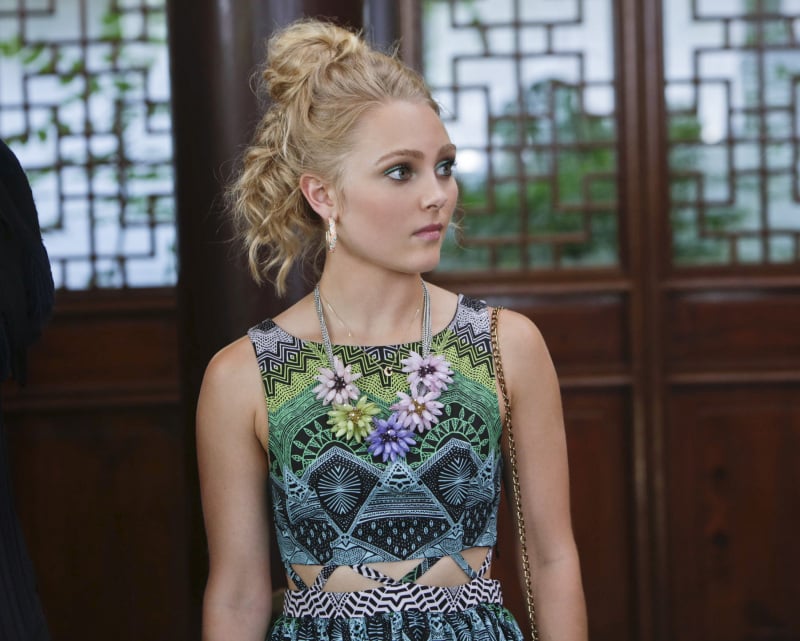 Like a true flower child, Carrie topped her multicolor Mara Hoffman maxi with a pastel Topshop necklace. Layer this JCPenny statement necklace [92] ($72, originally $120) over your closet basics for instant flair.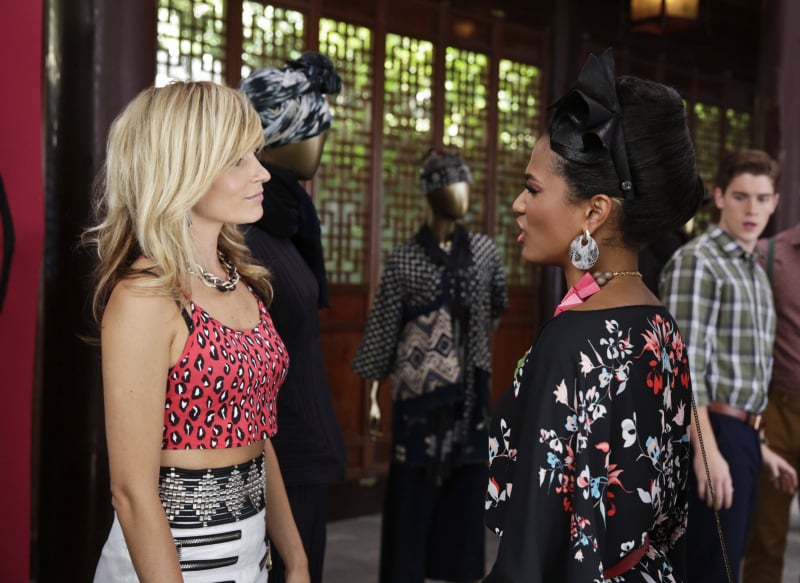 We love Larissa's floral BCBG Max Azria kimono dress [93] ($174, originally $248). Bonus: it's on sale!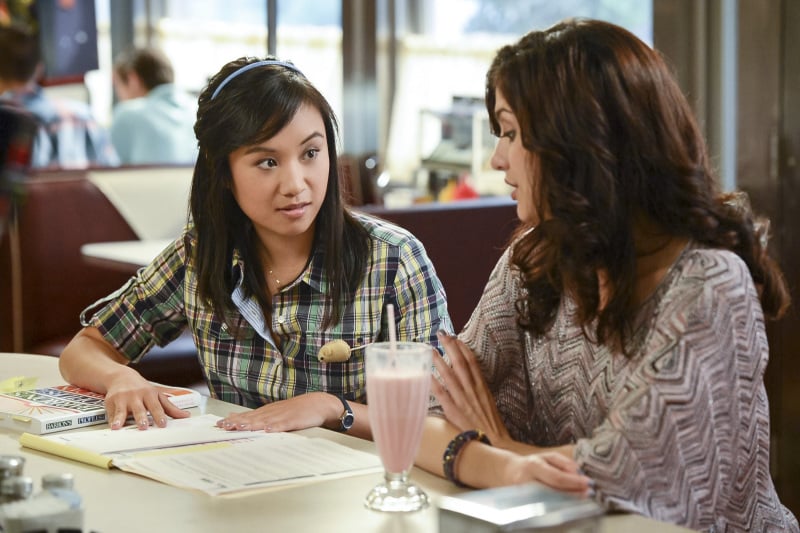 Layer a cozy cable-knit over this plaid Planet Gold button-down [94] ($20, originally $34) for a preppy Fall duo, then layer on Maggie's Kanupriya bracelet [95] ($275) for a splash of sparkle.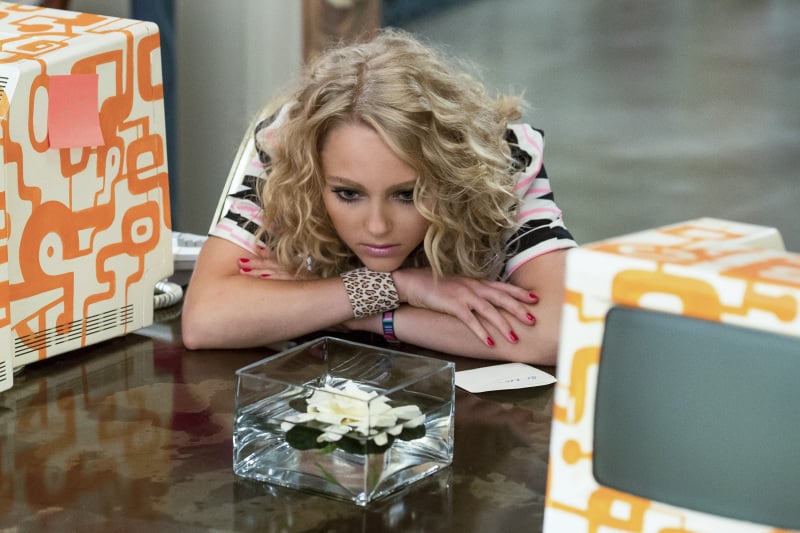 We love a good mix of prints. Style this striped Romeo & Juliet Couture peplum [96] ($35, originally $69) with boyfriend jeans, then slip on this Yochi Design leopard cuff [97] ($60) to nail Carrie's fashion fusion.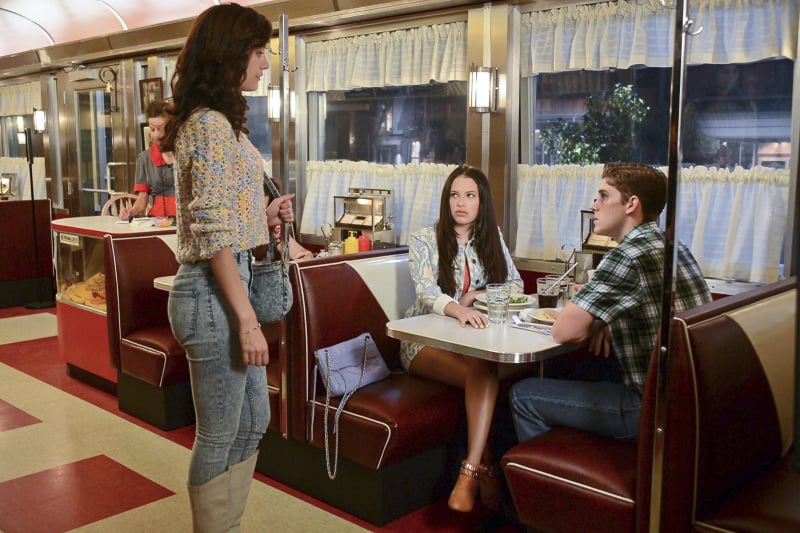 Bring Maggie's ultimate '80s look into this decade with this pastel Topshop jumper [98] ($68) and a high-waist black skirt.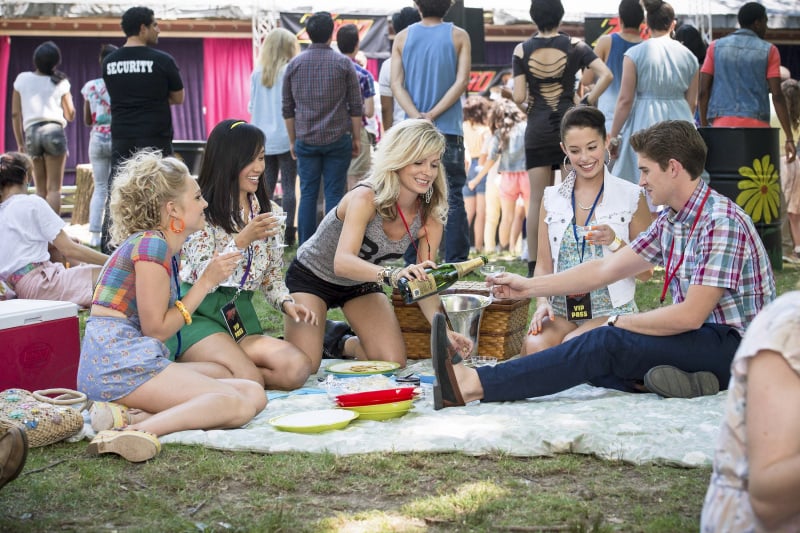 What's a party without a little Champagne?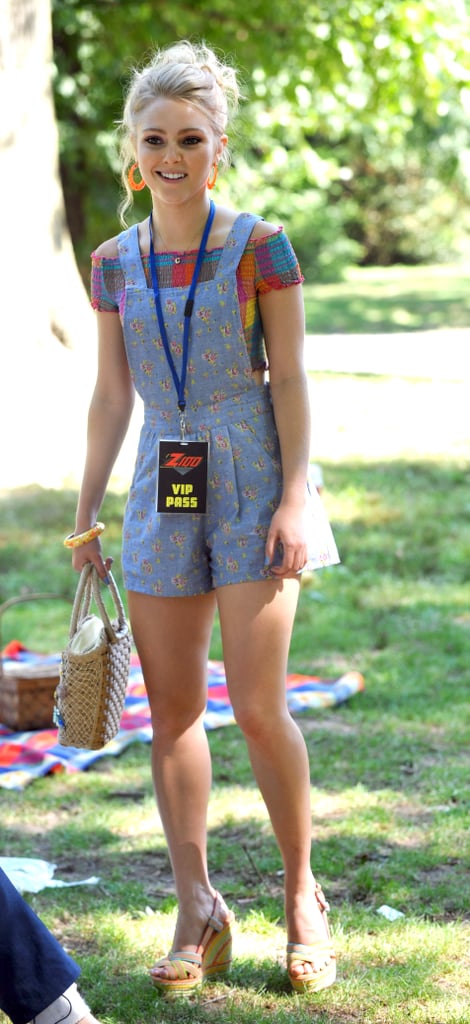 Carrie went playful in a chambray floral Topshop playsuit and these Kate Spade espadrilles [99] ($149, originally $298). Get in on the trend with this C&C California creation [100] ($40, originally $78) and a cropped madras top.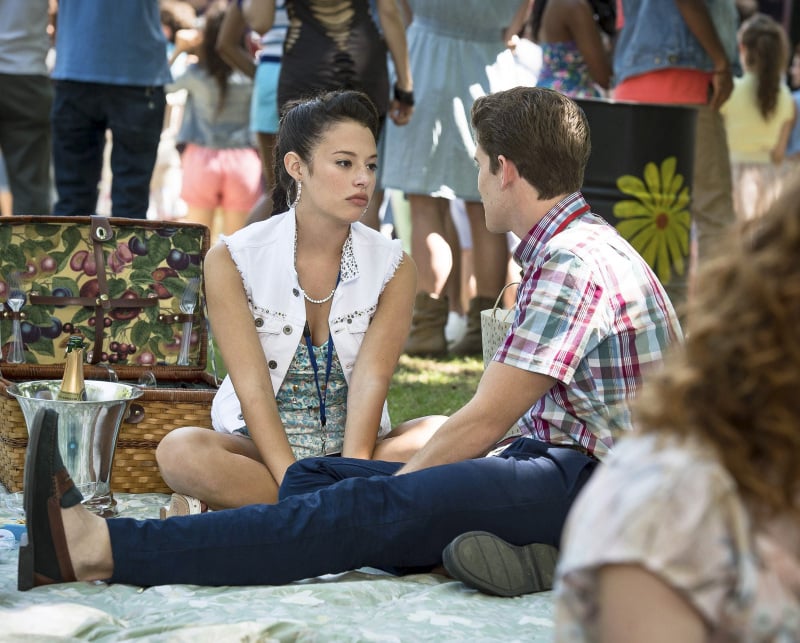 Donna chose a floral H&M short set and embellished white denim vest for the concert in the park. Top these Delia's posey shorts [101] ($20, originally $30) with this LBR bustier [102] ($56, originally $117) and a rhinestone denim vest by Forever 21 [103] ($23) for an '80s-approved ensemble.
Sam's had boys on her mind, and her shirt, since day one. Style this Boys Urban Outfitters tank [104] ($59) with these embellished denim cutoffs from Olsenboye [105] ($20, originally $40) to nail her glam-rock style.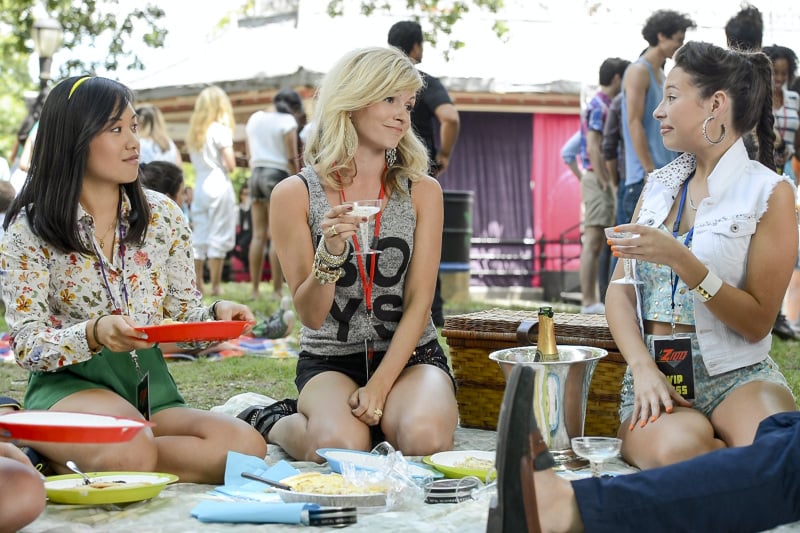 We're loving Mouse's emerald shorts. Put a sophisticated spin on her garden look with these Club Monaco shorts [106] ($42, originally $70).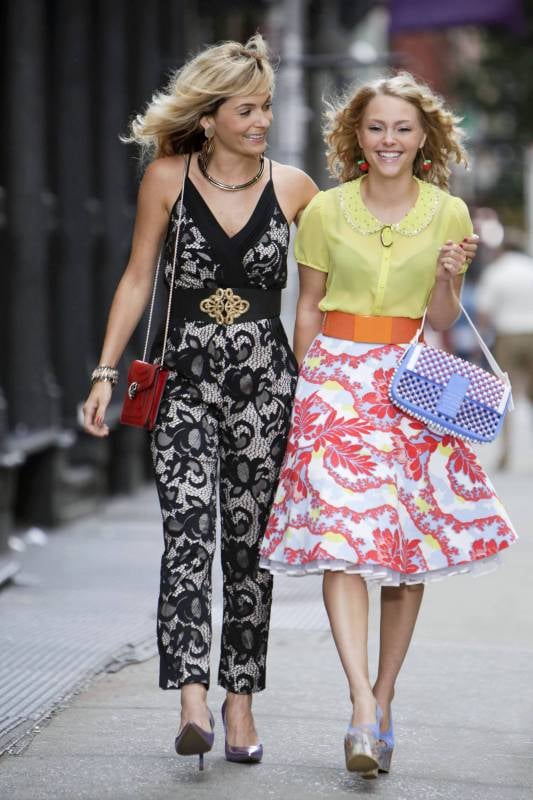 Samantha sassed it up on the streets of NYC in this lace Diane von Furstenberg jumpsuit [107] ($445) and lilac metallic pumps.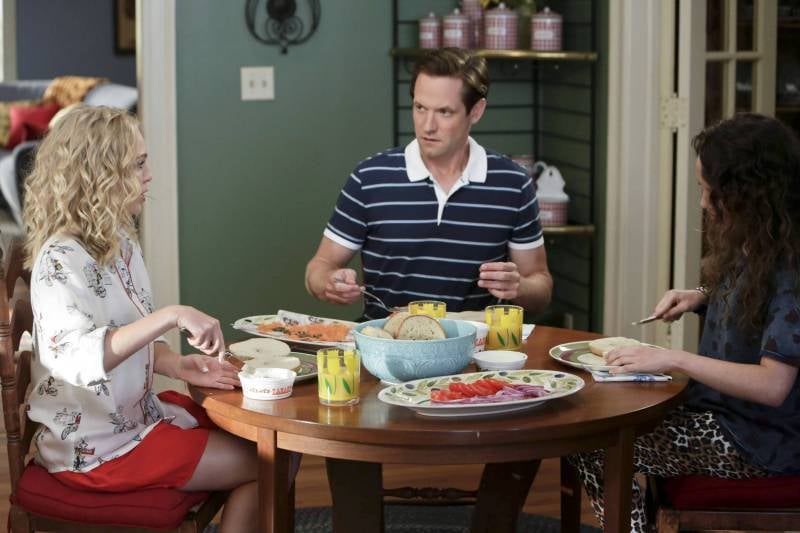 Cozy up in Carrie's exact Piamita City Tour pajama shirt [108] ($276) for your next family breakfast.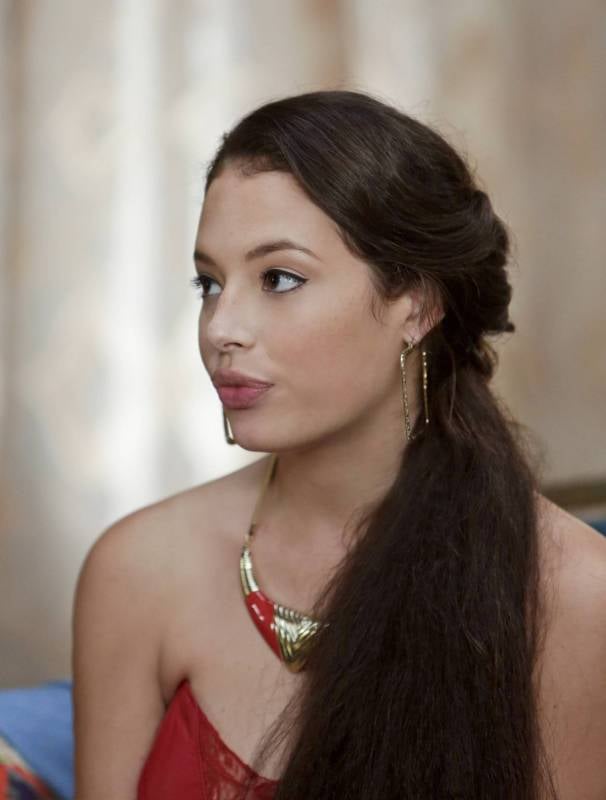 Color coordination is key. Mimic Donna's bold combo with this Carolee crescent necklace [109] ($55), these square hoop earrings from Nordstrom [110] ($22), and a black corset top.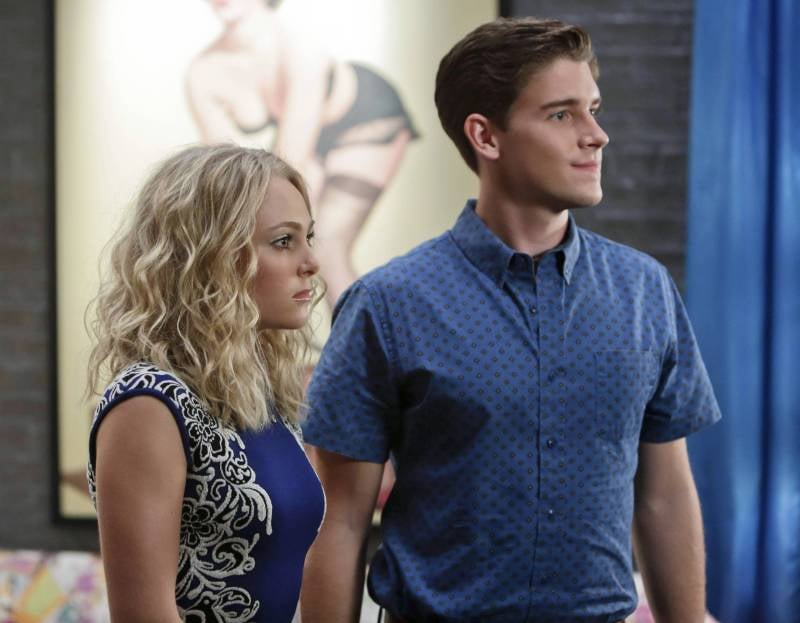 Carrie stunned in an embroidered cobalt BCBG Max Azria dress on this week's episode. Style this black jacquard body-con mini [111] ($298) with ankle-strap sandals for a sexy date-night look.
Carrie showed off her Summer brights in a sunny Peter Pan collar top, a printed Topshop skirt, and Carven platform wedges. Pair this blooming Modcloth midi [112] ($70) with a pretty pastel blouse for your next soiree.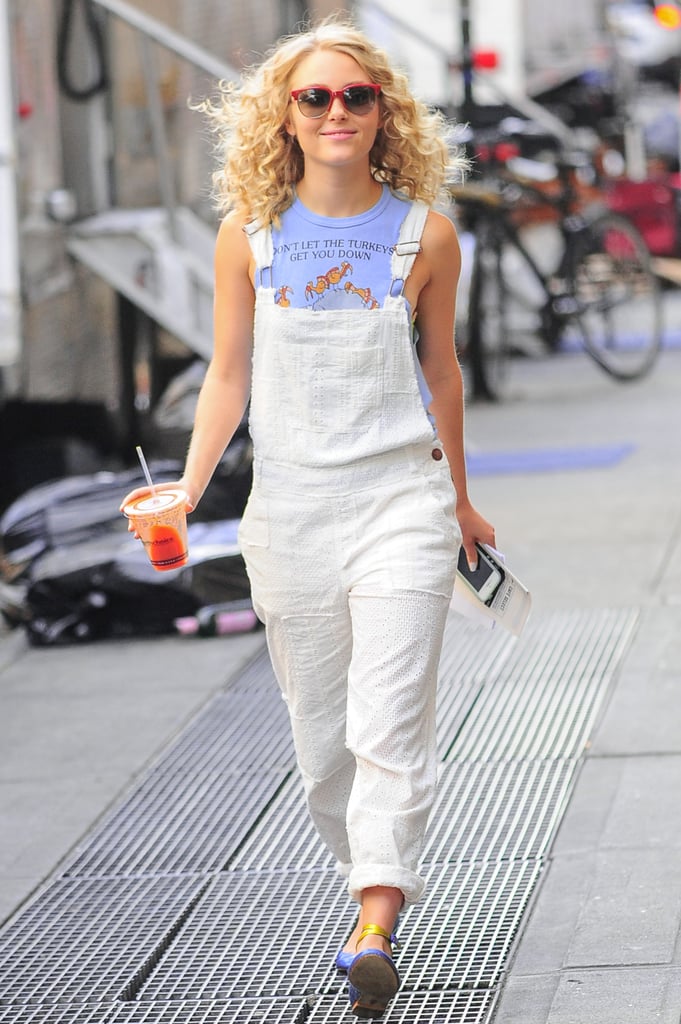 She oozed California cool in eyelet Free People overalls [113] ($50, originally $148).