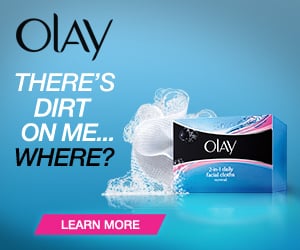 Don't think a cleanser can go beyond the basics? Carrie Underwood begs to differ. Olay 2-in-1 Daily Facial Cloths thoroughly cleanse skin deep down to the pore, removing dirt, oil, and makeup — even your super-duty-waterproof mascara. Don't believe it?
Take it from Carrie:
"It's hard to find eye makeup remover that doesn't burn your eyes. The Daily Facials don't burn anything and take off all of the layers of makeup I've managed to put on my face for concerts."
So take off your makeup each night by combining soap-free cleansers and conditioners infused with beta hydroxyl that go beyond basic cleansing to gently exfoliate and condition skin with essential Olay moisture (score!).