Carrie Underwood Grammys 2012 Dress Designer
Carrie's Grammy Dress Designer on Her Style and How to Get Red-Carpet Ready at Home
The 2012 Grammy Awards did not disappoint in the fashion department, and Carrie Underwood's sequin-embroidered gown was definitely one of the highlights of the night. So now that the shutterbugs have gone home and the red carpet has been rolled away, want to know who was behind the showstopping Starlet gown, which — side note — you can now order for yourself for a whopping $2,500? It was London-based designer Patricia Gomez-Gracia, who once worked under greats like Alexander McQueen and Julien Macdonald. We caught up with the talented and gorgeous designer — check her out in Carrie's exact dress! — to find out how she met the singer, why she selected that dress, and her tips on how to get the red-carpet look at home.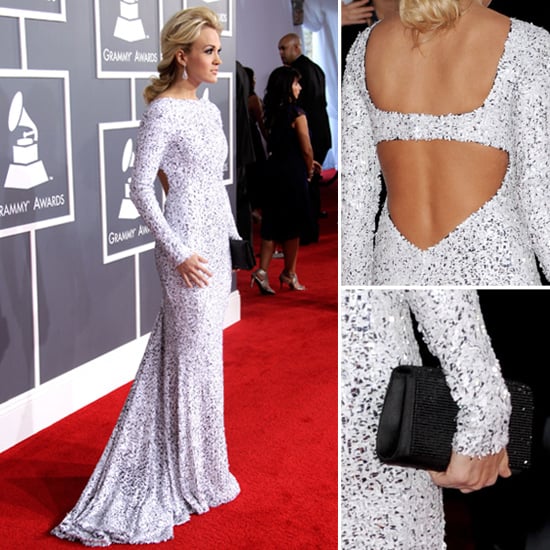 CelebStyle: First things first, how would you describe your design aesthetic?
Patricia Gomez-Gracia: Seductive, sleek, and confident, with an exquisite attention to detail and craftsmanship.
CS: How did you go about working with Carrie for the Grammy Awards?
PGG: We worked with Carrie and her stylist Trish this past Summer when she was shooting her video "Remind Me," a duet with Brad Paisley. She wore our Elektra floral gown throughout the entire video, which is shot in a desert. The dress has a major leg slit, so it was blowing in the desert wind and was perfect for showing off Carrie's amazing legs. We've kept a close relationship with them ever since.
To hear more from Patricia Gomez-Gracia, read more
CS: What was it about the Starlet gown that made you want to see Carrie in it?
PGG: Carrie has such great style. She's feminine and girlie, with a bit of a rocker edge, which is perfect for our collection. The Starlet dress is one of my favorite dresses that I've ever designed. It was truly a thrill to see Carrie wearing it beautifully at such a prominent event.
CS: Who are some other clients you currently work with and have worked with in the past?
PGG: We're really lucky to have been discovered by some of Hollywood's most stylish women: Katie Holmes, Camila Alves, Adriana Lima, Julie Bowen, and Kim Kardashian, to name a few.
CS: For those who want to achieve a red-carpet look at home, what tips and advice would you give them?
PGG: Personally, I like dresses that are a bit more streamlined in terms of their silhouettes, but have a little something special to them, like a sexy back or daring leg slit. Pick one part of your body that you really like and accent it. And also make sure that your dress is comfortable. I choose fabrics and design my dresses to be worn by real women, so comfort is key. If you're comfortable, then you'll be confident and it will shine through.