For celebrities, sitting front row at Fashion Week is pretty much a given — but what happens when you find out that you're sitting alongside the Anna Wintour? The Vogue editrix is famous for her self-assured, slightly intimidating, poker-faced Fashion Week [1] presence, and earning a seat next to her could easily be a dream come true for most fashion-loving celebs. It also sets in motion a longtime industry superstition: does earning a coveted spot next to Anna also nab you a Vogue cover? Just in time for the start of Fashion Week, we're taking a look back at some of the stars who have been seated next to Anna during the shows.
— Additional reporting by Sarah Wasilak
Simone Biles and Maria Sharapova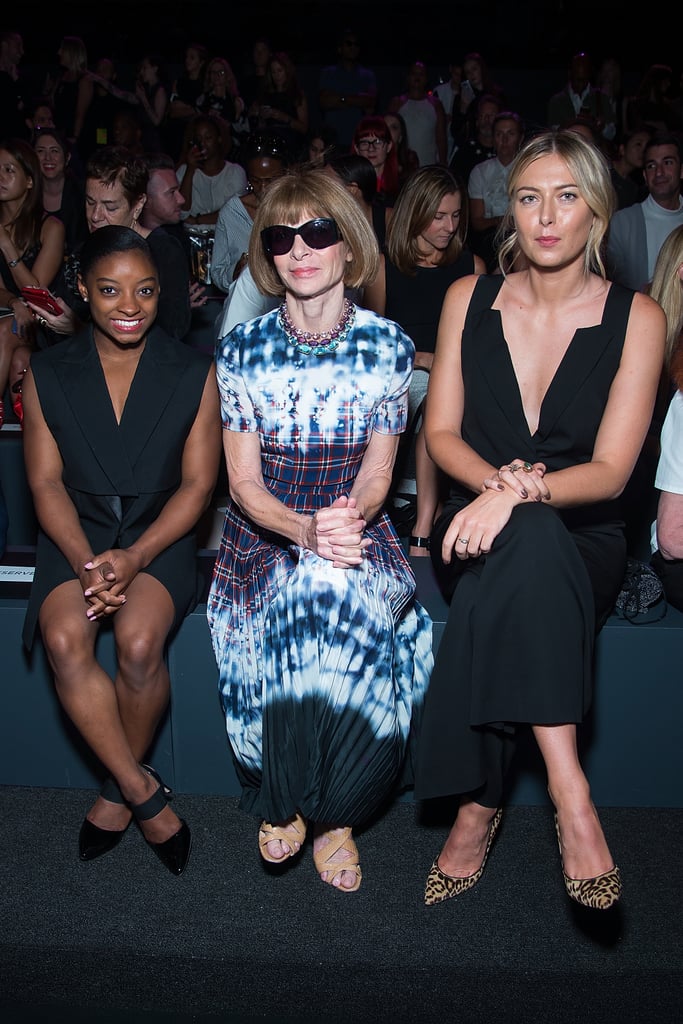 Anna stood out among athletes Simone Biles and Maria Sharapova at the Vera Wang show.
Ciara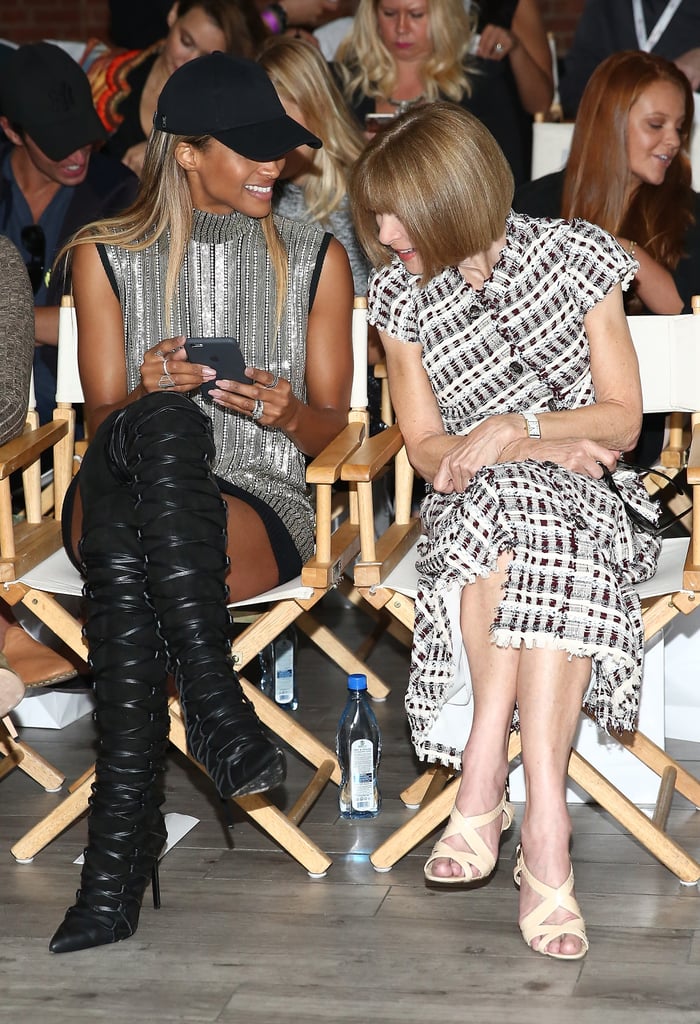 Anna sat front row with Ciara to enjoy Serena Williams's signature collection by HSN.
The Beckham Family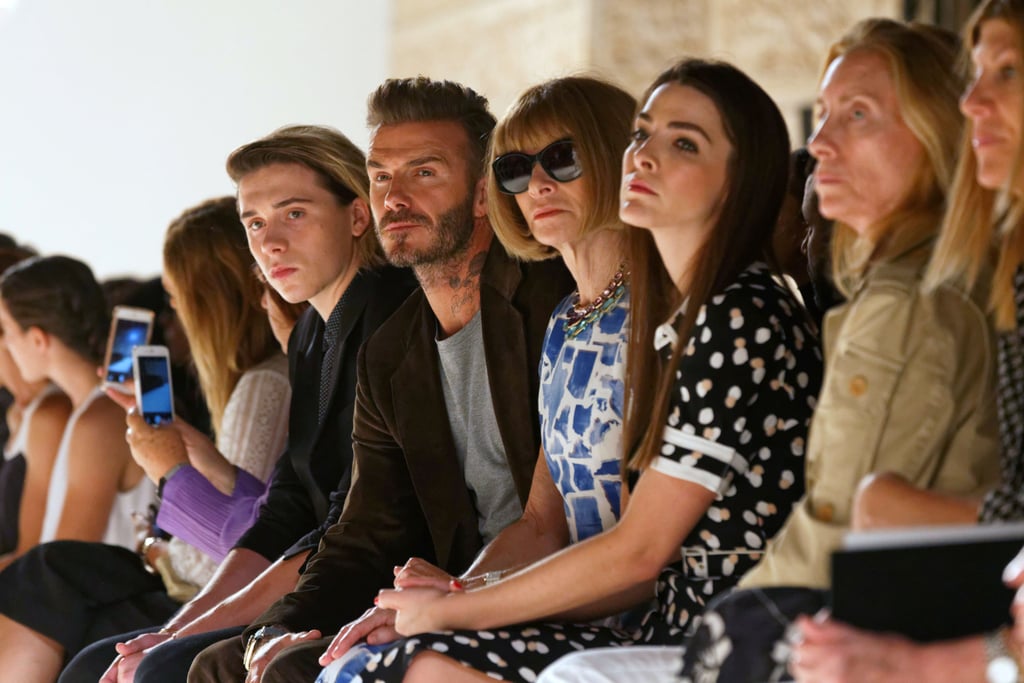 Victoria and her daughter Bee Shaffer joined the Beckhams for Victoria's Spring 2017 show.
Kim Kardashian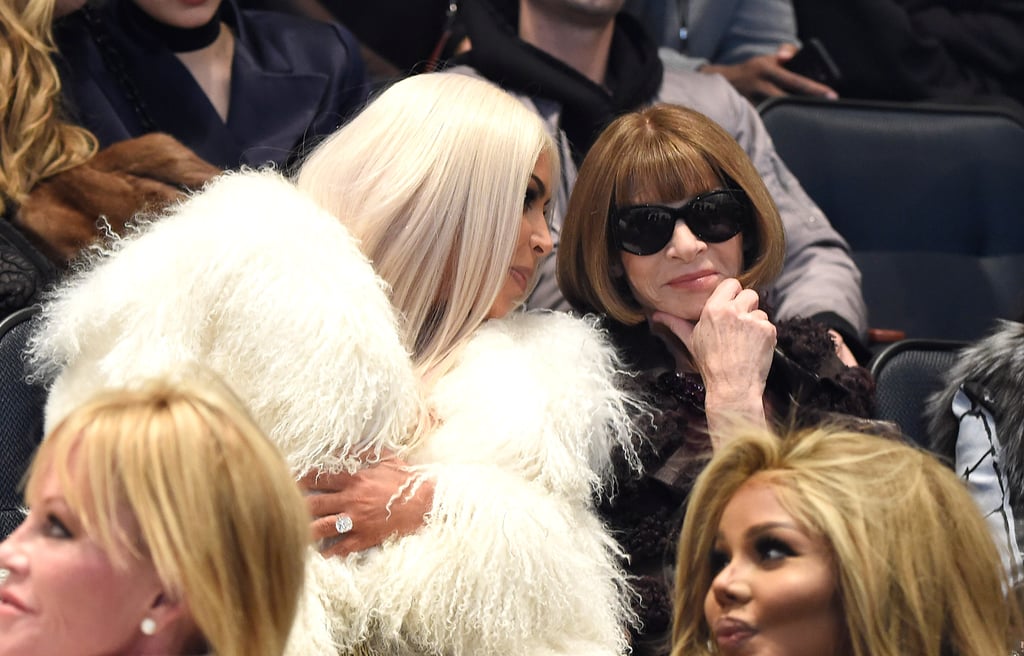 Kim Kardashian [4] sat next to Anna Wintour again during the Kanye West [5] Yeezy Season 3 at Madison Square Garden.
Sienna Miller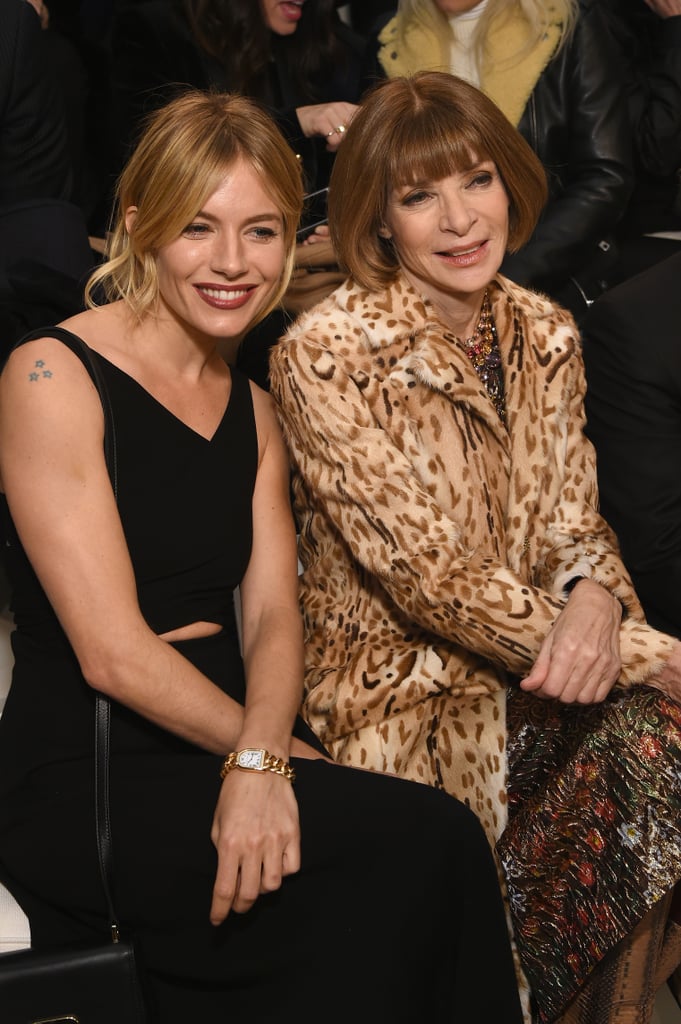 Sienna Miller [6] and Anna Wintour struck the same pose for the cameras at Ralph Lauren's Fall 2016 show.
Dakota Johnson
Anna and Dakota snuggled up in their tweed separates at the Chanel Metiers d'Art show.
The Beckham Family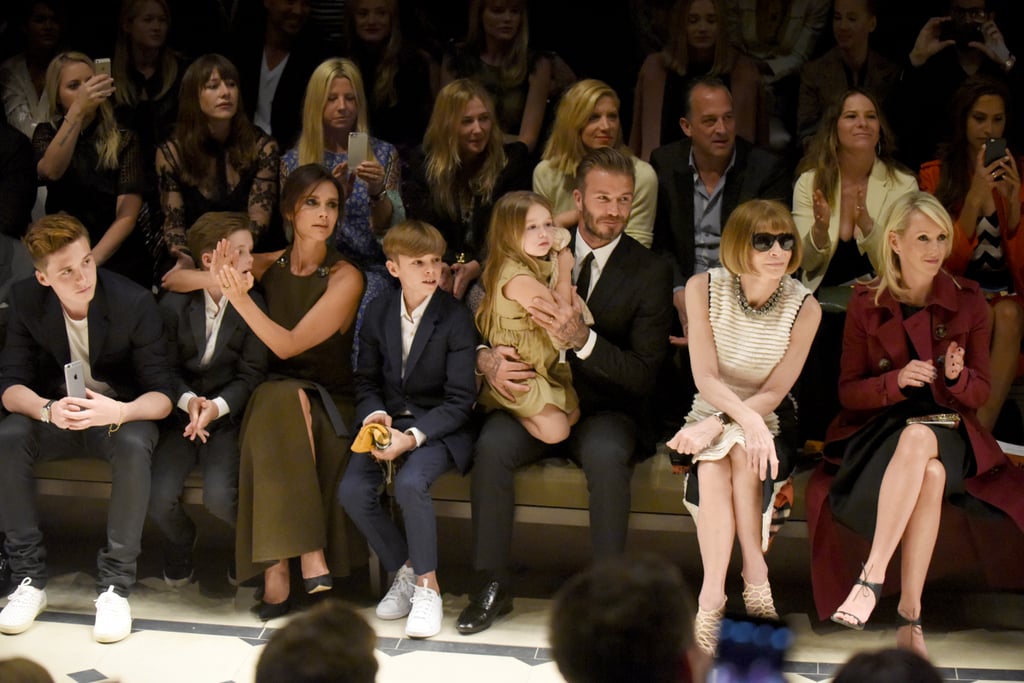 Brooklyn, Cruz, Victoria, Romeo, and David enjoyed the Burberry show in their dapper looks.
Lupita Nyong'o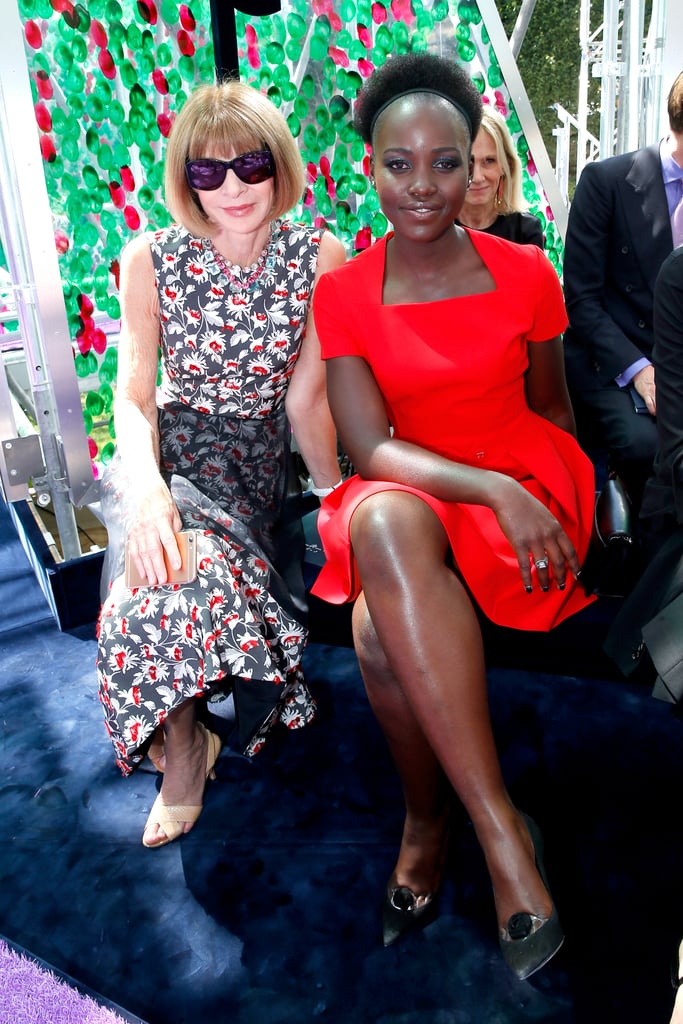 Lupita complemented Anna's florals perfectly at the Dior show in her cherry red dress.
Margot Robbie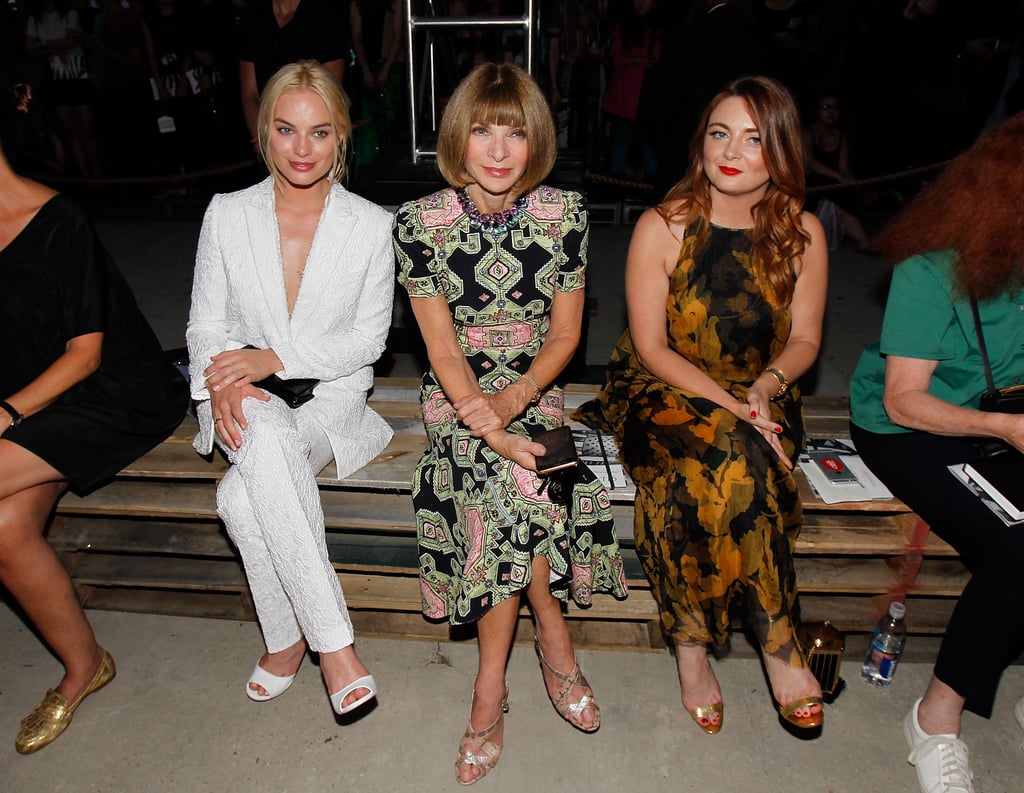 We bet Anna was feeling Margot Robbie's crisp white separates at the Givenchy show — how sleek!
Penélope Cruz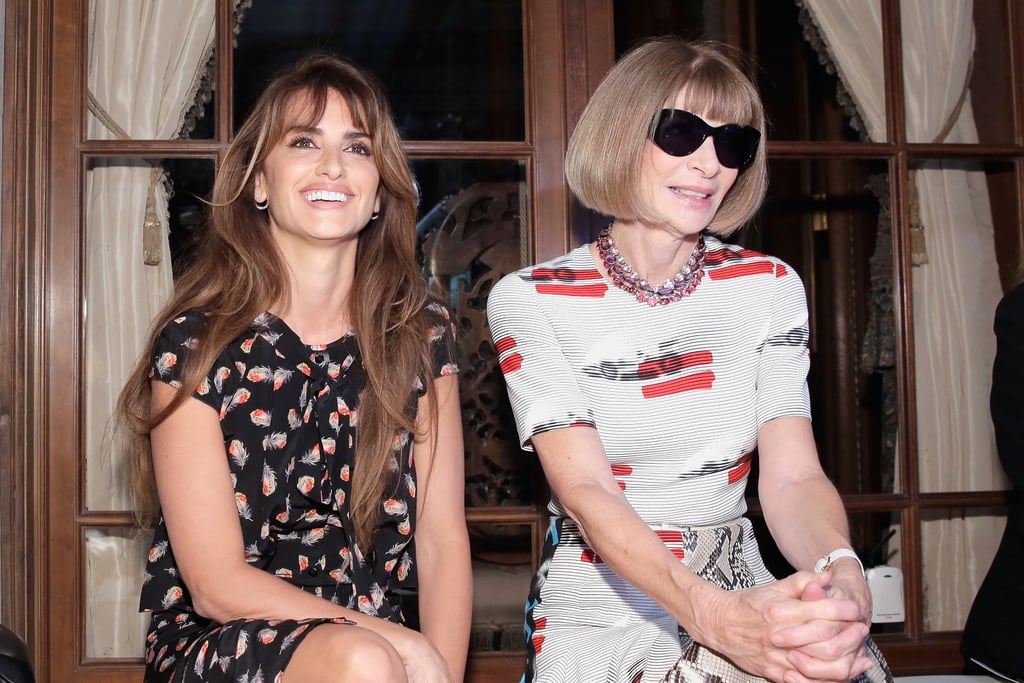 Both ladies opted for playful prints at Carolina Herrera.
Drake, Gigi Hadid, and Lily Aldridge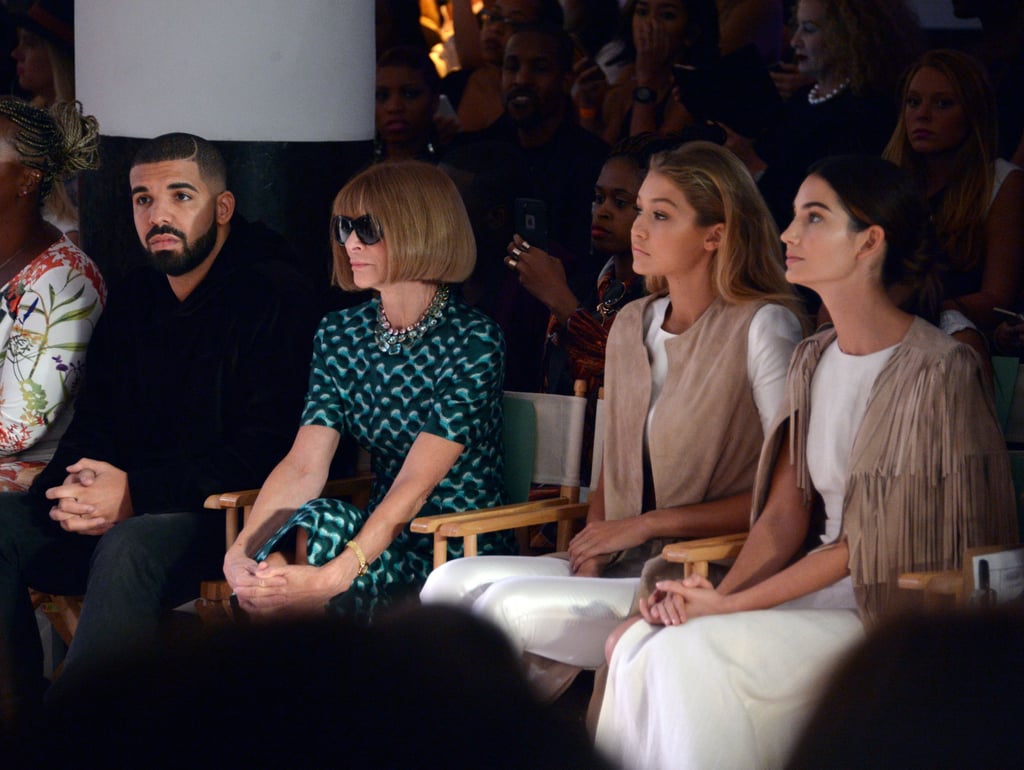 All four celebs supported Serena Williams in the front row at her debut Fashion Week show.
Seth Meyers and Kim Kardashian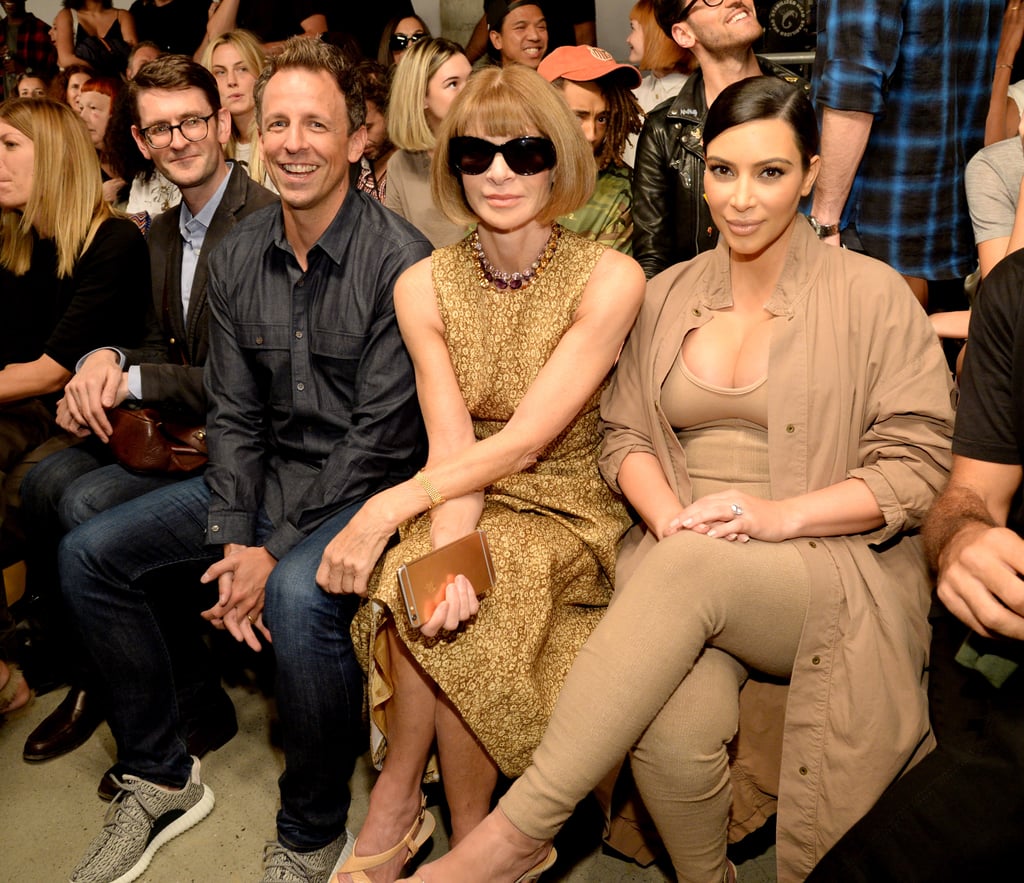 An unlikely threesome, perhaps, but they enjoyed their time in the Yeezy Season 2 front row.
Kendall Jenner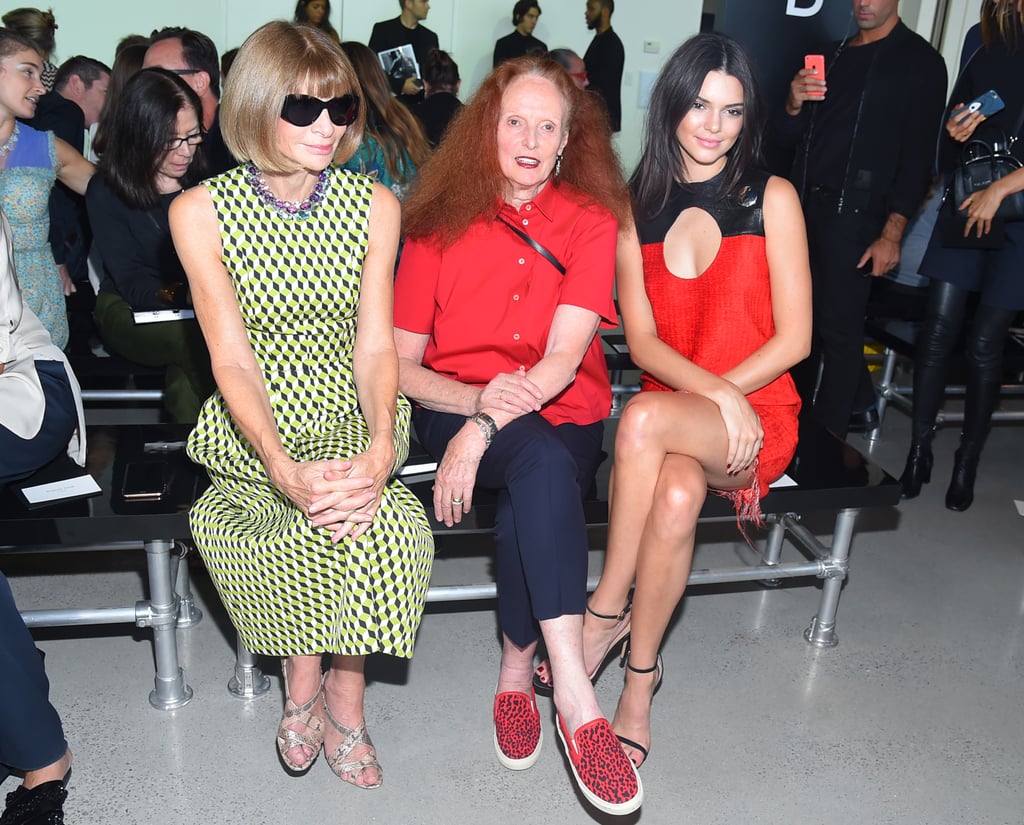 Grace Coddington and Anna Wintour joined Kendall Jenner, who took the sidelines at the Calvin Klein show, instead of walking the runway.
Luke Evans, Stella McCartney, Francois Henri Pinault, and Salma Hayek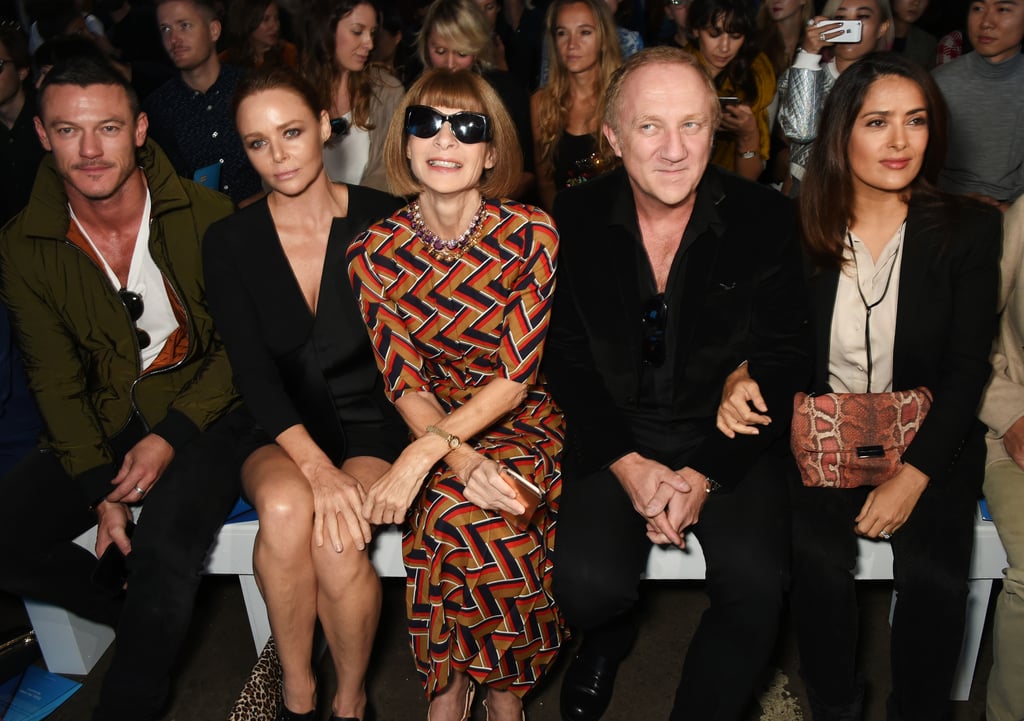 Anna stood out in the Hunter front row wearing a chevron-print Gucci dress.
Suki Waterhouse, Cressida Bonas, Alexa Chung, and Bella Thorne
The Brit stars and Bella Thorne arrived wearing one of their favorite labels: Topshop Unique.
Baz Luhrmann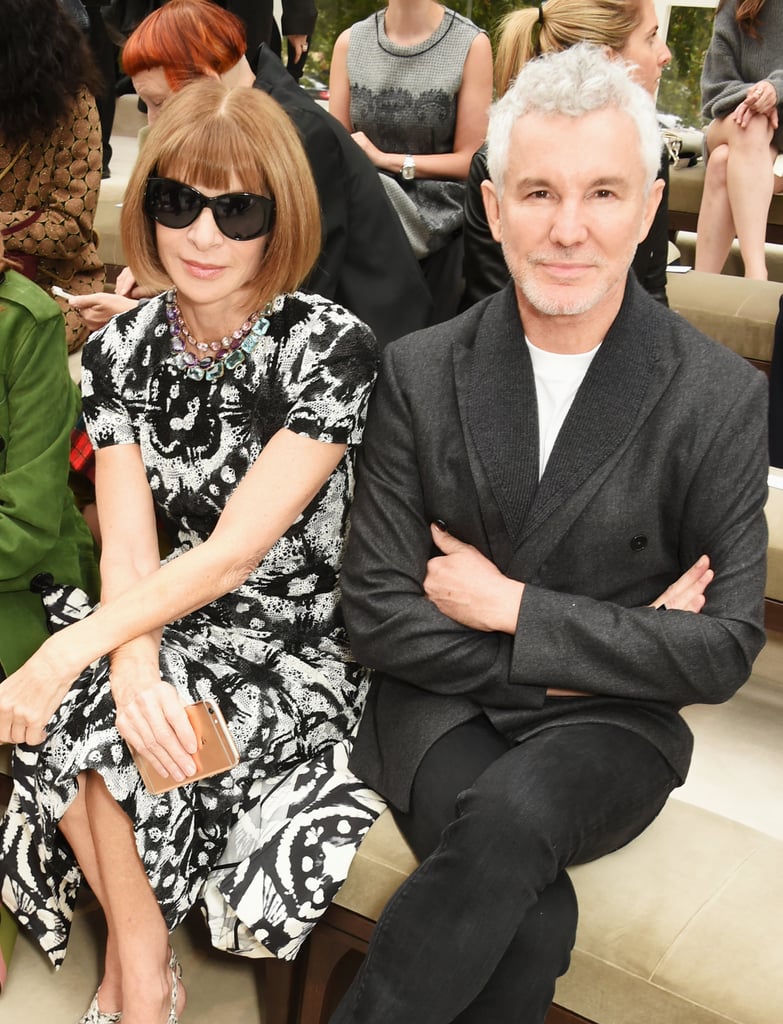 The stylish director looked chic and cozy with Anna at Burberry.
Francois Henri Pinault and Salma Hayek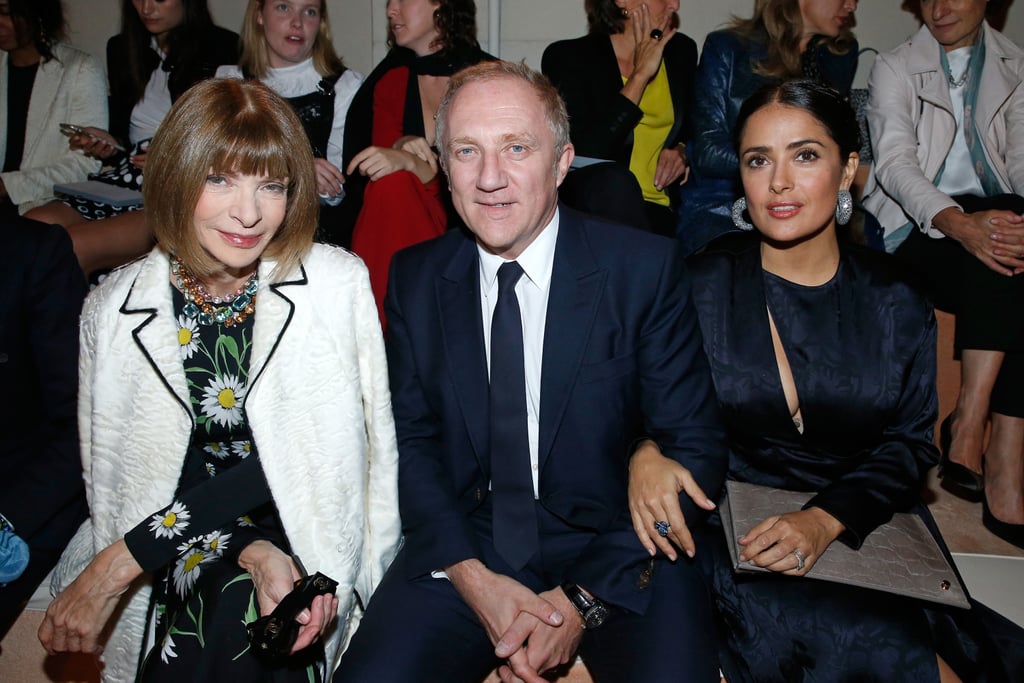 Balenciaga called for a trio of fancy looks.
Maria Sharapova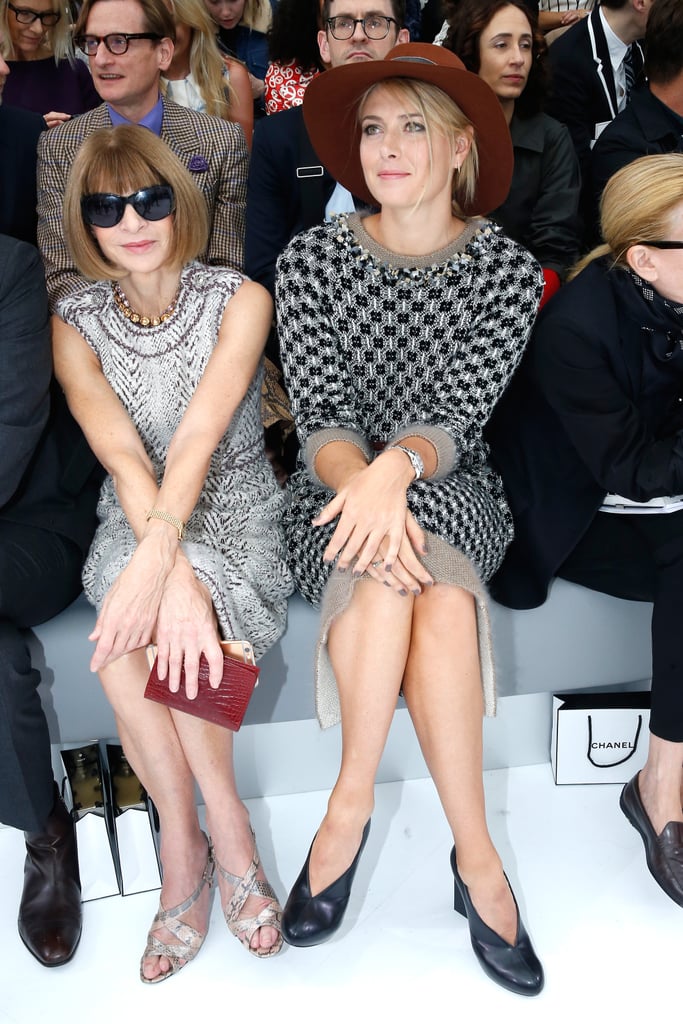 The Chanel Spring '16 show wasn't tennis star Maria Sharapova's first — she's sat next to Anna Wintour before!
Alicia Vikander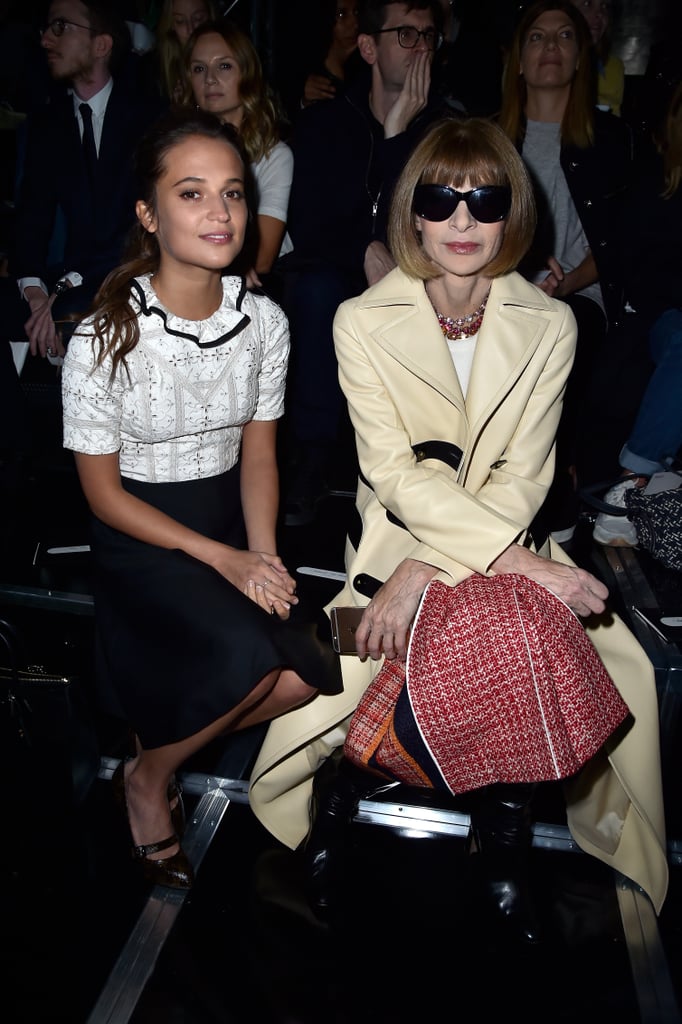 The on-the-rise It girl made a statement next to Anna at Louis Vuitton. It's no wonder she's now the face of the brand.
Beyonce, Kim Kardashian, and North West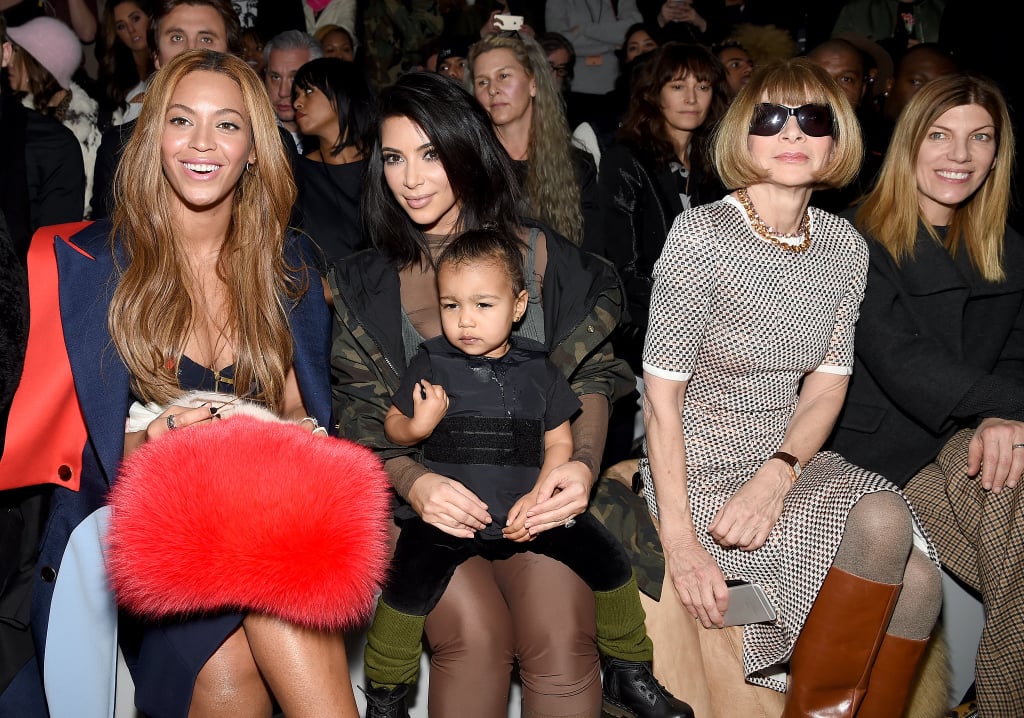 According to the show attendees, Baby North wasn't as excited about sitting next to Anna [7] as Kim and Beyoncé, who supported Kanye West [8] at his Yeezy Supply Adidas show.
Sienna Miller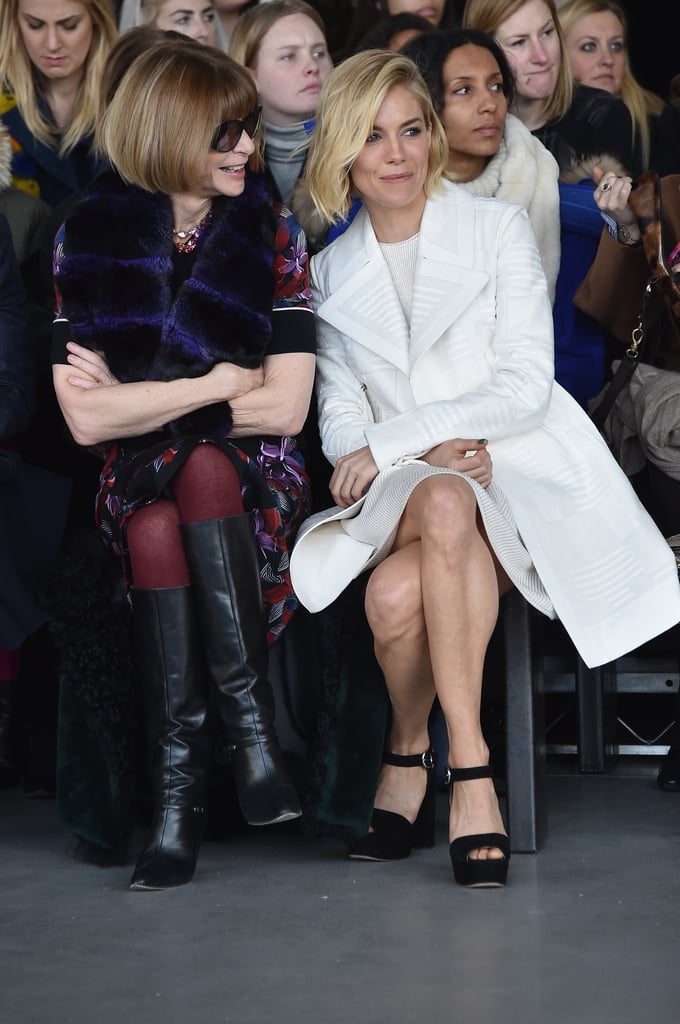 The stylish star, who's nabbed many a Vogue cover throughout her career, buddied up with Anna Wintour before the Calvin Klein Collection show.
Salma Hayek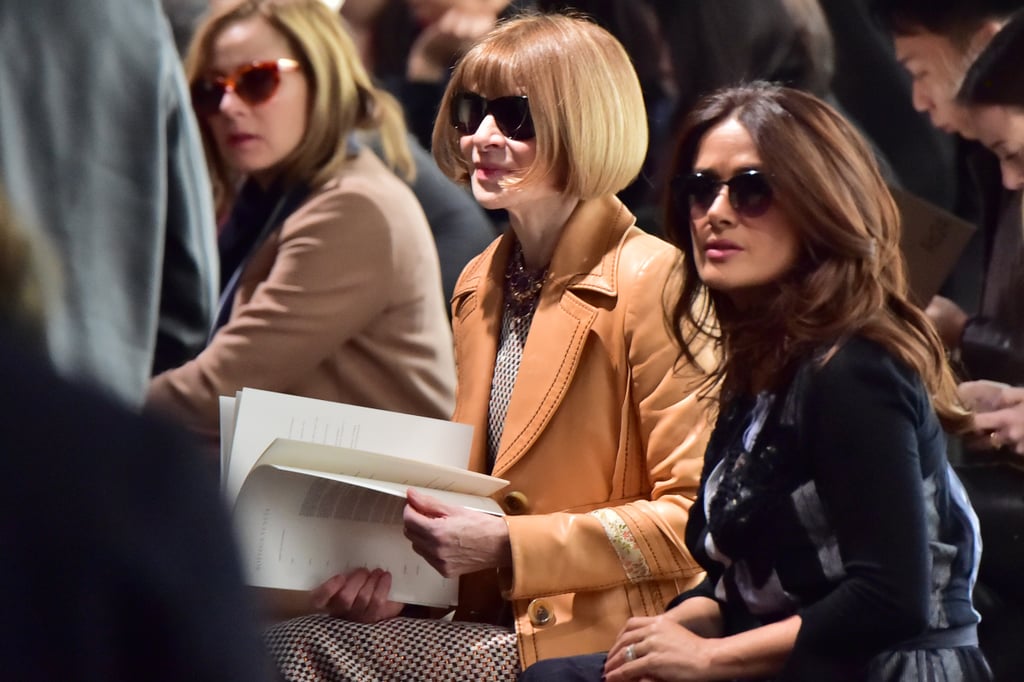 Salma Hayek [9] knew the dress code for sitting next to the Vogue editor-in-chief at Bottega Veneta: dark sunglasses.
Mario Testino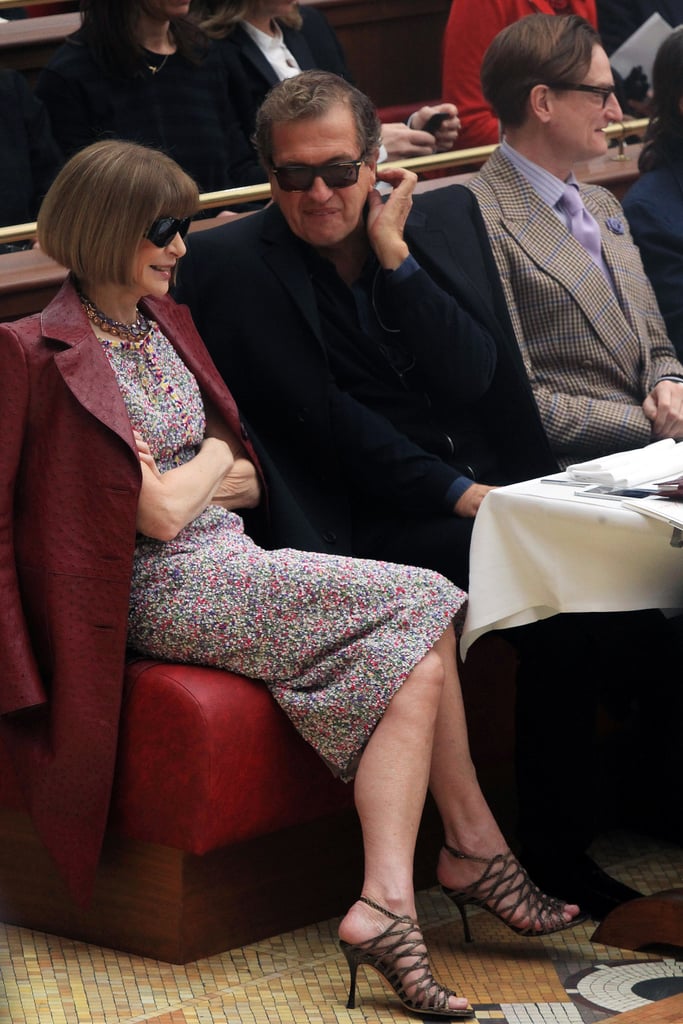 Anna and fashion photographer Mario Testino cozied up next to one another at the Chanel show.
Hailee Steinfeld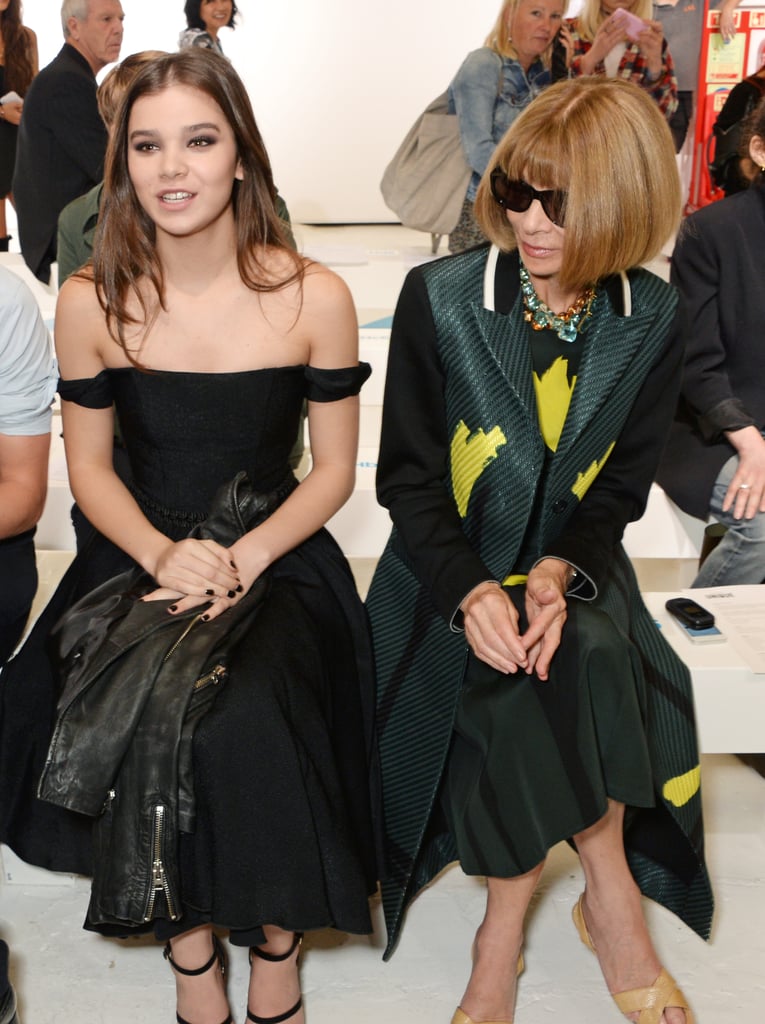 Hailee Steinfeld and Anna Wintour complemented one another's outfits at the Topshop Unique Spring '15 show.
Baz Luhrmann and Catherine Martin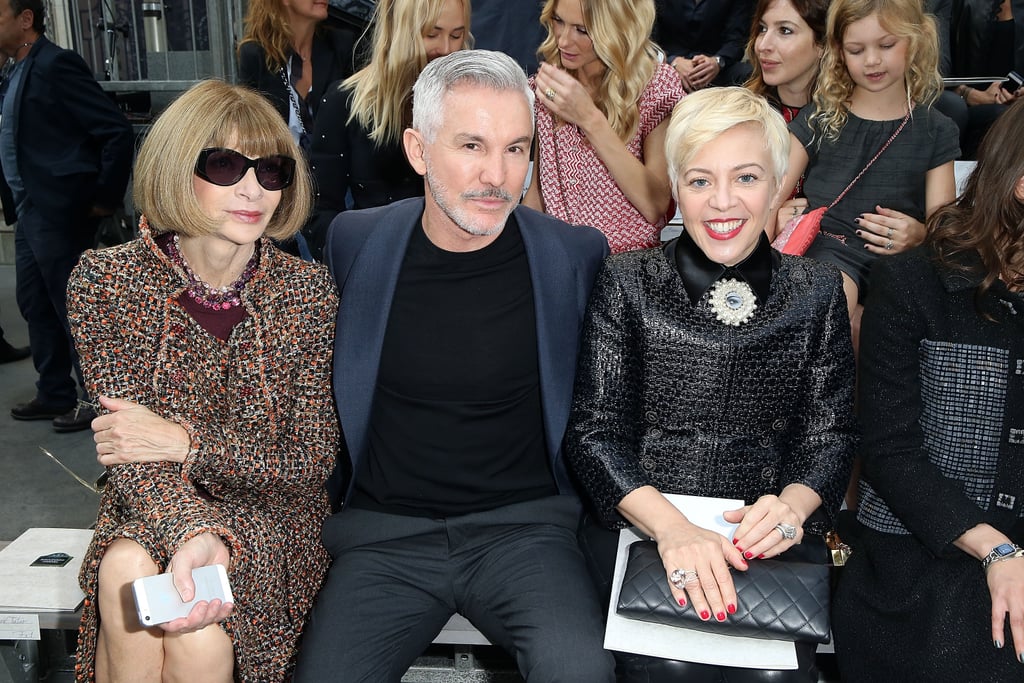 Anna attended the Chanel Spring '15 show — or should we say riot? [10] — with director Baz Luhrmann and his wife, Catherine Martin.
Sarah Jessica Parker and Rooney Mara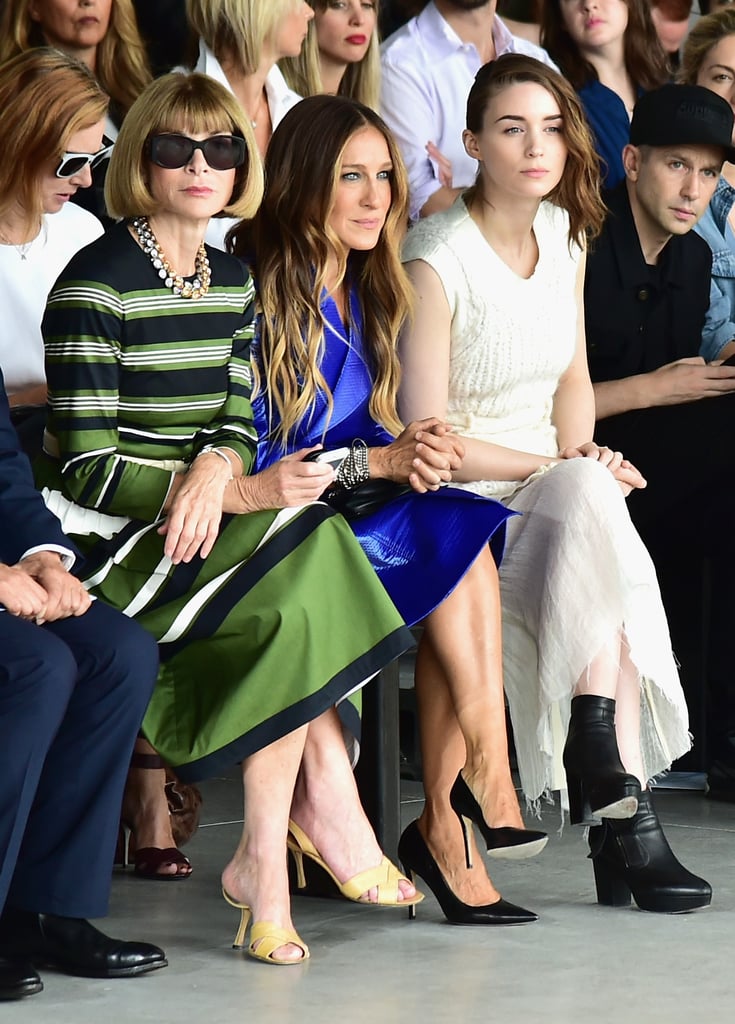 There's nothing that excites Anna and SJP like some good old Calvin Klein. Rooney Mara can come, too.
Eva Chen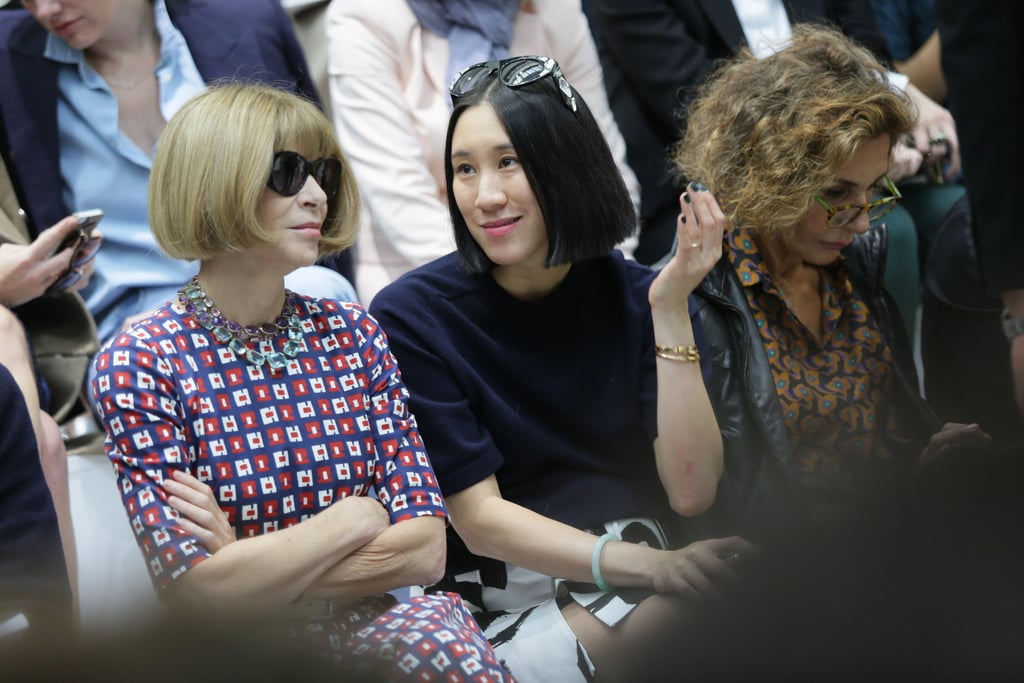 The Lucky editor in chief got to talk all things quirky with Anna at the Marni Spring '15 show.
Amy Adams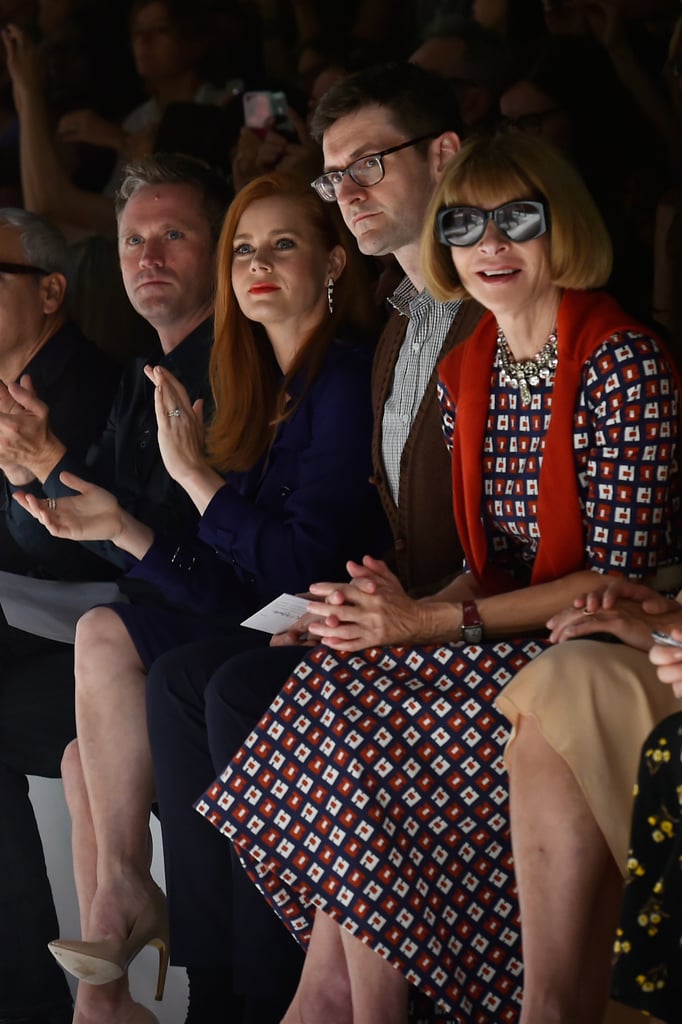 Amy Adams [11] and Anna throughly enjoyed — and applauded — the Max Mara Spring '15 collection.
Amy Adams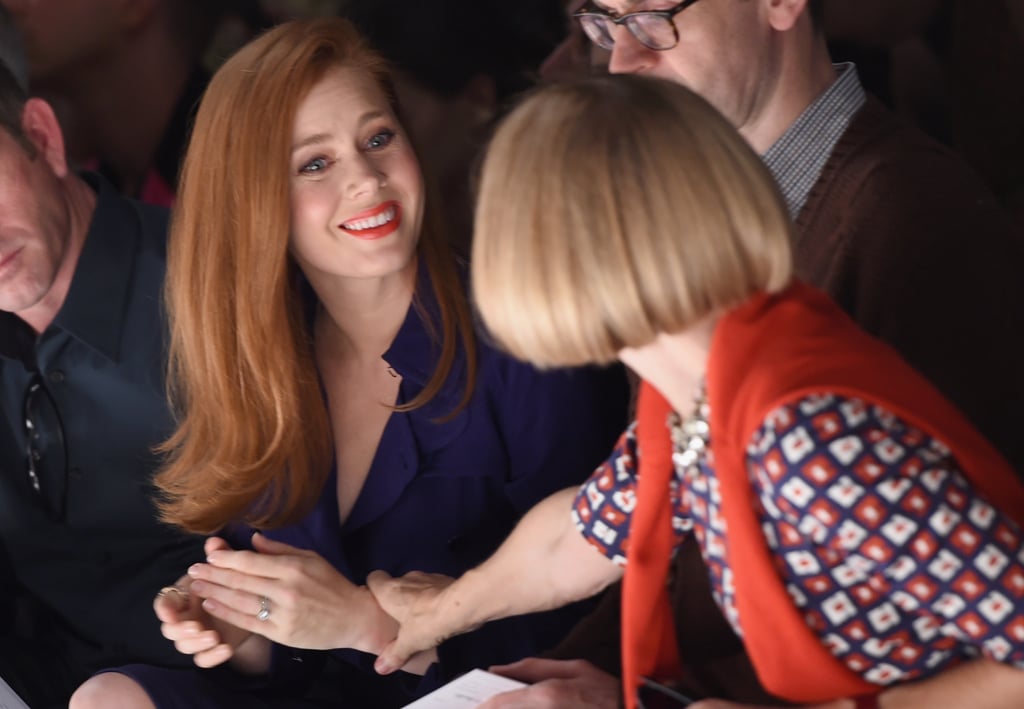 . . . and they shared an excited moment.
Kate Moss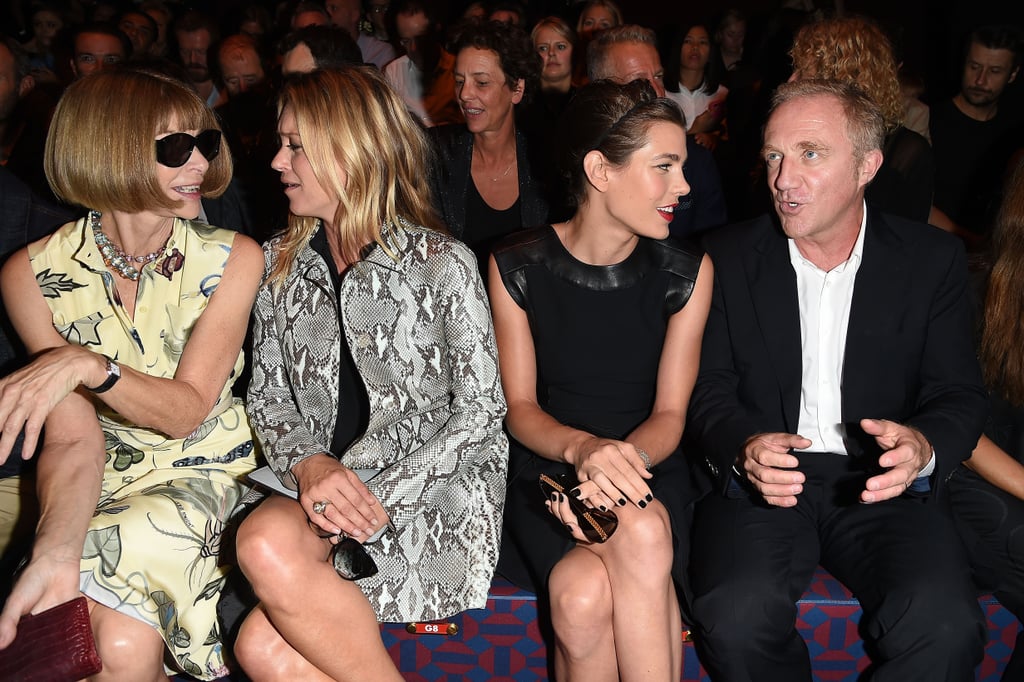 Just two old gal pals gabbing away, mixing prints in the front row at Gucci Spring '15.
Jeremy Irvine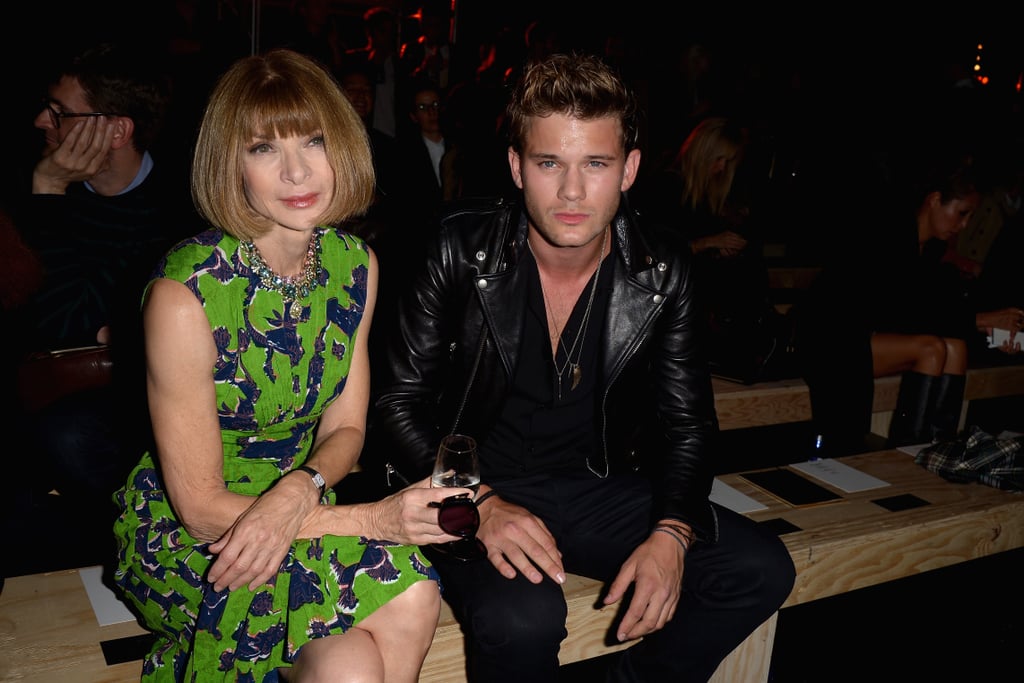 The War Horse actor looked snug parked next to Anna at the Saint Laurent show.
Bradley Cooper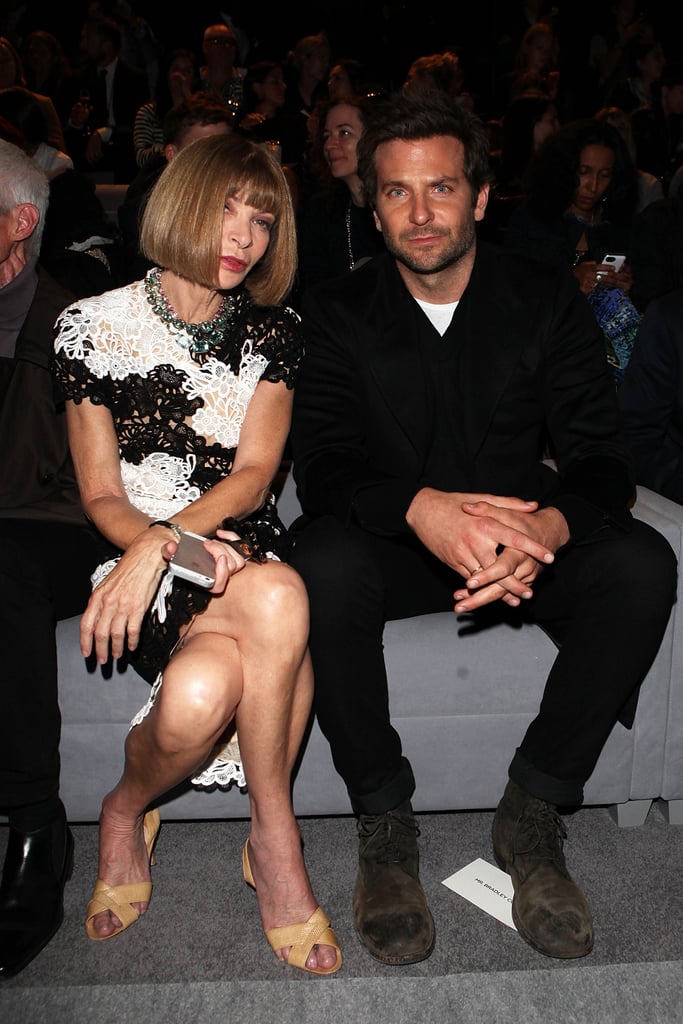 Now Bradley has absolutely no excuse not to follow the Met Gala dress code [12] this May.
Olivia Munn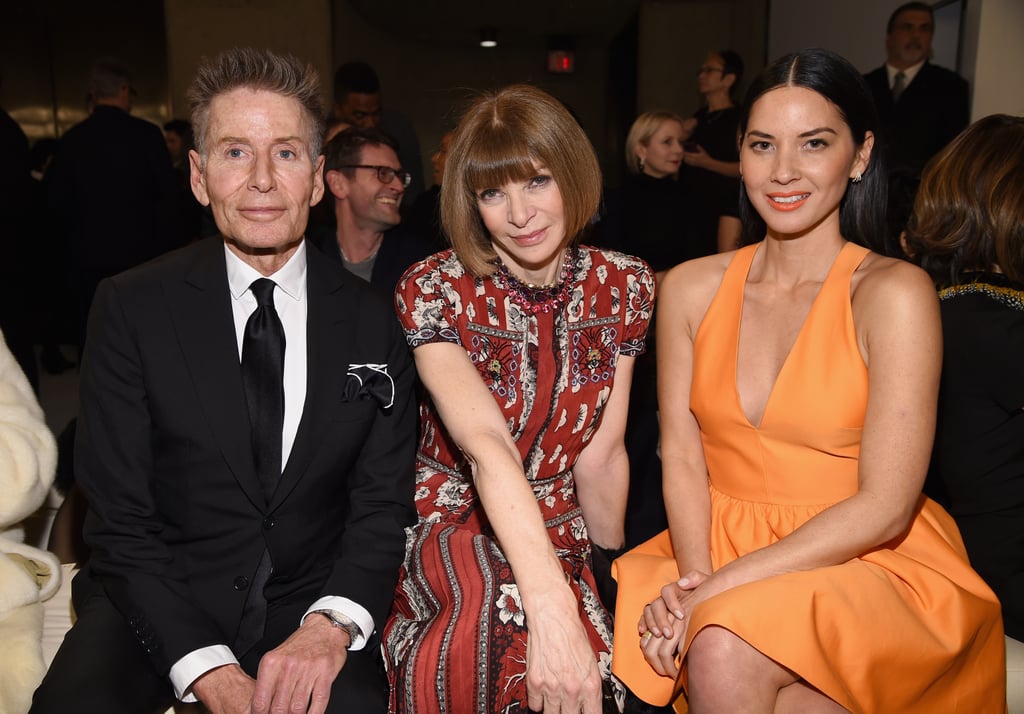 Sitting next to Anna Wintour at a Valentino show only resulted in a pop quiz [13] for Olivia Munn.
Caroline Wozniacki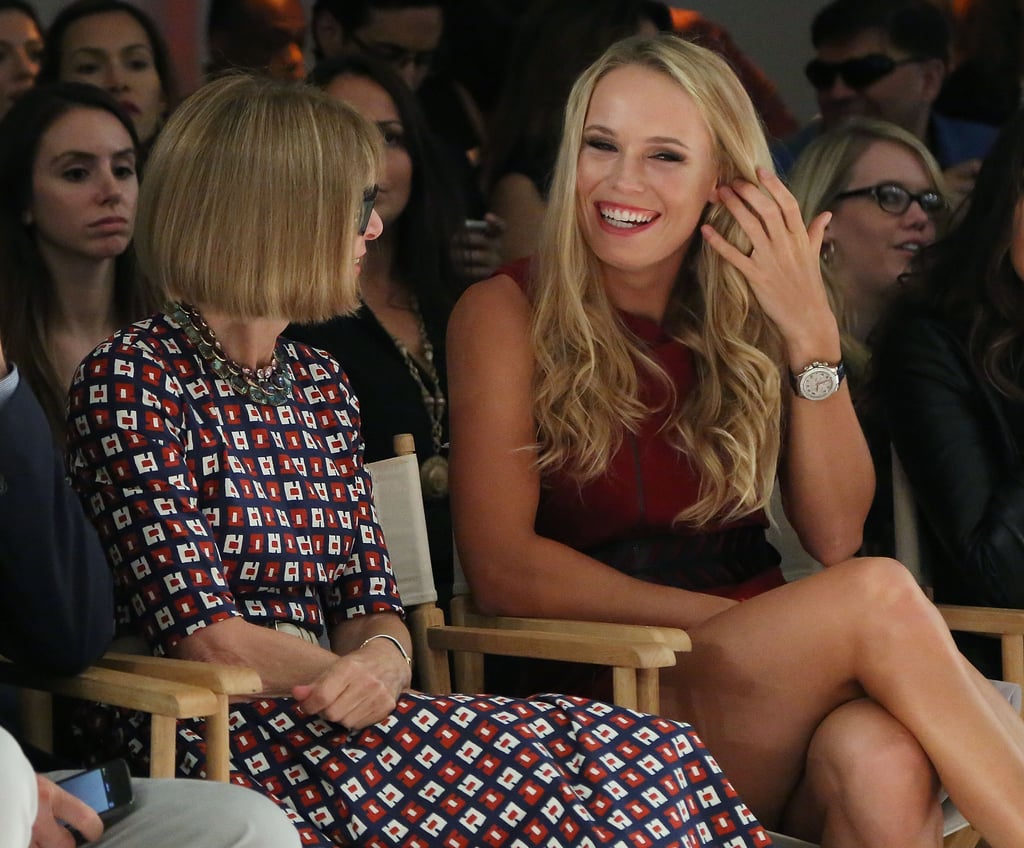 Anna was just letting Caroline Wozniacki know that she makes a game of tennis look all the more chic.
Dakota Fanning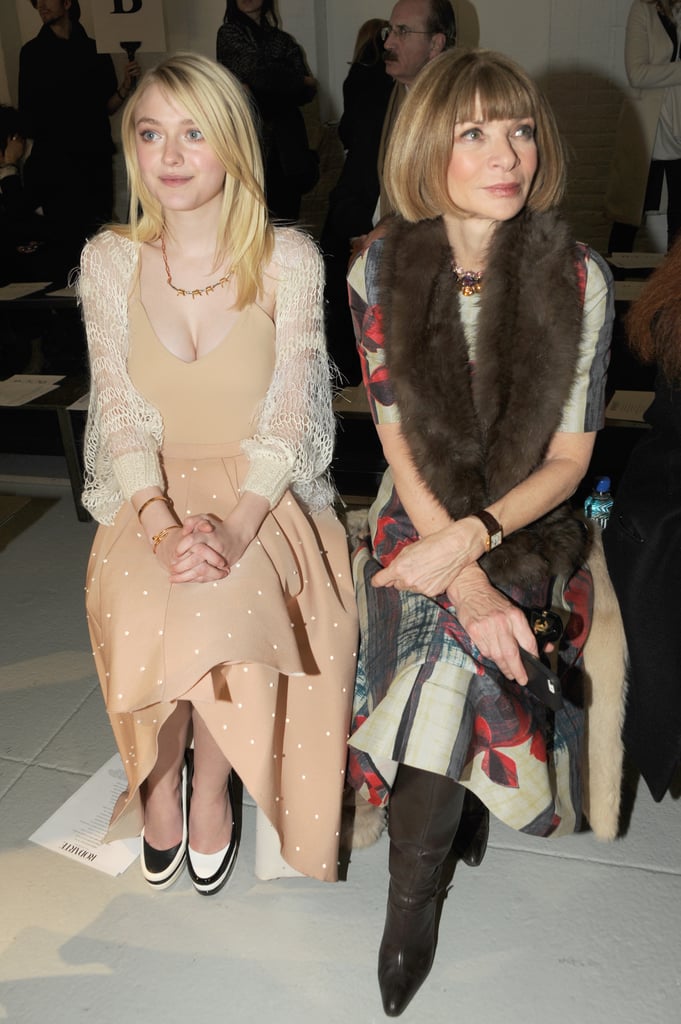 Though you wouldn't know it by their expressions, no doubt some serious fashion talk was happening when the Rodarte loyalist took in the collection alongside Anna.
Lupita Nyong'o and Naomi Watts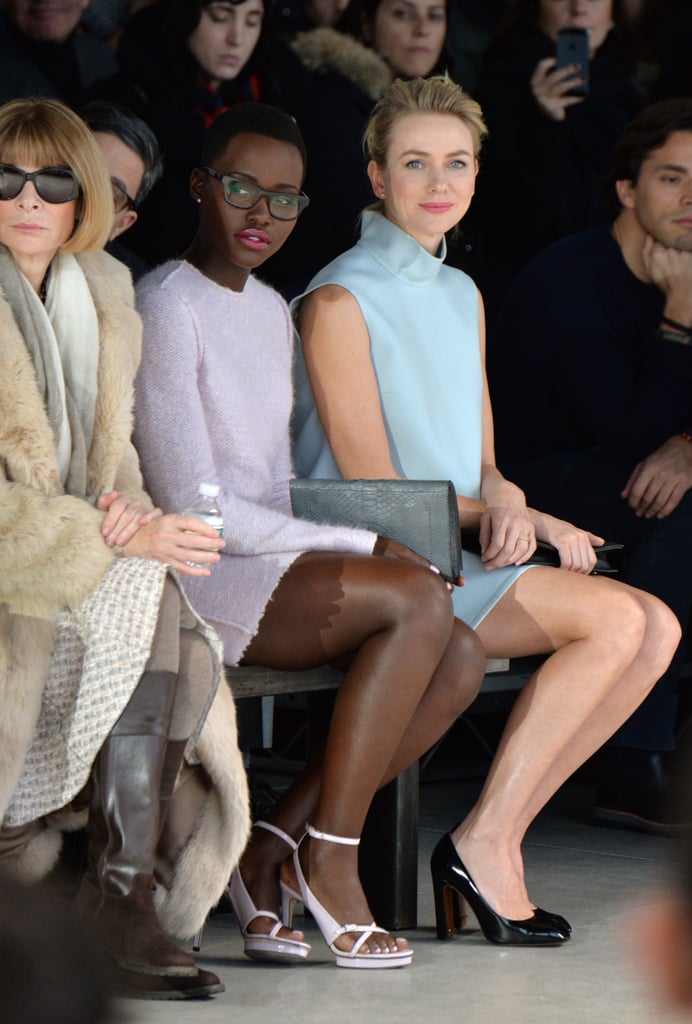 How does one round out a breakout year? For Lupita it meant getting sandwiched between Anna and Naomi Watts [14] at the Fall 2014 Calvin Klein Collection show.
David Beckham and Harper Beckham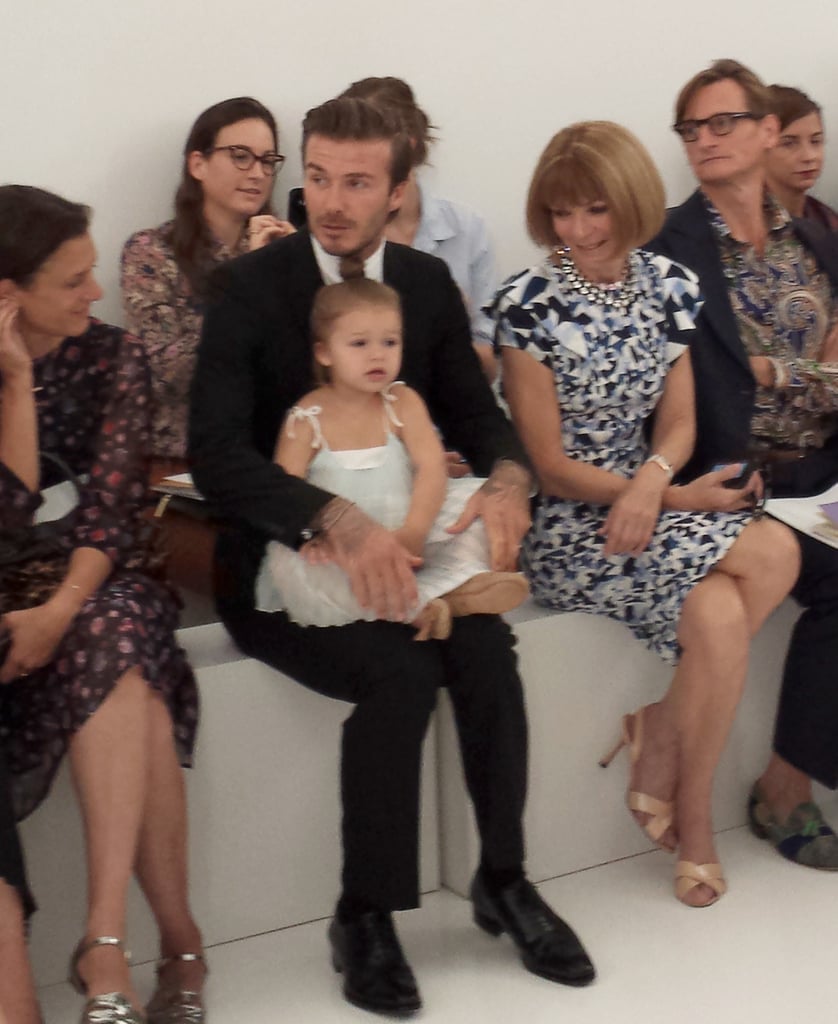 Anna gave the smile seen 'round the world when she sat next to Harper Beckham (and her dad David) at Victoria Beckham [15]'s Spring 2014 show in New York.
Nicole Kidman
Anna and Nicole were just a stone's throw away from each other at Calvin Klein's Spring 2014 show.
Blake Lively
Who else would Anna sit next two in the front row at Gucci's Spring 2014 show but Vogue's two-time cover girl Blake Lively [16]?
Sofia Coppola, Dakota Fanning, and Elle Fanning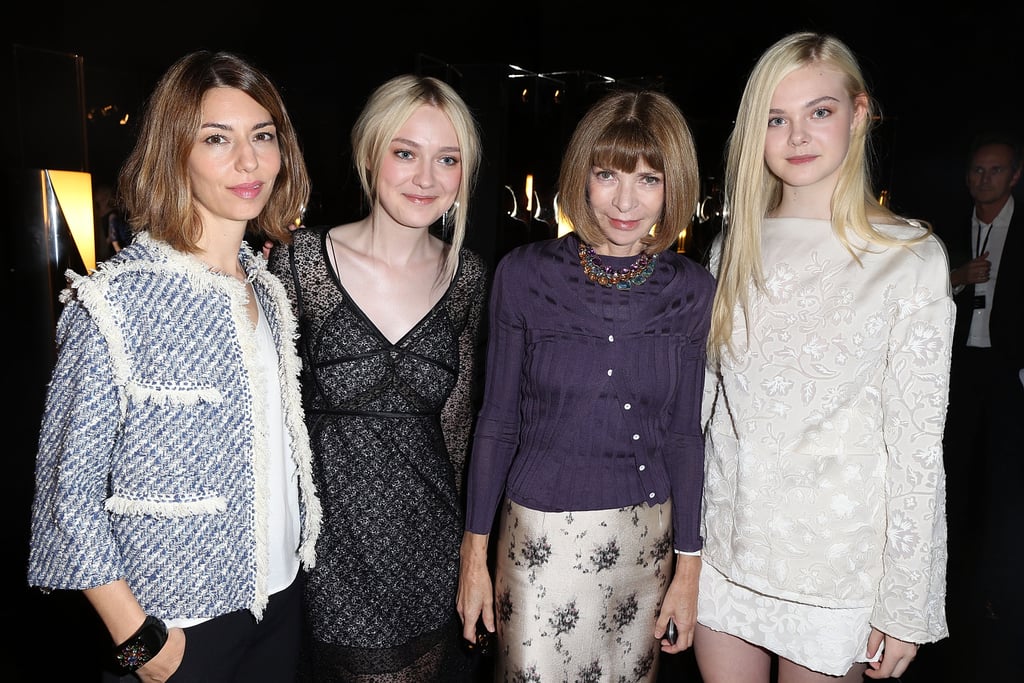 Sofia, Anna, and the Fanning girls made a striking group at Marc Jacobs's final show for Louis Vuitton.
Alicia Keys and Maria Sharapova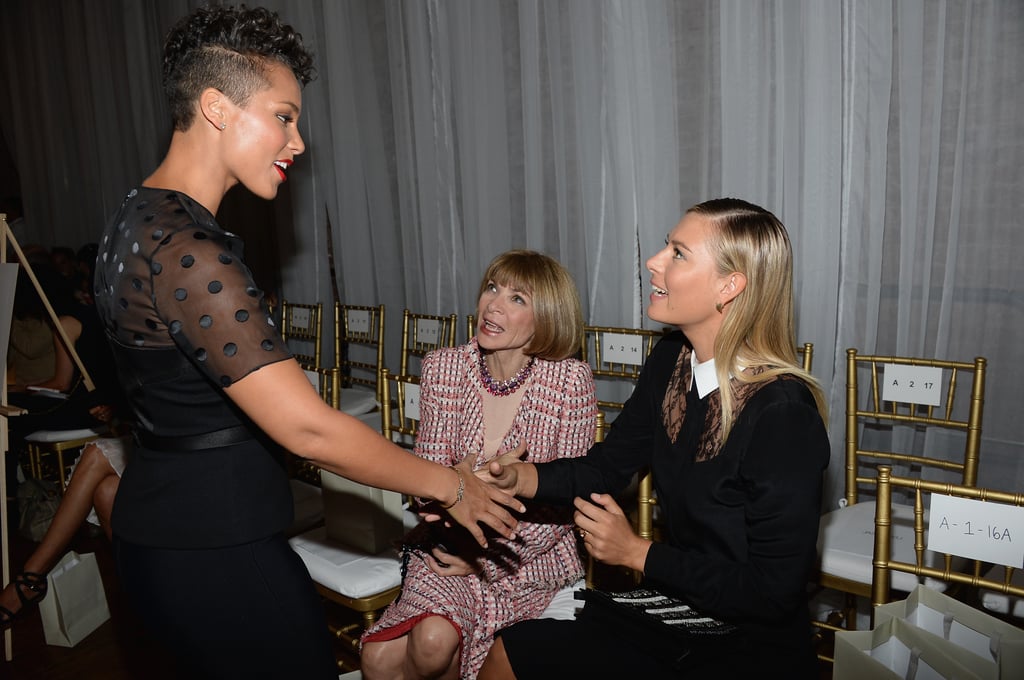 Alicia, Maria, and Anna sat next to each other in the front row at Jason Wu's Spring 2014 show.
Russell Westbrook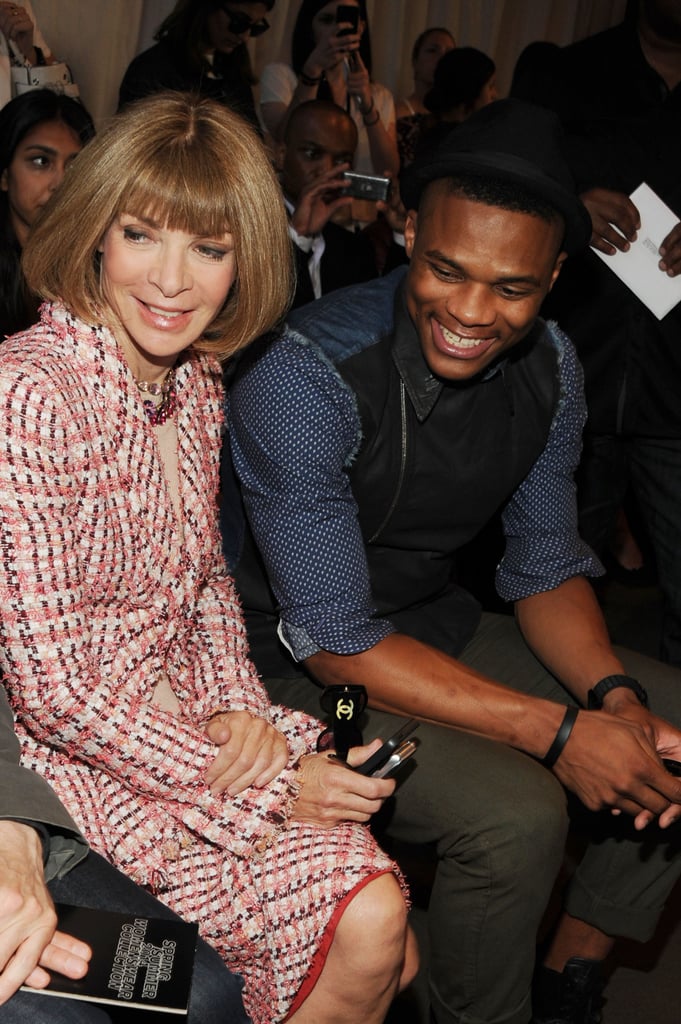 Anna sat next to the combo guard at Rag & Bone's Spring 2014 show.
Salma Hayek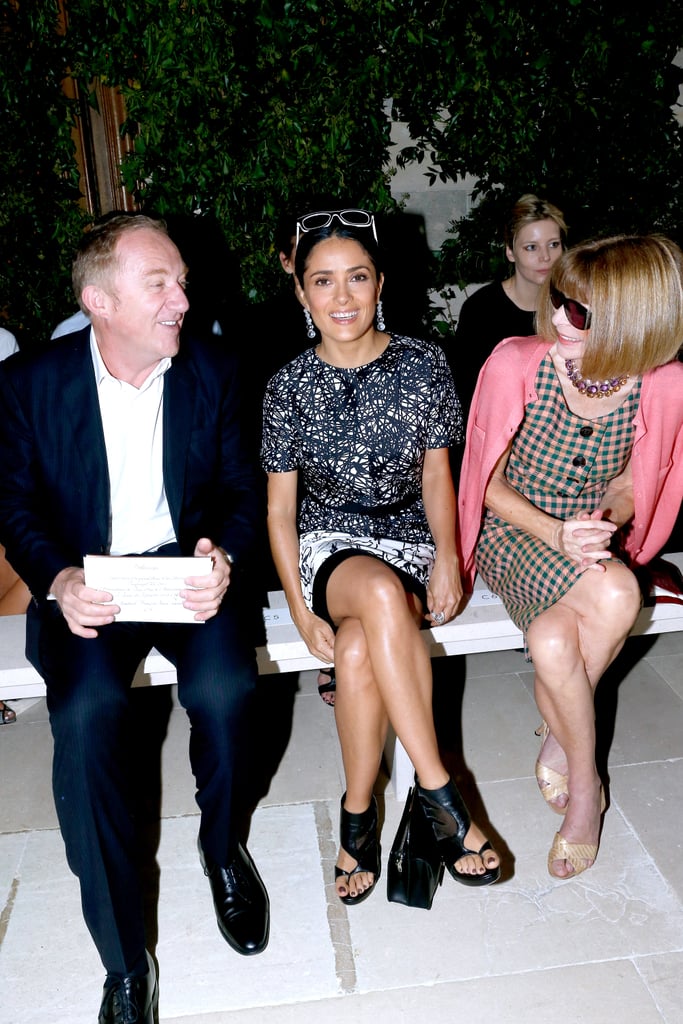 When you're Salma Hayek [17] (wife of Francois-Henri Pinault, the guy who owns Gucci and Yves Saint Laurent), there's really nowhere else to sit but right next to Anna.
Kate Bosworth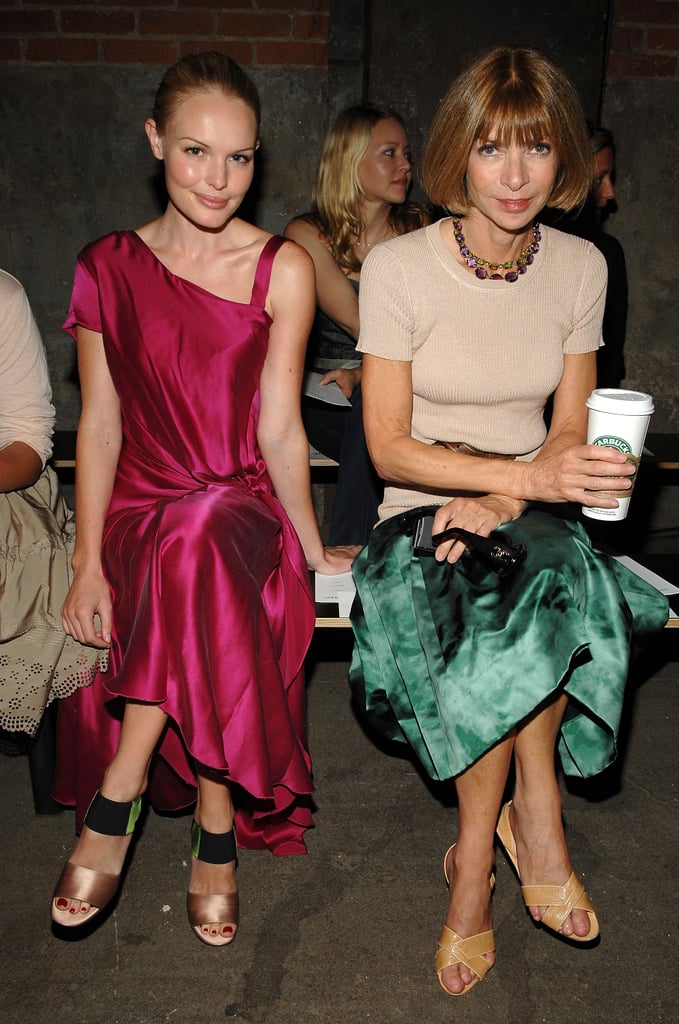 Kate Bosworth [18] sat pretty with Anna at the Thakoon Spring show in 2007. She was subsequently featured on the cover of Vogue's February 2008 issue.
Jessica Chastain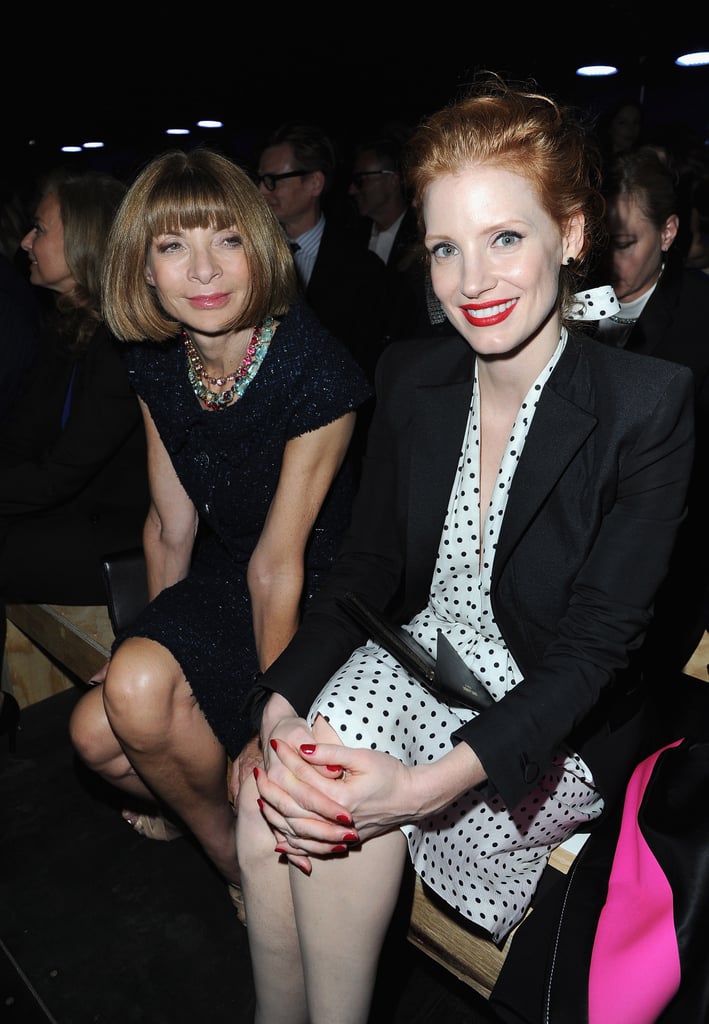 Zero Dark Thirty star Jessica Chastain sat front row with Anna at the Saint Laurent show in October 2012. The stunning redhead has yet to score a cover spot, but she has been featured a handful of times inside the magazine.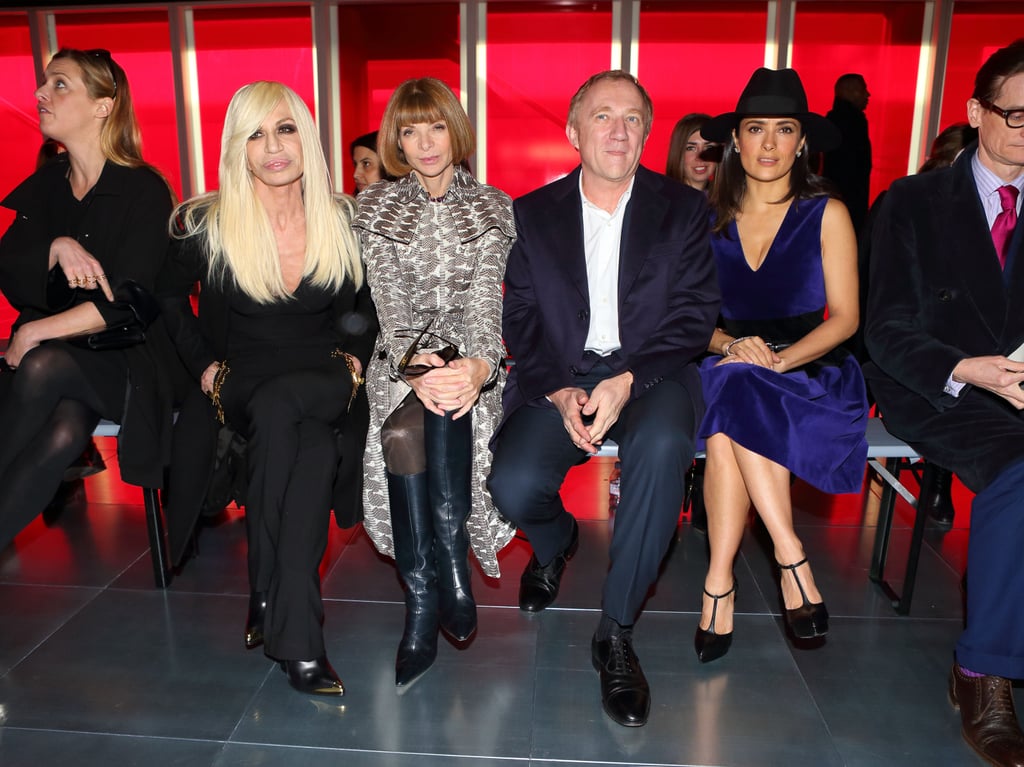 Anna Wintour sat between Donatella Versace and Francois-Henri Pinault, who was with his wife, Salma Hayek [19], at the Christopher Kane Fall 2013 show in London. Salma has only appeared once on the cover of Vogue, in 2005.
Venus and Serena Williams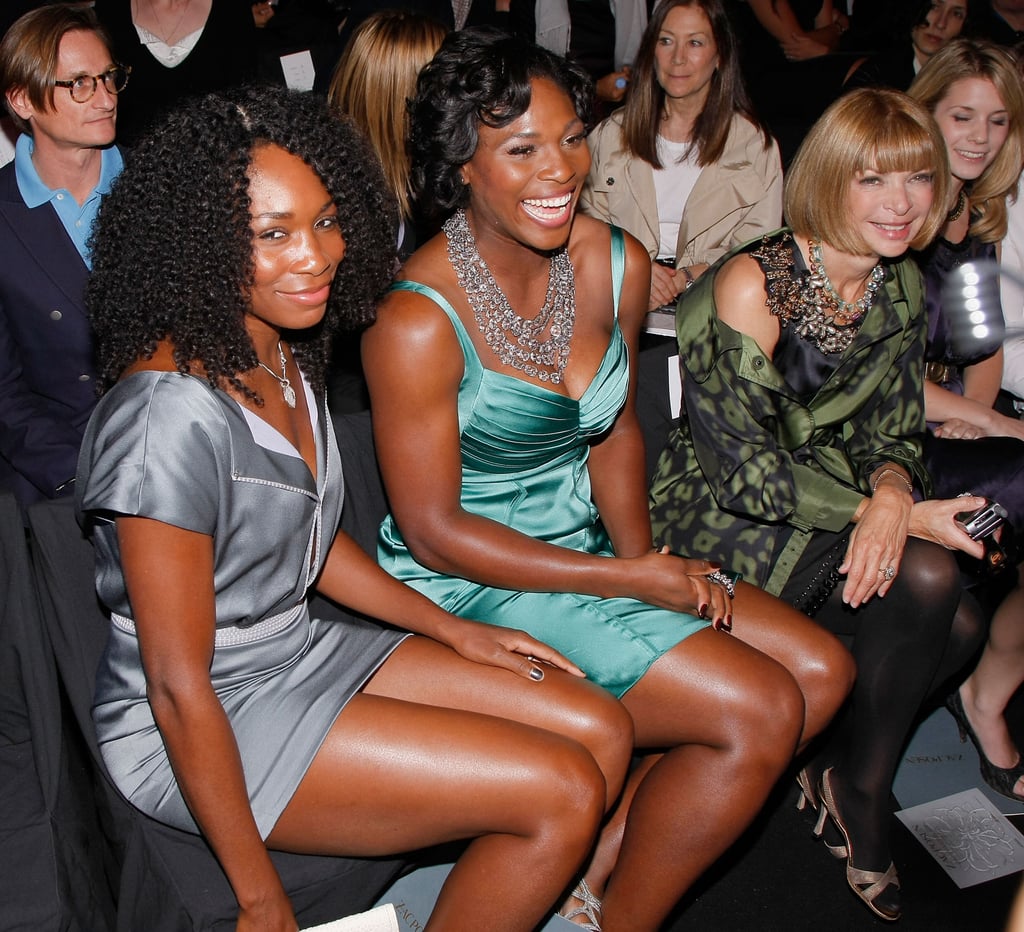 The powerhouse tennis players sat courtside with Anna Wintour to watch Zac Posen's Spring 2009 show and appear to be pretty tight with the editrix. Venus was named one of Vogue's 10 Best Dressed in 2007. Serena was profiled in both April and July 2003, and shared the cover of June 2012's issue with fellow Olympians Ryan Lochte and Hope Solo.
Rachel McAdams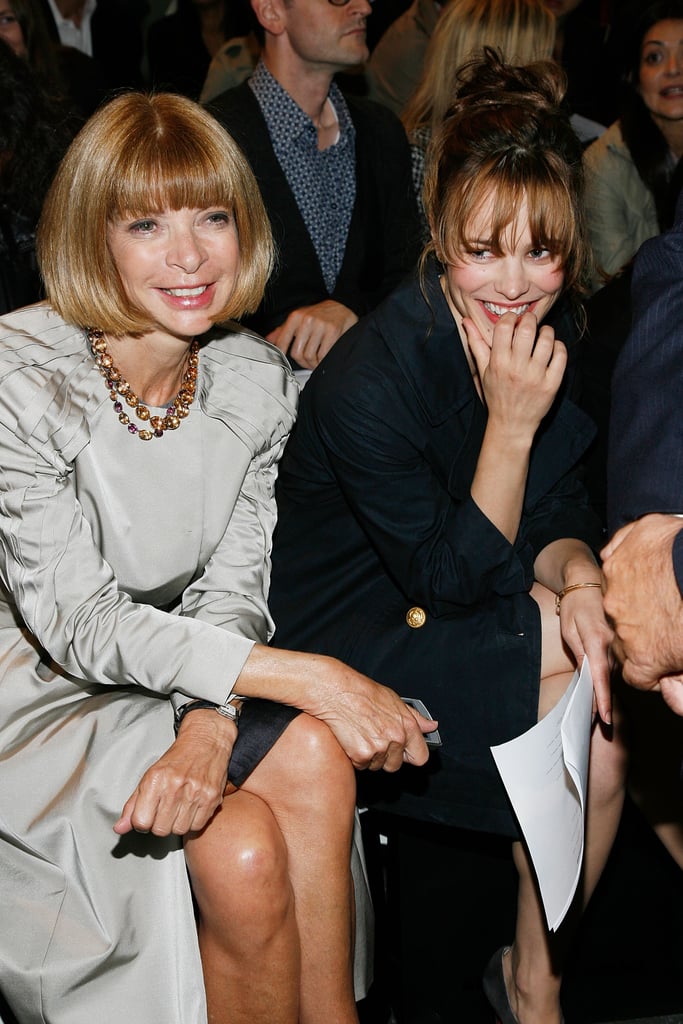 Rachel McAdams [20] seemed honored to sit so close to Anna Wintour during Alexander Wang's runway show in 2009. The actress looked equally smitten on the cover of Vogue's January 2010 issue.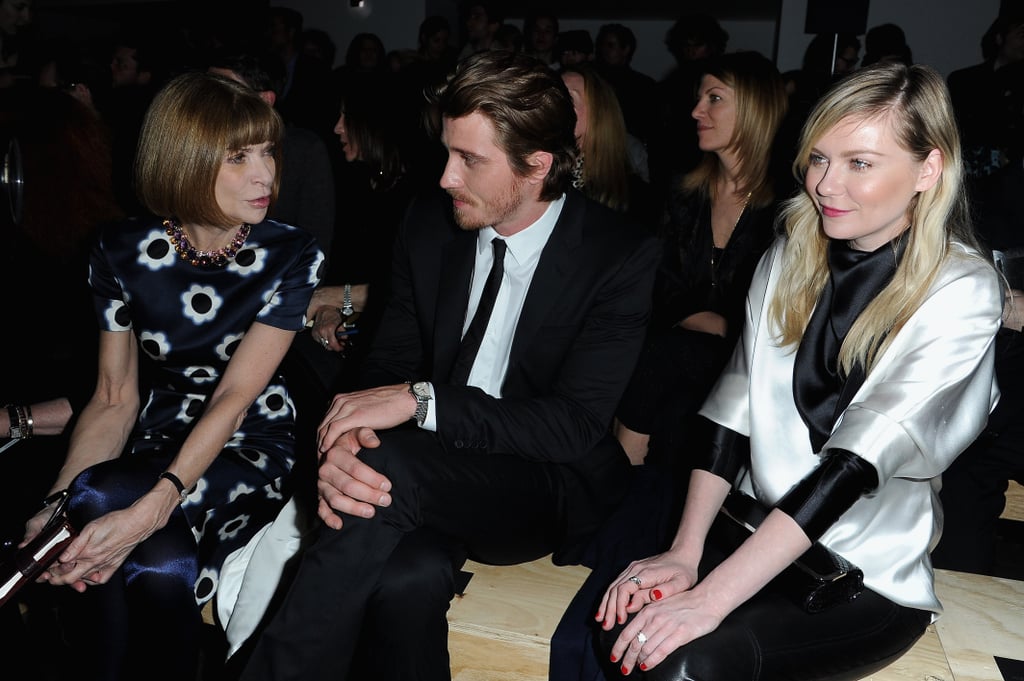 Anna Wintour took in the Saint Laurent Fall 2013 collection next to Kirsten Dunst [21] and boyfriend Garrett Hedlund. Kirsten Dunst landed a cover of the September 2006 issue of Vogue, which coincided with the release of the film Marie Antoinette.
Michael Phelps
Michael Phelps [22] sat front row with Anna at Jeffrey Chow's Spring 2005 show (naturally, he dressed casually for the occasion). Though Michael hasn't landed a Vogue cover yet, he was featured in the April 2008 issue.
Alexa Chung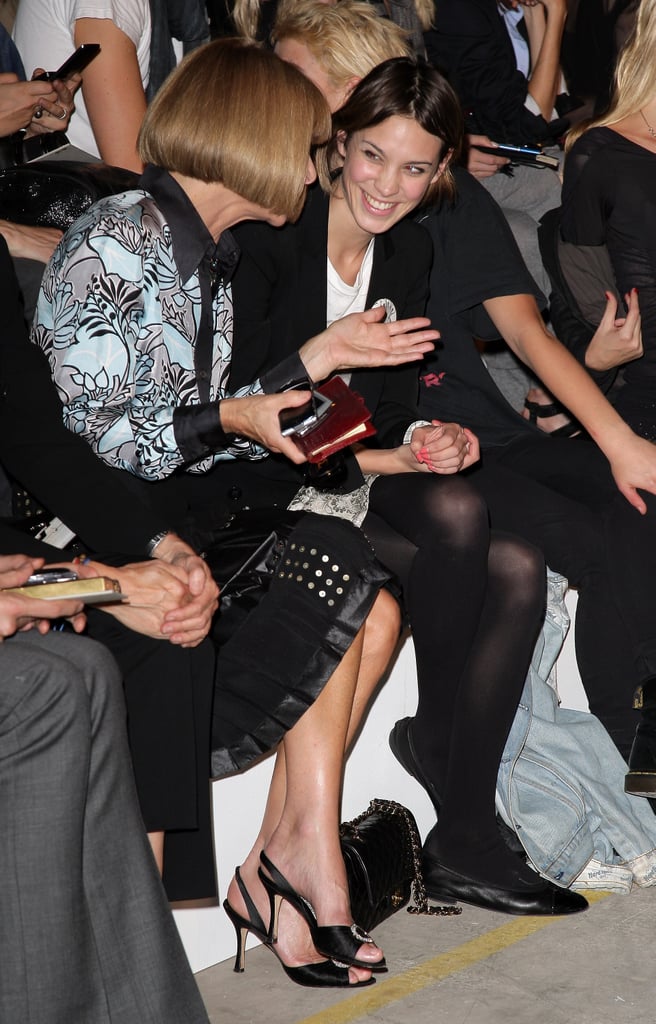 Alexa hobnobbed with Anna Wintour during London Fashion Week in 2009. So far, the stylish star has been featured in Vogue's November 2010 issue, but hasn't scored an American cover yet.
Blake Lively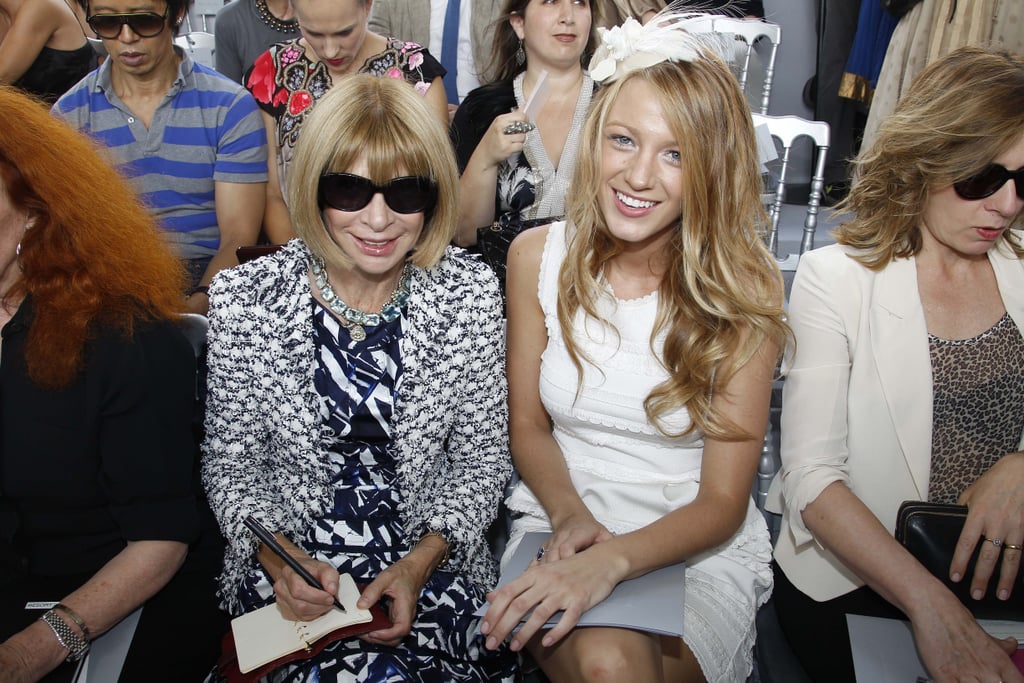 Blake Lively [23] and Anna Wintour were literally rubbing shoulders at the Christian Dior Fall 2010 show in Paris. Blake covered Vogue in February 2009 and June 2010, and was also on the cover of the magazine's Best Dressed issue in 2011.
Sarah Jessica Parker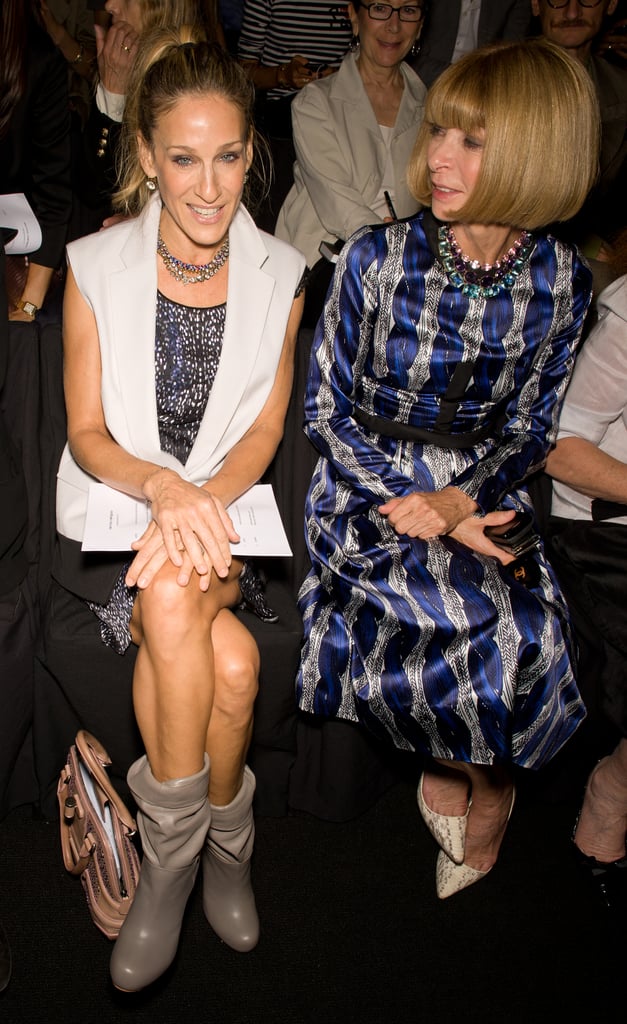 SJP and Anna are longtime fashion friends, so it's no surprise that the two took in Narciso Rodriguez's Spring 2011 show together. Sarah Jessica has sat front row with Anna almost every season, and has covered Vogue six times since 2002; her most recent appearance was on the August 2011 issue.
Gavin Rossdale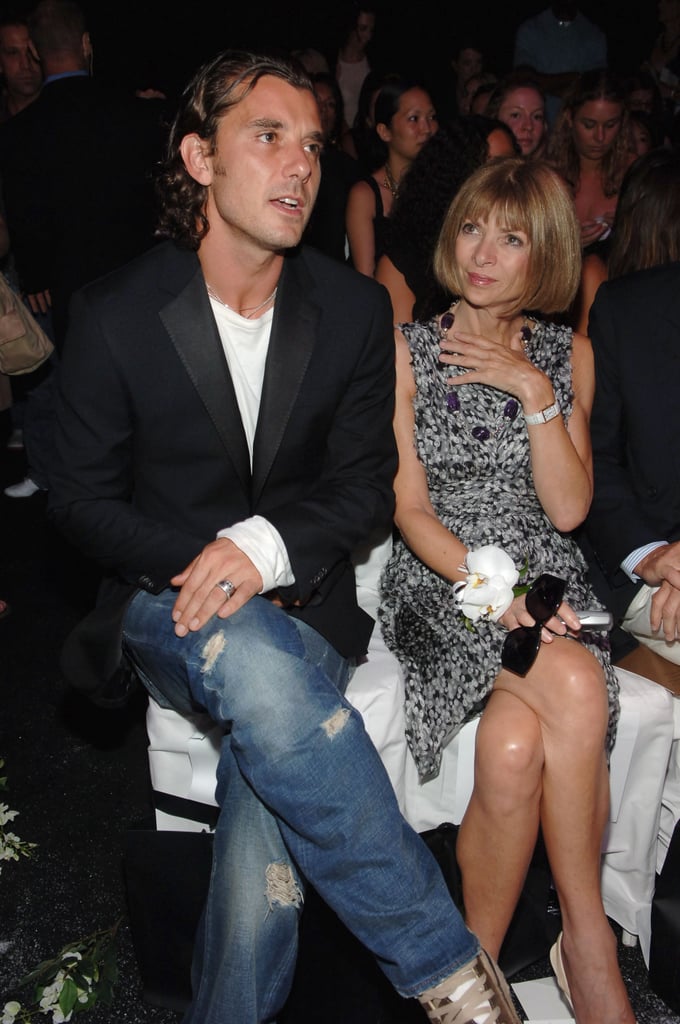 Gavin Rossdale [24] sat front row with Anna during his wife Gwen Stefani [25]'s L.A.M.B. show in 2005. While Gavin hasn't hit the pages yet, Gwen covered the magazine's April 2004 issue.
Alicia Keys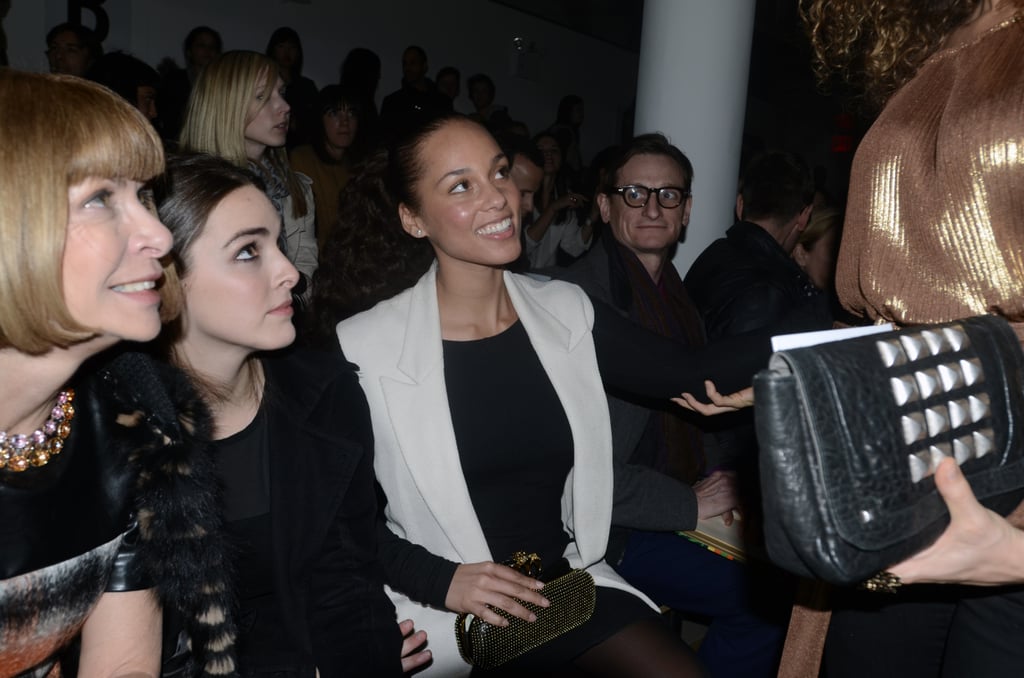 Alicia attended the Fall 2011 Altuzarra show with Anna Wintour and her daughter, Bee Shaffer. Alicia hasn't nabbed a Vogue cover just yet, but the singer was featured in the magazine's March 2004 issue.
Rooney Mara and Taylor Swift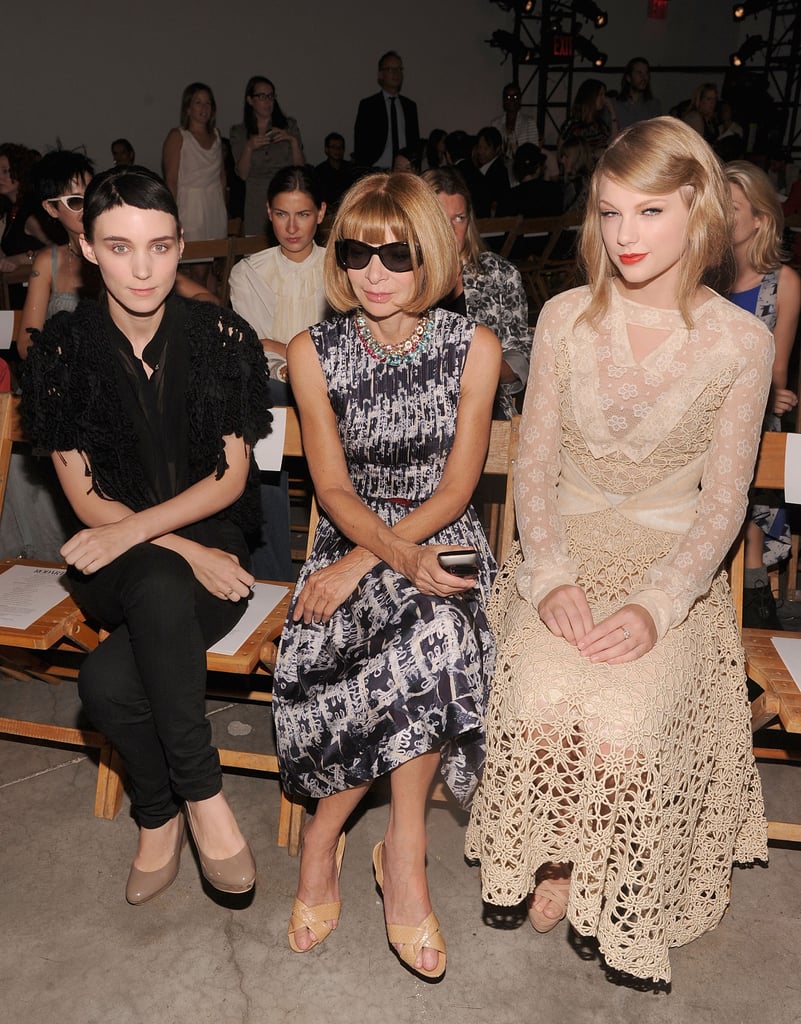 Rooney Mara and Taylor Swift [26] flanked Anna during Rodarte's Spring show in 2011. Rooney graced the cover of the November 2011 issue of Vogue, and Taylor covered the glossy in February 2012.
Jennifer Connelly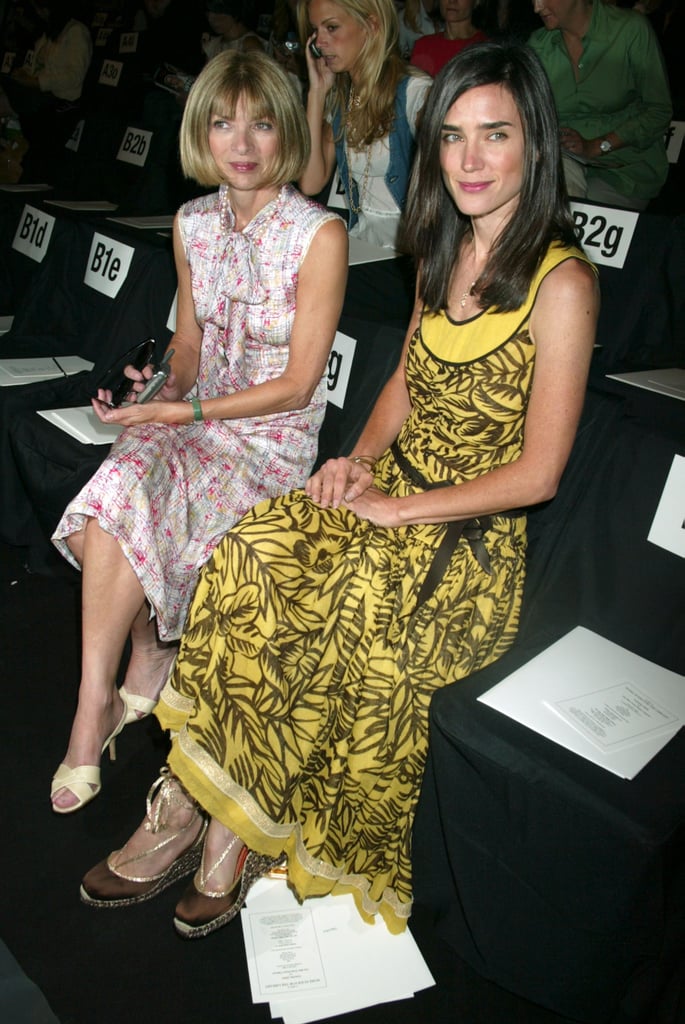 Jennifer Connelly [27] sat front row with Anna Wintour for Vera Wang's Spring 2005 show. Jennifer has covered Vogue twice; once in November 2004 and again in November 2007.
Amar'e Stoudemire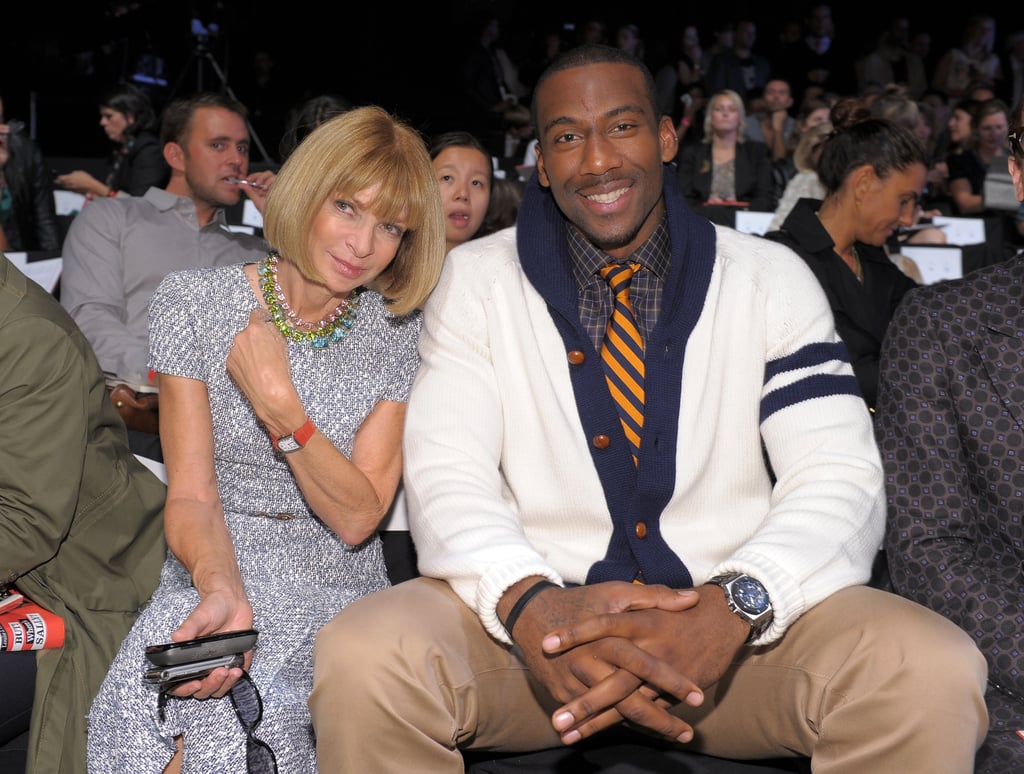 Anna Wintour has developed quite the interest in NY Knicks player Amar'e Stoudemire over the years; the two sat front row together for Tommy Hilfiger's Spring 2011 show, and Anna promptly featured Amar'e in a piece for Vogue's April 2011 issue.
Gwyneth Paltrow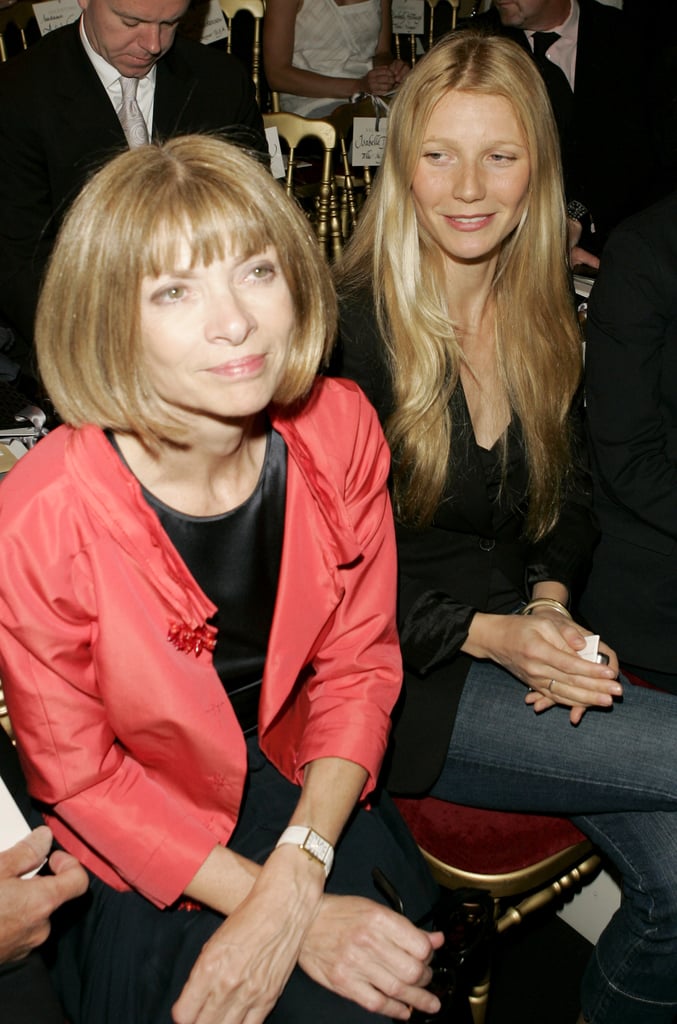 Gwyneth Paltrow [28] and Anna Wintour jetted off to Paris for Valentino's Fall 2005 show and were side by side in the front row. Gwyneth is no stranger to the pages of Vogue — she's covered the magazine six times since September 1999.
Roger Federer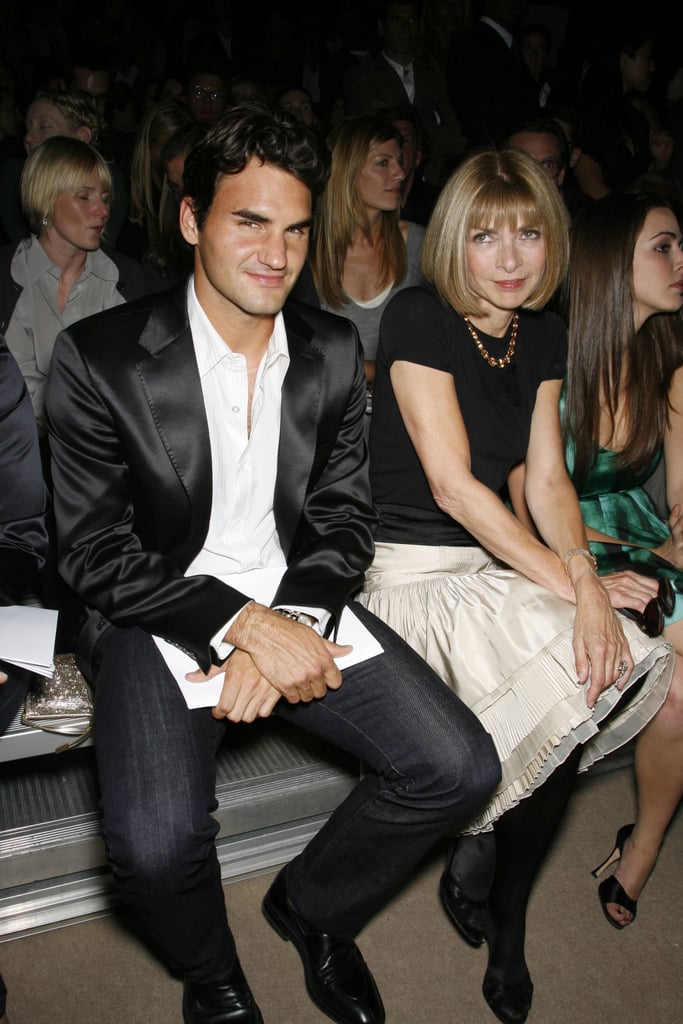 Anna Wintour's love of tennis is no secret, and she especially loves to watch Roger Federer play. Though Roger hasn't nabbed a cover yet, the two sat side by side at Marc Jacobs's Spring 2007 show, and Roger was featured in the magazine's June 2009 issue.
Nicki Minaj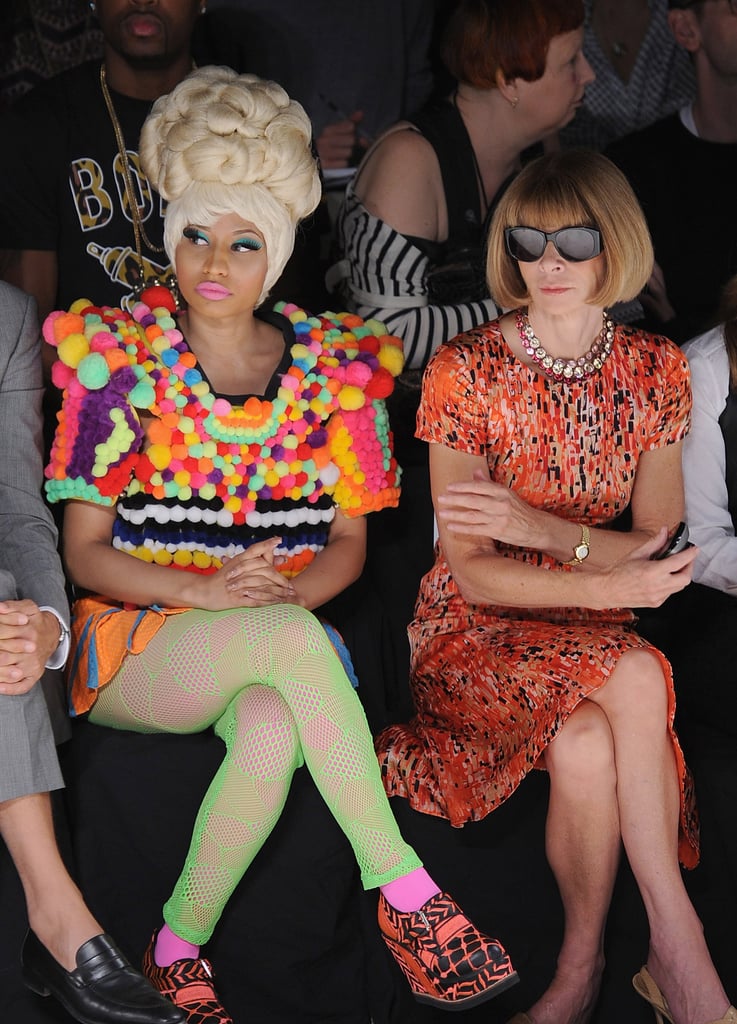 Nicki Minaj famously sat front row with Anna during Carolina Herrera's Spring 2012 show. She rapped about getting a Vogue cover on her Pink Friday album, but so far as only been profiled (and painted blue) in the mag's March 2012 issue.
David Beckham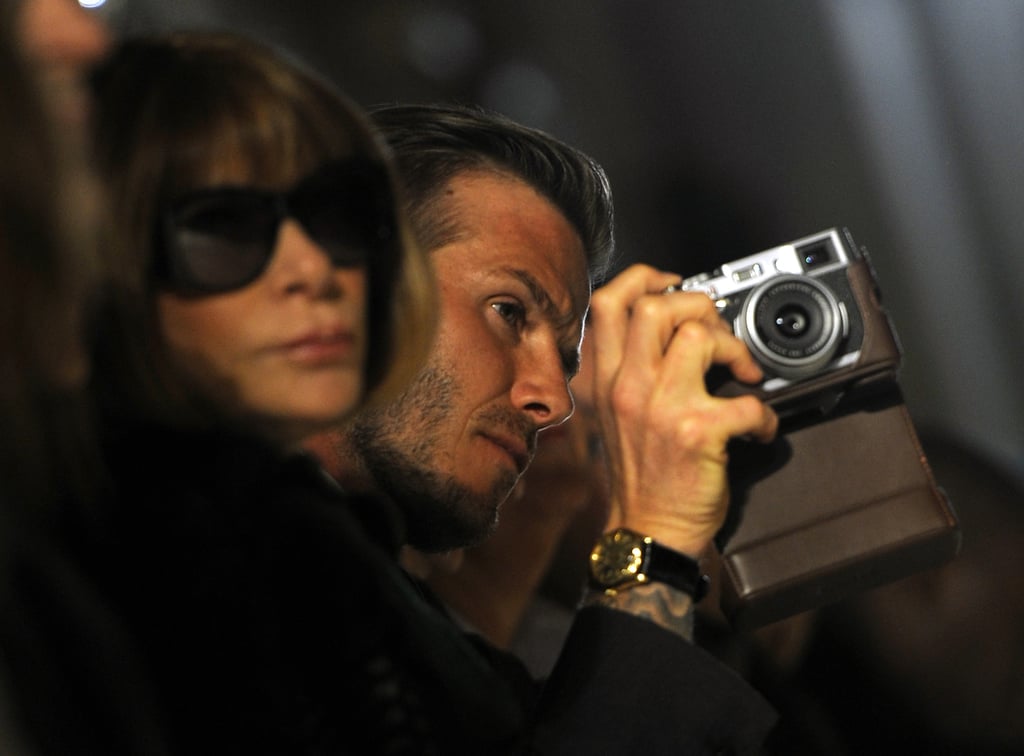 David Beckham [29] sat next to Anna and snapped photos while watching his wife Victoria's Fall 2012 runway show. The Beckhams have both been featured in American Vogue, but have yet to grace a cover.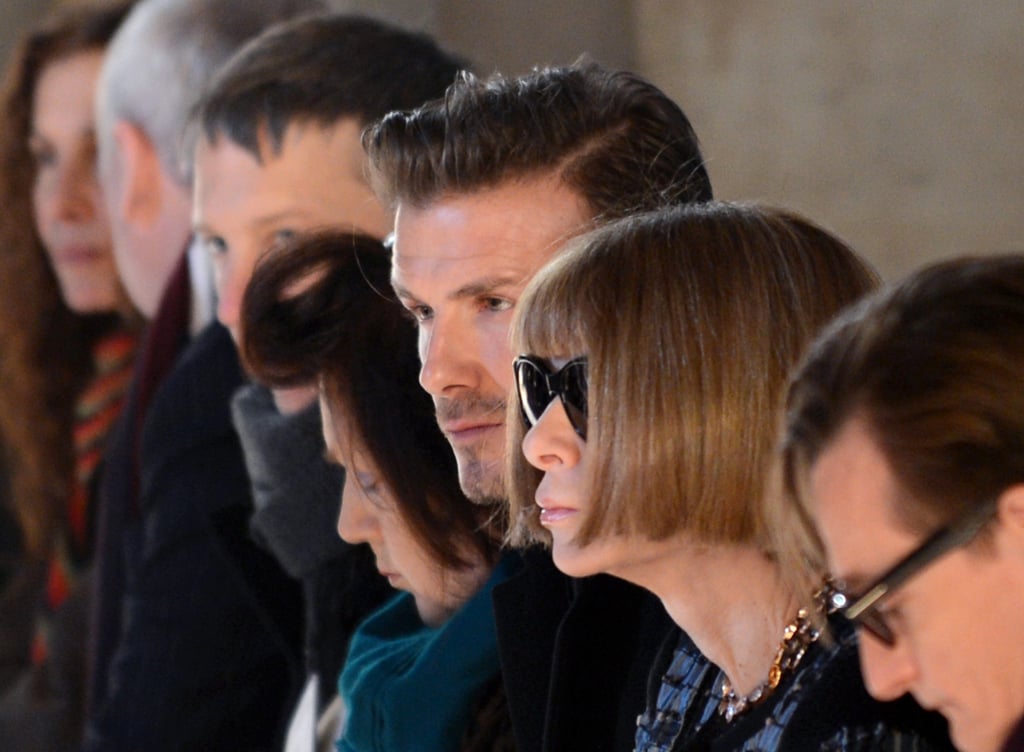 Anna Wintour and David Beckham [30] were paired up again to watch the Victoria Beckham [31] Fall 2013 show. David Beckham has yet to land a Vogue cover of his own, but we're content with all his most recent stylish activity [32].
Maria Sharapova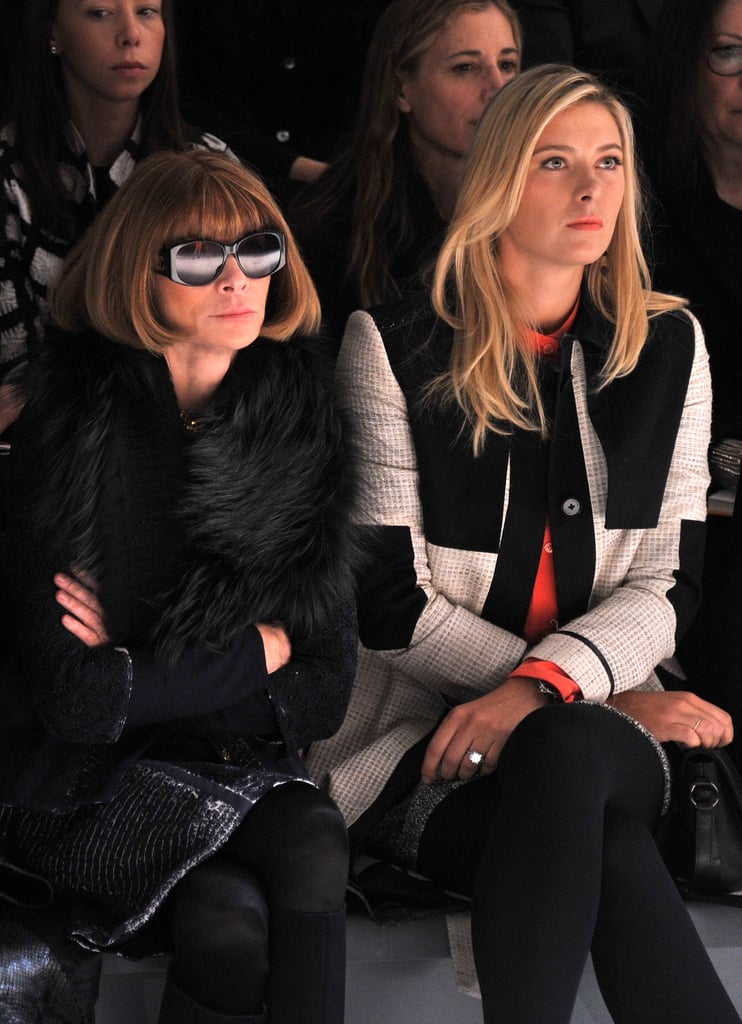 Maria Sharapova and Anna Wintour looked tough as nails together in the front row of Vera Wang's Fall 2012 show. The statuesque tennis star was featured in Vogue's April 2007 issue, as well as September 2009.
Viola Davis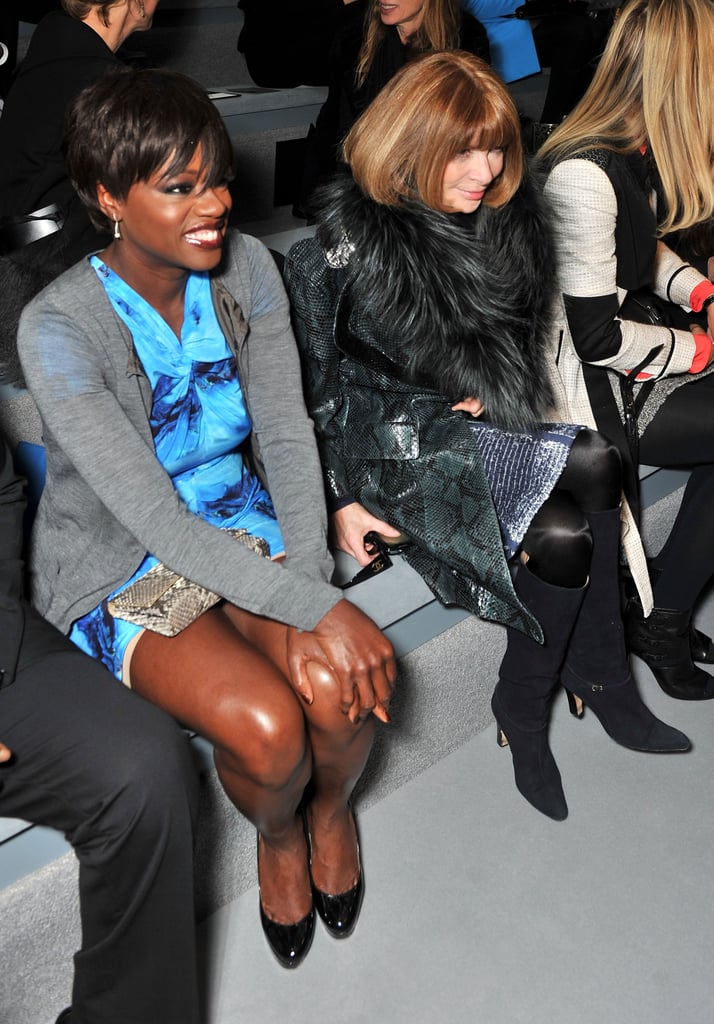 Viola Davis has yet to be featured in Vogue, but that didn't stop rumors from flying after the Oscar-nominated actress was spotting sitting with Anna during Vera Wang's Fall 2012 show.
Felicity Jones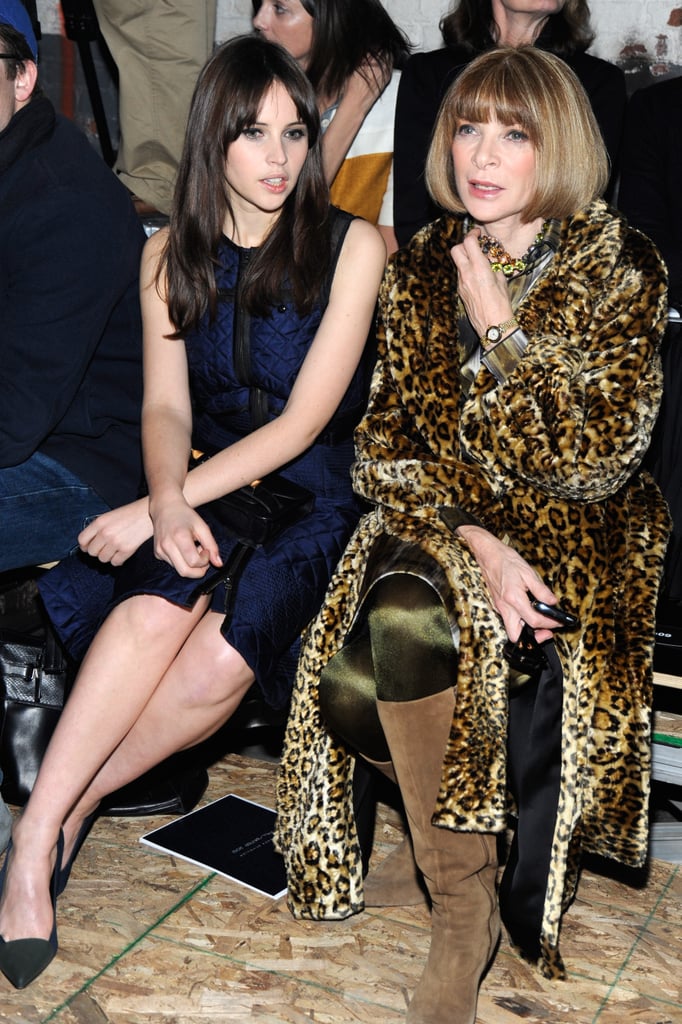 The British actress gabbed with Anna in the front row for Proenza Schouler's Fall show. Felicity hasn't scored a cover yet, but she was featured in a March 2012 spread for the magazine.