Celebrities Vintage T-Shirt Trend 2012
How One T-Shirt Can Make Your Outfit Infinitely Cooler
A look at this crew of celebrity street style inspired one thought: these girls look seriously cool. The common denominator in each of these style-setter's ensembles is a sweet, vintage-feeling t-shirt that takes jeans and shorts to an infinitely more awesome place. Sure, a white cotton tee or your favorite tank could top your separates just as easily, but a t-shirt that pays homage to your best-loved bands or touts a favorite saying delivers the kind of cool-girl edge that makes these looks pop. The thing is, they're also incredibly easy to style up on your own; just read on to garner a bit of styling know-how for getting the most mileage from one great t-shirt: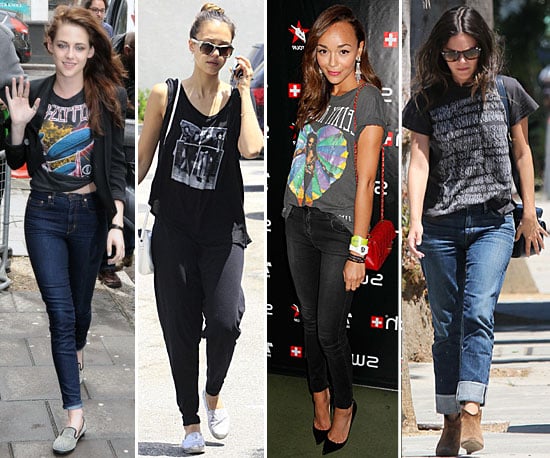 From left: Kristen Stewart, Jessica Alba, Ashley Madekwe, Rachel Bilson
Dress up the look à la Ashley Madekwe with pointed pumps and statement earrings for a casually cool play on girls'-night-out gear.
Take a cue from Kristen Stewart and polish it off with a blazer and loafers for a more pulled-together pairing. You could take it to a casual office or just to jazz things up for your everyday.
Rachel Bilson and Jessica Alba's relaxed looks get a shot of cool from their vintage-feeling tees. Do the same, and upgrade your weekend look with a t-shirt that has its own laid-back power statement.

Any way you choose to wear yours, the effect is universally cool. Just shop our editors' picks to find your own tee, or head to your local thrift stores, flea markets, and Goodwill to seek out the styles that suit you best.