Celebrities Wearing Loafers | Fall 2012
Flat-Out Cool: Celebs Are Slipping Into Fall's Slickest Loafers
The loafer — specifically the sleek, refined smoking slipper silhouette — is making some serious moves on the ballet flats' territory. There's not much explaining to do here: just let the most recent batch of star-studded style sightings bear witness to its trendy takeover. Yes, there was a time when we only associated chic smoking slippers with the likes of playboy Hugh Hefner (complete with silky robe, of course), but now, we're fully embracing its borrowed-from-the-boys likability and, quite frankly, its go-with-everything versatility. Seriously. Whether you own a bold leopard-print iteration or an understated pony-hair version, chances are this shoe will fit the bill of any dress code. The proof is all right here — styled up against the most casual wares and, then again, with the prettiest peplum top and plaid bottoms front row at Tibi.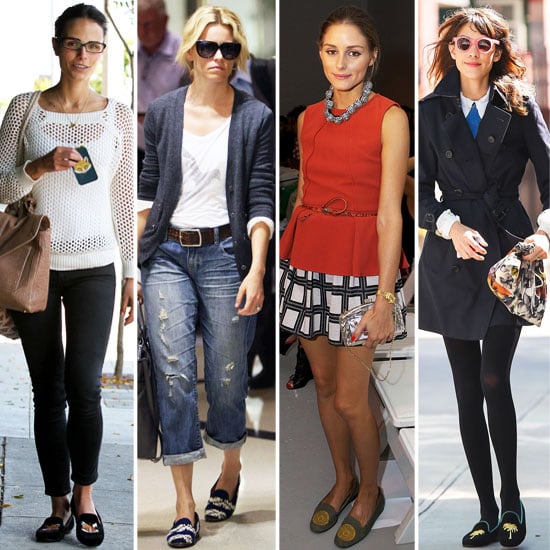 From left to right: Jordana Brewster, Elizabeth Banks, Olivia Palermo, and Alexa Chung
Just keep reading for more trend-spotting, plus styling tips to nail the smoking-slipper look.

From left to right: Naomi Watts, Mandy Moore, Carey Mulligan, and Jessica Biel
Embrace the menswear-inspired undertones by complementing your loafers with tailored ankle-cut trousers — rolled at the hem, if you please — and a slightly oversize button-up blouse. Bonus points for a crisp collar, chunky cable-knit sweater, and a bold red lip.
If you're feeling flirty (and a bit ambitious), play to the smoking slipper's versatility. A printed wool circle skirt and colorful socks will provide your loafer look with a schoolgirl charm that's both sweet and daytime-ready. For an evening punch-up, switch out your socks for semisheer black tights and trade in your skirt for a sexy trench-coat-turned-dress.
While it may be a flat shoe with a minimalist's edge, you certainly can amp up the eye-catching factor of your pair. Opt for an embroidered pair à la Marc Jacobs and Tory Burch, try on a more bohemian iteration like Elizabeth Banks's Cobra Society pair, or do the luxe velvet thing for a polished finish. To us, it's all about the details, and if you've got your hands on a pair of loafers that make a statement, you won't have any trouble styling an outfit accordingly.