From street style to the red carpet, we love a good drool-worthy celebrity look. Taking inspiration from our favorite stars by re-creating their outfits is just in our nature. But when we can manage to get our hands on their exact pieces? Well, that just makes our day. In other words, thank goodness for Topshop and all the style stars here who really love the affordable brand (Beyoncé, we're looking at you!).
Because it's not just the price point that we love; it's the edgy, cool-girl vibe the clothes give off that really makes us want to shop. Lucky for you, Cara Delevingne and Beyoncé just stepped out in Topshop pieces that are available right now. And we're totally adding them to our wardrobe — stat. We bet you can't beat us to it.
Source: Getty [1]
Cara Delevingne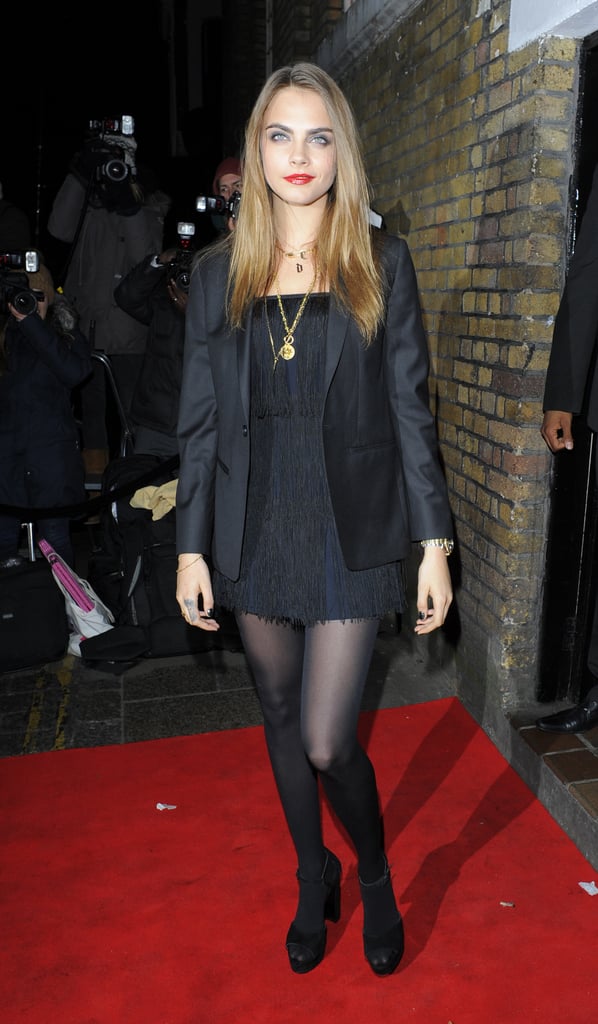 Cara Delevingne polished up her fringe mini dress with Topshop's Premium Suit Blazer [2] ($120), and she topped off her tights with the Lena Suede Platform Sandal [3] ($90). Both are easy wardrobe staples for any red carpet. Or, you know, your best friend's fancy cocktail party.
Beyoncé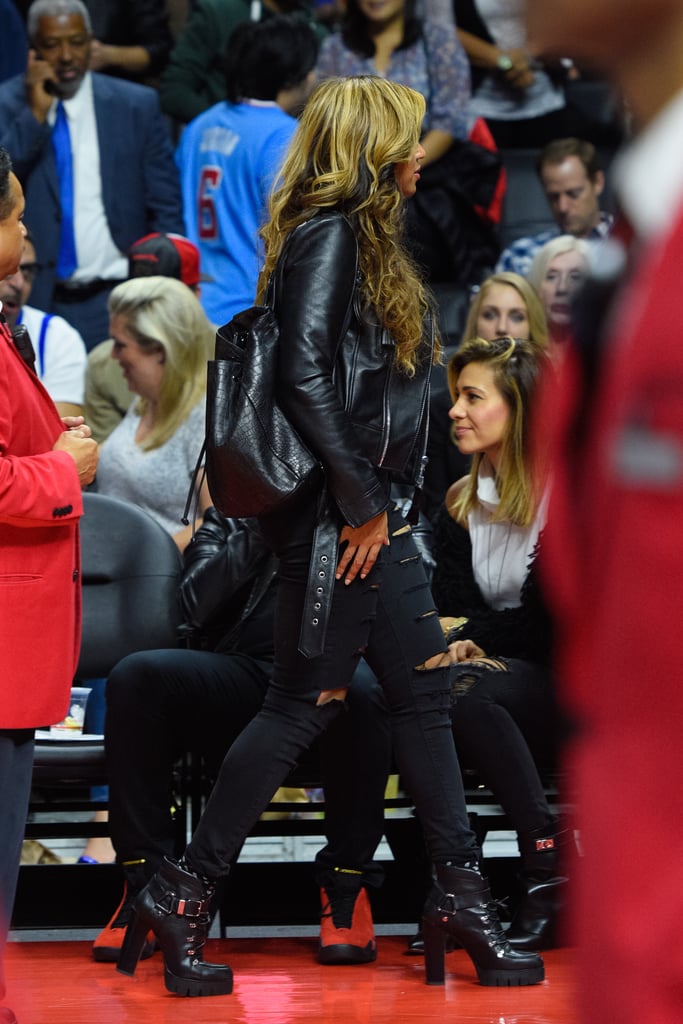 Beyoncé knows the best place for distressed denim [4] is a basketball game. The singer wore Topshop's black moto Jamie Jeans [5] ($85), which lent her edgy look major grunge appeal.
Taylor Swift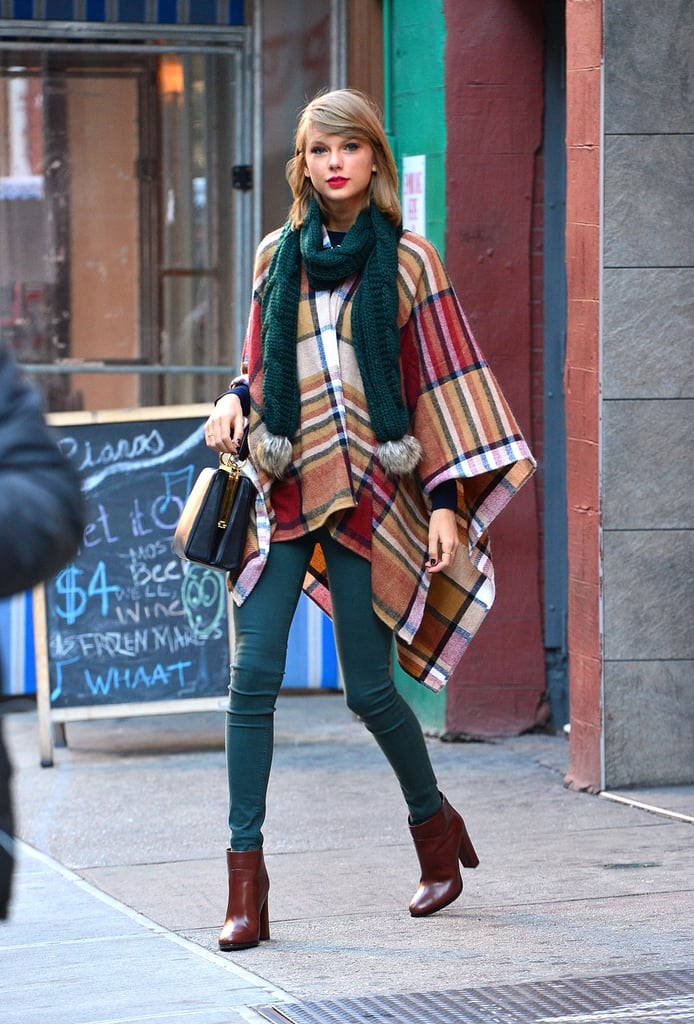 Taylor Swift [6]'s look was totally on point for Fall, mostly because of her checked Topshop cape [7] that rings in at just $68!
Beyoncé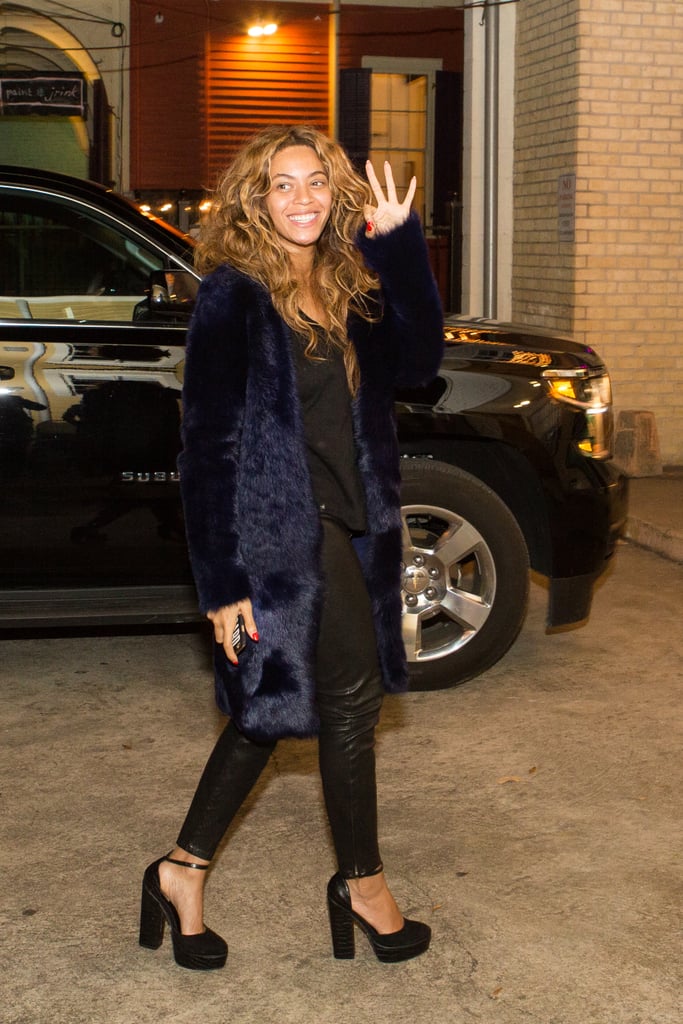 Beyoncé sported not one but two Topshop items to prewedding festivities [8] for her sister, Solange. Both her luxe, navy-blue sheepskin coat [9] and Sheila platforms [10] helped her stand out from the crowd, though she was sporting darker shades. Scroll down to see how the star wore the same heels to an evening event.
Beyoncé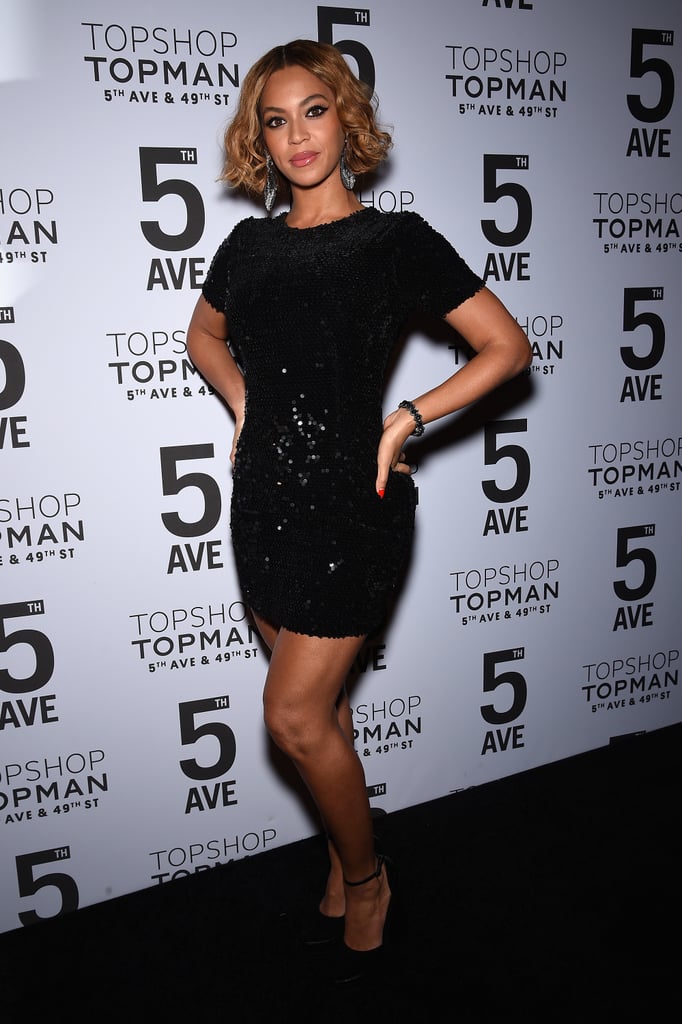 Beyoncé showed us perfect holiday dressing in the Flocked Sequin Bodycon Dress [11] and Sheila Platform Shoes [12] at the Topshop Topman New York flagship opening.
Beyoncé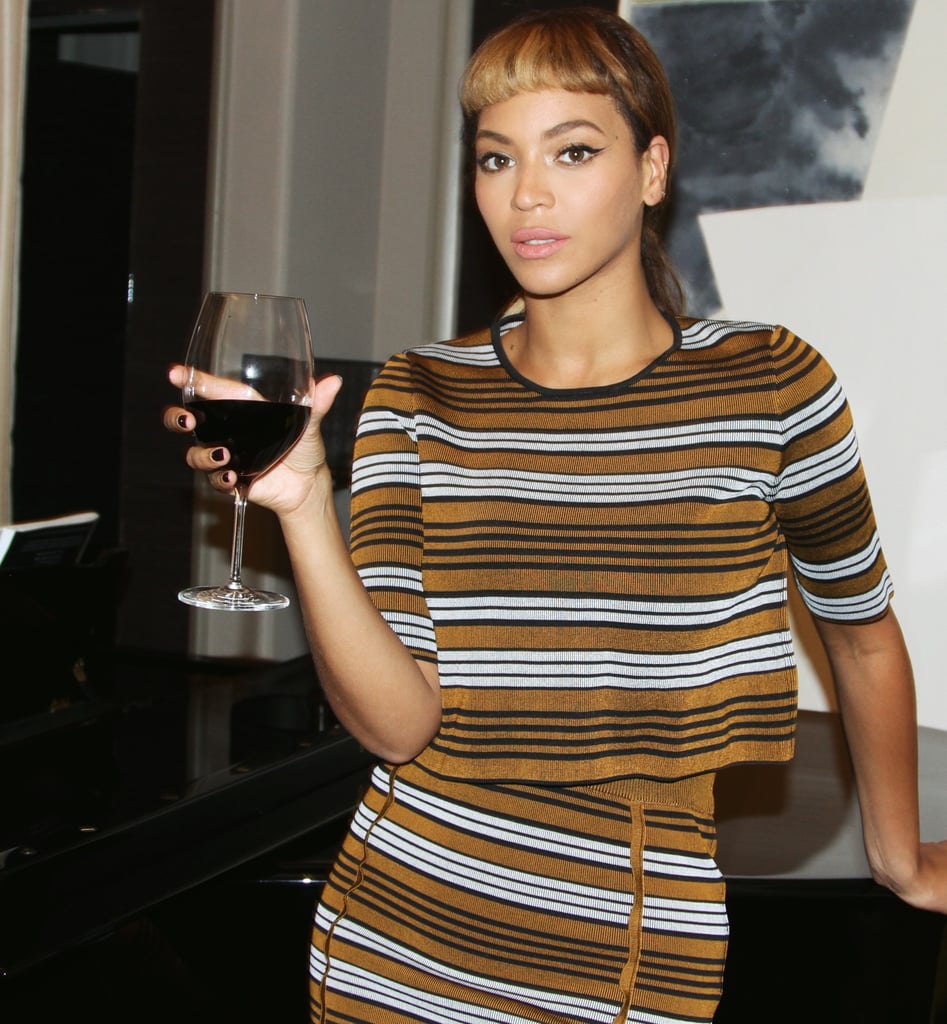 Beyoncé sported this luxe Topshop set, comprised of the Compact stripe top [13] and pencil skirt [14].
Hailey Baldwin
Hailey Baldwin went apple picking in the Topshop Prince of Wales Check Coat [15], making for a quintessential Fall look.
Suki Waterhouse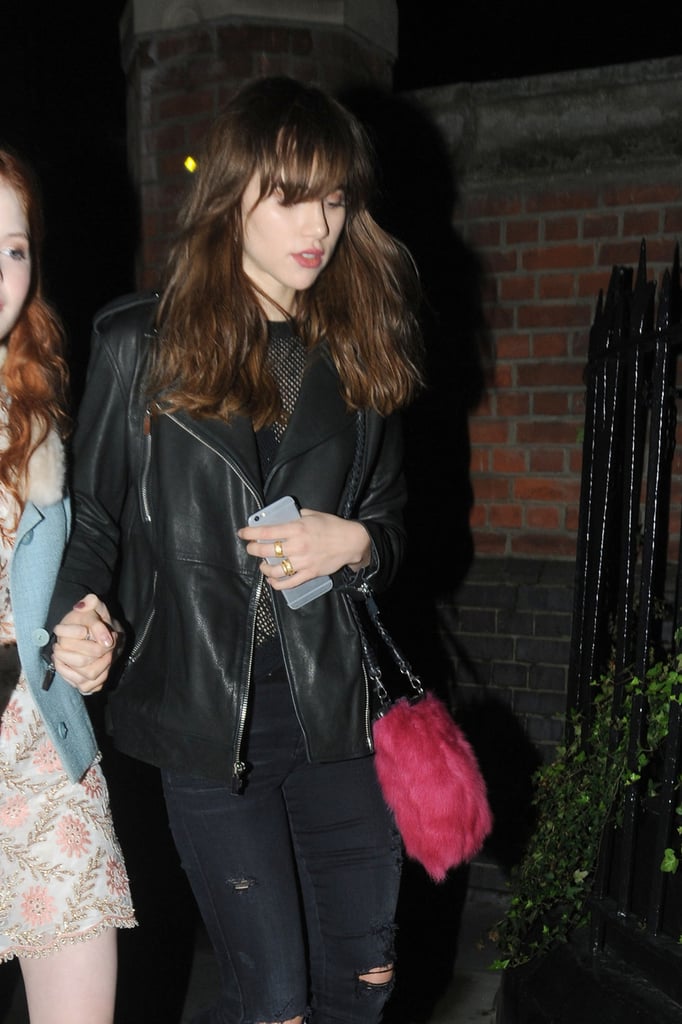 Suki Waterhouse gave her leather moto jacket a quirky update with the Sheepskin wallet bag [16] from the new Marques'Almeida x Topshop collaboration.
Maisie Williams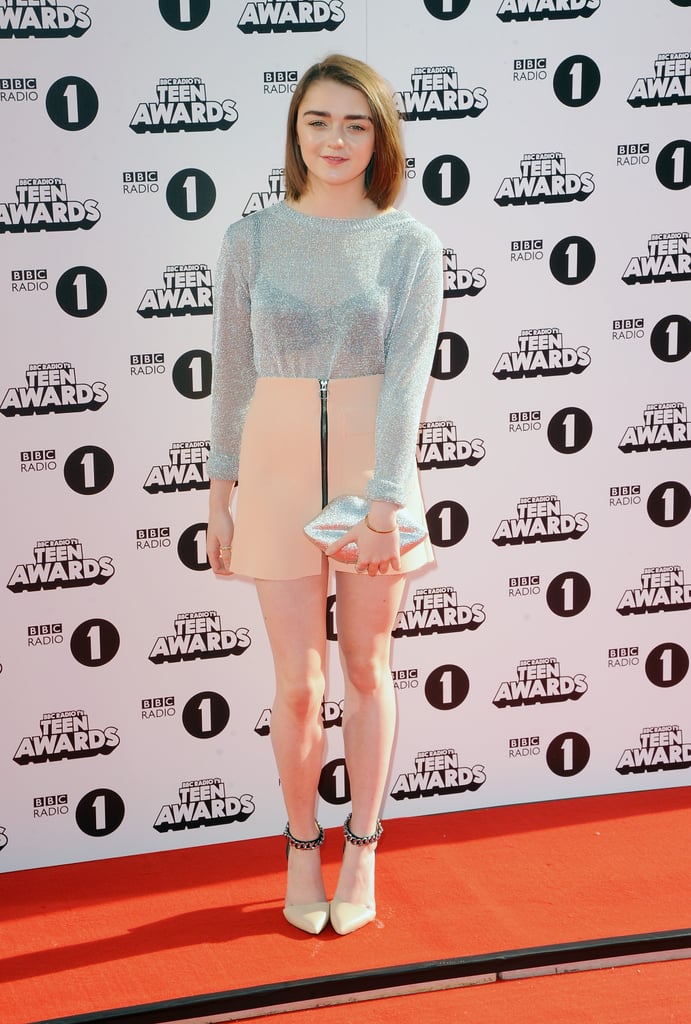 Maisie Williams sported Topshop's Crepe A-line skirt [17] and Geraniam court shoes [18] on the red carpet, lending ladylike pastels an edgy update.
Beyoncé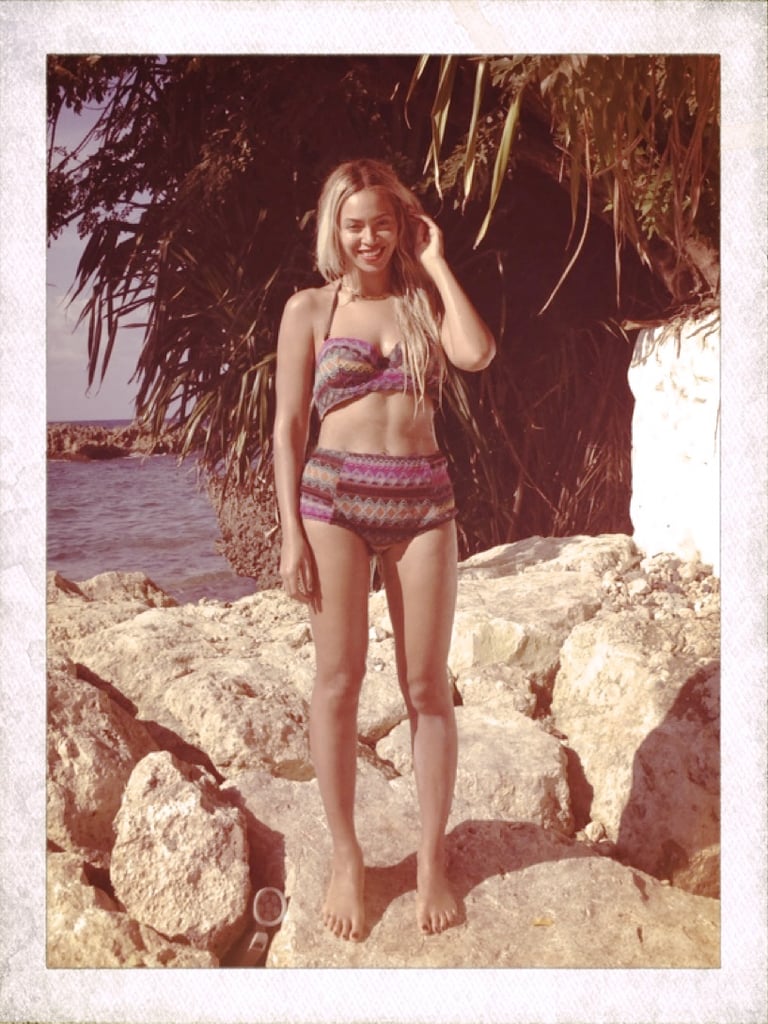 Beyoncé wore a colorful Topshop bikini [19] while on vacation with Jay Z.
Source: Tumblr user Iambeyonce [20]
Ashley Madekwe
Ashley Madekwe was mad about plaid at the Topshop holiday party in Los Angeles.
Mandy Moore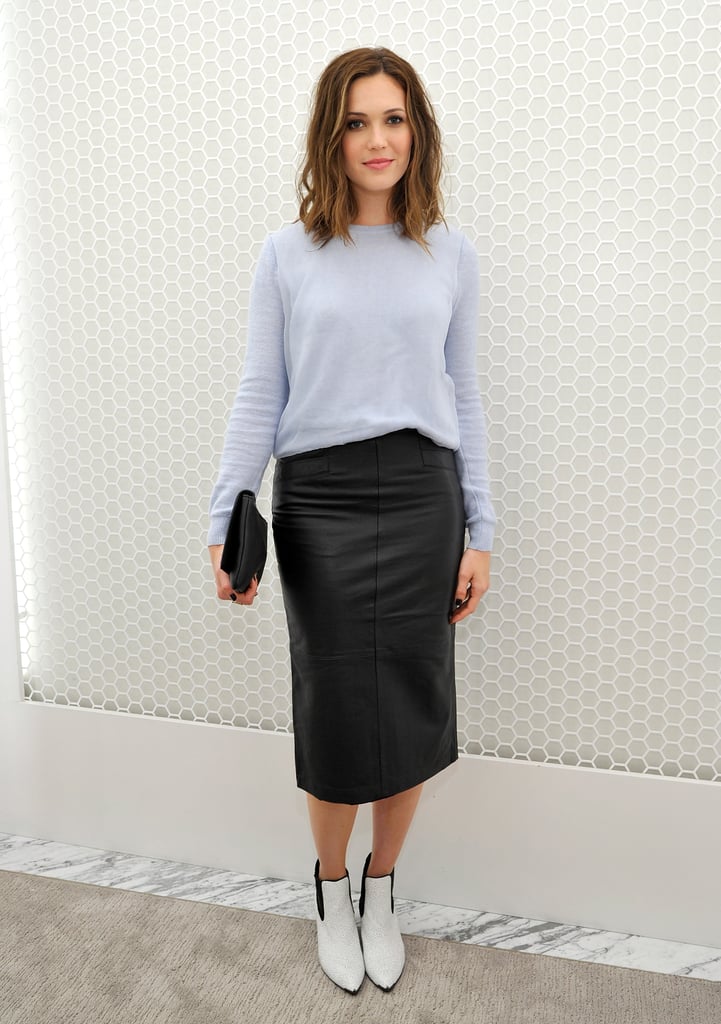 We love how Mandy Moore [21] styled up her slouchy tee with a slick leather skirt and booties at the Topshop holiday party.
Kate Bosworth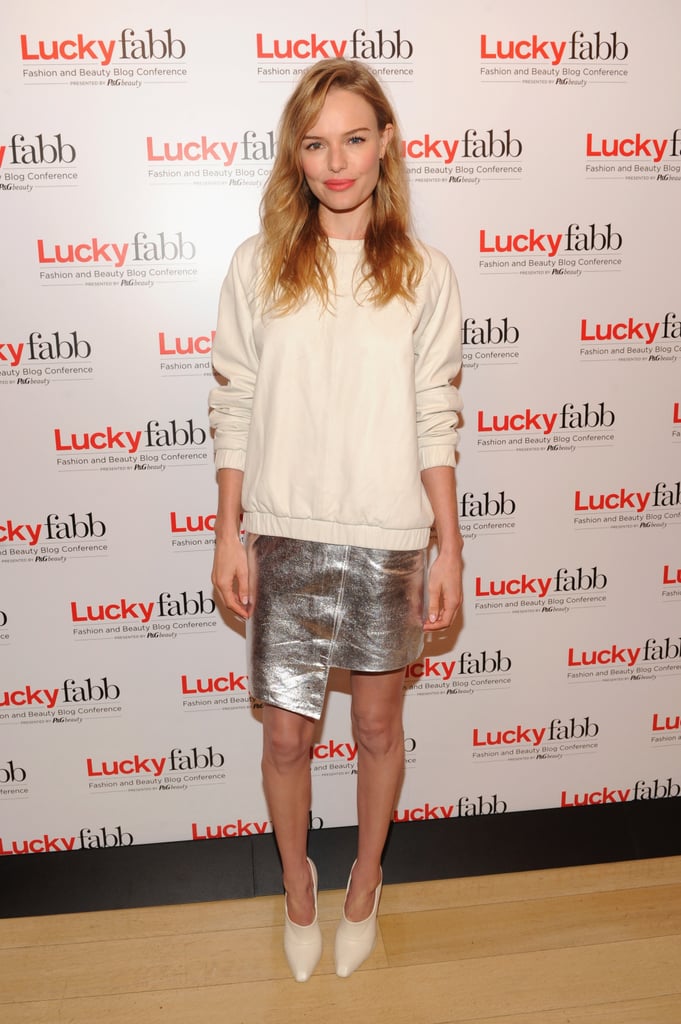 Kate Bosworth [22] dressed for her talk at Lucky FABB in a leather sweater and metallic skirt by Topshop collection.
Kate Bosworth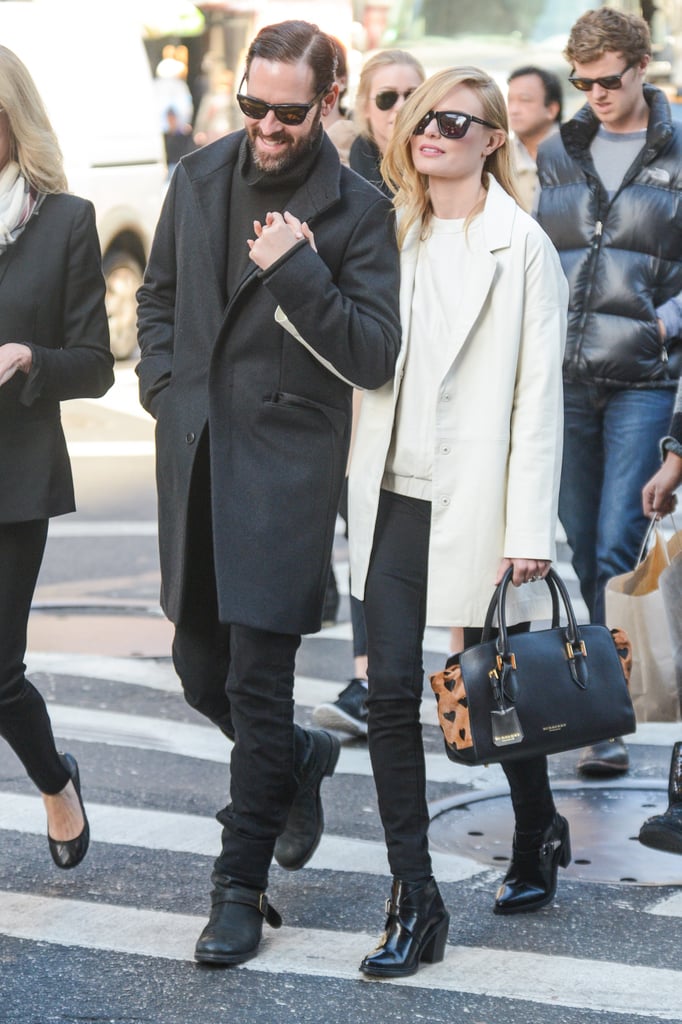 She debuted that same leather sweatshirt with a matching cream-colored coat and a pair of black biker booties, all by Topshop, later on in the month when shopping in New York City.
Beyoncé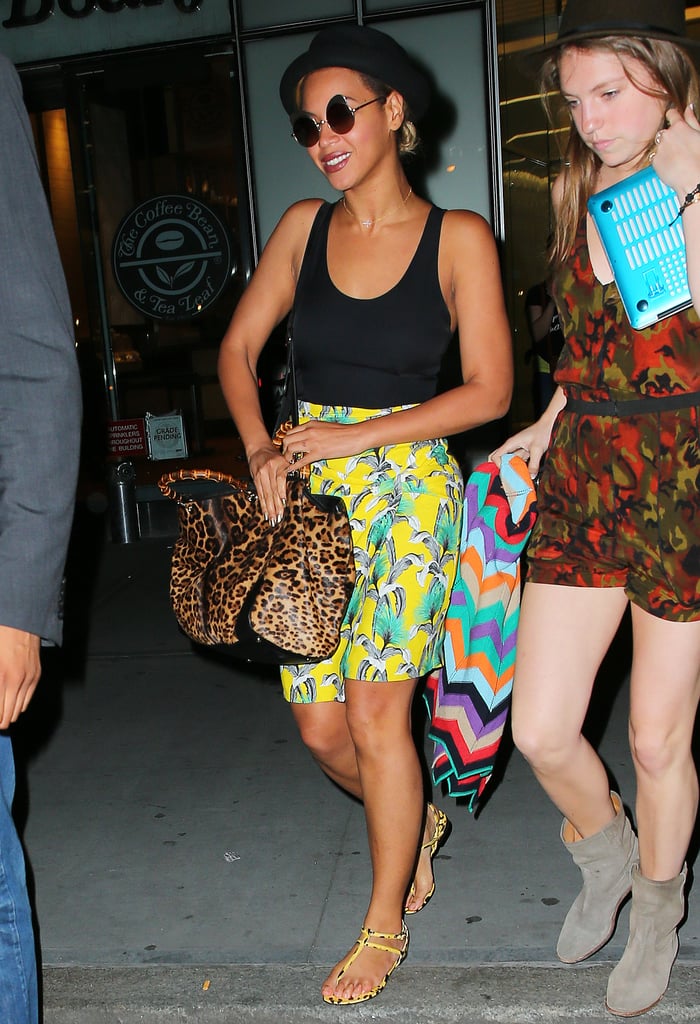 Beyoncé is arguably one of Topshop's top celebrity customers. During an evening out in NYC, the singer accessorized with a black porkpie hat and round cat-eye sunglasses, both by the mass retailer.
Cara Delevingne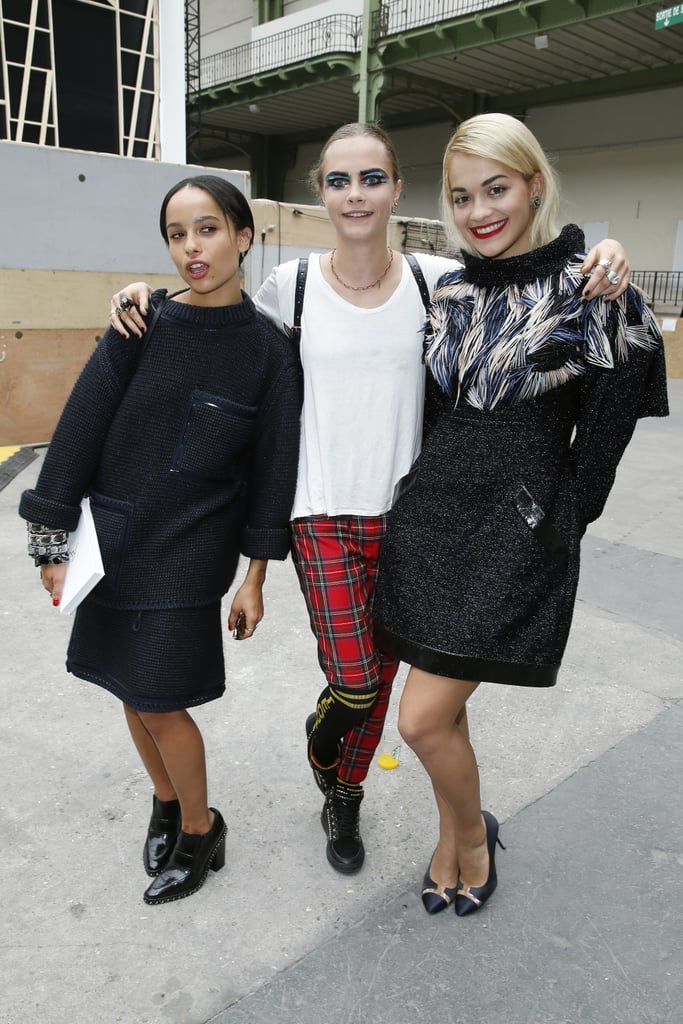 Cara Delevingne — posing here with pals Zoë Kravitz and Rita Ora — rocked Topshop's punky checkered pants with a white tee outside the shows at Paris Fashion Week.
Ashley Madekwe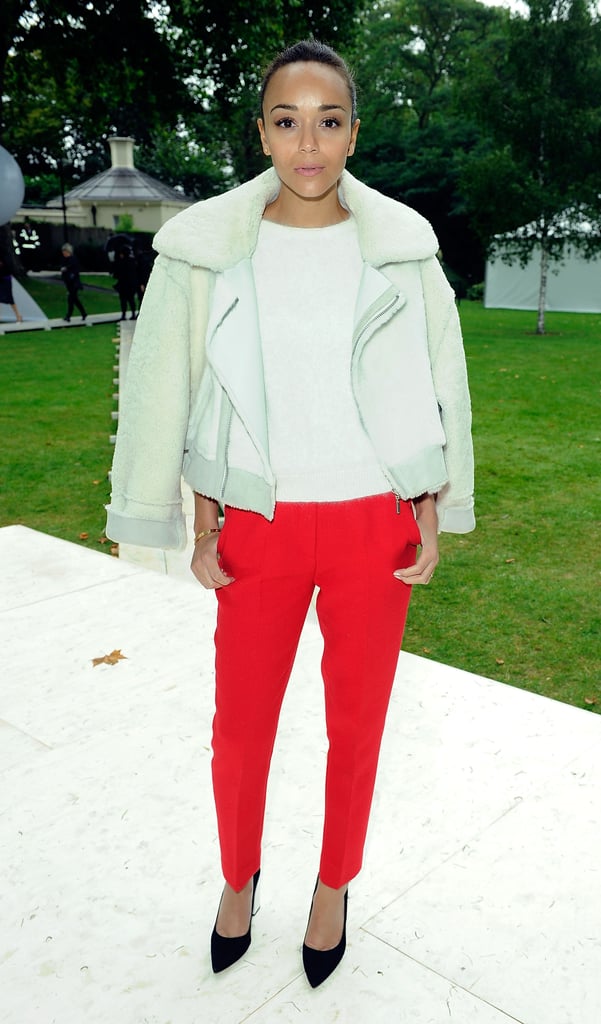 At the Topshop Unique Spring 2014 show [23] in London, Ashley Madekwe styled herself in a Topshop Unique shearling jacket, red Topshop trousers, and black pumps, also by Topshop.
Suki Waterhouse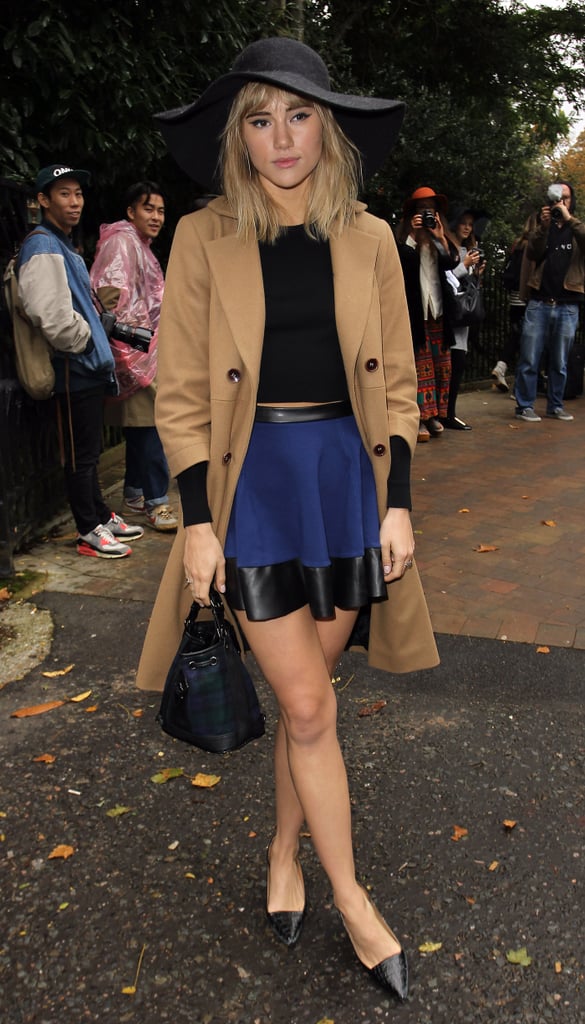 At the Topshop Unique Spring 2014 show, Suki Waterhouse posed in a navy skirt with leather accents, a black floppy hat, and pointy pumps, all by Topshop.
Alexa Chung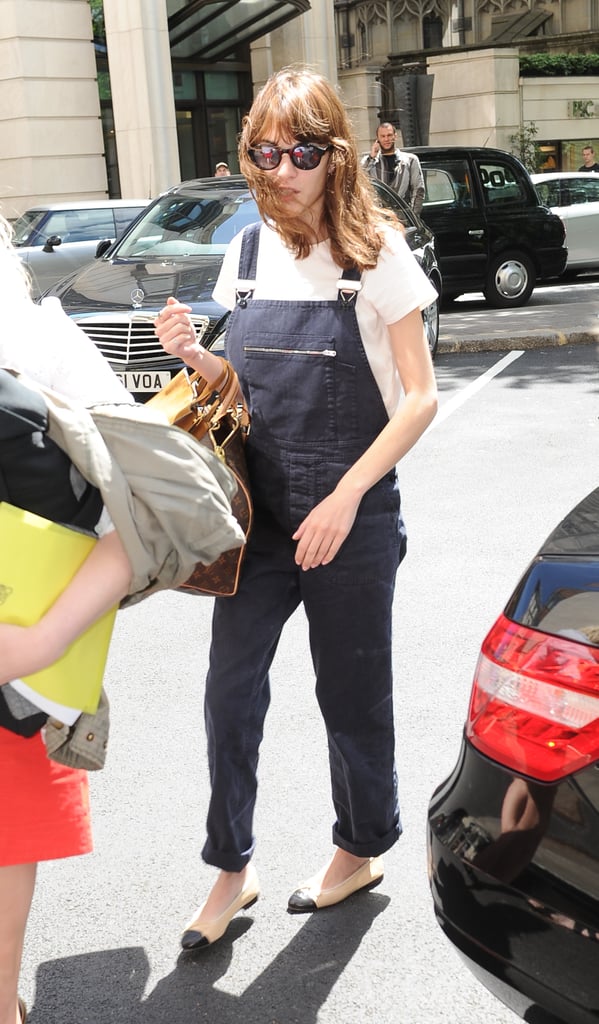 Alexa Chung rocked a pair of Topshop dungarees during an outing in London, then gave it a classic twist via cap-toe flats and a Louis Vuitton bag.
Olivia Palermo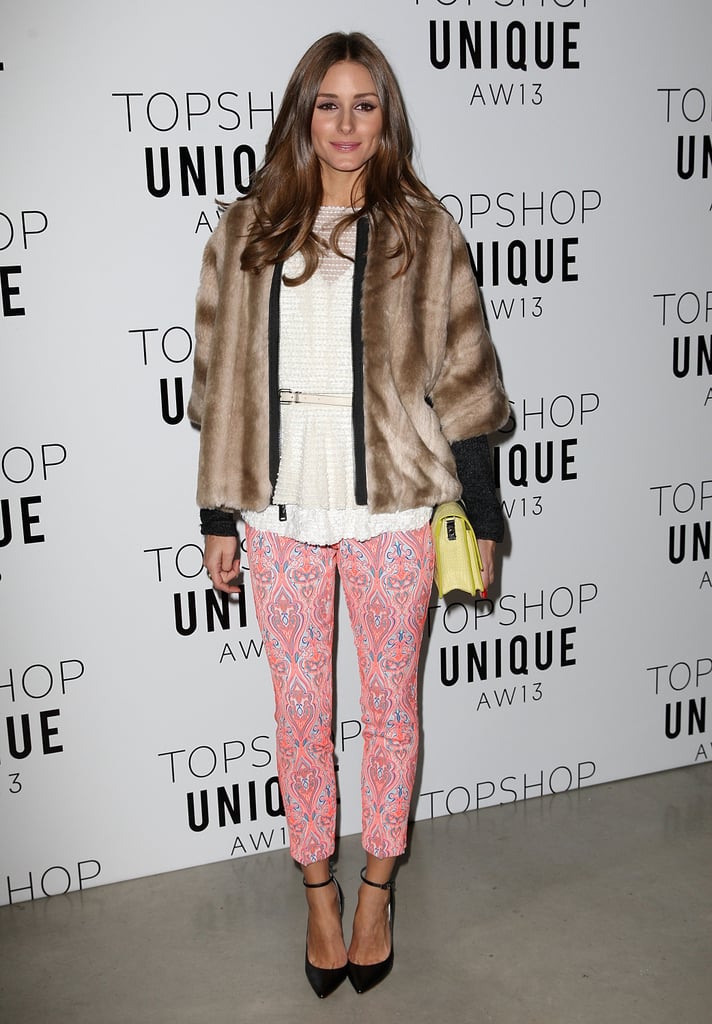 At the Unique Topshop Fall 2013 show in London, Olivia Palermo brightened her ombré coat with punchy paisley Topshop pants and a yellow clutch.
Beyoncé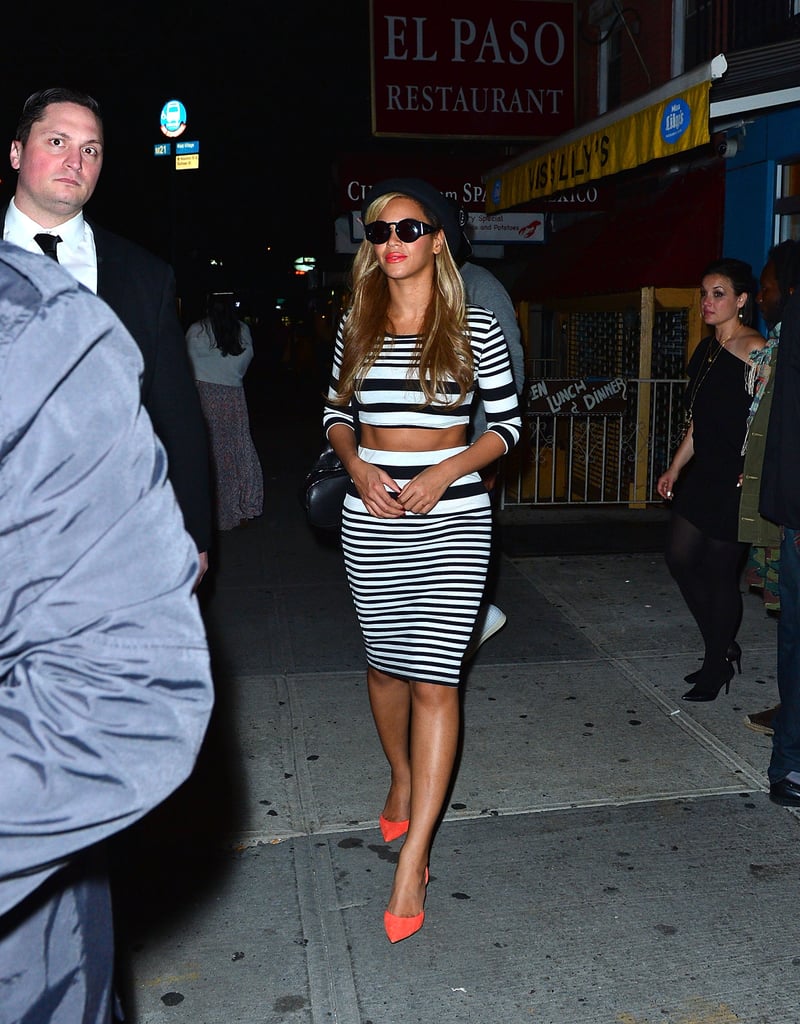 After leaving Kanye West [24]'s birthday in NYC, Beyoncé showed off her amazing figure in a striped crop top and matching skirt, both by Topshop, and bright orange pumps.
Beyoncé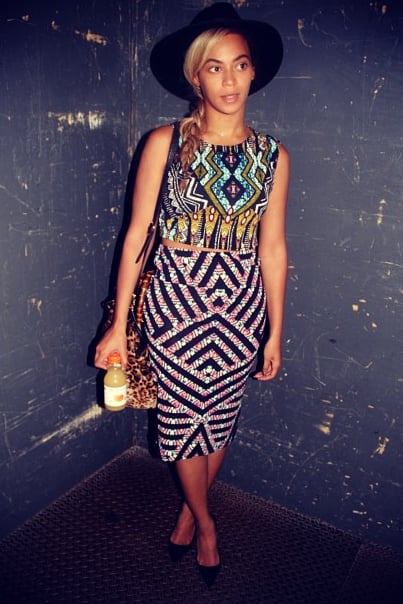 Beyoncé indulged in her Topshop obsession in a tribal-inspired formfitting top and skirt set.
Source: Instagram user beyonce [25]
Beyoncé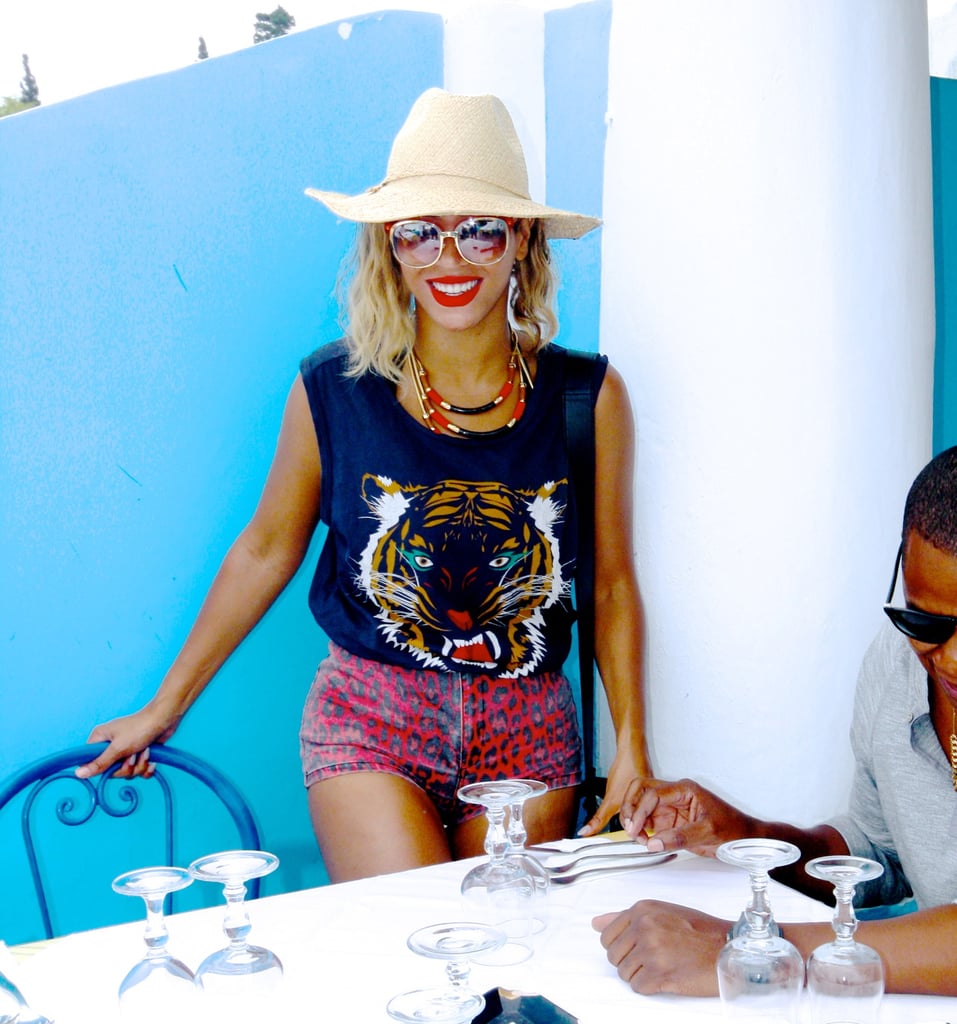 Perhaps her wildest look yet, Beyoncé tucked a Lovers + Friends tiger muscle tee into Topshop leopard denim shorts before having dinner with husband Jay Z.
Source: Tumblr user Iambeyonce [26]
Taylor Swift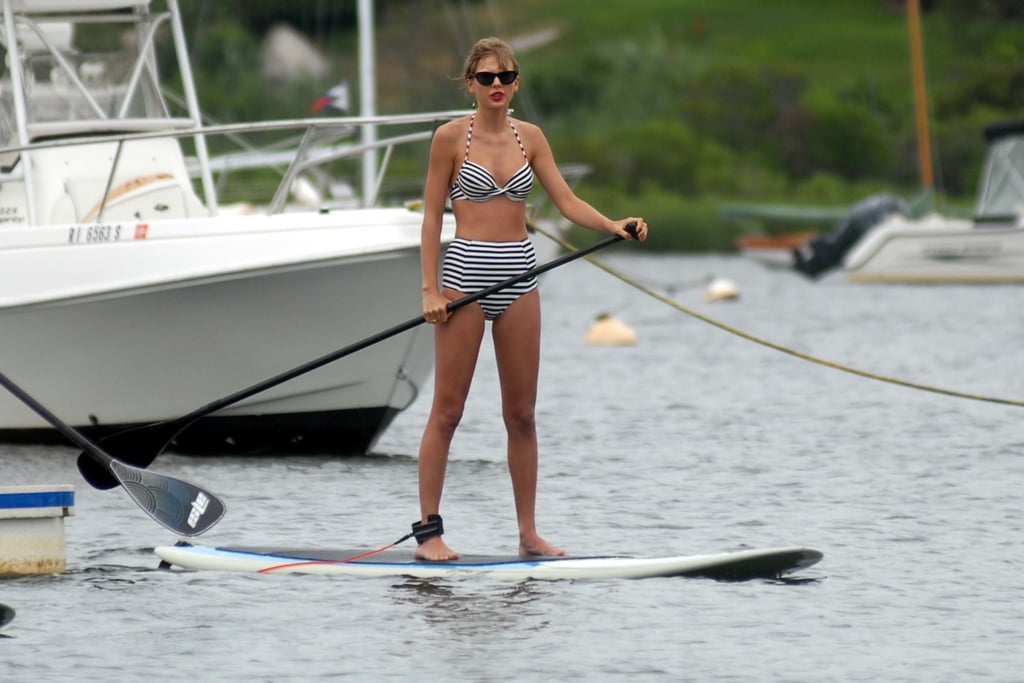 During a getaway to Rhode Island, Taylor Swift [27] exuded vintage glamour in a black and white striped Topshop bikini.