Celebrity Interviews at Met Gala 2012
In a Met Gala Minute: Rachel Zoe, Camilla Belle, and More Give Us the Red-Carpet Scoop
The annual Met Gala not only inspires fashion's finest to come together for an epic showing of couture, avant-garde, and wildly fantastic gowns, but it also allows us to catch up — if only for 60 seconds — with some of our favorite style setters. Last night's affair was nothing short of eye-catchingly chic, and to add to our plate, we caught up with the likes of Rachel Zoe in her own fringed creation, the beautiful Camilla Belle in Ralph Lauren, and Monique Lhuillier-clad Ginnifer Goodwin. Wondering who's bringing sexy back, which model isn't worried about wardrobe malfunctions, and which cool girl gets nervous about those infamously treacherous museum steps? Keep reading for the best quips, all in a Met Gala minute, of course.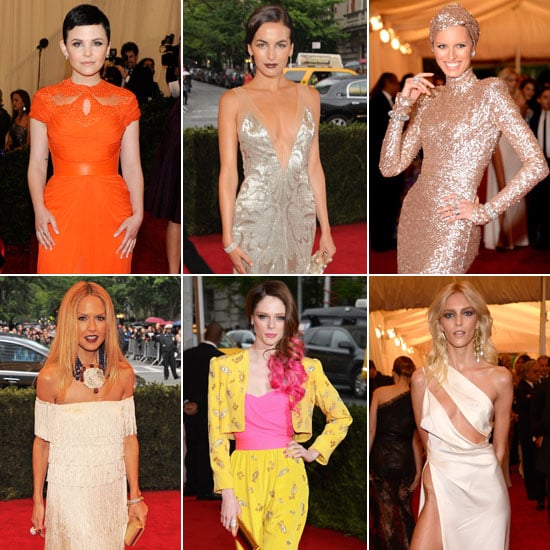 Rachel Zoe

, on how long it took her to get ready: "Me? Me? Not very long. I care more about her [points to Karolina Kurkova], so . . ."
Karolina Kurkova, on bringing sexy back (literally): [Turns around to show off her back] "I always love open backs. Very simple and chic in the front and then the back, it's like, 'Wow.' . . . In the back, I have a zipper, so I can completely unzip it, so you know, if you want to loosen up, if you want to get a little more, you know, sexy in the back, show a little skin!"

Ginnifer Goodwin

, on her custom Monique Lhuillier creation: "To have a dress made to your proportions makes you realize how every other day of the year you wear a dress that doesn't fit!"
Click through for more Met Gala minute quotes.
Coco Rocha, on gearing up for the Met Gala: "Very nerve-wracking. Maybe it's the stairs? We started getting ready at 1 p.m. He [husband James Conran] took, like, no joke, five minutes. And he was like, 'We need to get in the car right now!'"
Camilla Belle, on her dramatic lipstick hue: "It's a mix! We mixed like three [CK One color cosmetics] colors to get this!"
Anja Rubik, on worrying about her skin-baring Anthony Vaccarello gown: "Well, as you can see I'm quite exposed. No, but it's good, I'm quite taped in."